To support this website, this post may contain affiliate and/or referral links to products or services I recommend. See disclosure policy
here
.
There are a couple of principles that help folks when they decide to get their financial life in order. One of the principles that many people miserably fail at is savings. I mean, how many articles have you read this year alone that has basically told you Americans suck when it comes to savings, many of them can't handle a simple emergency, and we're all doomed to be broke?
Okay, so maybe these articles didn't proclaim our financial demise (or did they?) but I think you can totally reason that we've got to educate people so they can step up their savings game.  To contribute to the cause, I'm here today to provide you with twelve ways you can trick yourself into saving more money.
In an ideal world, it would be nice if we didn't have to trick ourselves into do doing anything that would make our financial lives better, but let's be real. No one's good at everything and from those "statistics" being pushed in our faces every other week, savings is an area where there is much-needed improvement. Without further delay, let's get into these easy ways you can trick yourself into stacking more dolla dolla  bills.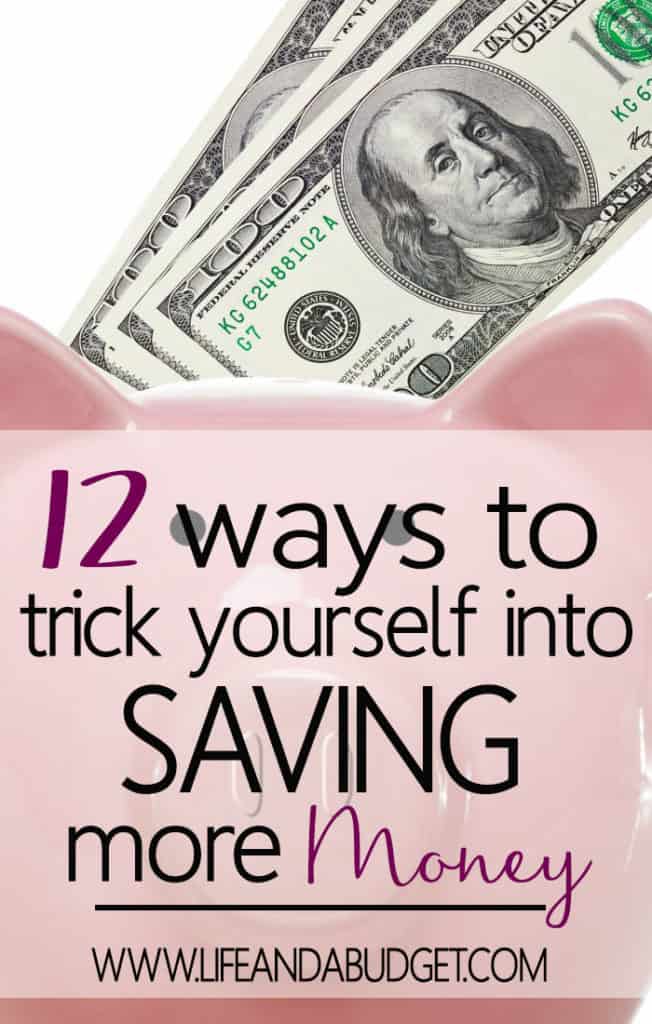 1. Fine yourself for bad habits.
Basically, you need a potty mouth jar. Gossip jar. Biting nails jar. Whatever bad habits you've picked up, since they are probably driving you or someone else insane, why not pay yourself for your troubles?
An even better way of doing this would be to create a jar for everyone in your household. Whoever witnesses you being a potty mouth, gossiping, or chewing your fingernails off will be the one who receives your monetary fine. You may just force yourself into giving up a habit or two.
2. Be a magician. I'll explain…
Make your money disappear!  To do this, there really are no tricks involved. All you need to do is set up an automatic deposit into your savings account every time your paycheck is cut.
You can do this by setting up your direct deposit with your job. This is what you're supposed to be doing anyhow, paying yourself first. It really is magic when you log into your account and have a nice pile of cash to throw at one of life's emergencies.
3. Round up to save.
Many banks offer round up to save features with their checking accounts. The way it works is for every amount you spend, your bank will round up the change to the nearest dollar and transfer this amount into a savings account. Fist bumps if your bank matches this amount at the end of the year like my bank does.
If your bank isn't cool like that, you could either search for another bank or you could utilize Digit (non-affiliate). Digit is all the rave these days because you are able to save without even thinking about it. This tool analyzes your spending patterns and will automatically withdraw amounts at certain intervals and place them into a savings account.
It must be pretty darn accurate because I can only imagine the trouble involved if they took money out you actually intended to spend. If having a robot dipping into your checking account sits alright with you, this may work out in your favor.
---
Here are some ways to boost your savings! If you've never considered signing up for surveys, I think you will find it easy to earn a few extra bucks just for answering questions. There are reputable survey sites, you know! Try some of these:
Harris Poll Online – You will earn points for every survey you take and you even earn for surveys you aren't qualified for. Once you've accumulated enough points, simply redeem! Sign up for Harris Poll Online here!
American Consumer Opinion – This company is another reputable company that allows you to earn for every survey you take. The more surveys you take, the more you earn. Don't think you have time? Take them while you binge watch Netflix. No excuses. Sign up for American Consumer Opinion here.
Swagbucks – Get your swag on with Swagbucks. I've probably been with this site the longest and you can earn swagbucks many different ways. You can earn by taking surveys, watching videos, doing internet searches, and finding swag codes. Redeem your swagbucks for gift cards and thangs. Sign up for Swagbucks here.
Vindale Research – I've been sleeping on this company and I've got to get with it, but their payouts are AWESOME! Earn up to $100 on some surveys if you're lucky. $5, $10, $15 wouldn't hurt either. Of course, once you earn enough you redeem for rewards. Sign up for Vindale Research here.
Opinion Outpost – Opinion Outpost is very straightforward. You take surveys and you earn points. Once you've reached a certain amount of points, you can redeem those for cash paid out via PayPal or gift cards from Amazon and other vendors. Sign up for Opinion Outpost here. 
---
4. Pay yourself cash back.
Credit cards give their customers cash back and if you're not a fan of swiping cards for your purchases, that doesn't mean you have to miss out on all the fun. Just pay yourself cash back when you shop. If you go to the grocery store and spend $42, get $5.00 in cash back. This isn't a little pocket money for you to spend mindlessly either.
Take this cash back and throw it in your in-house petty cash. In-house petty what? Your in-house petty cash is a little bit of cash (not a lot) that you keep in the house for random expenditures that pop up. They are usually minor little things that catch you off guard and you typically need cash for it.
My daughter came home every month or so with field trip forms this year and some of the trips required a small fee like $5.00. I found it very convenient to have around $20.00 to $25.00 in the house for these little random trips.
Moral of the story: keep you a little petty cash on hand, not for mindless spending, but for random things you actually need (Note: Also convenient if kids selling Girl Scout Cookies or America's Finest Chocolate pop up at your door — you're welcome.)
Related Reading: Shop Online Using Ebates and Get Free Cash Back
5. Give up your raise.
Don't give it back to the boss man, but act like you're not getting a raise this year. Automatically increase your retirement contributions by whatever percentage your annual raise will be. I've done this the past few years and it's not hard to do at all.
Once you get used to the rhythm and flows of living on a designated amount, the increase doesn't really matter. You grow accustomed to saving, paying bills, and meeting other obligations with what you have. If you increase contributions to your 401k every year in this manner, you'll be saving 10 to 20 percent of your income in no time.
6. Use surveys to fund small expenses like household supplies, toiletries, cleaners, etc.
What you don't spend on these items, you take this amount and save it. For example, maybe Survey Company A offers payout in cash and they put it into your PayPal account. Survey Company B will pay you with a gift card of your choice.
Well, PayPal has a debit card or you can transfer this money into your checking account to use for household expenses. If you're ready to receive payment from Survey Company B, you could indicate you would like a gift card from Walgreens, Target, CVS, Amazon, or some other retailer where you could purchase your household supplies.
Don't tell me it can't be done because I've done it numerous times. Best part about it: if you opt for the CVS or Walgreens gift cards you can play the drugstore game to maximize your savings.
To help get you started, below are the names of a few survey companies you can sign up with. It won't make you rich and it won't buy you a new refrigerator or anything, but small expenses can save up to a mighty decent sum of money.
Check out these surveys offered by these companies:  American Consumer Panel, Swagbucks, and My Points.  
For further survey opportunities, check out this post – 7 Free Online Survey Companies to Join For Extra Cash.
Seriously, this should probably be number one because you can save so much money by creating a meal plan! It's too easy (and lately I've been a victim of it myself) to mindlessly blow money on food. I get it. You're tired, the kids are keeping you busy, and you just want time to sit down and breathe without thinking.
Well creating a meal plan before days like this come about will save you major dolla bills. I don't even want to come to terms with the amount of money I've been spending on food lately and you probably don't either. Nevertheless, this is one of those things that needs to get done if we want to reign in the spending and save more money.
8. Got coupons? From now on, they are cash!
Let me break this down for you using a quick example:
You budget $55.00 for this week's groceries.

At the checkout, you have $55.00 worth of groceries in your cart and $3.00 in coupons.

Your total bill comes to $52.00 after coupons.
Instead of spending that $3.00 on some random and unnecessary purchase, make sure you bank that money. Simply look at the bottom of your receipt for the total amount saved with coupons (or you could do total saved overall if you wanna be fancy) and transfer that amount to your savings account immediately.
9. Eliminated a car, student loan, or credit card payment? Now you owe yourself!
Once you've finished paying the people and your loans are paid in full, continue making payments to yourself. If you had your payments automatically withdrawn from your checking account, simply change the information in your account to automatically send x-amount of dollars to your savings account on the previous bill due date.
10. Still using money orders or paying bills by mail?
Let's find a cheaper way to pay your bills. That cheaper method is called the bank!  It's bad enough you have to pay people your money, let's not pay people to pay people your money (I know, mouthful, right?).
Sign up for auto-pay or set up auto-pay with your bank. The bank will cut a check to whatever people you're paying your money to and it won't cost you more money to do it.
11. Ever received cash back, rebates, reimbursements, overpayments, and such?
Never spend them!  I don't know about y'all but I've received quite a few reimbursements from our mortgage company telling us we've paid too much into our escrow and I don't know how I feel about that.
Nevertheless, it comes as a surprise and while it's nice to think of going out and blowing that money, it's even sweeter to put it in the bank and think nothing of it. Nurture those little surprises and watch them grow.
***A great cash rebate site you can check out (and earn a $10 gift card for signing up) is Ebates.
Check out Ebates today and get a $10 gift card to the retailer of your choice.
12. Adjust your tax deductions.
Do you receive an unusually large tax refund every year? If so, you may be loaning a little too much money to the government throughout the year.
If this bothers you, consult your tax people and figure out how much you need to withhold to break even every year. This is a sure way to put some extra money in your paycheck. Just make sure this extra money doesn't make it to your pocket, though. Put the difference in savings.
Bonus: Purchase gift cards at a discount.
Grocery stores and online retailers often make it possible to purchase gift cards at a slight discount. For instance, go to Target and purchase restaurant gift cards and use your Target Debit Card to save 5 percent on the purchase.
You can use these gift cards for date nights, gifts to others, and more. If you use it for date night, you'll already have a budget in mind by sticking to the predesignated amount already put on the gift card.  
Or just be simple about it and purchased gift cards up to 35 percent off from Cardpool.
Wrapping Thangs Up
The best way to save more money is to make the process as easy as possible for yourself. If any of the methods I've presented today sound easy enough, I encourage you to implement one or two of them to maximize your savings rate.
If these sound too intimidating, heck, let me know and I'll even help you brainstorm some more ideas that will be suitable for you. Just don't neglect to implement savings into your financial plan. After all, you don't have too much of a financial plan without it.
So, all my savers, do you have any additional tips to add that will help others accelerate their savings? If so, please sound off in the comments!
*Part of Financially Savvy Saturdays on brokeGIRLrich, A Disease Called Debt and One More Broke Twenty-Something*