To support this website, this post may contain affiliate and/or referral links to products or services I recommend. See disclosure policy
here
.
I don't like expensive holidays.
Its seems as if every year I get cheaper (more frugal) and I make every attempt to make things as simple as possible.
I get it, though. The holidays are supposed to be a happy time of year.
However, there's nothing about stringing lights all around the house, going shopping every day, and attending holiday parties every weekend that makes me happy.
The things that make me happy are decorating (the ugliest) holiday cookies with my kids. Or staying up late and watching This Christmas (for the 2,347th time) with my husband. Oh, and pulling out my fuzzy socks.
Now that type of stuff makes me happy and I know I'm not alone either. There are some of you who want to hide your credit cards, lock up your keys, order all your gifts online and keep life as simple as possible.
Of course, you want to have a little fun with the kiddos and enjoy a little holiday camaraderie with your family too. Therefore, I wanted to come up with 25 extremely simple and cheap Christmas activities that you can do this year.
No pressure, though. Do as much as you feel like you're up to because I plan to do the same. Let's get started!
25 Days of Cheap Christmas Activities
1. Watch a Christmas movie. Of course, I'll be watching This Christmas as usual and probably The Best Man Holiday.
2. Go look at Christmas lights at the zoo or park. Here in Columbia we load up and go to our local park that goes all out with the yearly light event. The cost is usually under $17.00.
3. Watch Rudolph the Rednose Reindeer. And of course, don't forget to read it to your little ones too. (BTW, I believe I now enjoy this more than my daughter does, lol!)
4. Instead of a holiday party, call up your friends and volunteer as a group at your local shelter or soup kitchen. You can do this with your family too.
5. Invite your friends over for a hot cocoa bar. Make a large batch of hot chocolate and create a bar with all the fixings. If you want to save extra, have your friends bring a fixin like marshmallows, chocolate chips, candy canes, vodka:)
6. Make a special ornament with the kids. One year my daughter made a special plate for daddy's cookies.
7. Make a birthday cake for Jesus. I mean, it's only fair considering that December 25th is his birthday! Or, you can even have a birthday party for Jesus (my daughter's old preschool did this and she LOVED it!)
9. Buy some blank books and let your child create their own Christmas story.
10. Make candy sleighs for your kid's friends.
11. Give a secret Santa gift to someone.
12. Go to a tree lighting ceremony.
13. Make Christmas cards (or have your six year old make them – they like stuff like that.)
14. Have a family game night.
15. Decorate the Christmas tree together.
16. Build a Gingerbread house together or purchase mini Gingerbreads and have a family competition.
17. Turn on your Pandora Christmas station and convince your kids that you're having a holiday cleaning party. Clean until your heart's content or until they figure out that you just bamboozled them:)
18. Make S'mores and watch cartoons.
19. Clean out your pantry, purchase canned goods and donate them to a food drive.
20. Unwrap a new book to read each night (check out your local thrift store selection).
21. Make holiday rice krispy treats.
22. My favorite – popcorn and pizza night. We grab the popcorn, favorite pizza, and crash on the living room floor in front of the television (a rare treat for us).
23. Put the kids to bed early and have a holiday date night with your spouse. You can prepare a special meal, dessert, and uncork a bottle of wine. We will definitely be working this onto the calendar.
24. Have a Christmas tree picnic.
25. Lazy day in. This involves pajamas, Netflix, and a whole bunch of chillin.
Grab a free copy of this list of 25 Cheap Christmas Activities (no email needed, just click the photo!)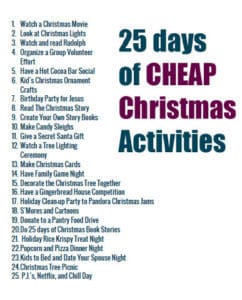 I don't know about you, but I'm surely in the mood for the holidays now. Hopefully, some of these ideas will make its way into your holiday plans this year. The best part of all, it won't cost you a bunch of money to do it either. Cheers to cheap Christmas activities! Enjoy!
Okay, I just have to ask since you already know mine — what's your favorite Christmas movie? Which of these Christmas activities do you think you'll add to your holiday calendar?