To support this website, this post may contain affiliate and/or referral links to products or services I recommend. See disclosure policy
here
.
If you're  reading this, you're probably sick of living paycheck to paycheck and worrying about how to come up with money at the last minute. If you've been scouring the web for advice on starting an emergency fund that doesn't involve shaving your head, bleeding into a tube, or roller skating around your neighborhood in your birthday suit – you've stumbled on some information that will be invaluable in helping you save more money.
I understand the struggle because I've been there and I know it isn't easy to save money when you barely have enough money to cover your essentials.  All you want to do is be able to handle emergencies like an adult and this is something you can do. You just need some direction.
Fret no longer because you've come to the right place.  For once, you're not going to read about a bunch of weird things you can do to stack coins for your emergency fund.  You're going to get some real tips that will have you sitting on at least $1,000 in no time.
I started saving for our emergency fund with an initial goal of $1,000.  Once I met that goal, I decided to increase my goal to $3,500.  I believe $3,500 is a great stopping point for our family situation and would allow us to concentrate on feverishly paying down off our debt until we're in a place to save up 6 to 12 months for emergencies.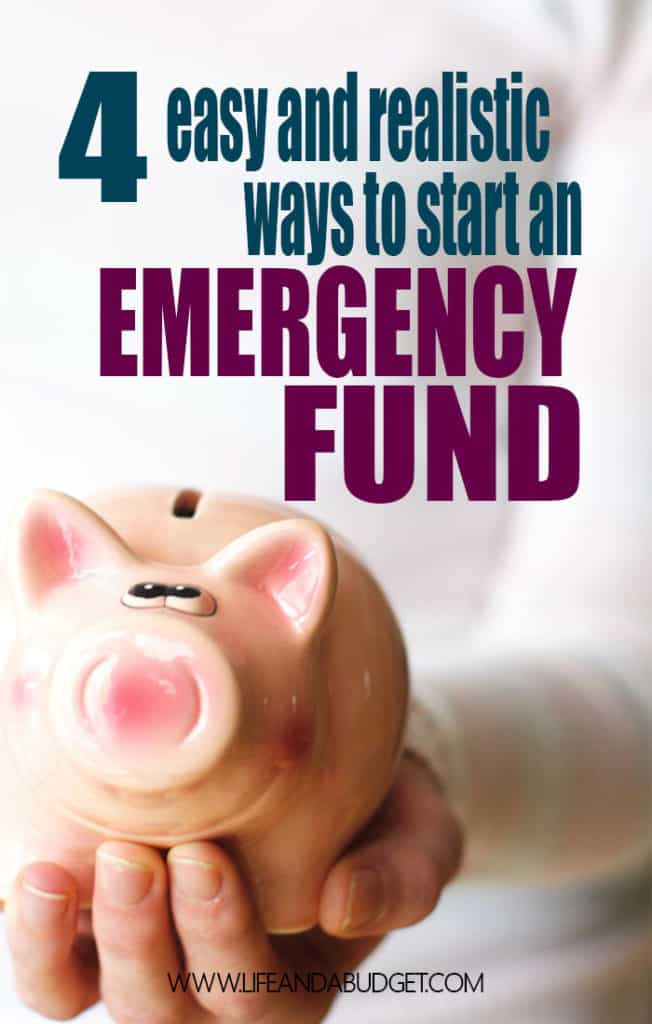 Here are the simple ways I went from $0 to over $2,000 in a year's timeframe:
1. Use your tax refund.
If you're okay with loaning money to Uncle Sam every year, might as well make good use of the bit he decides to give back to you every tax season.  This is the EASIEST way to drop a nice little sum into your emergency fund!
You don't need another television or another outfit. At least not until you have your emergency fund situated. Prioritize the things you actually need and those wants will take care of themselves in the long-run.
2. Limit the frequency of grocery shopping trips for several months.
This is something new I'm trying, but I believe it will help me get to the $3,500 threshold in no time.
If you go grocery shopping every week, try extending it a few days out.  For example, if you went this past Monday, see how far you can stretch things until the following Wednesday.
I've discovered many times we still have fresh items and things in our pantry that we can use those few extra days.
Unless it's a dire emergency like an infant running out of milk (hint: if this happens, try Amazon Prime for that free 2-day shipping so you can stay out of the stores), eat EVERYTHING you brought your prior shopping trip before heading back to the grocery store.
Anything you save during each pay period of experimenting with this idea could be added to your emergency fund.
Also, boost your grocery savings using this free savings app called Ibotta. All you do is select the grocery store you're shopping in, then you select rebates for things like bread, milk, and household items.
After your shopping trip is complete, you verify your purchases by submitting the receipt. Your cash back will be deposited within 1 to 2 business days. Sign up for Ibotta here and get a free $10 bonus for signing up!
3. Increase your income.
Now sorry guys, I know you've probably read this on every single personal finance website there is, but you really can't get around this one. And this is a good thing. You should always have multiple streams of income.
If you have free time on your hand, monetize it. A couple of months working a part-time job will help you reach $1,000 in no time.  If you can work part-time for an extra 6 months, you're really making headway.
If you're like me and have kids at home, maybe getting a part-time job isn't feasible.  Heck, we can't even afford to pay daycare for our baby boy (working from home makes life a lot easier on this end), so I know paying for care just to work a part-time job is out of the question.
However, this hasn't stopped me from pursuing side hustling.  If there is a website I can write for, I'll do it.  If someone needs me to test their website?  I'll do it.  Online hustling is very viable and doable for those of you who have kiddos at home. I have an extensive collection of articles about side hustling that you can check out here.
---
Join the FREE 5-Day E-course on How to Start a Blog. You'll learn everything you need to know to get your own blog up and running, some tips and tricks that have helped me start earning an income, and more. Sign up for the How to Start a Blog E-Course today!
---
4. Take surveys to replace a budgeted expense.
Y'all, this one is my favorite.
I've been a survey taker for years!  I'll cash in those points for gift cards and cash in a minute.  Many companies offer Amazon, Walgreens, and CVS gift cards.  I use this money to replace a small category that I would normally include in our budget, like toiletries.
I budget $40 per month for this expense.  I use any cash made taking surveys for these expenses.  Now that I have an extra $40 sitting in my account, I can put it towards my emergency fund savings.
If you know how to play the drugstore game, you can get many of your toiletries for rock bottom prices and have money left over for gifts.
Is that another budget expense?
Yep, and there you go…this strategy can help ease the burden of several different expenses.
Also, a few of the survey sites that I use are Pinecone Research (pays $3 for every survey, except household surveys), Harris Poll Online,  Vindale Research, Opinion Outpost, and American Consumer Panel.  Also, don't sleep on Swagbucks either.
Wrapping Thangs Up
There you have it!  I just dropped four realistic things you can do to help build up your emergency fund.  The crazy thing is, this isn't even everything you could do to build an emergency fund of $1,000.
If you're really serious about saving $1,000, I encourage you to check out my e-book, The ASAP Emergency Fund Plan.
This e-book will walk you through 30 days of activities to complete to build your emergency fund. It comes with a savings tracker and a few worksheets that will help you improve your finances too. Learn more about The ASAP Emergency Fund Plan here.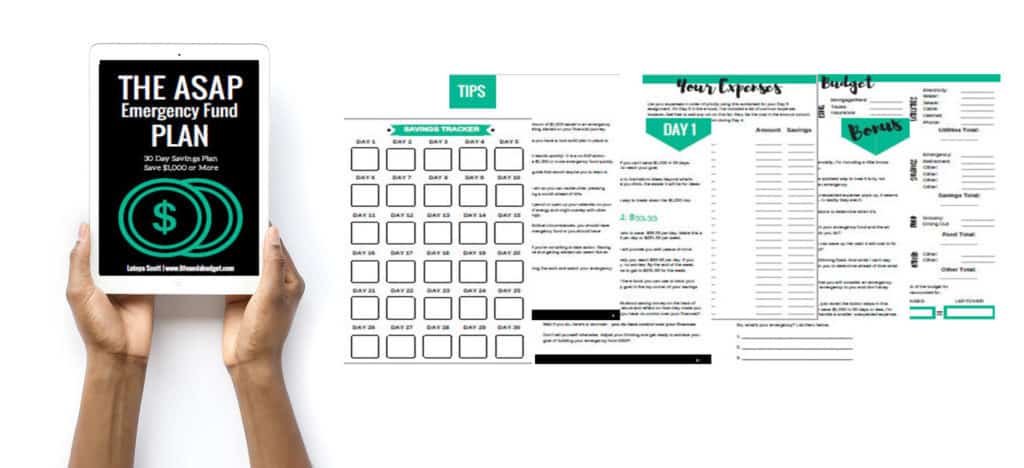 *Part of Financially Savvy Saturdays on brokeGIRLrich, A Disease Called Debt*