To support this website, this post may contain affiliate and/or referral links to products or services I recommend. See disclosure policy
here
.
This article is perfect if you think you're ready to quit your job, but there are four signs you might wanna pay attention to before you do. Let's chat…
There is nothing like the feeling of waking up and being able to create your own daily schedule. I've had this dream for a long time and in the past, I doubted it would ever come to true.
Many of you probably wake up on a work day and wish you could crawl right back into bed. That's how I existed for the last seven years. And let me tell you, it's not a pretty.
First, let me say I'm not encouraging anyone to quit their job. This really isn't a post that will help you make a decision like that because I understand there are many factors that play into it.
This post is simply gonna outline the signs it may time for you to leave behind 9 to 5 living and pursue your dreams.
Plus, if you stick with me, you'll discover the inspiration for this post a little later. It's quite life altering – at least for me it is.
Related Reading: How I Made Over $7,000 From Online Side Hustles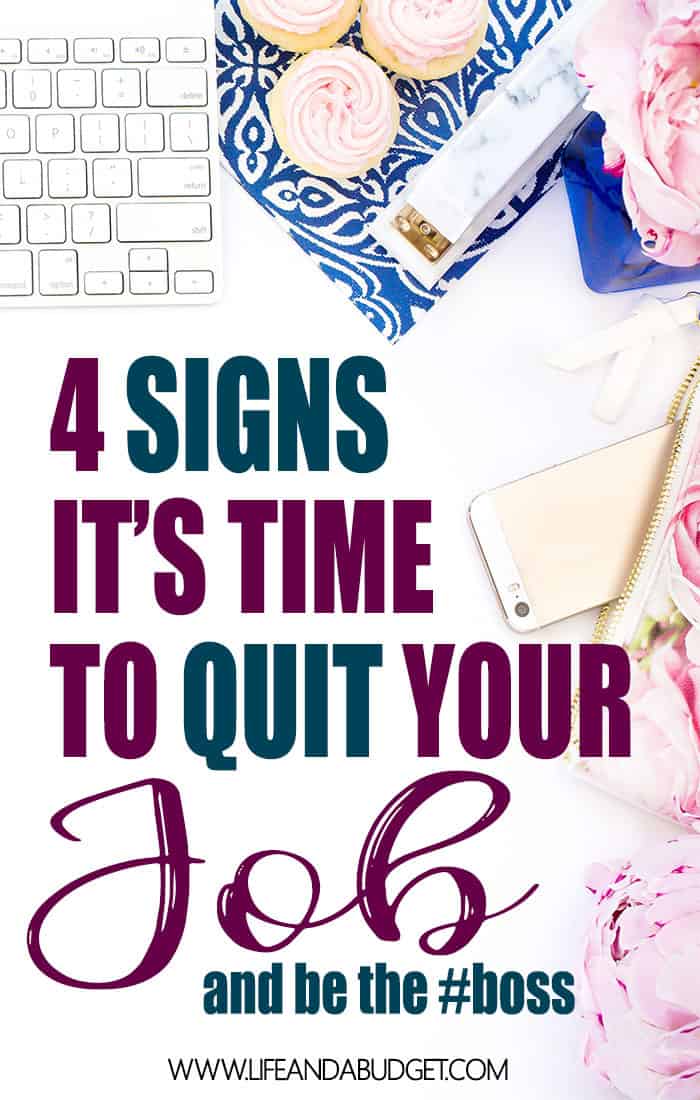 4 Signs It's Time to Quit Your Job
1) You feel physically ill when you think about your job.
A sick feeling settled in my stomach. My hands were shaking. My heart was racing and I was experiencing all kinds of yucky feelings. This was on a Monday.
It doesn't matter what day of the week it is for you if the thought of going to work or actually going into work makes you sick – that's not a good sign.
2) All you do is daydream about what you'd rather be doing.
For me, it was writing and blogging. The entire eight hours I was chained to my desk, that's all I thought about.
My mind wasn't on the work and my heart wasn't in it. I'd gotten a taste of what it was like to earn income online and I wanted desperately to have more time to dedicate to it.
I couldn't grow in my online endeavors and I felt like my 9 to 5 was holding me back.
Is your mind on the work you're doing? Or have you carefully visualized everything you'd rather be doing than sitting behind your desk making someone else rich?
Related Reading: How to Land Freelance Writing Gigs
3) God starts giving confirmation after confirmation.
It may start as something small. For me, my plans for the year started shifting.
I created a set of goals to complete per quarter and  I noticed that some of them were shifting out of place. By this point I didn't fight it, I just went with it.
For instance, one of my third quarter goals was to buckle down and start focusing on meditating. I've wanted to do more meditating for a while and thought I should focus on it later this year.
But one day I felt so overwhelmed and knew I needed to do it immediately.
Just so happened (not by coincidence) a few days later I read a book about abundance and the Law of Attraction. I gained a sense of clarity have I never had before.
Confirmations kept coming from EVERYWHERE that told me to continue meditating, goal setting, etc. I mean it showed up in memes, television, radio, Facebook statuses… just EVERYWHERE.
When something is showing up over and over again, pay attention to it!
4) You feel like you're hitting a ceiling professionally and personally.
My plan was to quit my job by 12.31.2017. I set a savings goal and told myself I was quitting whether I was ready or not by this date.
Again, confirmation continued to come through. I hit my savings goal really early, which was unexpected.  I thought it would take me the rest of the year to come up with that kind of money.
A situation came up at work and  I was being forced to come back into the office to work full-time. That made my situation even worse. Things started to shift.
I knew it would be absolutely impossible for me to go back into the office to work again after seven years. It was a number of things, but the main one is that I'm not cut out for corporate America.
Even more, my home life would have been deeply affected by this swift and sudden change. My income and training were hitting a wall. I was going nowhere with this job.  The only reason I was still there was because it was comfortable.
Are you still putting up with your 9 to 5 because it's comfortable? Is your work fulfilling or are you simply there because you've been conditioned to believe that's where you're supposed to be?
The Inspiration Behind This Post
Let me back up a minute.
Remember, earlier I mentioned it was on Monday when I felt sick. Like physically sick.
That Wednesday I asked my husband should put in my notice that very moment. My other option was to resign right before it was time for me to go back in office.  I was tired and all of these signs were not by chance.
Buuuttt my hubby, being the more conservative of the two, told me I should resign in a couple of weeks before being pulled back into the office.
Now, here's where things get interesting. The final confirmation of sorts.
An hour and a half after our conversation, management and HR  from the 9 to 5 called and they FIRED me!
Yep, you read that right. I got fired hours after feeling like I should quit.
Sometimes You Have to Let Go
My ten-year work anniversary was coming up, but it was time to go.
Sometimes you have to let go because if you don't, God can and will shut those doors himself. I know I did the right thing in seeking and listening to my husband's opinion, but he didn't know all the manifesting, confirmations, and what not that had been going on beforehand.
I hadn't talked to anyone about it. It just happened. And honestly, I'm not sad one bit. I told my manager great, thanked them, then proceeded to pack up their ish to get it out of my house.
I wanted to get rid of that negative energy so I could focus my efforts on what I KNOW I should be doing.
Wrapping Thangs Up
I know you came here looking for signs and these just happen to be from my personal experience.
I'm glad I went through this and I'm ready for the next step. I know it's my time to do something amazing as an entrepreneur.
If you've been holding back on following your dreams, sometimes you have to do a little planning. At the same time, make sure you pay attention to all that life is saying to you.
Is it scary? Hell yes…I ain't gonna lie.
I was nervous for about twenty-four hours. Now I have an extraordinary sense of peace that I can't explain. I'm not choosing fear. This is a good thing and I'm glad I didn't have to wait until the end of the year to experience it!
Will you pay attention to the signs you should quit your job? What do you wish you were doing for a living right now? Have you ever quit a job to pursue your dreams (or did you wait too late like me)?