To support this website, this post may contain affiliate and/or referral links to products or services I recommend. See disclosure policy
here
.
When our feelings about money suck, it's usually because of our current circumstances. I mean, who feels good about not having enough money to pay all their bills or not having nothing left after paying all their bills?
Oddly enough though, feeling good is exactly what we have to do for it to actually get better. We have to feel good when we don't want to because what we think about, we become. If you're always looking for bills, they will undoubtedly find their way to you.
However, changing our feelings when we're in the throes of life isn't so easy. How do you manage to be happy about your current set of circumstances? How do you silence that inner critic that tells you that this is all there is to life?
Well, it's possible and while I could talk my head off about the many ways to do this, today we're just going to focus on four simple ways you can be happier about your finances.
This is important because when we make a conscious choice to feel better about our money despite what's happening around us, our efforts will actually propel us towards better finances in the long run. So, let's not delay any longer. Let's figure out how you can find something to be happy about when it comes to your finances.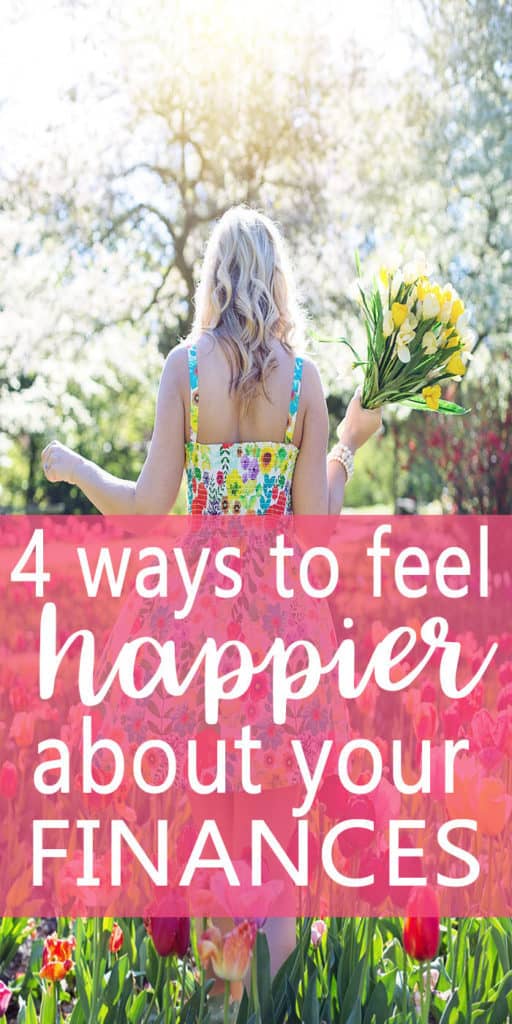 4 Ways to Be Happier About Your Finances
1. Be grateful.
You might have heard this before but the quickest way to improve your circumstances is to be grateful in spite of. If you continue to focus on what you lack, it will be hard to experience anything but lack.
However, when you focus your attention on all the good things that are happening financially and otherwise, you will easily recognize all the good that flows into your life.
Think about it, you're complaining about not having enough money to pay your electricity this month, but let's dwell on the fact that you even have electricity. We may not see it as a luxury, but there are people in the world who don't have electricity.
Having a roof over your head and even just a few dollars in your pocket is something to be grateful about. Keep your mind focused on increase and not whatever it is you're lacking. And yeah, I know it's easier said than done for some of you, but if you think being grateful for what you have is hard, it will be. So consider it the easiest thing you can do to feel better about your financial situation.
2. Create better financial goals.
Don't shoot for anything, create a clear plan. You're more likely to achieve a goal if you've written it down.
I mean, it's easy to say you want an extra $600 to do x-y-z, but if you don't have the goal written down and a deadline to complete it, a few months later you'll be sitting around thinking you are incapable of reaching goals.
Meanwhile, you probably made more than an extra $600, you just don't know what you did with it because you didn't have a clear goal and you weren't tracking your progress.
A good goal should have a timeline, purpose, and a plan. If you want an extra $600, give this extra cash a purpose. Also, create a plan to make the extra $600 and give yourself an end date. Last, make sure you're measuring your results.
You will be much happier when your date comes to pass and you've killed your goal.
3. Be proactive instead of reactive.
Don't just react and stress out to your financial situation. Be proactive so you can focus your energies on other things that are important to you.
Part of being proactive includes creating a budget, automating savings for unexpected expenses, and having life and disability insurance.
Your budget will help you create a plan to live your life the way you want to live it. If you want to go out to eat, go. Just make sure you budget for it. Your budget is not a punishment.
Your automated savings plan will ensure you're prepared for car repairs. Instead of calling car repairs emergencies or disasters, start viewing them as planned expenses.
Finally, having life insurance or disability insurance will make sure that you and your family are prepared for things you don't like to think about. The last thing you want to stress over is how you will cover burial expenses or pay bills if you're out of work.
4. Forget about what everyone else is doing.
The last thing you can do to be happier about your finances is to stop focusing on what everyone else is doing. So the heck what your neighbors just brought a new car.
They might not be able to afford that car and it could be causing them financial stress. But that ain't none of our business and best of all, it doesn't have to be you.
If you focus and plan for the things that YOU want in life, you'll be much happier. Besides, keeping up with the Jones is so yesterday. There is so much joy in living life how you truly want to live it versus following the crowd.
Wrapping Thangs Up
Happiness means different things for different folks and financial stress messes up our happiness in several ways.
No matter what your current reality is, if you keep telling it like it is, it will stay the way it is. I don't know about you but that doesn't sound cool to me. I would rather focus on what I want, be grateful, and all that good stuff before I keep repeating the same ole story.
Have you ever heard of the As a Man Thinketh by James Allen? Check it out and you'll better understand where I'm coming from. There's also a good word in the Bible, Proverbs 23:7 that says, "As a man thinketh in his heart, so is he."
If you want financial peace, focus on financial peace instead of the lack thereof. You want to be debt free, focus on debt freedom instead of the unsurmountable debt you're in. Thinking about being debt free will help you make better decisions like avoiding new debt and you'll be able to think of creative ways to pay off your debt.
Stay grateful, create clear goals, be proactive, and forget about everyone else is doing. Those four things are a great start towards becoming happier about your finances. It won't happen overnight but keep at it.
Are you happy about your finances? Do you focus on how you want your finances to be or do you continue to tell it like it is and get the same results?