To support this website, this post may contain affiliate and/or referral links to products or services I recommend. See disclosure policy
here
.
When I left my old job, one of the first things I knew I needed to do was roll over my 401k.
This is such an important step and many folks tend to look over or procrastinate doing this because they think it will be too hard. I'll be honest and tell you that I had similar thoughts.
Surprisingly, it only took one phone call. Everything else I was able to complete online! Since it was so simple, I thought I would share with you how easy it is to rollover your 401k using Betterment.
But first, let's talk about exactly what a 401k rollover is and why you should do it.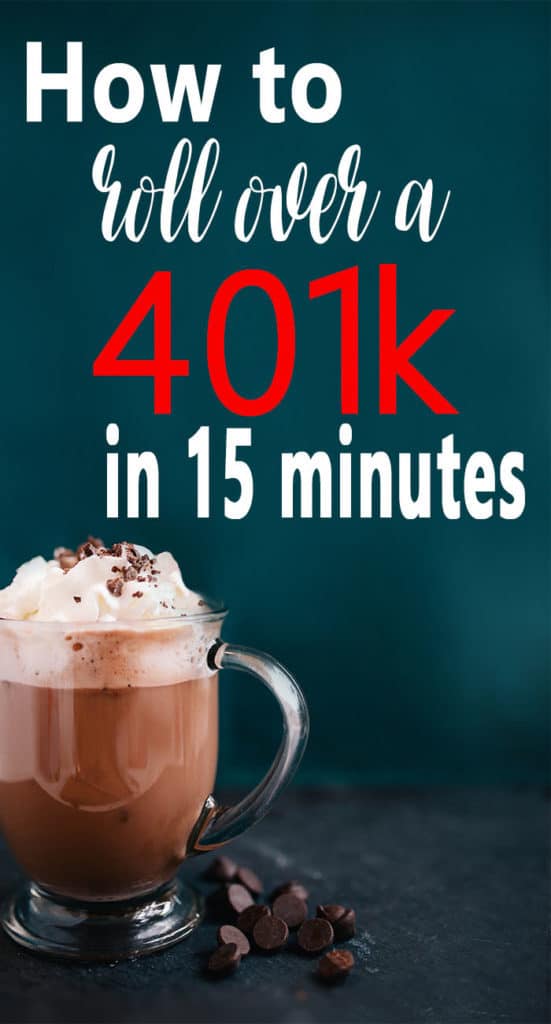 A 401k Rollover is Easy
When you leave your old employer, if you've been saving anything for retirement, you may have been contributing to an employer-sponsored 401k plan.
After your role with the company has ended, you will have the option of leaving the money in your old plan, rolling it over to your new employer's 401k plan, or opening an Individual Retirement Account.
If you're becoming self-employed, you could roll it over into an IRA. However, if you have a new job, you could choose either option. It just depends on what you want to do.
As long as your money from your old 401k is going into a new 401k or an IRA, it's tax-free. But here's something you should consider — if your account has more than $10,000, your old 401k will usually let you keep the money in the plan. However, if you have less than $10,000 and you don't roll it over, they may send you a check. If they do this, you will pay taxes on the money you receive if you haven't reached retirement age.
There is one more thing to consider too if you're rolling your money over into an IRA. You need to figure out what types of accounts you had in your old 401k. If you had your money in a traditional 401K and a Roth 401k, these would have to be rolled over differently as well.
Thankfully, I had more than $10,000 and mine was in a traditional 401k. This made the process really easy since I honestly had no idea what I was doing.
Rolling over my 401k using Betterment was super easy. I chose Betterment because I've heard a lot of amazing things about the company.
The things I liked best about them were that their fees weren't complicated to understand and it did the investing stuff for you.
This setup was similar to my old employer 401k. They made it easy to invest in the 401k because you simply selected your age and risk preference and they did the rest.
If I had to manage my own plans and figure all of that stuff out, I probably wouldn't have started in the first place. All I had to do was have the money taken out of my paycheck and the company handling my 401k invested the money according to my risk tolerance.
Since I'm in my early thirties, my risk tolerance was aggressive and I saw major gains in my 401k account before exiting the company. Betterment provided those same features with reasonable fees, so I felt comfortable allowing them to handle my portfolio.
Here is the 15-minute process for getting started with Betterment:
They will ask you a series of questions —  Are you retired? Your primary reason for investing? Are you currently investing? Etc. They will use these questions to do a quick benefit analysis. This will tell you exactly what they can do for you.
You will select continue and then select your email and password. There will be an opportunity to review your risk tolerance and all of that good stuff.
Once you have an account set up with them, they will send you specific instructions to your email. The email will give you instructions on who to contact at your old 401k plan.
Next, you will call your old 401k provider and tell them you are rolling over your 401k with another company.
Give them all of the information Betterment instructs you to give in your welcome email.
You will receive a check in the mail in a few weeks made out to your new 401k plan. You will mail this check to Betterment and they will put it in your account.
Wait for email confirmation that Betterment has received your check (I sent mine certified).
 After this, I waited a few weeks and checked my account with Betterment. The money was there and my account had earned $700 because they had already invested according to my goals. Woo hoo!
Wrapping Thangs Up
Once your account is set up, it's time to continue investing. All you have to do is link up your bank account with Betterment and automatically contribute to your new IRA account.
I seriously was not expecting it to be that easy, but I'm glad I didn't put it off any longer. Not only was it easy, but it was painless, to say the least.
Betterment made the sign-up process easy, provided clear instructions, and took action on my goals. I didn't even need to log in and figure out what to invest in. The icing on the cake was seeing how quickly I earned money with them.
So, if you're newly self-employed or just changed jobs, I highly recommend you get started on rolling over your 401k. Don't be afraid to take your money and run because you think the process is going to be hard. It'll be a whole lot easier than you think. Let me know how it goes for you!
Learn more about Betterment and what they can offer you here.