To support this website, this post may contain affiliate and/or referral links to products or services I recommend. See disclosure policy
here
.
Just a few minutes every weekend could set you up for a week of financial success, but my guess is you already know th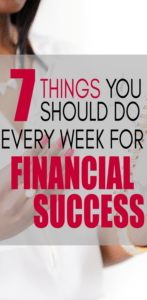 at, right?  I know it's the weekend and all you want to do is chill and take a reprieve from the previous week of hell at work.
Trust — I get it.
The weekend is the best time to center yourself, play with the kids, bask in the sun and all that good stuff. However, you would be doing yourself a disservice if you didn't give your finances just a little attention.
After all, how do you plan on meeting all of your financial goals if you don't stay on top of what you spent last week? Or stay on top of your debt repayment plan?
Besides, it's not as if you're going to be creating a new budget every week. We're just talking about some easy tasks that will take you a few hours at the most.
So, let's not make this bigger than it has to be. Grab a notebook and pen so you can create your own unique plan as we go through seven simple things you should do every week that will help you be financially successful.
7 Simple Things You Should Do Every Week for Financial Success
1. Set aside a day to plan for the upcoming week.
Every week, you need to designate a day to prepare for your upcoming week. It doesn't matter if it's on the weekend, as long as it gives you time to review your goals, review your spending, meal plan, grocery shop, and prep your meals.
Most people like to do this on a Saturday or Sunday, but if the weekend doesn't work well for you, don't be afraid to go rogue and choose another day. For example, if you work on the weekends, the best opportunity for you to plan the upcoming week may be Mondays or Tuesdays.  This day will be the day you proceed with the remaining action steps.
2. Prioritize your goals.
Write down short-term money goals and display them where you can see them. Prioritize them from highest to lowest priority. Prioritize activities that will help get you get a step closer to achieving that money goal. For example, if you want to take a girls trip in six-months, you might prioritize picking up extra shifts at work to fund your goal.
Repeat the same process for your long-term money goals. Write them down and prioritize from highest to lowest. Prioritize any additional activities that help you get closer to your long-term money goals as well.
The idea here is to focus on one short-term and long-term goal per week. Maybe a few of your goals involve automation. If you need a $15,000 deposit for a house in 3 years, set up an automated savings plan this week.
If you want to pay off a credit card balance within three years, review your budget determine how much extra you can throw towards the balance each month.
Once you've done this, you can set up another automatic payment so that you stick to the plan or create a reminder to make the payment before the due date. See how one activity during the week can get you closer to your a long-term goal?
3. Create a meal plan.
If you're having trouble figuring out how creating a meal plan can set you up for financial success, grab your bank and credit card statements and take a look at how much you spent on food last month. If you're like many, you may struggle day-to-day with grabbing takeout all because you failed to plan what you were going to eat on any given day.
The best way to overcome this is by creating a meal plan each week. And if the thought of coming up with meals every week is a bit much for you, no worries. Take the time to create two or three of your favorite meal plans and then recycle them week after week. This strategy will cut your planning in half.
The best way I've found to battle any meal plan hesitations you may have is to sign up for an affordable meal planning service.
$5 Meal Plans does all the work for you and they will send you weekly meal plans on Friday, complete with all the recipes for the week, plus they create your shopping list!  Just tell them which store you shop at!
4. Meal Prep.
So, now that you've got your mind wrapped around meal planning, you're probably wondering why you should bother with meal prepping. Well, the answer is simple —  meal planning in and of itself won't save your budget if you're too tired to prepare your lunch for work the next day. Neither will it do you any good if you forget to put your ingredients in the crockpot before you leave for work in the morning.
Yes, things like that happen to the best of us. We're busy people and busy people tend to let money slip through their fingertips. The best way to deal is by setting aside time each week to prepare all of your lunches for the week. Same thing goes for your dinner.
This will help you save money because you won't have to grab lunch when you don't feel like prepping the night before. It's also a major time saver for those nights when you get off later than expected or forgot to turn the crockpot on.
5. Streamline your bill payment system.
You know how you throw all of those bills to the side until you're ready to deal with them at some unforeseen time during the future?  Yeah, well, stop that! As soon as your mail comes through the door, go ahead and open it. Then write all of your bill due dates on your calendar or reminders on your phone.
This will set you up for financial success because you will be able to see what bills are due and when. No more missed credit card payments or late fees added to your utilities. You can't see what's coming through if you leave the envelopes unopened.
Create a special area to place all of your opened bills. This way you'll not only have reminders on your calendar, you'll also be able to find the correspondence for each bill you when you need it.
6. Review your spending.
It's easier to correct a budget mishap on a weekly basis than it is on a monthly basis. If you overspent one week, you don't have to wait until next month to get back on track with your budget.
Keep copies of your receipts or track your spending in a notebook or phone app. Every week on your predesignated date, pull your receipts or expense tracking to make sure you spend according to your budget for the month.
The good thing about doing this weekly is that you can catch overspending dead in its tracks. If you spent $75 on dining out for the previous week and the dining out budget is only $80, you will have saved yourself a headache. Don't allow your finances spiral out of control because you don't pay attention to your spending on a weekly basis.
7. Grab cash for the upcoming week.
If you struggle with overspending in a specific category, it's best to stick with cash. Go to the ATM every week and pull the cash you'll use for the week.
You can still track your spending to get an accurate reflection of what you spend for the month. However, if you struggle with overspending on dining out, it will be hard to spend cash that you don't have.
This method will also help ensure that you spend wisely on a week to week basis. Let's use our previous dining out example.
If you budgeted $80 for dining out every month and you have a tendency to spend $75 that first week, you'll benefit from taking only $20 out each week. This will force you to make your money last the entire month and this applies to any category you struggle with overspending.
In Conclusion
As you can see, none of these are really hard. It's really about preparing yourself physically and mentally for the upcoming week. These tasks don't seem related to financial success but rest assured they will help you.
Folks who are financially successful get to where they are by being consistent and sticking to their plan. If you are overwhelmed by the thought of implementing all of these at once, don't be. Choose one thing to work on and be consistent with your efforts before moving to the next thing.
You didn't get to your current financial state in one day and you won't become financially successful overnight. But if you create a plan today and take some time every week to work on your execution, you'll be happy that you did.