To support this website, this post may contain affiliate and/or referral links to products or services I recommend. See disclosure policy
here
.
Do you want to pay off your student loans faster? I can understand why because student loans are a pain in butt — there's simply no better way of putting it. While I am extremely grateful for my entire college experience, I wish I'd wised up fifteen years ago and went about obtaining my education more frugally. Since I didn't do this and many of my fellow millennials didn't either, you're probably here because you need some solutions that will help you pay off your student loans faster. Well, look no further. Grab a glass of lemonade/sweet tea/vodka and let's chat a minute…
Here are 8 ways to pay off your student loans faster.
1. Blogging
Yes, I know some of you are like, "Oh come on, that's the longest route you could ever take!"
This is simply not true. I'm tired of the excuses and I feel this is just another one of them. The excuse is simply based on one emotion and that's fear. You're afraid of putting yourself out there for others criticism or you're afraid of the amount of work that goes into it.
For some, it can take awhile to make your money back from setting up your site. Others are able to get things popping rather quickly. Don't let fear of the unknown keep you from doing something about your debt. Setting up shop here at LAAB has allowed me to launch my freelance writing career and I'm having fun doing it. I'm not bringing in the big bucks yet, but I did have a pretty nice chunk of change to contribute to my student loans last month. 
Related Post: How To Start a Blog Using Bluehost
2. Freelancing
This brings me to the second way you can pay off your student loans faster — freelancing. Now maybe some of you aren't cut out for blogging and I completely understand. However, this doesn't mean you still can't use other talents to help you earn additional cash to pay off your student loans faster.
If you're a writer, it's easy to create a couple of clips and add them to your own online writing portfolio. You can start a simple website using free or self-hosted platforms or you can use a free portfolio service like Contently. Also, writing isn't the only freelance job out there.
If you hate writing, you might want to consider graphic design, coaching, proofreading/editing, or virtual assistance services. There are many fields to consider. Just remember, regardless of the type of freelancing services you offer, you will have to market your services if you want to build clientele.
3. Part-Time Gig
I recently listened to an awesome podcast on His and Her Money that featured Deacon Hayes of Well Kept Wallet. Deacon and his wife were drowning in $52,000 of debt, $27,000 of that amount being in student loans. They managed to pay it off doing nothing other than selling pizzas!  Yes, selling pizzas and he paid his debt off in 18 months!
See! Why do we make paying off debt so complicated? Don't sit around wishing your debt were gone, get up and do something to make it go away.
Deacon utilized a few other methods to help with his debt repayment like selling stuff around his house, but I'm pretty certain they didn't have $52,000 worth of stuff lying around. He got out in the streets, dropped off pizza orders, took the cash and utilized the snowball method (paying smallest debt first) to pay off his student loan faster.
Further Reading: How Delivering Pizzas Helped Deacon Hayes Pay Off Over $52,000 of Debt in Just 18 Months – His and Her Money
4. Sell your junk
As I previously mentioned, I'm sure you don't have enough stuff to sell that would make a major dent in your student loans, but any amount would help! It doesn't seem like it, but an extra $20 or $50 might be sitting in your closet in the form of stuff you no longer wear. What about your junk drawer? Do you have an old phone in there you could sell?
Go through every space in your house, garage, trunk. Basically, look in every nook and cranny that could be hiding something of value. Don't forget to check your kitchen cabinets. Anything on the bookshelves? Jewelry box?  See, I knew you had some money lying around.
Sell all of that stuff you found on Craigslist, Facebook Groups, community yard sales, to people you know… just sell it somewhere. Whether you make $20 or $500, put all of that money you found and put it towards the principal of your student loan balance. Making those extra payments towards the principal will definitely help you pay off your student loans faster.
5. Become a flipper
No, I'm not talking about house flipping. But it's okay if you thought that — you got goals. Pay off this debt and you might eventually be able to work your way to house flipping. Anywho, the type of flipping I'm talking about is flipping items into newfound treasures people are willing to pay you a grip for.
Okay, I'll elaborate.
There are two different ways to go about this type of money making strategy. First, you could purchase clothing, purses, shoes, antiques, rare treasures and such and resell it for a profit, or you could find something that's rough around the edges (think furniture) and give it new life. Once you have your items, you flip them on places like Craigslist, Facebook yard sale groups, or Ebay.
Here's an example:
Let's say you found a pair of trendy jeans at your local thrift store for $3.00. After viewing the label and doing a quick Ebay search, you find out the pair of jeans you found are selling for a minimum of $40.00.
I want you to nicely put those jeans in your buggy and run to the checkout counter because you, my friend, have literally found money in the thrift store. Take really good pictures, give a great description, collect your money and throw it at your student loans.
One mo' example:
For the next scenario, imagine finding a dresser on Craigslist. It seems like it's in good condition but it just needs some elbow grease to give it new life. You meet up with the owner and deem it to be in good enough condition to be worth the trouble.
The owner is ready to get rid of it and sells it to you for $25.00. When you get home and begin to dust and oil the thang up, you realize it's one of those Bassett dressers that retail in the $1,000s. You finish it up and make it all purdy like and flip it on Craigslist for a profit. Ain't that something? Now, waaalah!  You have some extra money to help you pay off your student loans faster. 
Further Reading: Don't believe me, though, believe the folks who are doing it.
6. Volunteer Work
If you're already involved in civic service, why not volunteer, provide a need for this country, and receive an educational award to put towards your student loans?  I tell ya, to be young and free of "adulting" responsibilities.
If this describes you and you have time on your hands, you could be of service to yourself and others and join AmeriCorps. If you complete a term of service, you will be eligible to receive $5,500 educational award towards your student loans. Plus, you will receive a stipend during the time of your service to cover your basic necessities.
Here are a few other ways to receive gifts towards your student loans: Public Student Loan Forgiveness, Nurse Corp Loan Repayment Program, and the National Health Service Corp. Check some of these out and determine if you meet the requirements. If so, this could be a great way to help you pay off your student loans faster.
7. Retail Arbitrage
Never heard of it?
No worries, I hadn't heard of it until recently either, but obviously, Amazon needs help to procure all of that stuff they are selling folk. I've always been curious about what fulfilled by Amazon means on their site and never really had a reason to give two flips. That is until I discovered how good folks were in these streets earning a living off buying stuff to sell on Amazon.
Apparently, if you go to Amazon and purchase a wall decal, for example, there are multiple sellers from whom you can buy these thingamajigs. There is a link you can click on that says "2 New From" as shown below.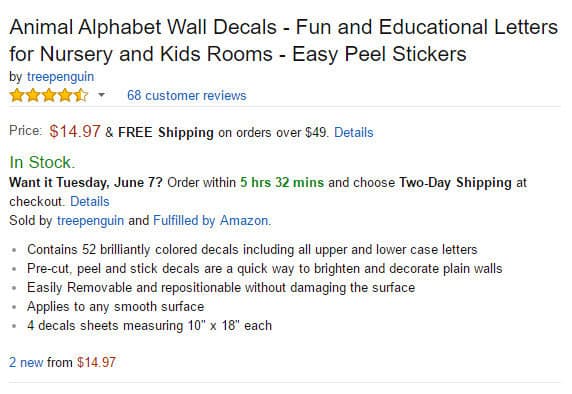 Once you click on it, there are two sellers. You can see the one below is being sold by a seller named Tree Penguin and the item is fulfilled by Amazon. This is where the sellers come in. Tree Penguin has set up shop on Amazon. If you purchase the wall decal through them, it is fulfilled by Amazon, using merchandise that Tree Penguin provides.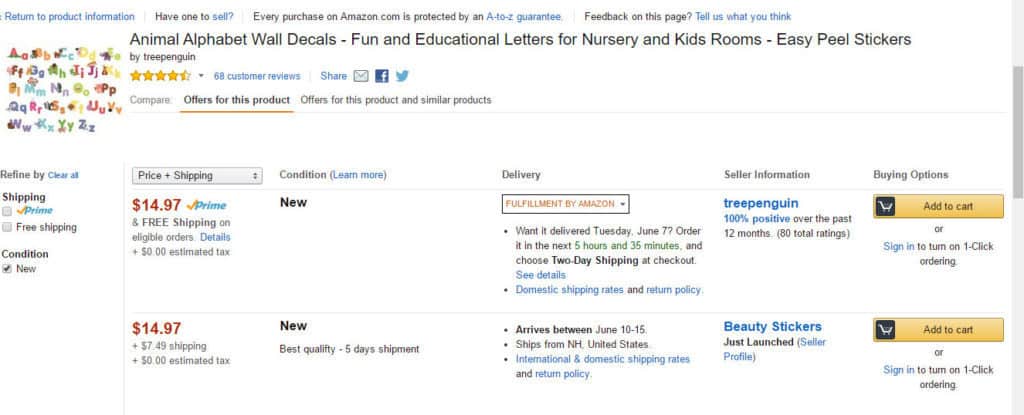 Amazon gets their cut and Tree Penguin gets paid too. Sellers usually go to discount stores, close-outs warehouses, drug stores, etc, and search for rock-bottom prices on different items. Before purchasing anything, they can check how much profit they will make using a special app on their phone. Once they have their merchandise, they ship it to Amazon and it sits in the warehouse until someone purchases it.
You could be living in an area where you're able to easily procure merchandise at low prices and make a decent profit.  If it's something you're interested in, I recommend you thoroughly do your research. If you have a few dollars to spend upfront to help you get started, you could potentially earn a nice little sum of cash to help you pay off your student loans faster.
If this method of side hustling sounds interesting to you, check out this three-part video series from The Selling Family. They go into more depth about the program and give you hard facts on how they became successful Amazon sellers.
Further Reading: How to Sell on Amazon: A Beginners Guide for Getting Started
8. Offline Side Hustle
Taking an offline side hustle isn't quite the same as finding a part-time job. At a part-time job, you work for someone else. A side hustle means you're hustling and the only person you're answering to is your growing student loan balance. Some of you might not want to pursue money-making opportunities online and that's okay!  You don't have to worry yourself because you can take the hustle offline.
Do you have an eye for taking good pictures? It's wedding season and a bride is looking for the perfect person to capture her day. Speaking of weddings, do you officiate weddings? Do you like planning weddings? Or maybe you can cook? People hire caterers for parties and weddings too.
Whatever you're good at, I'm sure there is a way for you to use your skills to make some extra money. If you like kids, parents need a night off and you could babysit. Furry friends count too. People pay good money for dog sitters.
Regardless of what you decide, to get started all you have to do is let someone know you're looking to earn some extra money during your free time. If they need your services, they might reach out and help you earn additional cash to pay off those student loans faster.
Wrapping Things Up
There you have it. I've just given you 8 different ways to earn additional income to help you pay off your student loans faster. The journey won't be easy, but the road to debt freedom is a road well traveled and I'm sure you'll be happy with your destination once you've gotten rid of those annoying, pain in the butt student loans.
Another Article You May Enjoy: 7 Free Online Survey Companies to Join for Extra Cash
Any of you have some additional ideas on how to pay off your student loans faster? We'd love to hear them!