To support this website, this post may contain affiliate and/or referral links to products or services I recommend. See disclosure policy
here
.
Welcome to my April 2017 blog income report where I give you all the juicy on how I made money online last month. Since I'm now a full-time freelance writer, these reports will include freelancing income (again), including any blog management tasks I've performed for other bloggers online.
If you're new here, you are probably wondering why I would share the income earned on the internet for everybody to be all up in my business. I mean, it's not like it's normal to tell folks how much money you're making, but it's a little more than that for us bloggers.
For starters, it's easy to grow when you're documenting the process. Many bloggers (not just me) don't do this to brag or show off, but we're doing this to document our growth. I guess we're trying to prove ourselves wrong every month. Like seriously, when I graduated from college I never said I wanted to be a blogger who earns a full-time income online.
Second, I do it for accountability. Having folks reading your business helps keep you in check. It makes me look at my goals and actually get my butt to work. Remember, I'm trying to prove myself (and probably many of you) wrong every month. I want to show the proof that it's possible.
Last, I do it to help you. You could be working mama who is tired of clocking in for someone else and wants to start her own business so she can be more available at home. Or you could be married, no kids and want to start building a passive side hustle before having kids. I want to share how I'm getting there so others can do it too.
These income reports started off as side-hustle reports in 2015 where I documented how much I earned as a freelance writer online. Now, these reports have turned into blog income reports where I share how I'm increasing my online income through affiliate marketing, advertising, and sponsorships.
I never imagined things would be progressing the way they have, but I'm glad I finally stopped sitting on the sidelines and started writing. My finances continue to improve with the more I learn and I'm able to help so many other people improve their finances too. It's a win-win!
If you're interested in starting a blog, I've written a detailed guide on how to start a blog starting at $3.95. Plus, if you sign up for a 12-month hosting plan, you'll receive your domain name ($15) absolutely free through this Bluehost link. I highly recommend having a self-hosted blog if you're serious about earning money online and being taken seriously as a blogger and/or freelancer.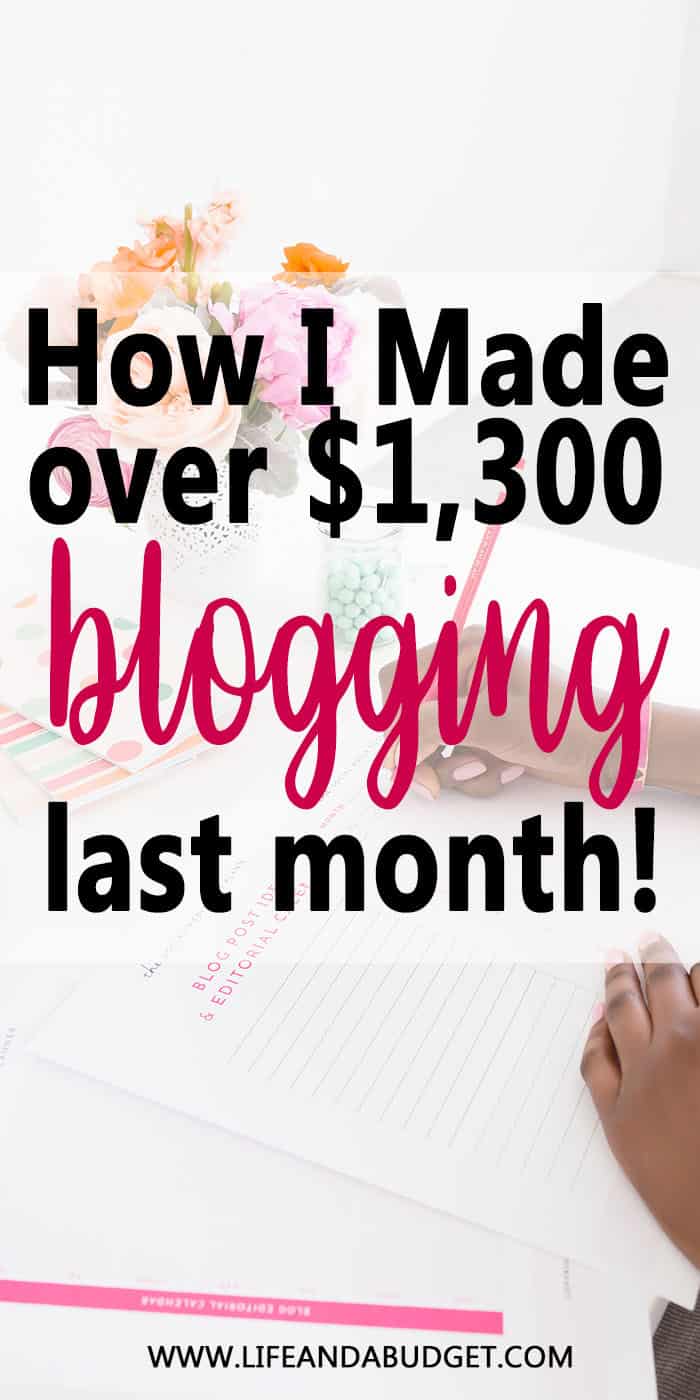 April 2017 Blog Income Report
LAAB earned $1,307.41 for the month of April (before expenses). It took me a little longer to get this income report up this month because, honestly, I just wasn't feeling it.
At the beginning of the month, tracking my blog income and goals started to feel like a chore and I just decided to put it on the back burner and come back to it when my vibes were up.
I'm feeling good and I'm ready to share now so here we are!
My blog income did go down from March ($1,559). However, this was expected because I received a payout for an affiliate product that only goes on sale once a year. Since there were no sales this month things are back to normal.
Overall, I'm happy my blog is still earning an income and I reached my income goal for the month. And my lack of attention to my decrease from last month has put me in a good position for the month of May. Things are going really well income wise.
I'm still painfully making my way through EBA and I shared my latest update here. At this point, I'm going to finish it up out of obligation because I paid for it. I have a lot more questions than I feel the course answers and ultimately it's leading me in a direction I didn't think I was going anytime soon.
Wanna know what direction that is? Well, I joined a mastermind group which includes individual coaching. A paid mastermind group! Like, not cheap and did I mention it's not cheap? Yeah, that's worth saying again, but I'm not really sweating it. I'm actually excited!.
This mastermind and coaching package involves weekly individual coaching and bi-monthly group work that will help me work through all of my goals in a way that EBA can't.
Now don't get me wrong, I believe EBA is offering some value in regards to helping get Life and a Budget in shape. EBA teaches you how to be a blogger but I need accountability and coaching to further my business goals. Unfortunately, you're not going to get one-on-one action with EBA.
So far, I'm not seeing any desired results from EBA and I say desired because I AM getting some results, just not the results I expected.. For now though I still owe the success I'm seeing with my growing affiliate marketing income to one course. And that course happens to be waaaay cheaper than EBA.
The course is called Making Sense of Affiliate Marketing. It was created by a personal finance blogger who grossed over $900,000 last year from affiliate marketing on her website. I just love this course. I seriously can't say enough good things about it!
Income Breakdown for April 2017
Amazon FBA Bootcamp: $39.50
Amazon – $3.22
Ebates: $25.00
Ibotta: $50.00
FlexOffers: $57.00
Etsy: $6.00 (I decided to shut my Etsy shop down. Time to end that chapter so I can focus on the next!)
Media Vine: $503.44
LendEdu: $130.00
MyFinance: $62.00
Self Lender: $10.00
Other Survey Sites: $21.75
Tailwind: $15.00
CJ: $4.50
Sendowl: $10.00
Social Media Management: $120
Sponsored Posts: $250.00
Total: $1,307.41
Expenses for April  2017
Boardbooster: $15.00
Convertkit: $49.00
Ultimate Blogging Bundle: $97
Total: $161
Total: Difference (Income – Expenses) = $1,146.41
If you're interested in reading some of my other blog income reports, I've listed a few below. The rest can be found on my side-hustle income page.
Blog Updates
I'm working on my first course! I'm super excited about it and I can't wait to share it with you!
I'm also still working on adding more life-related content to this website. I explained all of this in my second EBA Success update, in case you missed it, but it will include topics like money mindset, balancing family with work and business, etc.
I'm working on LAAB's brand so I will have a good idea of what to communicate to my designer. In case you missed my previous announcement, I put a deposit down on a brand new web design. It should be complete by the end of August.
This is the third month I've been with Mediavine (an ad management company) and I'm in love. The income generated pales in comparison to what I was making with Google Adsense. It continues to trend upward!
I released my first free e-course, How to Start a Blog, a couple of months ago and I'm loving all the feedback. I get really excited when others reach out for help with their blogs and share their goals with me!  If you're interested in starting a blog, this is a course you'll definitely want to sign up for. I divulge a few tidbits in the course that I've never shared here on LAAB.
I'm considering creating another free e-course in the coming months, but I want to hear from my readers about the content they are interested in. Luckily, y'all helped me out in my latest reader survey so I will use it to brainstorm some ideas on a great e-course for you.?

In October, I switched from MailChimp to Convertkit and I LOVE IT! It's so easy to use and understand. If you're a blogger looking for a good mail service provider, you should definitely give Convertkit a try.
Goal Updates
Last month's goals were as follows:
Reach out for a guest post opportunity. I haven't guest posted in over a year!
Focus on the SEO unit in Elite Blog Academy. Check out my latest EBA update here.
Reach 53,000 pageviews.
Earn at least $1,200 in online income.
As you can see above, I didn't make my pageview goals of 53,000. I was almost there so I'm not even mad about it.
I failed to follow through on that guest post opportunity. However, a blogging friend did reach out about becoming a contributor for her new collective project. With that said, I consider the goal complete. Instead of guest posting, I will focus on contributing a monthly article to the collective to meet my guest posting goal.
The SEO unit in EBA left so much to be desired. Like seriously, I was hoping there would be more to it. Luckily, in the Ultimate Blogging Bundle there is a course on SEO. It seems like it will be a good course and it just started. I will see if I can pick up any knowledge that I didn't learn in EBA to help me get better with getting some organic traffic.
Last, I made my online income goal and I'm so happy I did. I've decided I'm no longer going to create income goals moving forward though. I'm just going to create a target and aim for it. This way I won't feel guilty if I meet it or not.
All I want to do at this point is focus my efforts on diversifying my income instead of depending on just ad and affiliate revenue. I believe it will serve my overall goals better and that's why I'm excited about creating my own course.
May Goals:
Stop creating blogging goals.
Start creating business goals.
Wrapping Thangs Up
As you can see, I'm being a bit evasive when it comes to goals this month. Honestly, I believe I just need a reset.
I know exactly how I want the end to look, but I believe the goals I was creating weren't helping me get to that end goal. I need to take a step back and create goals that align with what I'm really aiming to achieve with this blog.
Even though I didn't create goals for this month, don't think I'm not working on some things behind the scenes. I'm just not ready to share them yet, but trust me when I do, it will be well worth the wait.
Sometimes you just gotta hold your cards to your chest, you know?
How was April for you?