To support this website, this post may contain affiliate and/or referral links to products or services I recommend. See disclosure policy
here
.
Building a baby emergency fund doesn't have to be hard. In fact, I believe we make it harder than it needs to be.
Of course, for some, it really is hard. You have limited income and a whole lotta bills to take care of — I get that.
But even on a limited income, it is possible to not only save money but get ahead too. It all starts with creating a plan and then putting it into action.
And that right there is where you may find yourself falling short. You read all of this excellent advice on the internet about emergency funds, but somehow, you just can't seem to make it a reality.
Well, I want to change all that.
There's no use in reading information and not putting to use what you've learned. I get questions all the time about how to build an emergency fund. And of course, I always share the articles I've written on the subject. But for some, it's just not enough.
Sometimes, you need someone to create an action plan for you. Tell you what to do at each step of the way and then show them how to measure their results.
This is how The ASAP Emergency Plan came about.
In a recent reader survey, many of you said you would like to build your emergency savings over the next 12 months. I didn't want to create another article that shares the same things you're always reading. You're not getting results with that and I want you to actually start putting money in the bank!
I created The ASAP ebook as a guide to help you get results!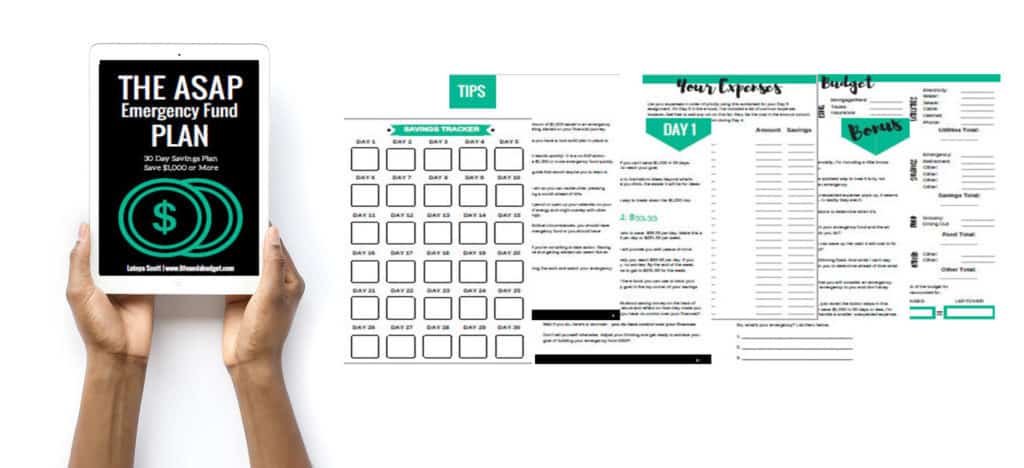 In this 47 page ebook, there are 30 days of action steps for you to take. It's not a lot of work involved on each day, but just enough work and a goal to help you see the results you desire.
This ebook comes with a savings tracker and some other bonus tools that will help you build a minimum $1,000 emergency fund.
And the best part about it is that I'm not going to charge you a whole lot of money for it. I've seen $20 guides on building your savings. Likewise, I've seen cheap 150-page guides on building your savings too.
I don't believe it takes all of that —150 pages worth of reading just to build an emergency fund? Nah. And spending $20 to learn how to build one too? Nope. Not in my world and not in yours either.
The ASAP Emergency Fund Plan does not require a lot of reading. It's action oriented and it's simple. Best part, it's only $14.00. Yep, $14.00 for an action-packed guide to help you stash $1k in the bank.
BUT, you can score 50 percent off the price until July 1st and it will never be this cheap again. Just use the following coupon code ASAPCOINS and get the ebook for $7.00 through 7/1.
So, are you ready to put in a little work? Tired of living paycheck to paycheck? Sick of experiencing setbacks because unexpected things happen and throw you off?
If so, allow me to guide you to your first $1,000 baby emergency fund. I can't wait to hear all about your progress!