To support this website, this post may contain affiliate and/or referral links to products or services I recommend. See disclosure policy
here
.
In my last article, I told you my story about the terrible financial lessons that led to my bankruptcy. I briefly mentioned at the end of the article I have a mortgage payment and probably left a few of you scratching your heads. I mean — how could someone who filed bankruptcy get a mortgage?  
It may seem like an impossible feat, but I'm living proof it can happen if you make an effort to be responsible and learn from your past mistakes. Today, I'm sharing the deets on how I recovered from my decision to file and how I became creditworthy after bankruptcy.
I utilized pre-bankruptcy credit.
One thing I'll forever be grateful for is keeping my car and the accompanying car loan as a part of my bankruptcy agreement. Two years prior to filing bankruptcy, I took out a loan for my old car (rest her good soul). The interest rate was terrible, but this financing company was the only creditor that would foot a bill for my $8,000 gently used Impala.
To rebuild my credit after the ruling, I made sure I never missed a payment on this car note. I ended up paying $12,000 total for that car. It was a good experience because for once in my life I became disciplined about paying off debt. I paid my car note off a year and a half after bankruptcy and I was in no hurry to get another car because I had no savings. I drove Impaletra (yes she had a name) until last year and I'd still be driving her if she hadn't died on me.
In addition to the car loan, of course, Sally was still in the picture. I put my student loans on auto draft so they would come directly from our bill paying account on time each month. Between the car and student loan payment, my credit score shot back up into the high 600ish range before my husband and I married in 2009.  In July of 2010, we closed on our first home, which provided me with about a two-year period to become creditworthy again.
I moved forward.
After those two years, my credit was in much better shape and we obtained a decent interest rate on an FHA loan (at least what was considered decent at that time). Interest rates are certainly lower now, but our rate was still good considering my husband had very little credit history and mine had been shot and resuscitated.
Once we had our mortgage, I was able to get credit cards with decent interest rates. I've made an effort to pay all of them off and keep my revolving credit at a decent level. The only time my credit card balance got out of hand was during my last pregnancy. I was a hormonal mess and didn't feel like doing anything — yet alone, maintaining a budget. But hormonal or not, I knew the consequences of charging stuff I didn't need, so with this in the back of my mind, I avoided shopping binges as much as I could and never let the balance become unmanageable.
Becoming creditworthy after bankruptcy is not easy, but it is possible.
Becoming creditworthy after bankruptcy is not easy, but it is possible.
Click To Tweet
With all of this said, I want to offer a few personal tips on bouncing back from bankruptcy. Mind you, I'm no expert on the subject of bankruptcy (this is a personal finance blog after all). If you have filed bankruptcy or you're thinking about it, I just want to offer some comfort and let you know it isn't the end of the world. If I could overcome this obstacle and sit here today — eight years after bankruptcy — with a 740 credit score, you can bounce back too!
So below is my little play-by-play on how someone can become creditworthy after filing bankruptcy.
1) Deal with your personal junk.
You need to examine closely what happened. How did you end up in this predicament? All of us have different reasons. Some might have experienced a catastrophic medical event that caused them to fall into a ridiculous amount of medical debt. Others might have experienced a job loss and had no savings to live off. Then there are people like me who use shopping as a form of therapy, which is not covered by any insurance (retail therapy is not therapy). Whatever it is, you need to become keenly aware of your problem so you can create a plan to avoid making the same mistakes in the future.
Do you tell yourself you're broke? Maybe you tell yourself you've worked hard and you deserve that new pair of Michael Kors shoes, even though the rent is due tomorrow. If you're constantly telling yourself lies or makeup excuses to justify your behaviors — are these lies and excuses helping you achieve financial freedom? Or, are these the same lies which led you to bankruptcy in the first place? It is important to make sure you are speaking for yourself instead of against yourself. Find money affirmations or create your own and make sure you use them.
3) Create your plan.
Your plan is what's going to help you avoid making the same mistakes in the future. You've filed bankruptcy and that option is not available again in the near future. It's only allowed once during a specific timeframe so you need to create a plan that will address any issues you've had in the past.
For instance, if you had a medical emergency, you want to seek decent medical insurance and have a sum of money set aside for unexpected medical emergencies. If you lost your job, you need to plan ahead in the event you experience another job loss so you will have money to maintain a minimal standard of living.
As you build or repair your credit, make sure you stay on top of your credit score. You don't have to pay to know your credit score anymore either – SCORE!
Sign up for Credit Sesame
now to learn your credit score today!
Your plan should incorporate these 3 basic things:
Build an emergency fund. You are now debt free so focus on building a fund that's around 3 to 6 months if you're married with a family. If you're single, you may determine you need less than this. At a minimum, build a fund of $1,000.

Learn to live using cash. No more purchasing couches using store credit. If you need new furniture, you need to plan for it. We have a home decor account so we can make basic upgrades to our home. If you have school-aged children, you need to plan for their upcoming school year ahead of time. We have a school expense fund that we contribute to year round so we're not scrambling at the end of every summer. Plan for situations such as these and use your own money to finance any necessary purchases.

Consider credit options wisely and rebuild your credit responsibly. I didn't have a credit card for almost 1.5 to 2 years after filing bankruptcy. I was able to rebuild credit with my car and student loans I had before filing bankruptcy. If this isn't an option for you, consider rebuilding your credit using a secured credit card.
4) Now, forgive yourself and move on.
You've come to terms with how you got to bankruptcy, you've changed your mindset, and you've created a plan to rebuild your financial foundation. The only thing you need to do now is to forgive yourself and move on. Don't dwell on it and more importantly, don't allow people to put you down because of your decision. We've all made mistakes at some point or another. The key to overcoming those mistakes is to chuck up your deuces to the past and keep it moving.
In Conclusion
This is how I bounced back financially after bankruptcy. It's funny how things work out in life. I'm a personal finance blogger, up to my butt in student loan debt, and I've filed bankruptcy before. This should prove to everyone no matter where you're at financially, you can make a change.
Bankruptcy isn't for everyone and I am so inspired by people who've been able to dig their way out of six-figure debt without resorting to bankruptcy. However, there are people who share a story similar to the one I've shared with you. They need a little encouraging too. If this is you, please know I understand where you're at, but more importantly, I know where you can go!  You can recover from this financial setback. Don't let anyone tell you likewise because I'm living proof that you can become creditworthy after a bankruptcy.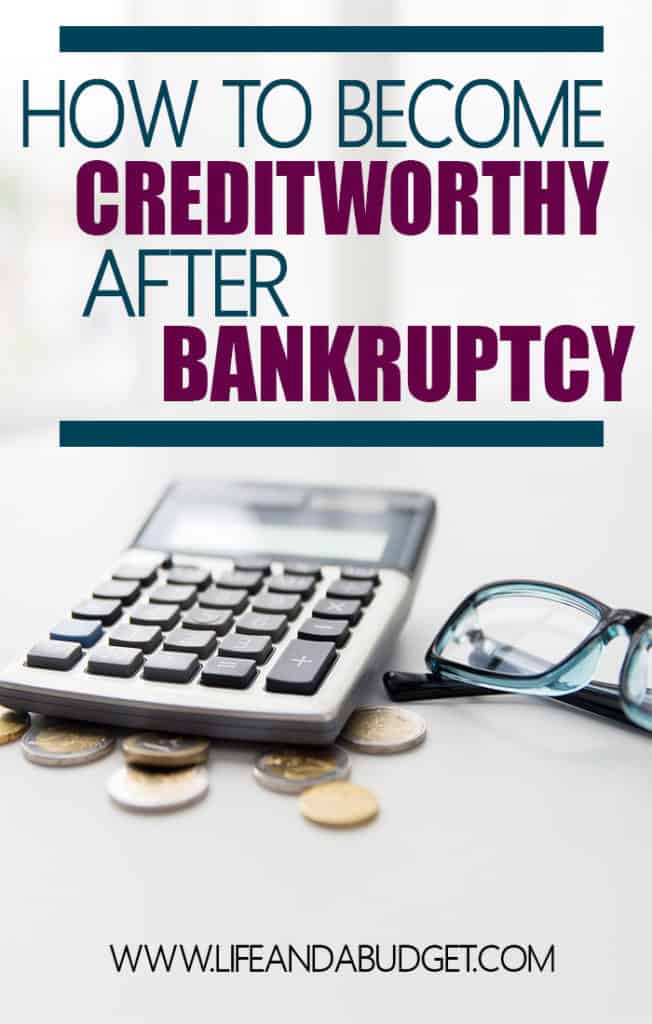 *Part of Financially Savvy Saturdays on brokeGIRLrich, Disease Called Debt and The Yachtless*