To support this website, this post may contain affiliate and/or referral links to products or services I recommend. See disclosure policy
here
.
It's 2017, y'all!
I'm so happy that 2016 is behind me and I'm laser focused on crushing some things this year.
Last year wasn't necessarily a doozie. I did happen to make an extra $7,000 in online side hustle income. However, I didn't pay off as much debt as I would have liked and I didn't reach my income goal of making an extra $2,000 by the end of the month.
However, I think that goal could be attainable this year considering the fact that my blog and affiliate income continues to trend upward.
I've surveyed you all, ordered my blog planner, and I've invested in a course that's going to help me take LAAB to new levels this year. I'm focusing on addressing some of your main concerns and we're going to do some amazing things this year. I just know it.
But anywho…let me give you what you came here for. Here's December's blog income report.
Related post on how to make extra money: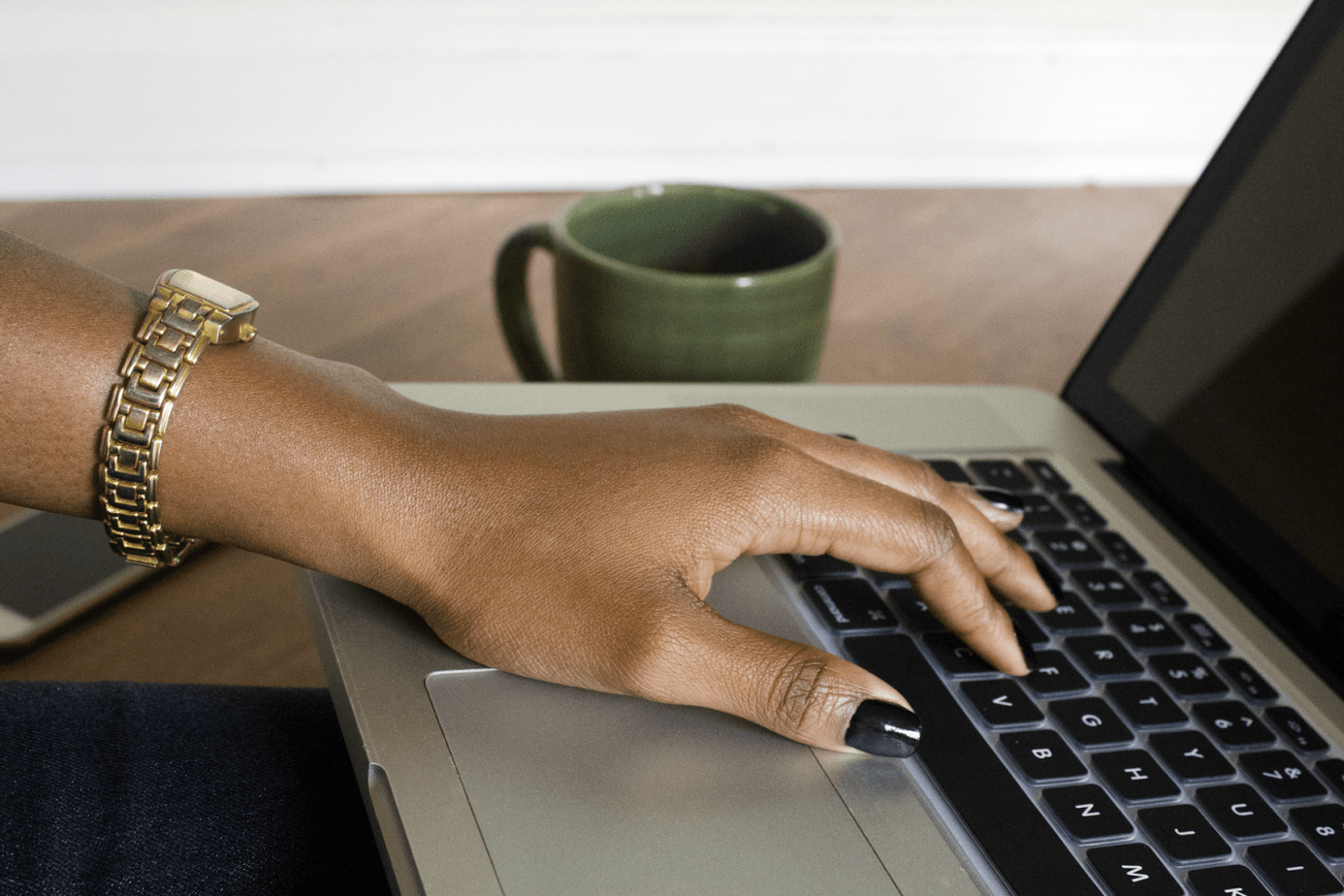 My blog income report is where I divulge the income this site earned during the last month. These reports will no longer include my freelance income. Unless you really want me to. Y'all want me to include it?
I will still include blog expenses paid out of my blog earnings. These reports will not include taxes I owe.
I set aside 30 percent to cover taxes owed each month in addition to taxes taken out of my full-time paycheck (You can't be too careful when it comes to the IRS people).  If you missed the last blog income report, I made $418.59 during the month of November.
Other income reports:
Online Hustle Report: November 2015 – $54.77
Online Hustle Report: December 2015– $171.59
Online Hustle Report: April 2016 – $942.00
Online Hustle Report: July 2016 – $1054
---
If you're interested in blogging away debt and/or offering freelancing services on the internet, I've written a detailed guide on how you can get your own site up and running. I've only been writing here since October 2015 and I'm already making money online. No excuses. Read How to Start A Blog on a Budget and get started today!  You can't make blog income without a blog, yo.
Not interested in blogging? That's cool too. Here are all my related side-hustle posts. Find something that suits you!
---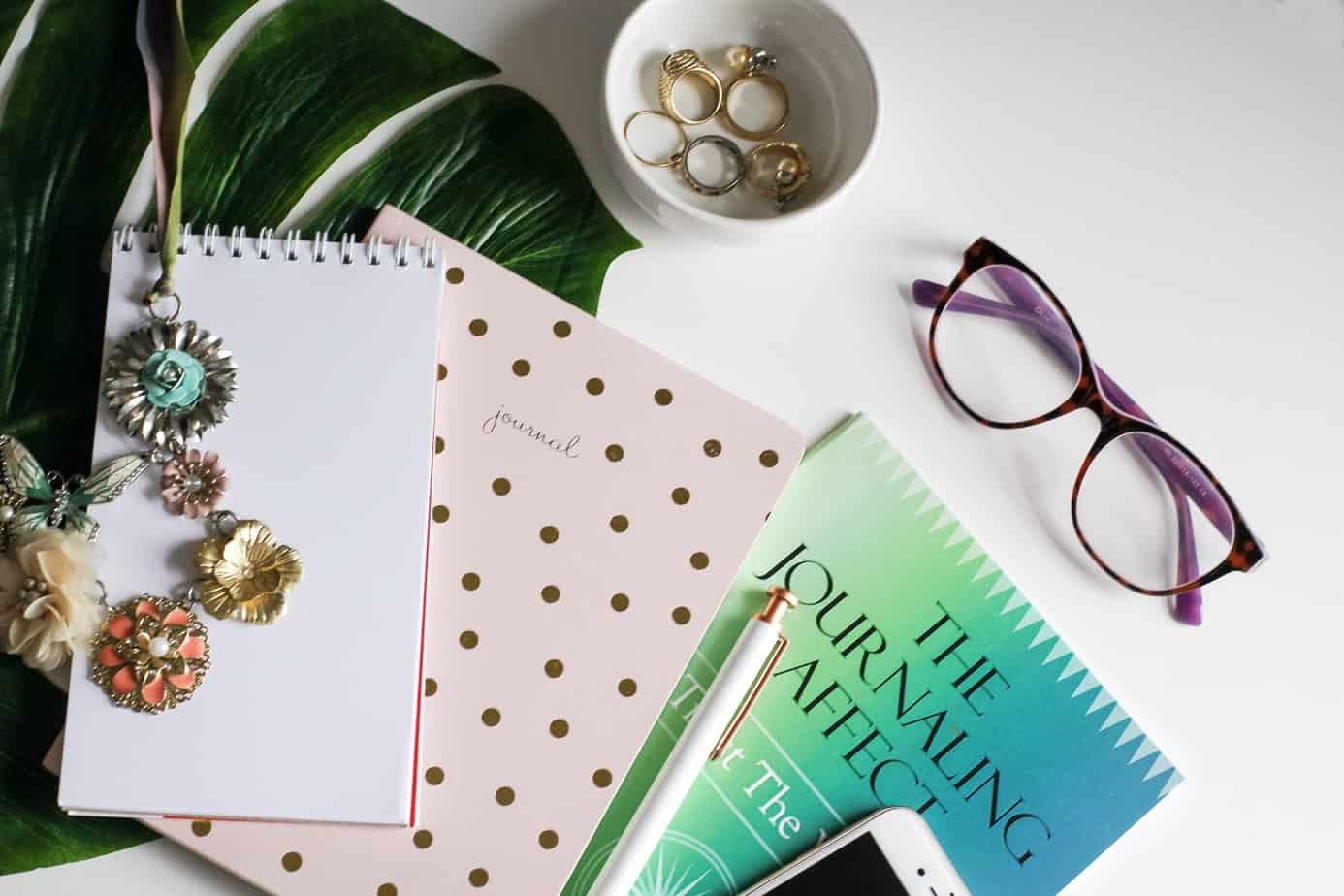 Life and a Budget Blog Income Report – December 2016
Capital One 360:  $60.00
Ebates: $15.00
Swagbucks: $6.00
Offer Juice: $17.25
Flex Offers: $101.50 (I'm really digging this affiliate)
Commission Junction: $8.00
Share-a-Sale: $23.00
Amazon: $8.11
Google Adsense: $101.44
LendEdu: $63.00
IGain: $37.25
Smart Asset: $45.60
Making Sense of Affiliate Marketing: $63.60
Total Blog Income for December: $552.75
Blog Expenses December 2016
Facebook: $130.09
Giveaway: $25.00
Convertkit $29.00
BoardBooster: $10.00
Technical Work: $42.00
Misc: $113 (social media tools, blogging planner, etc).
Total Blog Expenses for December:  $349.09
Net Blog Income: $206.66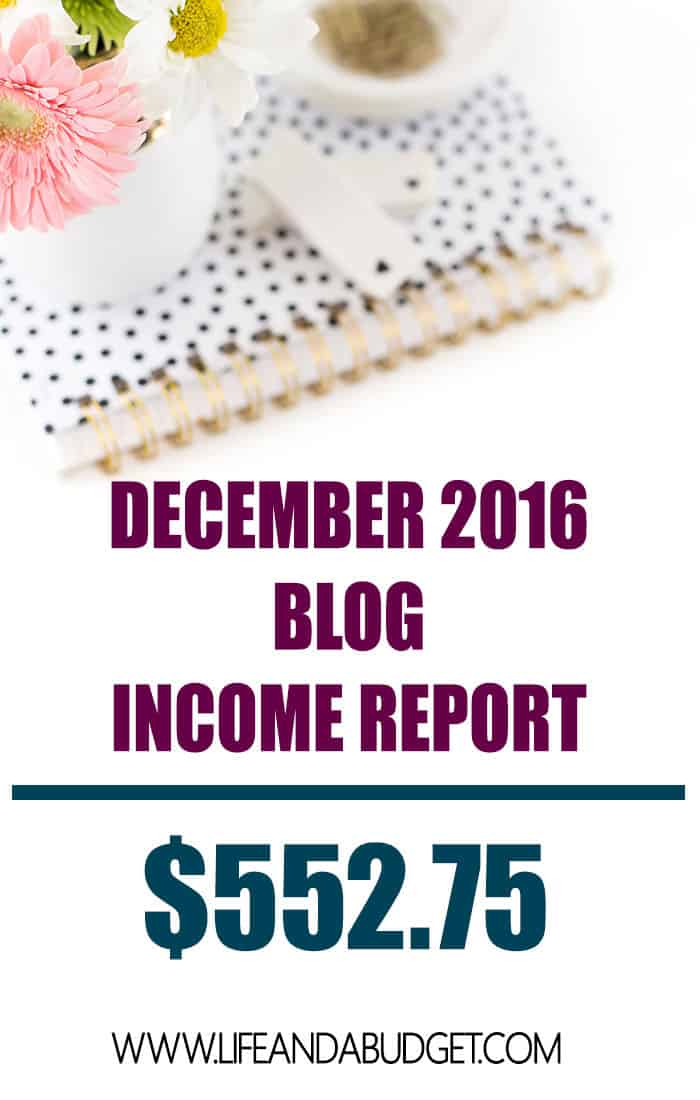 Thoughts on December 2016 Income
I'm satisfied with my affiliate income because it didn't go down!
I'm still amazed at how it continues to grow and I contribute the success to Making Sense of Affiliate Marketing.
I still haven't picked up any additional freelancing work, but I'm looking to change that soon.
If you or anyone you know is looking for a personal finance freelance writer or blog management services, I'm taking on clients and would be happy to talk with you about your needs. Check out the details on my hire me page.
Overall, last month was pretty straightforward and my traffic and income continues to grow so I really have no complaints.
Related Reading: 80+ Ways to Extra Money, How to Earn More Money
Goal Updates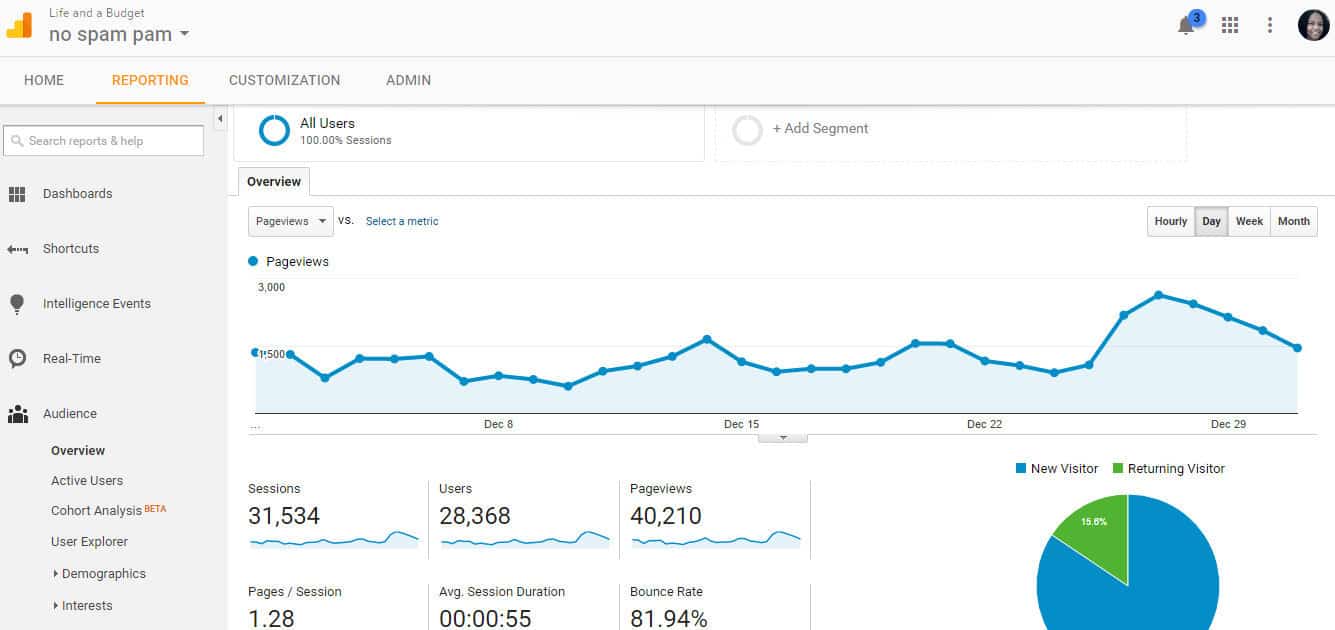 Pageviews
My goals for December were to grow my email list and reach 30,000 pageviews. Luckily, I was able to do both!
For some reason a lot of bloggers (including myself) dealt with a lot of referral traffic from undesirable websites.
If I subtract those hits, I still came out above my 30,000 pageview goals. I have since added a filter to my Google Analytics to filter out any of those referrals in the future.
Email List
My email list continue to grow and towards the end of the month I revamped the copy on a few of my opt-ins and did a couple of Facebook post boosts to help me with this effort. All in all, my list grew by 210!  This was my highest month of sign-ups!  Woot woot!
Since taking over my own social media again, I've noticed more engagement and likes from it, so I plan to make the time to interact more with my followers on social media. However, the goal will be to lead them all to my email list so I can make sure they don't miss what they're coming to me for.
Goal Planning
To help me organize my goals for the remainder of the year, I'm going to be using the Epic Blog Planner again in 2017. I used it last year, but I didn't utilize it completely to get the most out of it. I will be digging deep into stats each month to track my progress.
In order to manage my personal goals and life overall, I'm going to use The Happy Planner. I've heard great things about this planner and it has awesome reviews on Amazon. I also like the price – $25 and under. That's my kind of planner right there.
If you still need a planner to organize your thoughts, goals, and personal appointments for 2017, I highly recommend checking out The Happy Planner. I can't wait to knock thangs out with it.
January Blogging Goals
1) Write enough content to get me through the end of February.
I've been writing 1 to 2 posts per week and I'm going to keep it at that number. Anything more is too much content to create and market.
At the moment, I only have enough content through the end of the month, so I need to get a move on.
I think one way to handle this better would be by focusing on one type of tasks each day. For instance, dedicating Friday or Saturday evenings to just writing content for this blog. Not sure yet, but I'll think of something.
2) Reach 60,000 pageviews
I think it's very possible to hit this number this month because as of writing this post (1/10), I'm at around 45,000 page views. It's time to go big with my goals and that's exactly what I'm gonna do!
3) Get 1,000 email subscribers.
Right now I have 936 email subscribers. My goal is to hit 1,000 by the end of this month and to continue to increase that number by the end of this year.
There are some days where I'll have close to 30 sign-ups and then there are other days where I only have four or five. Hopefully, as traffic increase, this number will grow right along with it.
This is will require me promoting my opt-in freebies and free e-course on blogging a little more this month, but I can handle that.
Reader Question: Did you take any blog courses when you started?
A reader had a question on one of my articles and I thought it would be a good idea to address it here in case others were wondering the same thing. If you ever have any questions, don't hesitate to reach out. I want us all to win at blogging and I'll be glad to help!
This reader wanted to know if there were any courses I took when I got started blogging. If you're a long-time reader here, you know I'm quite fond of two courses that have been instrumental in helping me increase my blog traffic and my affiliate income.
Depending on your content and your target audience, Pinterest is definitely a good starting point for someone who's struggling with their traffic. I invested in Pinterest Presence and my blog traffic doubled within a month of taking it. I've shared my experience with the course in this article if you would like more details.
Also, when I got serious about growing my blogging income, I knew I wanted to learn from Michelle of Making Sense of Cents. In 2016 she made nearly $1,000,000 from her website. She was kind enough to share everything she does to grow her income each month in her course, Making Sense of Affiliate Marketing.
As you can tell by my income reports, if you study her and put in the work, your blog income should definitely grow! I wrote an in-depth post here about my experience with the course in this article.
Wrapping Thangs Up
So, that about sums up December.
My site's traffic continues to increase and the affiliate income continues to increase right along with it. As long as I keep up my hustle, I see no reason why I won't be able to accomplish the goals that I set for the year in this post.
If you've been reluctant about starting your own blog and trying to generate income from it, all I would say is that the longer you wait, the longer you're putting off your potential side hustle income potential.
How was your December side hustle income? Any big plans for the year?