To support this website, this post may contain affiliate and/or referral links to products or services I recommend. See disclosure policy
here
.
I like to keep things simple for the holidays as far as my kids are concerned, but one thing I never like to skimp out on is my children's education.
Whether it be books or games that teach them important life concepts or financially savvy lessons — I'm all here for anything that will help them learn a little something.
So this year I was in search of some gifts for my kids that will teach them to be financially smart.
It doesn't necessarily have to be money related, but it had to teach them either a money concept or how to add two and two together.
Since I like to talk money around these here parts, I decided to share my findings with you. Here is quick gift guide appropriate for many age groups – one that will help your little ones be financially smart.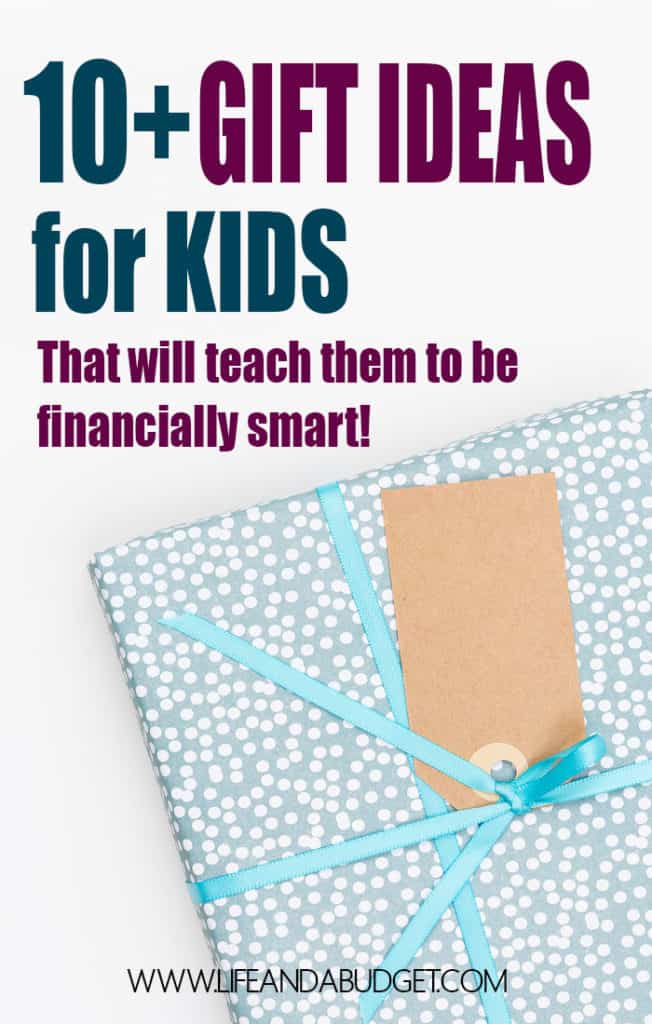 Financially Smart Gift Guide for Kids
In Financial Peace Jr, Dave Ramsey has created a toolkit to help your little ones about money in a way that relates to everyday life. It has a chore list, lessons, and a dry erase board to track progress. If you're a big fan of the money envelopes – you'll love the give, save, spend zippable pouches. This will set you back about $25.00 and is appropriate for ages 3 to 12.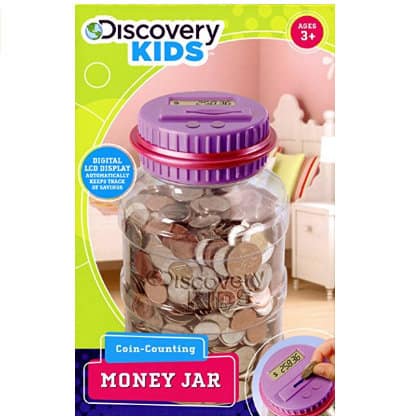 The Discovery Kids Counting Money Jar helps your little ones learn to count change. I had one of these when I was little, but mine didn't come in the cute colors available for kids today. This one was available for under $13 and is appropriate for ages 3 and up.
Learning to count change can present its challenges, but this game, Money Bingo, makes it fun. With playing cards, calling cards, and chips, kids will learn how to add up nickles, dimes, quarters, and pennies in different ways. This would be a great stocking stuffer and is only $5.99. It's appropriate for ages 5 to 9.
A pretend play cash register is perfect for the child who likes to play grocery store. This toy will help them learn how to purchase products and count money at the same time. It costs $15.99 and is appropriate for kids 3 and up. It comes in many different colors, so the boys won't be left out too!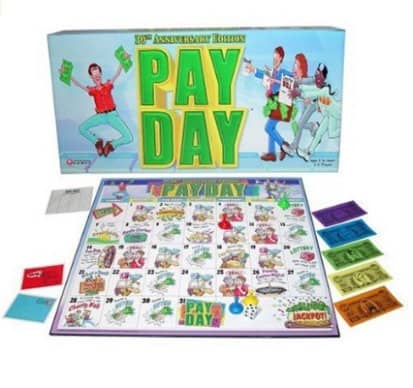 The Payday Board Game is perfect for parents who want to foster an entrepreneurial spirit in their kids. Teach them how to make money with this game and reap rewards on Payday.  This game is $10.79 and is appropriate for kids 8 to 12 years old.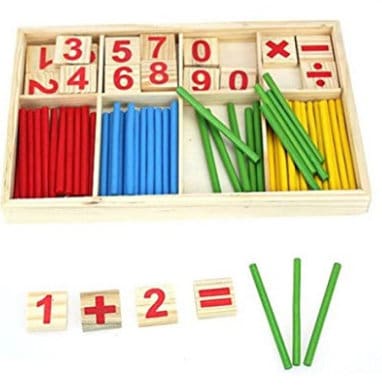 The Wooden Mathematics Learning Counting Toy may not look like it's any fun to play with, but it will teach your child some awesome math skills that will come in handy when it comes to money management. Now, this thing says it's appropriate for children 12 and up, but I'm hoping that kids that age already has the proper grasp on these math skills. My daughter is six-years-old and this would be perfect for helping her complete her math homework (without the multiplication and division, of course). Best part is that it's super affordable at $4.85 and would be a perfect stocking stuffer.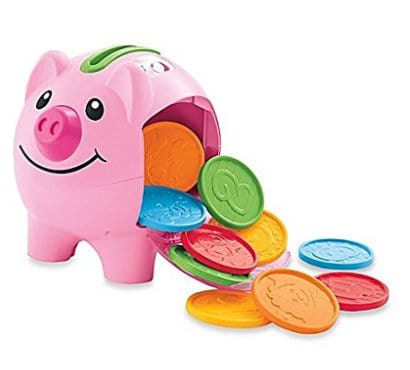 The Laugh and Learn Piggy Bank is too cute!  It's perfect for my son who loves to do everything his big sister is doing. When she's counting her change and putting it in her piggy bank, he can too. It is has Smart Stages Technology, so it grows with your child and sings over 40 different tunes. I love the price on this, $11.99 for Prime Members. This is appropriate for ages 6 months to 3 years old.
When your big kid is playing with their very own cash register, your baby or tot can have their own Little Tykes cash register. Although, I'm sure my tot will try to snatch big sis's register and she will be trying to play with his – why do kid's do that?  You can drop coins in the register, pull the handle to open the drawer and slide the credit card in the slot to drop coins in the drawer. It's $14.99 and appropriate for ages 24 months to 5 years old.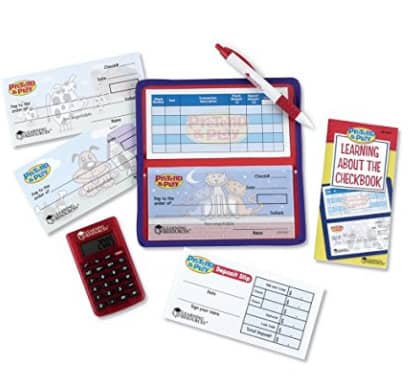 The Learning Resources Pretend and Play Checkbook made the list because I have fond memories of having one of these when I was a kid.  Now I didn't have a lot of money sense when I was growing up, but one thing I could do was write a check. And I've never written a bad check (thank God). They have replacement checks for when your kid runs out and it's something I will consider purchasing for my daughter when she's a little older if checks are still around. It's a perfect stocking stuffer and costs $10.43. This is appropriate for ages 5 and up.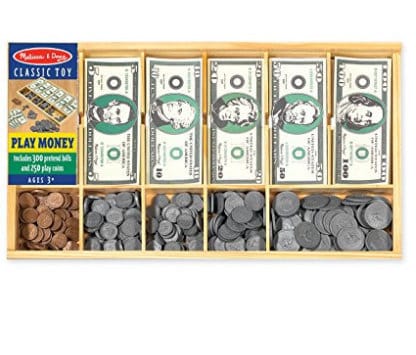 Last on the list is a Melissa and Doug Play Money Set. Who didn't have play money when they were growing up? Kid's love these kinds of toys and it will help them learn to count larger denominations. Again, this is a perfect stocking stuffer and only costs $15.99. It's appropriate for ages 3 and up.
Now that we've got the fun stuff out of the way, I couldn't end this thing without throwing in some money smart books for this gift guide. If you want to teach your kids about entrepreneurship or money, here is a gift guide of a few books that are worth putting on their bookshelves.
Financially Smart Gift Guide: Books
Wrapping Thangs Up
I'm sure there's plenty more out there that will help us parents teach our kids to be financially smart, but this is a start. There's something on this list for my toddler and my six-year-old, and many of the games are family friendly. We already have several of these books on this list and I look forward to adding more. Now all of these gifts don't have to make it onto your list this year, but I encourage you to at least find one gift that will help your child soar mathematically and financially.
Which of these do you think your kiddos will be interested in?  Do you currently own anything on this financially smart gift guide for kids?