To support this website, this post may contain affiliate and/or referral links to products or services I recommend. See disclosure policy
here
.
A reader reached out to me with the following question, "Do you have any tips for a first time home buyer?"
Do I?
Let me tell you…
I filed bankruptcy nine years ago. Purchasing a home was probably the second most stressful financial decision besides bankruptcy. The process can be downright intimidating!
But fret not, I love sharing any tidbits of wisdom to others who are thinking about purchasing their first home or are currently in the home buying process. It's not one of the easiest things to do, but having straightforward information to help you navigate the waters will help you rest easier.
Today I'm going to cover four important things you should consider before purchasing your first home and a conclude with a few terms you need to know.
These four things will make it a lot easier on you as you go through the home buying process. Also, be sure to download this free first-time homebuyer list to guide you through the actual purchase process.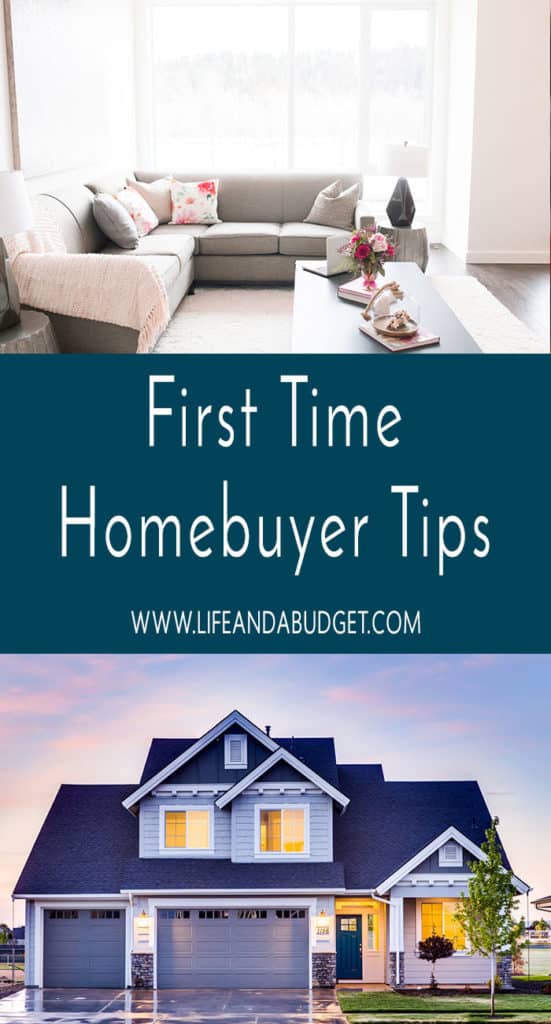 First Time Home Buyer: 4 Important Things You Need to Consider
1. Consider Why You Want to Buy a Home.
Before diving into the home buying process consider why you want to purchase a home. We all have our reasons, but it's important to determine if you want it simply for the sake of wanting it.
If you only want a home because everyone else is buying a home, you might want to think long and hard about your motives. It's important to understand everything that goes into purchasing a home.
Your friends may make it look easy, and perhaps for them, it is. They've saved, paid off debt, and have lined up all of their ducks in a straight row (or not). But they also may be trying to live it up like the Jones' and sinking themselves further into financial despair.
So, don't just buy a house to keep up with your friends. You may not be ready financially to tackle the responsibilities that come with homeownership.
2. Evaluate Your Current Status.
This is the most important step you can take as you consider becoming a first time home buyer. The home purchasing process is very tedious and there are a lot of things that lenders will be looking at before deciding to give you a mortgage.
Let's take a step-by-step look at things you will need to look over:
Savings – Typical down payment requirements can range from 3.5 percent to 20 percent. Do you have this amount of money saved for a down payment?
Also, there are closing costs, appraisal fees, and you also need to have a sufficient amount of money set aside for homeowner emergencies.
Credit – To get a good interest rate on your mortgage, you need to have an ideal credit score, preferably at least 650 and above.
I'm speaking from personal experience as I purchased my home two years after bankruptcy with a 650-ish credit score. The interest rate on my first mortgage was 5.25 percent and I was able to refinance years later once my credit score improved.
In some cases, a less than ideal credit score can prevent you from even getting a mortgage. To make sure your credit score is up to par, use a free tool like Credit Sesame to monitor it monthly.
Related Reading: Credit 101: Everything You Need to Know About Credit
Job Stability – Take an honest look at your job stability. Has your job been laying off people? How is your job performance? Do you like your job? Address these issues before buying a home.
3) Make Necessary Improvements.
If your credit situation is less than ideal, there are several ways you can repair your credit. The most important thing to understand is that this takes time. You have to work on fixing your credit.
Check your credit report for inaccuracies. If there are any, you can write to the three credit bureaus to have these errors removed. Order a free copy of your credit report from annualcreditreport.com.
If everything is correct, focus on paying off outstanding consumer debts as quickly as possible. If you have no consumer debt and just need to build your credit, you can consider using options like Self Lender that helps you build credit without a credit card.
Last, you need to start saving if you don't have enough savings for a down payment. The more you put towards your down payment, the lower your monthly mortgage will be. You will also need to save for closing costs and emergencies. Open up an online savings accounts and start saving.
4. Separate Your Wants From Your Needs.
Let's say you want a 4 bedroom, 3 bath house, pool, 2-car garage, a big backyard, down the street from Target, and in your current school district. You discover that $225,000 is the average price for homes that fit your requirements in this area.
This is where you need to decide on what you can afford. Not what the bank thinks you can afford, what you can afford based on the budget that you've been using and your current savings.
If you can only spend $800 on housing based on your current budget and you only have $10,000 (which is less than 10 percent) for a down payment, can you really afford what you want?
This is a tough question to think about, but you don't want to be house poor. You want to make a purchase that is truly reflective of your needs.
To work with your budget and total amount saved, you might have to do one of two things: 1) Reconsider your want list and adjust it to fit your needs or 2) continue saving and working on your financial situation so you can afford the mortgage payment that comes along with a $225,000 price tag.
Helpful Terms For The First Time Home Buyer
Pre-Qualification
The pre-qualification phase is the initial step in the mortgage process.  You give the bank necessary information such as your income, debt, and assets. This gives the bank an idea of how much mortgage you might qualify for.
A bank can do a pre-qualification over the phone. The bank can explain which mortgage options may be available to you based on this preliminary information without doing a credit check.
Pre-qualification is not the same as pre-approval and doesn't indicate of how much money you can actually afford to borrow. Take this number with a grain of salt and focus on what you can truly afford based on your budget.
Pre-Approval
With a pre-approval, this involves a mortgage application. The bank will determine whether you qualify to borrow from them.
This process usually involves determining the maximum amount the bank would be willing to allow you to borrow. The bank will take a look at your current expenses and your income to determine this amount.
Once you've selected a certain home, this amount can change. Specific requirements must be met prior to final approval.
Types of Loans
VA –  VA loans are backed by the United States Department of Veteran Affairs. These loans offer long-term finances to eligible veterans of the US and their surviving spouses that do not remarry.
FHA – an FHA loan is issued by qualified lenders to individuals with low-to-moderate incomes who are unable to make a large down-payment. The Federal Housing Administration insures FHA loans.
Conventional – a conventional mortgage is a traditional loan. These loans are provided at the discretion of the lender and usually require a 20 percent down payment with traditional loan terms and rate.
Loan Terms
The length of mortgage loans can range from 10 to sometimes 50 years (SN: which is absolutely crazy).
There are two types of mortgage loan terms: fixed rate and adjustable rate mortgage.
A fixed rate mortgage is the most stable mortgage as the interest rate and payment is the most predictable. The mortgage payment and interest rate stay the same.
An adjustable rate mortgage is risky because the amount of your mortgage payment and interest rate can fall and rise with the market. These types of mortgages are useful to some borrowers; however, risks should be thoroughly explored before committing to it.
Interest Rates
The interest rate is how you determine how much your loan will cost you. Interest rates may vary, but the lower the interest rate, the better.
Private Mortgage Insurance
If you are an FHA loan borrower and put down the 3.5 percent down payment, your loan will require private mortgage insurance. This also applies if you get a conventional loan with less than a 20 percent down payment.
The insurance rate can vary from .5 to 1 percent of the total cost of the entire loan on an annual basis. Basically, what you need to understand is that if you don't put down a hefty down payment, you will be charged for PMI until you have paid down to 80 percent of the home's appraised value.
Down Payment
The initial money paid upfront when obtaining your mortgage is called a down payment. This amount typically ranges from 3.5 to 20 percent, in some cases more.
Inspection
Before approving a mortgage loan, most lenders require a home inspection. A hired inspector will inspect the house for any damages or concerning issues.
Appraisal
An appraisal of a home is also required before a mortgage is issued. A qualified official determines the total value of the home based on different market requirements.
Closing Costs
Closing costs are fees that are paid at the time of sale. These fees are for an attorney, realtor, and legal filing fees. Sometimes you can negotiate to have these costs paid for by the seller of the home you're purchasing. Closing costs vary depending on your local area.
Property Taxes
Property taxes are added on to your mortgage payment.  They are based on the value of the property and land. Payments are made to your local government.
Homeowner's Insurance
Homeowners who purchase a home using a mortgage are required to have homeowner's insurance. This is a type of property insurance that protects your home and possessions from damage or theft.
Some banks require an escrow account be set up to hold funds for your homeowner's insurance and property taxes. Taxes and insurance will be paid from your escrow account once due.
Wrapping Thangs Up
As you can see, there's a lot that goes into the home buying process. However, that doesn't mean your goal of homeownership is unattainable. There is a clear path of action you should take before buying your first home.
First, make sure you are buying a home for the right reason. Second, make sure your finances are solid with a sufficient emergency fund, stable employment, and a hefty down payment.
Third, make any necessary repairs to your overall financial picture if it's not where it needs to be for home ownership. Then assess your needs to make sure they are compatible with what you can truly afford.
Last, but not least, understand the basic terms provided that you'll need to be familiar with during this process. Connect with a reputable real estate agent once you have your ducks in a row and continue to pursue your path to becoming a first-time home buyer.
To help guide you through the home-buying purchase process, here's a first time homebuyer list you can download for free! Good luck!
Have any of you purchased a home or maybe looking to purchase one in the future?