To support this website, this post may contain affiliate and/or referral links to products or services I recommend. See disclosure policy
here
.
Side hustles have proved to be worth my while this year. Last October when I started Life and a Budget, I knew I wanted to track my side hustle efforts to see how much I could earn.
I started with my very first hustle report last October, and I've been fairly consistent with tracking my online writing income this past year. Mid-year I also began tracking my affiliate income because LAAB made its first dollar this summer!
Between online writing, blog management services, affiliate income, and taking surveys this year – I've been able to earn over $7,000. There are still a few days left in the year and since I earn something every day this number will probably change a little. However, as of writing this post I've earned $7,496.14.
I've hustled in many ways over the last couple of years, but this is the first year I've gotten serious about making money online through writing and blogging. I thought it would be fun to break down my side hustles by category.
Who knows? Maybe it will inspire you to get off the sidelines and start generating your own online side hustle income too!
Related post on how to make extra money:
Freelance Writing Side Hustle – $5,218
I really hit the ground hard when it came to freelance writing this year. Towards the end of the year, I allowed things to sizzle down a lot. As a matter of fact, I actually gave up a recurring writing gig and I did so without regret.
Why?
I was burned out. I didn't realize my limits when I set my audacious goal this year to bring in $2,000 per month by the end of 2016. With my rates where they were, I was going to be writing a lot.
I could have raised my rates, but I only had a handful of clients, a lot of work, and no time to pitch like I needed to do and I thought my prices were a fair rate for my given skills at the time.
This is when I began trying to figure out ways to increase my affiliate income with Life and a Budget.  I realized that I would need to diversify my online side hustles, but I knew that meeting my initial goal with freelance writing wasn't going to happen.
All in all, I still made $5,218   in freelance writing income this year. I'm proud of what I was able to do and I look forward to beefing up my writing gigs again in 2017, within reason, of course.
Related Reading: Earn More Writing: How One Writer Earns Over $200k Writing Online
Blog Commenting/Blog Management Side Hustle – $937
This side hustle was fairly interesting, to say the least. For the most part, a fellow blogger would reach out to me and ask for me to visit the sites of those who visited their blog and leave a comment.
This was easy and straightforward and I made a nice little amount of money each month to cover hosting costs for LAAB, email list, and other misc blog expenses.
I've had two clients in this category for this year and one client even paid me for some administrative blogging tasks.
One of these clients is discontinuing our agreement next year but will need me for a few more admin tasks in January. I'm hoping the other client will maintain services throughout 2017 and hopefully extend admin or writing tasks as well.
Etsy Shop – $96
I've owned an Etsy shop since 2012 and the scripture printables that I sell continue to bring in sales now and then. I don't know what the future holds for this shop.
It's a fairly passive source of income and I hate to nix it, but I haven't designed a print in years and don't know if I will in the future.
Related Reading: How to Earn Passive Income on Etsy
Affiliate Income – $1,068.14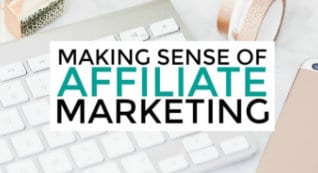 I didn't focus on affiliate income until mid-year and I'm still finding my bearings as far as its concerned. The income that I have earned wouldn't have been possible without taking the course, Making Sense of Affiliate Marketing.
I plan to continue focusing on this source of income during 2017 and I want to see it grow tremendously in the future. I'm happy with the $1,068 that I earned because I more than made my money back from investing in this course.
To learn more about Making Sense of Affiliate Marketing, click here.
Surveys – $66.00
I solely use Pinecone Research at the moment to take surveys. They send them over and it takes around fifteen minutes to complete.
Once they are done, I get 300 points ($3) credited to my account. Once I build up a decent amount of points, I cash them out for a PayPal payment. Overall, $66 isn't so bad for answering questions while watching television with the kiddos.
Some other great survey companies are American Consumer Panel, Harris Poll Online, Opinion Outpost, Vindale Research, Clear Voice, and VIP Voice.
Misc. – $111
This category includes cash back I earned with Ebates, monies earned through giveaways, etc. I'm pretty sure I'm missing something here because I haven't included any Ibotta or Swagbuck cashback in these reports.
Related: Shop Online Using Ebates and Get Free Cashback
Starting a Blog
Starting LAAB wasn't such a bad decision if I say so myself. It cost a little under $150 to get this blog started (hosting for the year and a theme for the site) and by creating it; I was able to earn over $7,000 in additional income for 2016.
That's absolutely amazing and it's the reason why I love encouraging others to start their own blog. It doesn't matter what you write about either!  You can start one to market writing or virtual assistant services or you can build a blog that will earn an income on its own.
I never expected LAAB to begin generating its own income so early on; however, I'm glad I started focusing on it when I did because there's no telling where it will be time its second birthday rolls around.
If you're thinking of starting a blog on a budget, I currently use Bluehost for my hosting needs. I've heard others complain about their service; however, I honestly haven't had one problem with them.
My site didn't even go down when the internet was hacked this year. (And trust and believe if I ever do have a problem with them, I'm not afraid to jump ship either!)
With that said, if you're thinking of starting your own blog, this tutorial I created will walk you through step-by-step!
What's in store for 2017 side hustle income?
I'm very optimistic about 2017!
I've invested a nice sum of the earnings back into LAAB this year; however, I'm going to be much more prudent when it comes to reinvesting next year.
I'm starting a new course in February and I'm going to pour all of my energy into using this resource to help me revamp LAAB more into a personal finance lifestyle website of sorts.
With that said, I'm going to focus solely on content writing and blog management services to a certain point.
For 2017, I'm breaking my goals up into quarters.  Here's a breakdown of my goals for the year by quarter.
1st Quarter – begin the course and commit ten hours or more to it each week.
2nd Quarter – build a consistent income of $1,000 in freelance writing income and $1,000 in affiliate income.
3rd Quarter – wrap up the course from 1st quarter and sign up for financial educator accrediting course.
4th Quarter – incorporate LAAB and focus on building the website.
This list seems to be a LOT more doable than all of those big, lofty goals I created last year. By focusing on one or two things each quarter, I give myself breathing room to practice self-care, do my full-time job, and still be present in my family's life.
The best part is, I'm starting now!  I'm not waiting until January 1st to make changes. Those changes start today and I'm looking forward to knocking these blogging goals out of the water.
To prepare for the course I'm taking, I'm going to focus on getting a couple of months ahead in content. The course starts at the end of February so that gives me plenty of time to buckle down now to see things through.
Related Reading: How to Earn More Money
Wrapping Thangs Up
This sums up my hustling for 2016 perfectly. I'm sure there is some income I forgot to document (keeping records is something I sorely need to improve upon); however, I didn't forget about this $7,400 earned. I'm glad I pressed on and I'm really looking forward to my side hustling income increasing in the new year.
What about you…did you earn any additional income from side hustles this year? If not, do you plan to start?