To support this website, this post may contain affiliate and/or referral links to products or services I recommend. See disclosure policy
here
.
One of the biggest personal finance myths many believe is you can't live a good life on a budget.
Budgets have a bad rep and are commonly misconceived as a punishment — something that is restrictive and limiting in the pursuit of living a quality life.
Having a budget shouldn't be equated with living an unfulfilling life — in fact, quite the opposite is true.
Using a budget helps you take control over a resource that is intended to fulfill your needs and wants. If done correctly, a budget should compliment your life.
To show you how you can have a life and a budget, I'm going to go through a couple of statements I often hear when I bring up the word budget.
Then we're going to discuss what you should do to if you want to budget and maintain a decent quality of living.
I understand a quality of life varies from one person to the next, but this is what makes this topic easy to talk about.
If you figure out what you want, you'll be able to create a plan that works for you. More on that in a minute, but first let's talk about those statements I mentioned.
"I don't want to budget because I won't be able to have fun (or do what I want)."
A budget is a map to financial freedom. Click To Tweet
A budget is nothing more than a plan or assignment that tells your money where to go. I like to think of our budget as a map to financial freedom.
If you create a budget, it must include all of your needs and things that are of value to you. Just because your buddy from college cuts out partying on the weekend to save up for a house doesn't mean you have to follow suit.
Their wants may be different from yours and if you value hitting up a party every week over home ownership, so be it.
You have to create a plan for your dollars that allows you to afford the type of lifestyle YOU want to live. Just remember, party animals need food and shelter too. Your budget is where you balance your wants with your needs.
"Budgeting is hard and takes up too much time."
I won't sit here and lie to you, setting up your initial budget can be quite a daunting process. To set up a proper budget you have to know where you've been spending money and use it as a rough draft to create your budget.
For more information, read Budgets: A Quick, Easy, Simple Method for Beginners.
Once you have your initial budget set up and your spending begins to line up with what's in your plan, you can automate most of it.
The first run with budgeting may take a while to get right, but once it's set up and running smoothly you won't have to spend as much time on it as you think.
You can maintain your budget by checking to see if expenses have been paid correctly and your savings are on target. This would take a few minutes each week.
There are several online tools that can help you with setting up your budget.
If you feel comfortable sharing your financial information, it will do most of the hard work for you and considerably cut down on the time you spend coming up with your budget.
A few of those tools are Personal Capital, Mint, Everydollar, and You Need a Budget.
Just plug in your income, your login credentials for your financial institutions and they will gather all of your expenses and help you create a budget that focuses on spending less than you earn and saving more.
"
I'm broke,
ain't no need
in
creating a budget."
As you can see, I spend most of my time around country folks. We say ain't a lot. Moving long…
If you feel like you're broke, this is precisely the reason you need a budget or plan for your money. You have to start somewhere and deciding to write down your expenses and compare it to your income will help!
Most people don't want to go through this process because they are scared of what they might find.
Doesn't matter if they are spending too much on getting their hair done every other weekend or spending too much on a Benz they can't afford — creating a budget makes them face the realities of the decisions they've made with their money. That's not fun when you know you could be doing better.
If you're running from mapping out your financial future because you claim to be broke, I'm sorry to inform you your piggy bank is only broke because of a broken mindset.
To rectify the situation, you have to stop coming up with excuses and create a plan that will not only fix your mindset but make your pocketbook a little fatter.
"Okay, so how can I have a life and a budget?"
Here are some things I want you to remember:
Every dollar you haven't told what to do is at risk of being wasted.

Money doesn't control you. It's a tool — you're supposed to control it.

Your budget is your plan to help you achieve everything you want in life.

You can afford more than you think.
Why do I want you to remember these four things? Because, when you're creating a budget, these truths will help you conquer some of those false statements I just talked about.
Your money is a tool and a resource. It's about time you start telling it what you need from it. If there is something you want badly enough, I'm sure you have the ability to create a budget, be disciplined with it, and get it.
To have a life and a budget, think of everything you want. Don't dismiss a want because you think you can't afford it. Write it down and think of what you need to do to make it a reality.
If you want to save up money for a down payment for a home, if you want to start a business, if you want to go back to school — all of these possibilities are within reach if you direct your money towards it.
Some of the things you want may take you longer to get than the next person, but this is why it's important to create a plan that works for you and no one else. Prioritize your wants against your needs.
Once your basic needs have been tended to, you can confidently run after your goals and dreams. Stop saying you can't afford stuff if you haven't taken the time to create a plan. That's just pure laziness.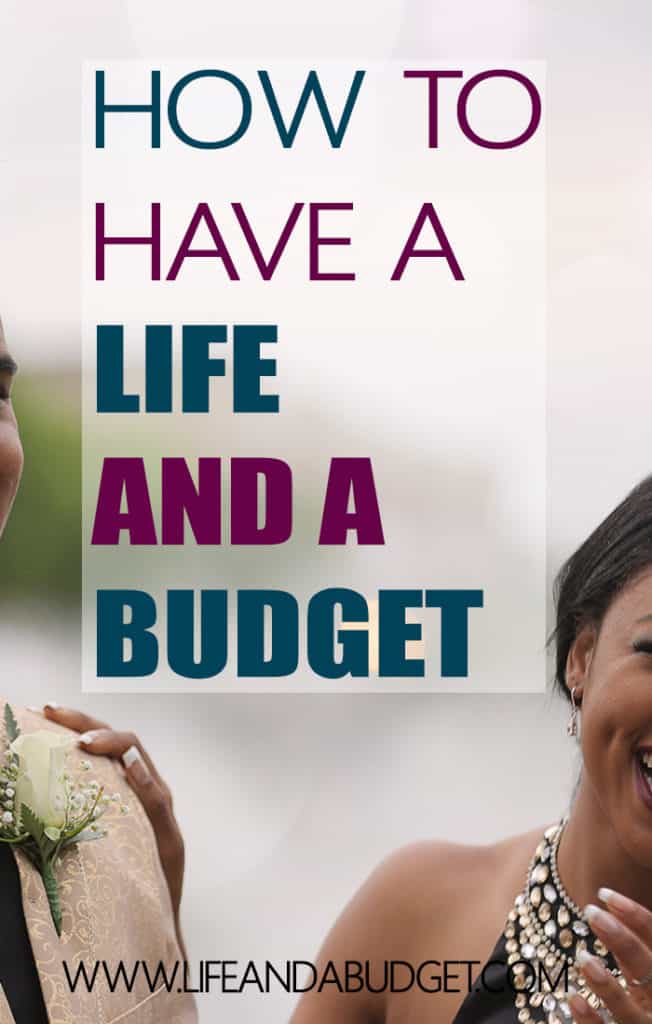 How to have a life and a budget in action…meet Ava.
I like stories because they help me conceptualize things better. To bring together the points discussed above, I'm going to share with you a story that will help you see how someone can have a life and a budget.
Today we're going to talk about Ava. Ava is a 34-year-old registered nurse who lives in Greenville, SC with her 9-year-old daughter.
She is single and holds things down on her own with no other source of income. Ava is trying to figure out how she can relieve herself of so many obligations and work fewer hours.
Her daughter, Penelope, is a gymnast and swears on every moon and the sun that she is the next Gabby Douglas in the making.
The area they live in doesn't provide the type of training this aspiring Olympic gymnast requires, so Ava wants to move cross country to help her daughter achieve her goal.
Only problem is the 25-year mortgage, $20,000 student loans, and $3,000 in credit card debt. Ava can't up and quit her job which brings in $59,000 a year after taxes, so she has to create a plan.
This plan must include gym lessons for Penelope.  Ava also needs some time to wind down with her girlfriends every once in awhile because working 12-hour shifts in the ER takes a mental toll on her. Since she works long hours, she has to pay for someone to take Penelope to some of her gymnastic practices and tutoring sessions.
She also has to pay her mother to take her to school if she has to spend the night at her house during one of Ava's night rotations.
Ava is frugal, but she has to make sure her daughter is at gymnastic practices and taken care of when she's working. She isn't willing to cut back on her daughter's education, gymnastics, or her monthly girl time. A woman has gotta live, right?
Ava's expenses currently include:
Mortgage $1,200
Life Insurance $25
Gas $150
Car Insurance $90
Groceries/Dining Out $600
Entertainment $250
Cell Phone $60
Savings (ER, car, slush) Emergency: $200, Car Maintenance/Replacement $100, Slush $200
Clothing $100
Toiletries $30
Household Maintenance $100
Gymnastics $140 (Tumbling and Gymnastics)
Tutoring for Penelope $80
Student Loans $310
Credit Cards $120 (minimum payment is $60)
Penelope's Caretaker $600 ($200 per week to take/pick up daughter from school, gymnastics and tutoring when working)
Ava's Mom $300 (to care for Penelope and take to school when working)
Monthly Income $4,917
Expenses $4,655
Leftover $262 (currently can't account for this money)
Ava is choosing to focus on meeting her basic needs and fulfilling her and her daughter's wants. She is planning to have a life and a budget by cutting back on the following:
Dining Out $200
Cell Phone $30
Toiletries $15
Mortgage $500
Credit Cards $120
Home Maintenance $100
Entertainment $200
Found Money $262
Total Savings: $1,427
Ava's plan to have a life and a budget
To save up enough money to move across the country Ava completely cuts out her dining expenses. Sometimes she likes to eat out with her girlfriends; however, she offers to cook a nice dinner at home for them after one of their monthly girl meet-ups around town.
To save even more money, she is encouraging her girls to seek less-expensive options to wind down like going to free museums, free before eleven parties, and book clubs. Ava will also prep her own lunches for work.
She's always working or spending time with her daughter so she wasn't using as much data on her data plan. She calls her cell phone provider and gives up her smartphone package.  
Instead of paying full price for name brand toilet tissue and other toiletries, she cuts coupons and purchases items for a discount at the drugstore.
Since her emergency fund has more than $1,000, she decides to take $3,000 of it and completely eliminate her credit card debt. Now she can focus on building up her savings without interest accruing on her credit cards.
This eliminates the $120 credit card payment. To build her emergency fund back up to a comfortable level, she will use these savings and add it to her current emergency fund contribution.
Last, she decides it's time to move and sell her home. She finds a cheaper townhome to rent for $700 a month and cuts out her home maintenance expense.
She monitors her budget carefully now and the once unaccounted for money in her budget now has an assignment. With all of these changes, Ava is saving $1,427 every month. Now she is going to use her savings and add it to her $310 student loan payment.
If she sticks to her plan and contributes $1,737 per month to her student loans, she will be debt free in a little over a year.  Ava has finally taken control of her money and she will have the financial freedom she needs to move across the country and pursue Penelope's dream of becoming an Olympic gymnast.
As you can see, Ava created a plan that told her money what to do and managed to continue living a good life — all with a budget!
Before creating a spending plan, Ava had no idea where all of her money was going and it was probably being spent on shopping sprees with her friends or limitless alcohol during girl's night out.
If she hadn't created a budget, she would have never discovered how these decisions were costing her financially.
In closing
Now I've given you a breakdown of how someone can use their budget to achieve their goals. Your budget is not something that limits you in life, it's a tool that gives you more options.
Your budget is your road to financial freedom. Without it, it's likely costing you money you never really intended to spend and it's keeping you from living the lifestyle you truly want.
Don't continue to run away from using a budget because of your unwarranted fear of not having a life. It is possible to have a life and a budget and I just showed you how.
If you budget, what are some of the things you are enjoying  now that you've created a plan that works for you?
If you haven't created a budget, what's the number one fear that's holding you back?
*Part of Financially Savvy Saturdays on brokeGIRLrich, Disease Called Debt and Lively Chicken*