To support this website, this post may contain affiliate and/or referral links to products or services I recommend. See disclosure policy
here
.
If you're new to blogging or you're thinking about starting a blog, there are plenty of ways you can make money blogging.
My two-year blogging anniversary will soon come to pass this Fall, and I've learned there is more to blog monetization than slapping a Google Ad in your sidebar.
Now, I'm a full-time blogger and I don't plan on quitting (like ever). If you desire the same, here are 7 things you can start doing to make money blogging.
Related Reading: How to Start a Blog on a Budget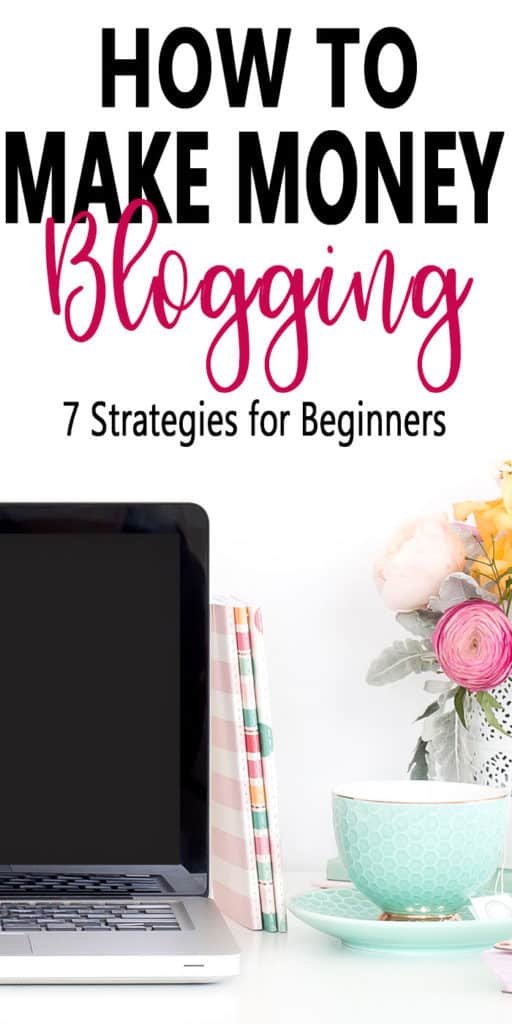 How to Make Money Blogging
Advertisements
You can make money blogging by joining an ad network or offering private advertising on your blog.  This is the most common blog monetization method because it's pretty easy to set up and get started earning quickly.
If you want to join an ad network, all you need to do is reach out to networks like Google Adsense, Media.net, Ad Thrive, or Media Vine. I use Media Vine and my advertising income doubled in one month after switching from Google Adsense.
Most bloggers start with Google Adsense because the barrier to entry is relatively low. If you have a decent amount of content on your blog, it's easy to join. However, collecting your first payout is an uphill battle.
To get paid a decent amount through any ad network, you need a good amount of traffic. The more clicks or views your blog receives, the more money you earn.
Last, you can always offer private advertising; however, you would probably need a media kit or a work with me page on your blog that provides details about your social media followings, traffic, and ranking.
Affiliate Marketing
You can make money blogging by selling other people's products. This is one of my favorite ways to monetize Life and a Budget because I'm able to offer my readers a variety of options that could help them financially.
Some of the products I recommend pay a commission and others pay a referral. Commissions are paid out if someone purchases something through your affiliate link. A referral is paid if you refer someone to a free service.
There are several affiliate network companies you can join. Some of the more popular ones are FlexOffers, Share-a-Sale, and CJ. You can also apply to individual affiliate programs with certain companies as well.
If you are new to blogging, I recommend checking out Making Sense of Affiliate Marketing. This course teaches bloggers how to make money through affiliate marketing without being salesy.
Before taking this course, I was making pennies with my (lack thereof) affiliate marketing strategy. A month later, I made my money back that I spent on the course and my affiliate income has continued to increase ever since.
There is a ton of information that you wouldn't be able to find otherwise and all of the recommendations from the course creator work because she uses them to generate over $50,000 in affiliate commissions each month.
Sponsored Posts
Another popular way to make money blogging is through sponsored posts. This essentially means that a company, individual, or website will pay you to publish an article they've written or a post you've written.
Sometimes the posts are reviews to bring exposure to a particular product or service.
For example, here is an example of a sponsored post I created. Notice the article has a disclosure at the beginning of the article. This is very important because it's required by the FTC.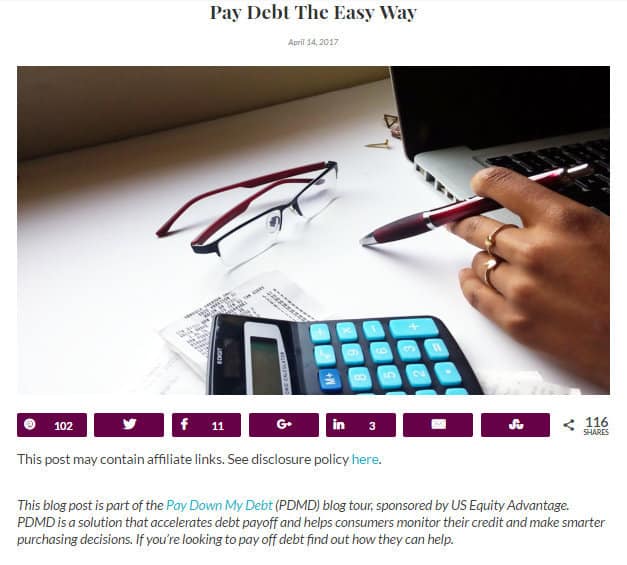 You can find sponsored post opportunities through places like Linquia, Cooperatize or Find Your Influence. Or you can reach out to brands yourself that may be a good fit with your audience.
If you haven't started your blog yet, I've written a detailed guide on how to start a blog. You can get started with as little as $3.95. Plus, if you sign up for a 12-month hosting plan, you'll receive your domain name ($15) absolutely free through this Bluehost link. I highly recommend having a self-hosted blog if you're serious about earning money online and being taken seriously as a blogger.
Your Products
Creating your own products is a very popular way of monetizing your blog. It can be quite lucrative too.
Some examples of products you could create are online courses, e-books, worksheets, and anything else you can deliver digitally. If you are into actual merchandise, you could sell planners, t-shirts, mugs, and more.
If you create an affiliate program for your product, you open up the door for even more success. Other people can sell your products for you! The possibilities are wonderful!
There are a lot of bloggers who make a lot of money selling their own products and it's a great way to diversify your blogging income. Plus, it's yours and you don't have to worry about traffic variations or affiliate programs closing down.
Social Media
If you have a decent following on any of the major social media platforms like Facebook, Twitter, or Instagram — you could monetize this.
Just let possible companies and brands know your followings on each network and some will pay you for trying out their products and posting it on social media (with disclosure, of course).
Or you could simply share affiliate products or brand #ads on Twitter, IG, or Facebook. A very popular company that helps bloggers do this easily is called Izea.
All you have to do is bid on an upcoming project. If you're selected, you share content on your social media profile and you're compensated according to the pre-negotiated amount.
Freelance Blogging
Since you're already blogging, you could offer writing services to other bloggers in your niche. Sometimes bloggers want to take a vacation or add another voice to their blog.
Those bloggers are willing to pay good money to add a staff writer to their team. A good starting rate for these opportunities usually starts at around $50 and up for a standard sized article.
It may not seem like much, but it's a great way to add to your bottom line so you can invest more money back into your own blog. I was a staff writer for a blog about student loans last year and I made over a couple extra hundred dollars a month.
f you're interested in learning more about freelancing, I recommend checking out this article. It will teach you everything you need to get started.
Blogging Virtual Assistance
The last way to make money blogging is through being a virtual assistant to other bloggers. I've hired a virtual assistant to keep up with social media work myself.
There are many bloggers who freelance on the side to help other bloggers keep up with all of their blogging tasks. Some tasks include approving and responding to blog comments.
Other tasks may include editing and scheduling blog posts, social media management, email management, and more.
Blogging virtual assistance is a great way to earn additional money until your blog starts generating income on its own.
Here's an article to help you learn everything you need to know about becoming a virtual assistant.
Wrapping Thangs Up
So, to wrap this up, there are seven ways you can make money blogging. You can offer advertising, sell affiliate products, sell your own products, or freelance as a blogger or virtual assistant.
However, none of these options are any good to you if you don't already have a blog. I can walk you through how to start a blog using this easy to follow tutorial.
I'm happy that blogging offers me a creative outlet to write, help people, and make money all at the same time. It's flexible and I don't have to worry about clocking in at the 9 to 5 and I'm able to be here for my kids in ways that I normally wouldn't have been.