This post may contain affiliate links. See disclosure policy
here
.
Learning how to responsibly build credit is an essential component of any financial plan. I never understood the importance of it until $34,420 worth of credit card debt stood between me and my sanity — and more importantly, my dreams. Take it from someone whose credit has been shot to hell and back, it is critically important you responsibly build your credit.
Take it from someone whose credit has been shot to hell and back, it is critically important you responsibly…
Click To Tweet
Some of you may be like me — you were never taught the value of credit, nor how to properly manage it. I've learned everything I know from my own personal experience and self-education. If you didn't receive proper education on how to responsibly build credit, there are several tools available to you online, but I want to give you a few pointers based on my own experience. With this being said, let's get into a few ways you can responsibly build credit.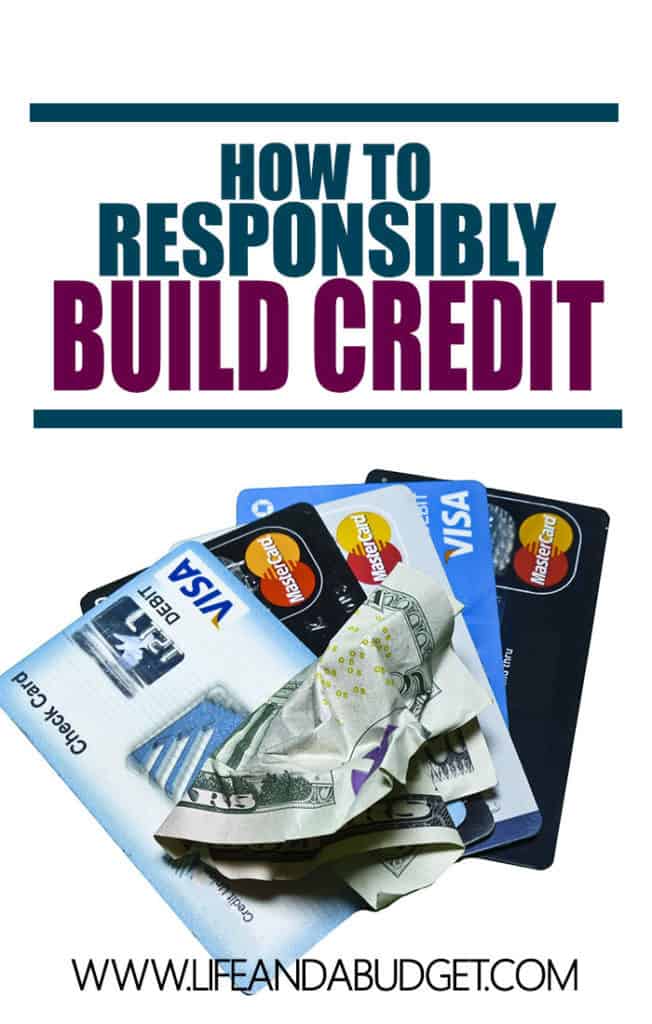 1. Don't use your credit card for wants (at first).
Practice self-discipline before you go charging vacations and Michael Kors purses on your credit cards. I know the purse is cute and the vacation with your friends this summer will be one to remember, but if you haven't saved for it — you can't afford it!  
Putting it on a credit card is the last thing you want to do if you want to responsibly build your credit. Use the card for your budgeted needs only. If these items are already accounted for in the budget, use your card to make the monthly purchase. By doing this, you will be able to pay the card off in full each month.
2. Build credit by using a credit card to pay a small monthly subscription.
If the thought of paying all of your bills and basic needs on your card every month makes you break out in hives, start smaller. You can put a small monthly subscription, like Netflix, on your card each month. Once the small amount has posted to your card, schedule an auto-payment for the full amount from your checking account within a few days of the posting to ensure you're not charged any interest.
3. Pay more than the minimum on larger balances TWICE per month.
If you decided that listening to me (the reformed credit card addict) isn't necessary and want to go ahead and charge your vacation on your credit card — I hope you have a plan to pay it off! If not, I encourage you to pay more than the minimum because I'm positive you don't want to pay for this vacation the next 6 to 7 years. Even more, I'm certain you don't want to pay an exorbitant amount of interest on it either. If you can swing it, make two large sized payments every month (at least double the amount of the minimum payment).
4. Search for your own credit opportunities versus using the credit offers that come in the mail.
The offers that come in the mail are rarely in your best interest. These companies want your money and they know how to create great copy that will get your attention and make you feel all warm and fuzzy inside. If you really want to get the best rates and conditions, search for your own credit offers. You can start with your own bank or search for credit cards suitable for your credit rating.
5. Know your credit score and what's on your report.
These days it's easy to find out your credit score. Many credit card companies offer this information for free to their cardholders. By knowing your credit score, you will be empowered to seek the best deals if you're ever in need of a mortgage or auto loan. Check your credit report for free once a year for any discrepancies. If anything looks out of place, dispute it right away.
There is a FREE website that allows you to obtain your credit score from one of the credit reporting agencies. Sign up for Credit Sesame today to see how your credit is holding up. This site provides recommendations and great information on how to keep your credit score on the up and up.  Again, it's free unless you're interested in the I.D. theft protection – which I highly recommend by the way.
6. Build credit by maintaining a proper credit utilization ratio.
Your credit utilization ratio is an important part of your credit score. It makes up 30 percent of a score and can be determined by dividing your total debt by the total amount of credit available to you.  The higher your utilization rate is, the more risky creditors perceive you. A high utilization rate often indicates a higher chance of not paying debts. Creditors like to see some credit being used; however, typically not more than 20 percent.
7. Don't open a bunch of credit cards at one time.
A portion of your credit score (10 percent) is determined by new credit inquiries, better known as hard inquiries. Each hard inquiry lowers your score by a few points and it can take several months to recover these points.  Each hard credit inquiry stays on your credit report for one or two years. If the inquiry is of the same type (ex: a mortgage loan), these inquiries are treated as the same and won't negatively affect your score. However, multiple credit card inquiries are usually an indicator of adverse financial risk to credit lenders.
---
If you  don't take away anything else from this post, take away this — credit is not a free loan. You will pay for credit in the form of interest. If you don't pay it back, you risk the possibility of future employment opportunities, your ability to get good insurance, or obtain affordable rates on auto and home loans. Your decision to max out your Macy's card today can cost you more money than you planned to spend.
For me, it cost me years of a less than desirable credit score, a disrespectful interest rate on my car note, years lost of investing, and the freedom to take employment that would have better suited my personality. It affects many parts of your life, not just your money. Debt takes away your freedom to choose! I've been through the bankruptcy and I've recovered financially, but if I knew then what I know now, I could have avoided all the headache that accompanies making poor credit decisions. Make the choice today to responsibly build your credit, and if you've already made some mistakes — it's never too late to rebuild your credit.
Join the LAAB Email List
Subscribe to get updates on all things money, saving and debt related.