To support this website, this post may contain affiliate and/or referral links to products or services I recommend. See disclosure policy
here
.
In this article, you will learn how to easily build credit so you can do more important things…like make money.
Learning how to build your credit can quickly become a chore. There's so much advice out there on what you should do when sometimes all you want is just some simple quick ways to do it without losing your damn mind. 
Trust me, I understand.  See, I never understood the importance building credit the right way.
That's until I had $34,420 worth of credit card debt standing between me and my sanity — and more importantly, my dreams.
Take it from someone whose credit has been shot to hell and back, it is critically important you responsibly build your credit.  But, I also believe in keeping it simple! 
So, today I'm going to equip you with some quick and easy ways to easily build your credit.  Best of all, you can start implementing them today.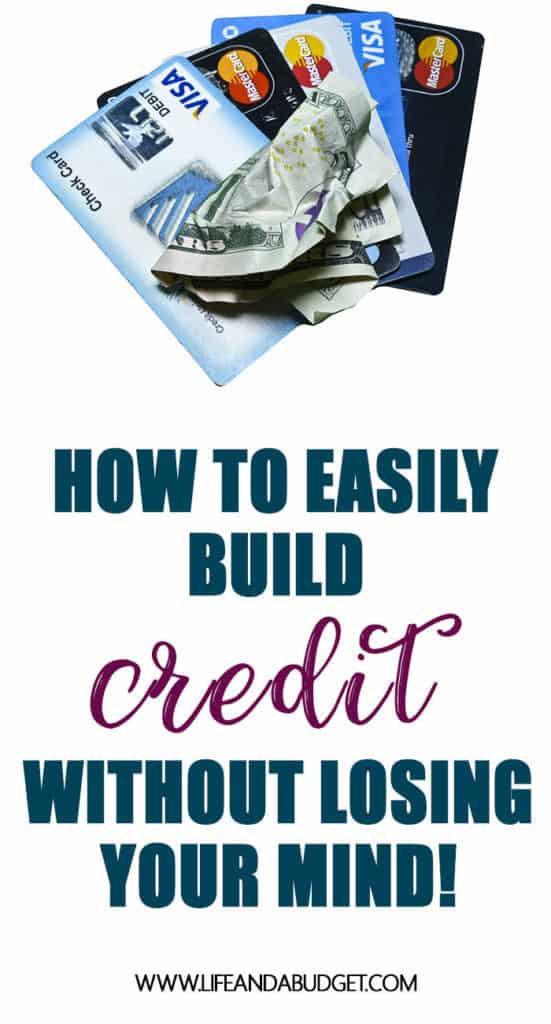 1. Easily build credit by using a credit card to pay a small monthly subscription.
The worst thing you can do when building credit is to use your credit card to finance a bunch of your wants. A credit card isn't free money and if you want to go into debt, charging stuff you don't need is the quickest way to do it.
However, if you approached it from the other end – only purchasing things you need or can afford, you will have better success.
For instance, instead of charging that Michael Kors purse you didn't plan on purchasing, charge a small monthly subscription. Let's say you've cut your cable cord and subscribe to Netflix. Charge your monthly subscription fee to your credit card.
Next, set up an automatic payment to pay your credit card for the full Netflix subscription. Do this within a few days of the subscription payment to avoid paying any interest. By doing this, you are establishing a habit of paying your credit card in full and on time.
2. Pay more than the minimum on larger balances.
If you have a balance of $3,000 on your credit card and your monthly minimum payment is $20, pay more than the minimum. As a matter of fact, pay twice as much.
Credit card companies have designed the minimum payment to keep people in debt longer so they can make more money. You're going to pay hundreds of dollars in interest if you do it this way.
If you avoid charging more than you can afford, you can avoid this problem altogether. But if you've already got the debt, there's no need in crying over it.
Just focus on paying down that debt as quickly as possible. The best way to do that is to pay more than the credit card company requires each month.
4. Double up on your monthly payments.
If you think you can't afford to pay more than the minimum on your credit card, trick yourself. Simply pay twice a month.
Let's use the previous example. If your credit card company requires you to pay $20 per month and you want to pay $40 per month, simply pay them $20 two times per month.
You can even pay them every week if you want to! Pay $10 a week until you reach your goal.
There's no rule saying you can only pay your credit card on the due date. Most credit card companies have an online portal that allows you to schedule as many payments as you want.
4. Search for your own credit opportunities versus using the credit offers that come in the mail.
The offers that come in the mail are rarely in your best interest. These companies want your money and they know how to create great copy that will get your attention and make you feel all warm and fuzzy inside.
If you really want to get the best rates and conditions, search for your own credit offers. You can start with your own bank or search for credit cards suitable for your credit rating.
5. Check your credit report annually.
Each year, you can request a copy of your free credit report from ALL three credit reporting agencies. This is different from knowing your credit score.
Your credit score won't let you know if anyone has fraudulently opened up a line of credit in your name (unless you've signed up for additional credit monitoring). A credit report will allow you to look at the entire picture.
If someone is using credit in your name or if there are errors on your report, a credit report is usually the best way to identify these issues.
Request your annual credit report at annualcreditreport.com for free, or you can use a service like myfico.com for additional credit monitoring.
6. Know your credit score.
These days it's easy to find out your credit score. Many credit card companies offer this information for free to their cardholders.
By knowing your credit score, you will be empowered to seek the best deals if you're ever in need of a mortgage or auto loan. 
There is a FREE website that allows you to obtain your credit score from one of the credit reporting agencies. Sign up for Credit Sesame today to keep tabs on your credit score every month.
7. Build credit by maintaining a proper credit utilization ratio.
Your credit utilization ratio is an important part of your credit score. It makes up 30 percent of a score and can be determined by dividing your total debt by the total amount of credit available to you.  
The higher your utilization rate is, the more risky creditors perceive you. A high utilization rate often indicates a higher chance of not paying debts. Creditors like to see some credit being used; however, typically not more than 20 percent.
8. Don't open a bunch of credit cards at one time.
A portion of your credit score (10 percent) is determined by new credit inquiries, better known as hard inquiries. Each hard inquiry lowers your score by a few points and it can take several months to recover these points.
Each hard credit inquiry stays on your credit report for one or two years. If the inquiry is of the same type (ex: a mortgage loan), these inquiries are treated as the same and won't negatively affect your score.
However, multiple credit card inquiries are usually an indicator of adverse financial risk to credit lenders.
Wrapping Thangs Up
If you don't take away anything else from this post, take away this — credit is not a free loan.
You will pay for credit in the form of interest. If you don't pay it back, you risk the possibility of future employment opportunities, your ability to get insurance or obtain affordable rates on auto and home loans.
Your decision to max out your Macy's card today can cost you more money than you planned to spend (I would know).
For me, it cost me years of a less than desirable credit score, a disrespectful interest rate on my car note, years lost of investing, and the freedom to take employment that would have better suited my personality.
It affects many parts of your life, not just your money. Debt takes away your freedom to choose! I've been through the bankruptcy and I've recovered financially, but if I knew then what I know now, I could have avoided all the headache that accompanies making poor credit decisions.
Make the choice today and if you've already made some mistakes — it's never too late to easily build your credit.