To support this website, this post may contain affiliate and/or referral links to products or services I recommend. See disclosure policy
here
.
If you haven't checked your credit score, it might be time to have a come to Jesus moment. I've heard the arguments coming from those who choose not to use credit; therefore, having no interest in knowing their credit score.
However, I know the vast majority of my readers here do use credit and their credit score could be holding them back from getting that bomb new job, that nice little house on a hill, or some other item in which they need to utilize credit to obtain.
If you're one of those folks, I'm going to discuss a few ways you build a good credit score if it's less than desirable. Depending on the damage, you may need a great deal of time to repair your past credit mistakes ― however, make no doubt about it, your credit woes can be fixed.
This is coming from someone who's filed bankruptcy in yesteryear and was able to bounce back with an awesome credit score. So, get your liquid beverage of choice, a pen and pad, then settle in and take notes.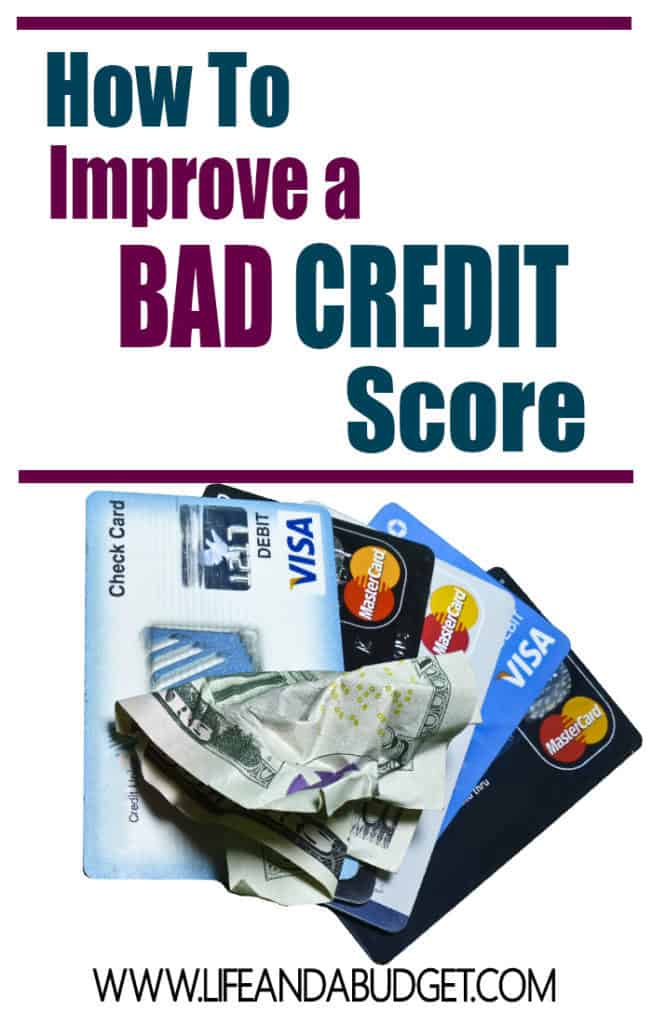 How To Build a Good Credit Score
1) Pull your credit report and credit score.
The very first thing you need to do to get on the path of improving your credit score is to actually face the damage.
There are several ways to check your credit. Of course, you are entitled to a free credit report from each of the three credit bureau agencies every year.
You can use the government approved site annualcreditreport.com. However, I've found that using free sites like Credit Sesame makes the process a little easier.
Again, this site is free and you don't have to pay for anything unless you want some identity theft protection or something like that. You're able to use Credit Sesame to pull one credit report and they also give your credit score too.
Related Reading: Credit 101: Everything You Need to Know About Credit
2) Take a look at your report from each credit agency.
I would suggest pulling one from each agency at different intervals throughout the year. Using these credit reports, you are looking for any inaccuracies or discrepancies.
If anything is on your credit report that shouldn't be, you can dispute the information with the credit reporting agency.
To do this, you will need to write a letter with factual information and supporting information to support your dispute. The credit reporting agency will send this information to the company who is providing them with the information and a formal investigation will begin.
When the investigation is complete, the company will report their findings back to the credit agency, who will then proceed to handle accordingly. They must also notify the other two credit reporting agencies of the discrepancy.
If the information shouldn't be on your report, the credit agency will remove it or correct the information on your file. Once this is complete the credit agency will report the results back to you and give you an updated copy of your credit report that reflects the new changes made.
For more information on how to repair your credit yourself, I recommend checking out this article on the FTC's website.
3) Keep a calendar of your bill due dates and make sure your bills are paid on time.
One thing that helps me keep bills paid on time is auto-deduction.  I keep a separate banking account for all of my household related expenses.
I set up automatic payments with most of my bills and check each month to make sure the correct amounts came out.
I also keep a nice cushion in my account to prevent overdrafts in the event of multiple withdrawals occurring on any given day.
With this bill paying method, I'm able to keep all of my bills current and negative marks against my credit at zero.
4) Make progress on your debt payoff.
Paying on your debt will actually help you make progress towards building a good credit score. If you are consistently paying more than the minimum, this will have a positive impact on your credit utilization ratio.  
Basically, you are reducing the amount of debt you owe. The amount you owe is weighed against the amount that is available to you to borrow. As you reduce the amount you owe, this will improve your credit score.
Let's say, for instance, you have a total of $2,000 owed on your credit card. The credit card limit is $10,000. You also have a credit card with  total owed of $6,000 and the credit limit on this card is $8,000.
The total amount of debt you have is $8,000 which weighs against the total amount of debt you could borrow at $18,000.  This gives you a credit utilization of 44 percent. The higher your credit utilization, the more of a negative impact it can have on your credit score.
If you're making the minimum payment each month, you're not necessarily doing yourself a favor of getting out of a low credit score range. Doubling up on those minimum payments, or more, will help make a positive impact on your score.
5) Don't open up too many lines of credit at once.
Credit inquiries make up 10 percent of your credit score. This portion of your credit score can be negatively impacted if you're applying for every credit card offer that comes your way.
When you're in the store, it may seem like a good idea to apply for a credit card to receive an extra 15 percent off. However, you should resist the temptation.
These hard inquiries (or pulls) are not doing you any favors in improving your low credit score. Sometimes those "deals" just aren't worth it when you're trying to get your credit profile in top shape for a much meaningful purchase.
As I mentioned earlier, Credit Sesame is a free website I use where you can obtain your credit report and credit score. There are many benefits to using a service like this, so let's take a look at some of them.
Benefits of using Credit Sesame:
You will receive a free credit score from

TransUnion

.

You will receive free identity theft insurance up to $50,000.

You will receive free credit monitoring.

You will receive a free loan analysis and recommendation.

You will receive access to free financial tools and tips.
Some other features that I think are noteworthy are mobile app accessibility and you can monitor your financial progress as you improve your credit score over time.
Their trending charts will allow you to see loan payments, interest rates, credit ratios, and types of loans you may qualify for as your credit outlook improves.
Did I mention it's free? If I did, it's worth repeating!
The main thing I liked is that they don't require a credit card for you to sign up. The only way you're paying for anything is if you want some of their premium services like extended identity theft protection and credit scores and reports from all three agencies.
Free credit monitoring is worth signing up!
The tools you use with Credit Sesame will alert you in the event of new account openings, credit inquiries, and any suspicious behavior. Again, this is free!
Free $50k in identity theft insurance ain't bad either!
So basically what Credit Sesame is offering is protection in the event someone swipes your identity. They will pay up to $50,000 in legal costs for any one stolen identity, up to $5,000 for fraudulent withdrawals, $3,000 for loss of income, $1,000 for replacing documents, and $1,000 for traveling costs all for each stolen identity event.
Is Credit Sesame safe?
Now I'm pretty sure they wouldn't be offering $50,000 in free identity theft insurance if they weren't safe.
However, I know some of you may still be skeptical so let me put your worries at ease with a few points: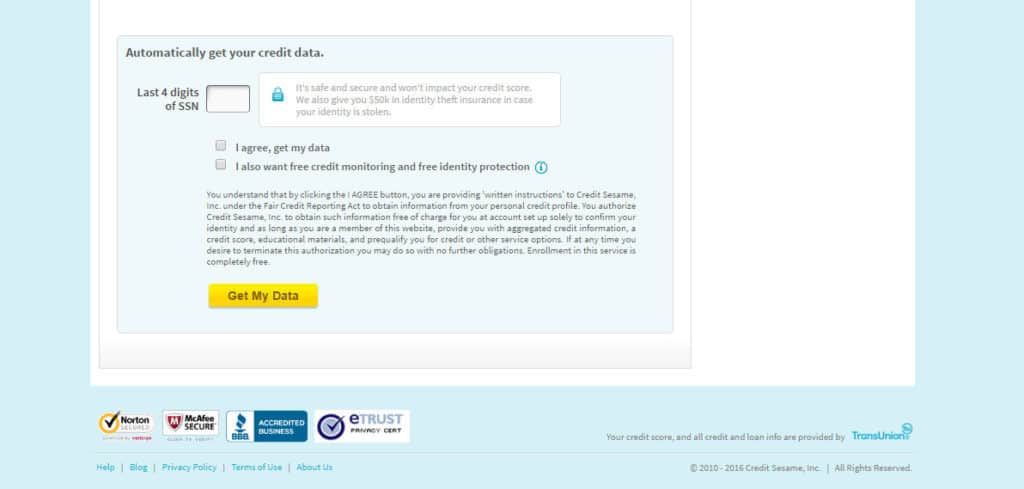 You don't give them your entire SSN. They only asked me for the last 4 digits as you can see in the screenshot above.

Virus software protection companies like McAfee and Norton consider their website safe to use.

And they have a good BBB standing (see screenshot below).
As you can see, I wouldn't have put my info here if I couldn't vouch for this site's credibility. It's extremely important to consider so any concerns you may have are definitely understandable!
Going through the sign-up process, they will ask you a few more questions such as your last name, first name, address, date of birth ― all the standard credit stuff that you may be asked. Just not your social security number😉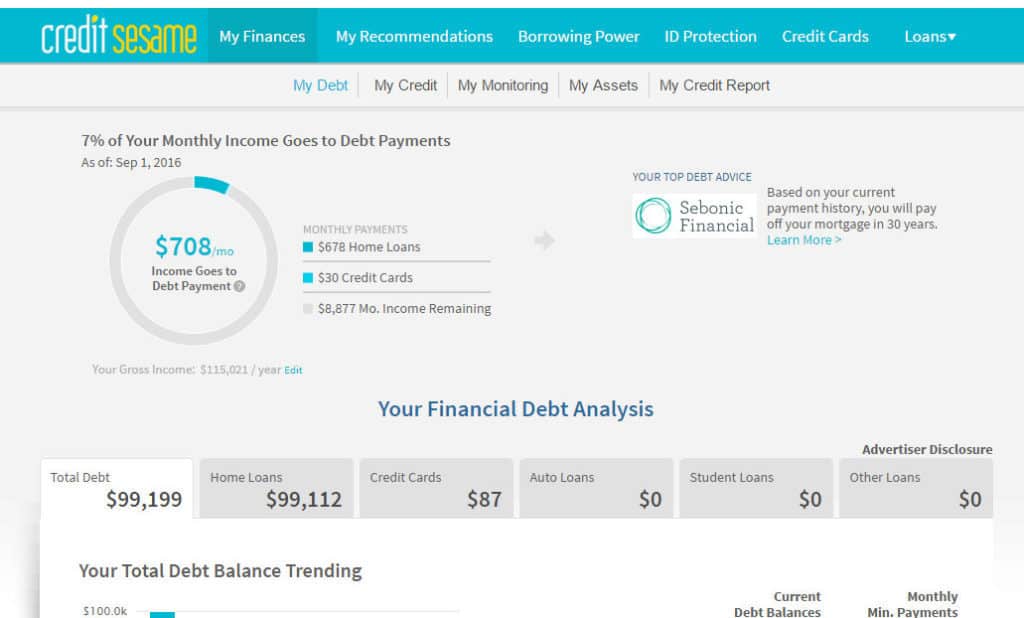 Here is some of the information you'll find once you sign up:  
In the Finances tab (see above), you will find an overview of your debt, credit, assets, credit monitoring, and credit report.
The Recommendations tab is where you'll find all recommended credit offers. No worries — you don't have to sign up for these. This is how they make their money.
The Borrowing Power tab is what it is — how much they think you would be able to borrow. Again, another section I'm not interested in utilizing.
The ID Protection tab is for any extended identity theft protection you may wish to pay for.
The Credit Cards section — you already know what it is.
Finally, the Loans tab is their recommendations for any loans you might be able to qualify for based off of your credit profile.  That's the gist of what this website will offer you.
Final Thoughts on Credit Sesame
Credit Sesame is incredibly easy to use and you will receive all alerts via email in the event something fishy goes on.
There are other services out there that offer credit monitoring, but you want the services that are willing to put their money where their mouth is with that free identity theft protection, ya dig?
If you're interested in monitoring your credit for free as you work on improving your credit score, sign up for your free Credit Sesame account here.
Brief Recap
Building a good credit score will take time, but if you follow the five steps discussed today, you'll eventually have something to show for your efforts!  Use the free resources available to you to obtain your credit score and credit report. Clean up any discrepancies on your report. Pay your bills on time, all the time. Improve your credit utilization score and don't go crazy with those credit card offers.
Anyone have any additional tips for someone who wants to improve a low credit score? Weight in!