To support this website, this post may contain affiliate and/or referral links to products or services I recommend. See disclosure policy
here
.
Life and a Budget EBA Success Series is where I document my progress as I work through Elite Blog Academy. I want to provide a thorough comprehensive review of whether EBA can help me and other like-minded bloggers reach their blogging and financial goals.
Note: If you're not a blogger and interested in becoming one, I've created a detailed tutorial on how to create your own blog on a budget. Sign up for as little as $4 per month using Bluehost and get your domain name free ($15 value).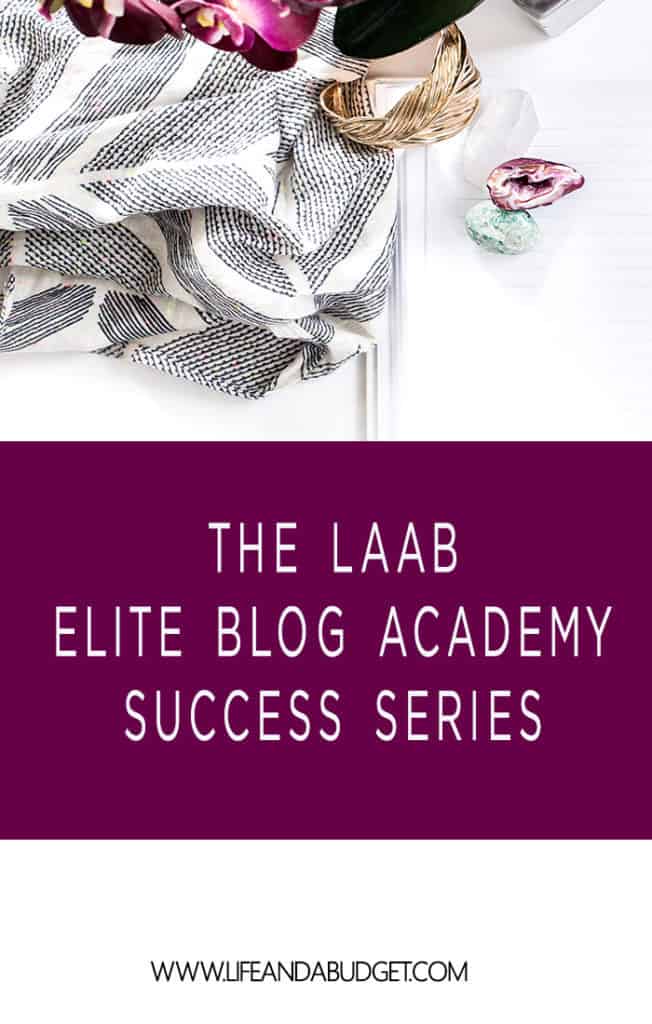 Honestly, I purchased this course because I was frustrated.  I just couldn't get the answers I wanted about the course.
See, I knew what the course was and who created it. I had a general idea of what I would get from the course and I knew there were several bloggers who swore by the fact it was a game changer for their individual websites.
I mean there are plenty of testimonies, but it drove me crazy how they all said the same thing.
"EBA (short for Elite Blog Academy) is awesome."

"I grew my income from $33 to $15,000 in 9 months."

"I wouldn't be a full-time blogger without this course."

"This course taught me everything I know."
I needed to see the progress, live through the blogger's experience, and understand what they went through to get from $33 to $15,000.
These vague overviews on the awesome merits of this course wasn't enough for me. I wanted to experience it with them and get excited about their progress with them – not read about the end results. You feel me?
Not even that, but all of my questions got the same answer too. I would ask a question and the answers would be the same coming from many different people.
But even still, I was intrigued enough to buy it. After all, most of these bloggers who were giving the reviews had one thing in common – they were making full-time incomes from their blog.
So, I shelled out the big bucks.  However, after doing so, I needed to put a few simple conditions in place.
Those conditions were to document every single nitpicking thing so I can give someone else the answers I've been looking for but never really found.
I want to fill in the gaps and answer the questions some of yall may have but aren't finding answers to either. Questions like…
"How much were your page views before you started the course?"

"When exactly did you see the course paying off?"

"Is it really hard?"

"How long did it take you to complete?"

"Do you really contribute your success to this course?"

"How can I know for sure it really works?"
I'm taking this course to see whether, through hard work, I can experience the same success others have had by investing in this course.
With that being said, I'm creating a journal of sorts and calling it the Life and a Budget EBA Success Series.
Life and a Budget EBA Success Series
I won't discuss any of the specific strategies in the course because that's just wrong. If you want to learn the strategies, you'll just have to invest in the course like I did.
However, I am going to document my progress, frustrations, and/or points where I feel like giving up. EVERYTHING.
Trust me when I say this – this will be the most comprehensive review you've ever seen written on this course.
I googled, asked questions, searched high and low, and I couldn't find what I was looking for. Therefore, I'm going to seek the answers and create the information I was searching for just in case someone else is looking for it.
Here's what you can look forward to in the LAAB EBA Success Series:
Screenshots (of my progress and notes, not the actual course itself)
My personal opinions
And my tears – because I'm sure I'm going to cry a few times when I choose to work this course over going to sleep.
So, I'm letting you know this won't be a typical review, have you sign up for the waiting list kinda thing. I'm going to answer any questions you may have as it pertains to how EBA is helping me whip LAAB into shape. But let's be clear, you won't be learning the strategies taught in the course. You'll just be getting real-time updates of my progress.
I'm going to update this page with links to articles documenting my progress once the course starts (see below). If you want to stay in the loop, I have a special subscription box for you below.
I'm looking forward to learning more about blogging, doing the work, and determining whether this course will help me achieve some of the same results others claim to see.
And, you can start asking questions in 5, 4, 3, 2, 1…drop 'em in the comments!
Life and a Budget EBA Success Series Updates
EBA Success Series: First Update
EBA Success Series: Second Update
EBA Success Series: Third Update