To support this website, this post may contain affiliate and/or referral links to products or services I recommend. See disclosure policy
here
.
Welcome to my January 2017 blog income report where I give you all the juicy on how I made money online last month. These reports do not include freelancing income but do include any blog management tasks that I've performed for other bloggers online.
This year I'm going to be reformatting the blog income reports so I can shed more light on how you can earn money online too. I don't want to be the only one doing the thang and earning money on the net, I want you to join me!
If you're new here, you are probably wondering why I would share the income earned on the internet for everybody to be all up in my business. I mean, it's not like it's normal to tell folks how much money you're making, but it's a little bit more than that for us bloggers.
For starters, it's easy to grow when you're documenting the process. Many bloggers (not just me) don't do this to brag or show off, but we're doing this to document our growth. I guess we're trying to prove ourselves wrong every month. Like seriously, when I graduated from college I never said I wanted to be a blogger who earns a full-time income online.
Second, I do it for accountability. Having folks reading your business helps keep you in check. It makes me look at my goals and actually get my butt to work. Remember, I'm trying to prove myself (and probably many of you) wrong every month. I want to show the proof that it's possible.
Last, I do it to help you. You could be working mama who is tired of clocking in for someone else and wants to start her own business so she can be more available at home. Or you could be married, no kids and want to start building a passive side hustle before having kids. I want to share how I'm getting there so others can do it too.
These income reports started off as side-hustle reports in 2015 where I documented how much I earned as a freelance writer online. Now these reports have turned into blog income reports where I share how I'm increasing my online income through affiliate marketing, advertising, and sponsorships.
I never imagined things would be progressing the way they have, but I'm glad I finally stopped sitting on the sidelines and started writing. My finances continue to improve with the more I learn and I'm able to help so many other people improve their finances too. It's a win-win!
If you're interested in starting a blog, I've written a detailed guide on how to start a blog starting at $3.95. Plus, if you sign up for a 12-month hosting plan, you'll receive your domain name ($15) absolutely free through this Bluehost link. I highly recommend having a self-hosted blog if you're serious about earning money online and being taken seriously as a blogger and/or freelancer.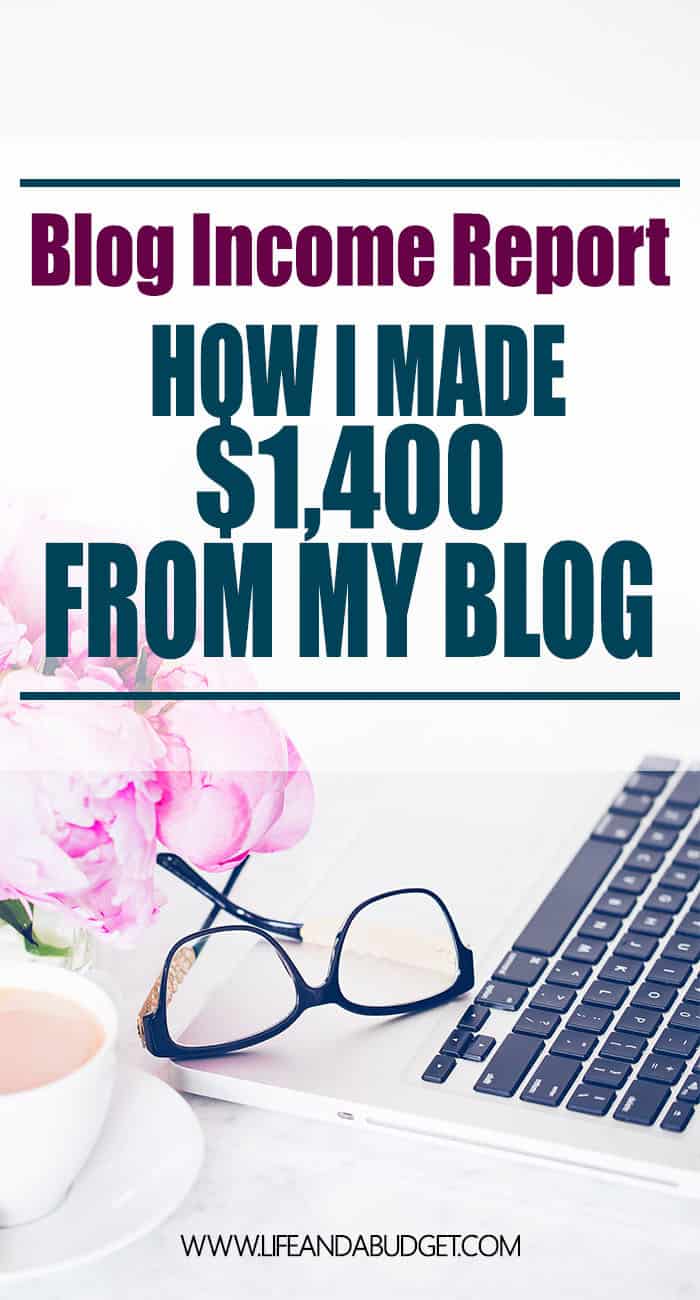 January 2017 Blog Income Report
I earned $1,446.87 for the month of January (before expenses).
Honestly, I'm still pinching myself. This was totally unexpected. The beginning of the month when I made a couple of hundred in a few days, I thought it was simply because of the new year and people were ready to buckle down on savings after the holidays.
This is my first time earning affiliate income in the month of January. Last year around this time I was solely earning from freelance writing. I'm not sure if this month is an indicator of an upward trend or not, but needless to say, I'm pretty ecstatic about LAAB's progress this month!
Last month, I also did a great job of bringing down my blog expenses. I'm going to be pretty tight with expenses this year and only spend when I absolutely feel like it's a great reinvestment back into the business.
Just to give you a little perspective on how loose I was with expenses, I just prepared my taxes and I spent over $4,000 in expenses last year. I know, I know…absolutely crazy amount of dough went out the door. Thank goodness those investments are paying off. I'll get into expenses in a sec…
One of the best investments I made last year for LAAB was a course that taught me how to approach affiliate marketing the correct way.  The course is called Making Sense of Affiliate Marketing and was created by a personal finance blogger who grossed over $900,000 last year from affiliate marketing on her website.
It's pretty safe to say I'm learning from someone who knows what she is doing and I've been incorporating and studying the knowledge she pours into this course. I've gone from $1 to over $1,000 in six months based on the chart below!
If you're a blogger and you want to increase your affiliate income, I highly recommend checking out Making Sense of Affiliate Marketing.

 
Income Breakdown for January 2017
Capital One 360: $60.00
Ebates: $80.00
Ibotta: $30.00
Bluehost: $75.00
Boardbooster: $5.00
How to Make Your 1st Affiliate Sale
Using Pinterest in 24 Hours Ebook: $15.20
Tailwind: $30.00
Other Surveys: $96.75
FlexOffers: $210.80
CJ: $38.00
Share-a-Sale: $41.00
Amazon: $9.65
Google Adsense: $127.61
LendEdu: $320.00
Vindale: $92.05
MyFinance: $107.81
Blog Management: $108.00
Total: $1,446.87
Expenses for January 2017
Stock Photos: $35.00
Boardbooster: $8.03
Convertkit: $29.00
Ebook: $19.99
Facebook Ads: $16.06
Total: $108.08
Difference (Income – Expenses) = $1,358.87
If you're interested in reading some of my other blog income reports, I've listed a few below. The rest can be found on my side-hustle income page.
Comparison to Last Month
Total income in December 2016 was $552.75. I forgot to include a sponsored post and blog management earnings in last month's report so that brings December earnings to $716.75.
This means my income increased by $730.62 over the month. I'm working really hard so we're going to speak it into existence now, that number will continue to increase throughout the year!
[convertkit form=4945818]
LAAB Updates
I really can't complain. I'm very happy with the way things are going on LAAB. I have quite a road ahead of me in 2017, but I have huge plans for this website and a clear focus on business related goals I want to achieve this year.
I'm about to start a new course, Elite Blog Academy, at the end of February. A lot of thought went into taking this course because it ain't cheap. At all.
I really had to decide on a few things and determine if EBA would help me achieve the end result I desired. After much going back and forth, I finally bit the bullet and invested in the course.
I figured I could waste the money I earned blogging on a bunch of random expenses that wouldn't necessarily get me closer to my goals. Or I could invest in a course with a 100 percent money back guarantee, even though I don't want the money back.
My ultimate goal is to treat this course as if I'm back in college and milk it for every dollar that I perceive it to be worth. I'm also going to be doing things a bit differently from everyone else as far as documenting my progress.
Some of you may have heard about the course and have been frustrated with how little information is out there about other folks results. Well, y'all know that I'm transparent as heck. Therefore, I have something different in mind than just an 800 to 1,000-word review on this course.
I will definitely keep y'all updated, but just so you know – it's going to be something you haven't seen. I can guarantee that.  But more details coming on that next month.  Stay tuned.
If you wanna know more about EBA, you can join their mailing list here. Unfortunately, enrollment only opens once a year and it's not exactly an easy thing to stay up to date with.
Other LAAB updates:
I'm considering creating a new free e-course in the coming months, but I want to hear from my readers about the content they are interested in. A free course about money management, free budgeting course, I dunno…y'all tell me!
In October, I switched from MailChimp to Convertkit and I LOVE IT! It's so easy to use and understand. MailChimp was free, but I never felt like I got answers to questions that popped up. There was also a downfall to someone who subscribed to two different mailing lists. For instance, if someone wanted my blogging emails and my money emails, they were counted twice. If you're over 2,000 subscribers you would be charged twice for one person who joined multiple lists. Convertkit makes it easy to send different emails to different lists.
Last month I invested in an e-book that really had me curious titled, How to Make Your First Affiliate Sale Using Pinterest in 24 hours. I was skeptical as hell, not going to lie. I bought it really because I was nosey and wanted to see how the person was able to do it. Then once I read it, I wanted to see if I could do it too…you know, to prove the author wrong and all. Well, to my surprise, I made a sale the very next day using her strategy. So, I guess it wasn't a bad investment for twenty bucks.
Last, I'm considering offering affiliate marketing consultations. In these consultations, I can brainstorm affiliate opportunities you can pursue with your blog and if you're already using affiliate links on your website, I could give you pointers on things you should try to increase your income. If this is something you would be interested in, let me know. I would be glad to help!
Goal Updates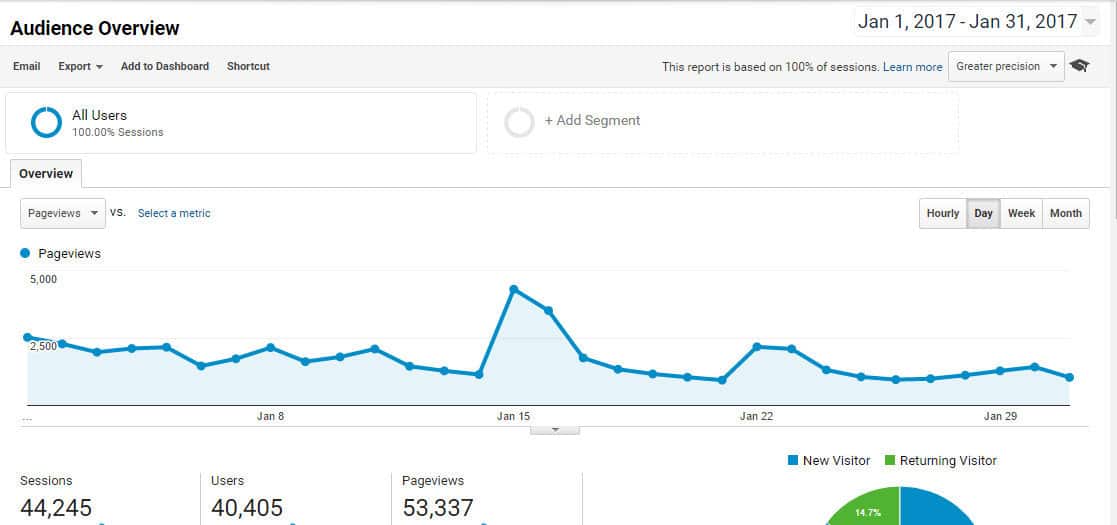 Last month's goals:
Complete February's content. (Partially)
Reach 60,000 pageviews (Fail)
Reach 1,000 email subscribers (Pass)
These were pretty lofty goals for the month of January and I'm happy with the progress I made. I was able to write all of my February posts (except this one) in January, I finally reached 1,000 email subscribers, and I was very close to getting 60,000 pageviews.
LAAB ended the month with 53,337 total page views, so I wasn't that far off from meeting my pageview goals. I tried a different method at the end of January with my Pinterest pinning schedule and I didn't get the results I expected so I believe that affected my page views some.
Related Reading: 7 Surefire Ways to Boost Your Blog Income
February's Goals:
Plan and complete all of March's content.
Reach 60,000 pageviews.
Earn $1,600 in blog revenue.
Reach 1,500 email subscribers.
This month my goals include planning and completing all of March's content, going for 60,000 pageviews again, and earning $1,600 in blog revenue. I also want to aim for 1,500 email subscribers.
I'm still not satisfied with the number of emails I capture each day. I'm not sure if it's because of the copy on my subscribe forms or the freebies being offered. It could be a combination of both. Hopefully, I will learn more about what I'm doing wrong in the blogging course that's coming up.
Wrapping Thangs Up
I really just want to thank all of you!  I'm so happy that you take time out of your day to read my little ole blog. You're paramount to the success I'm experiencing and I totally just want yall to know that I'm extremely grateful.
It's not easy writing these income reports every month. I'm aware of how they can be perceived. I have even had personal friends on my FB page ask me if these are real. I understand the skepticism some of you may have. I've shared the same thoughts myself.
However, all I can say is that it's hard to see or understand someone else's outcome without getting in there and trying to work for it yourself. All I can say is that it's totally possible if you really want it. And luckily, if you really want it, there are THOUSANDS of bloggers (including me)  cheering you on. I can't speak for anyone else but I want us all to win.
Thanks again for reading. I hope you'll subscribe to the LAAB mailing list. This way you'll stay up to date on how to have a life and a budget and hopefully create a side hustle of your own!
How was your January hustle? Are you interested in earning blogging income?