To support this website, this post may contain affiliate and/or referral links to products or services I recommend. See disclosure policy
here
.
Wanna learn how to make money writing? Well, allow me to give you the scoop on how to become a freelance writer!
Prior to starting Life and a Budget, I used to blog just about everywhere. I had a blog when I was getting married, a blog about my religion, a blog about decorating my home — I love blogging.
So, I figured why not turn my love of writing and blogging into my career? I mean, I was unhappy at my 9 to 5, I loved to write, and when I wasn't blogging I was thinking about writing. It was really a no-brainer for me.
Now I blog and write online full-time and I absolutely love every minute of it.
Freelance writing gives you the freedom to work anywhere you want to whenever you want to. You set your own hours. You are your own boss. Your clients aren't your employers — they are your clients!
You will have to motivate yourself to work, but I doubt that will be a problem if you have bills to pay. Don't we all?
If you want to start a side hustle that you can do in your spare time, freelance writing is very lucrative. Or maybe you're a mom and you're tired of your boss demanding overtime, killing your chances of spending more time with your kids?
Maybe you hate your job and just want to do something different. Well, you can make money writing. It's not all glamorous as you may have been led to believe, but it will get the bills paid. And more importantly, it will get the bills paid on your own terms.
Related Reading: 80+ Ways to Make Extra Money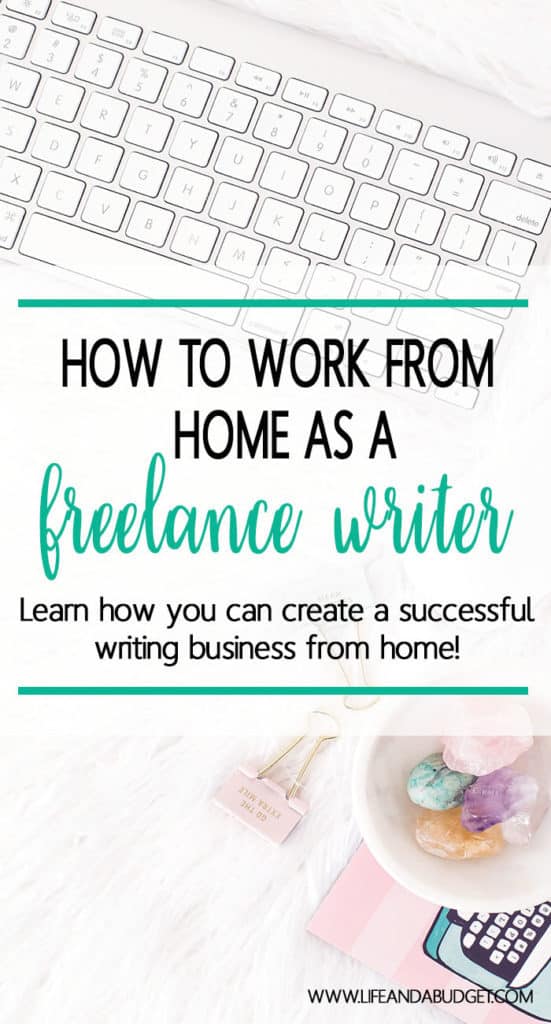 Make Money Writing: How to Become a Freelance Writer
So, if you're ready to do this, here's how you can make money writing by becoming a freelance writer.
1. Create a blog or website.
I recommend doing this before you actually begin freelance writing. Why? Well, if you're starting out, you need a portfolio.
All the freelance writers I'm familiar with have their own blogs or a website. And many of those writers are going to be applying for jobs too. They have a body of work to show potential clients, and you'll need work to show clients too.
I recommend starting your self-hosted site on WordPress. It's more professional and clients will take you seriously. I can show you how to start a blog on a budget here.
After you've created your website using WordPress, create an about me page and a hire me page.  Here is an example of my about page: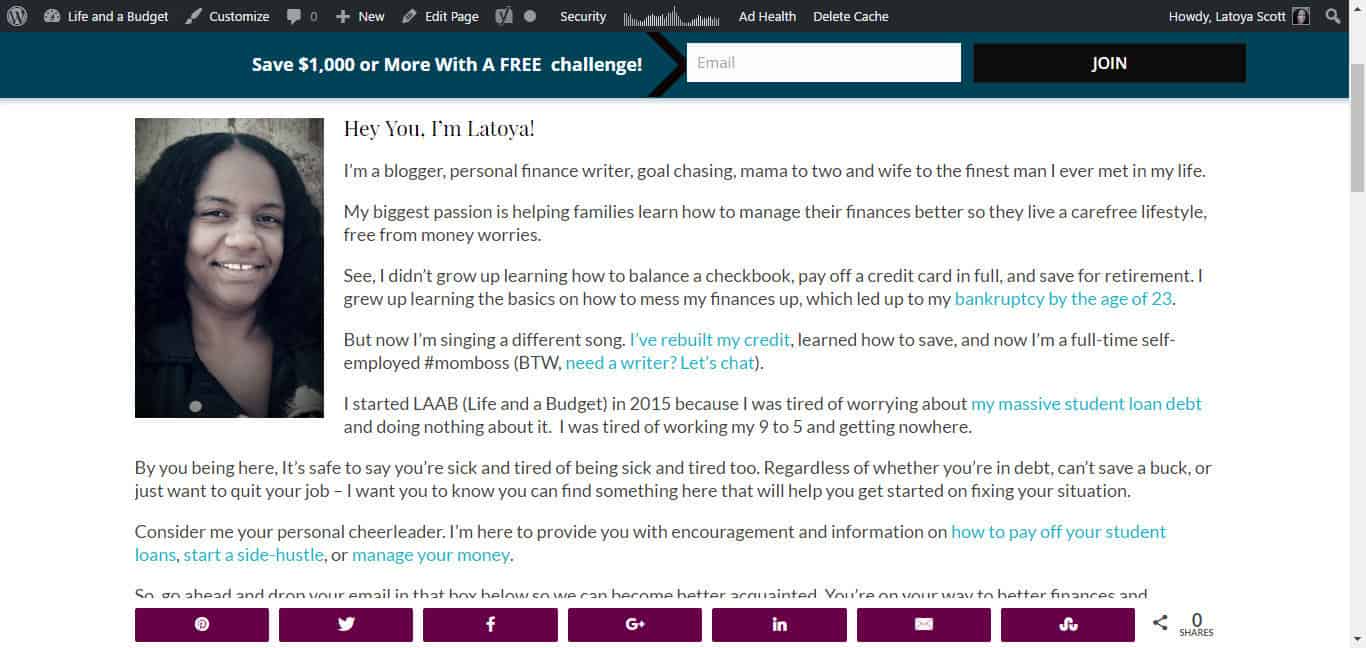 As you can see with my about me page, I have turned off the sidebar. My about me page is written more for readers of my blog so they will know what to expect at LAAB.
However, I've provided links to some of my work. You can't see it on the screenshot, but I also provide my contact information.
Below is an example of my hire me page: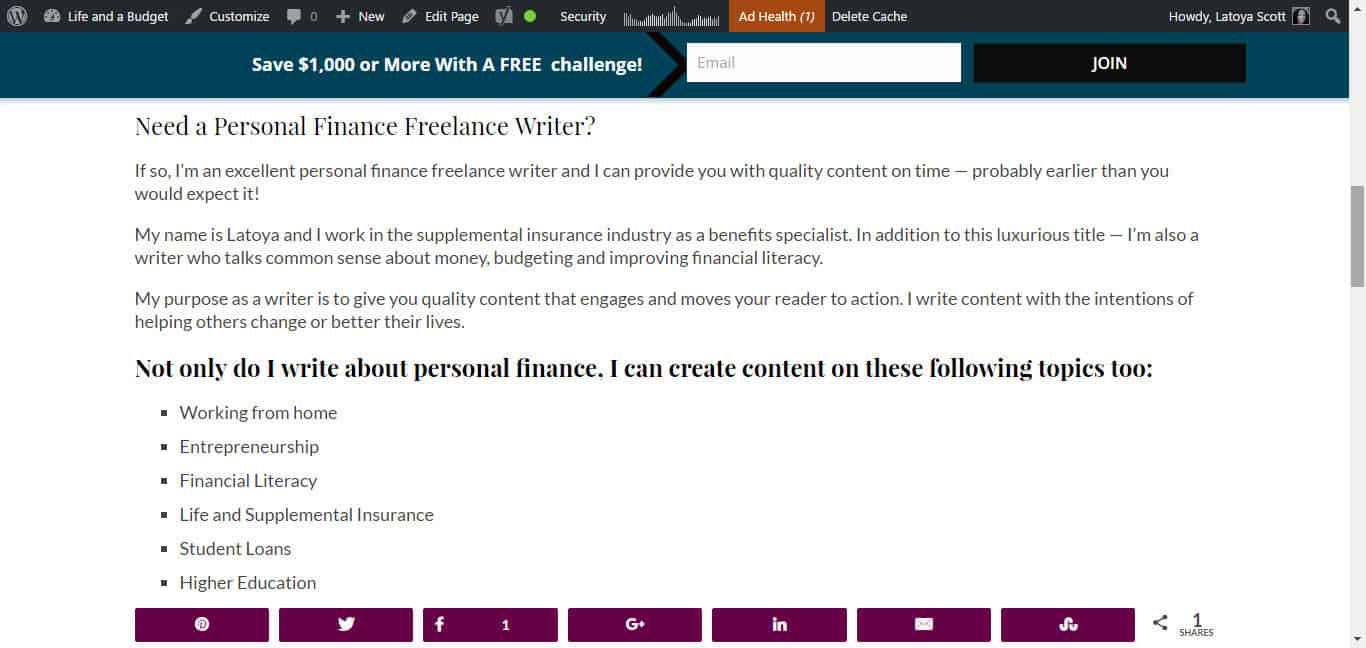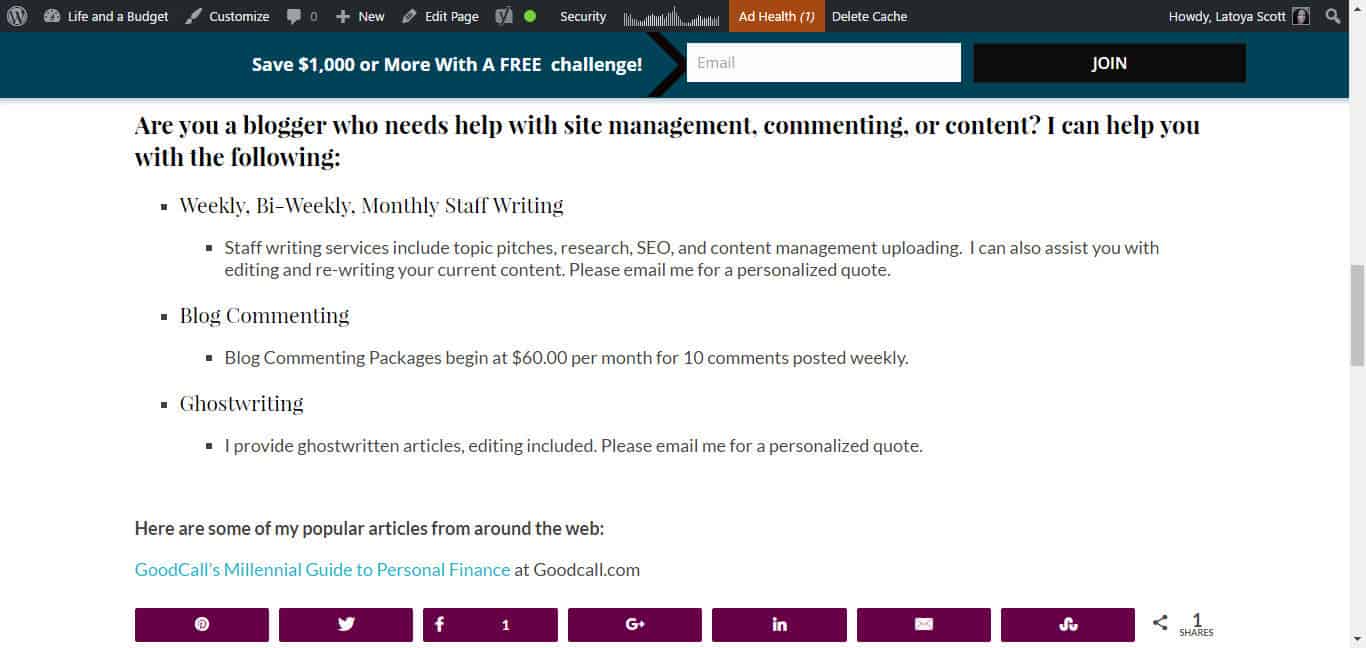 My hire me page is long, so I included screenshots of top and bottom. The most important thing for your hire me page is to optimize for SEO.
The very first statement is, "Need a Personal Finance Freelance Writer?" This is for SEO optimization. Basically, this is so people can find me on the internet. I also include my keyword throughout this page.
Other important things to put on this page are the topics you write about, your services, and samples of your work (or link to your portfolio). I include a few of my more popular articles and a link to my portfolio.
I do both because I have work that has been featured outside of LAAB that I like to share with clients. They can browse my site to see how I engage with my readers and they also can see where else I've written.
But baby steps…you focus on getting your blog or website up first. If you don't want to blog, you could create a website that basically acts as your home on the internet. It would include your work, about page, hire me page, and contact info. That's it.
2. Contact a few bloggers or website owners to guest post.
This isn't as hard as it sounds. This is how I got my very first article published outside of Life and a Budget.
I love commenting on other blogs, so this is something I normally do. Well, one day I decided to ask if I could guest post on one of the blogs I commented on.
The blogger already knew who I was because I commented on their work and agreed to allow me to share a post with their readers.
I did a handful of these within the first few months. After the first or second one, I landed my first paying gig. I only did around five guest posts, to begin with.
So, if you're going to write about parenting, you would search for some blogs you admire in this niche. Comment on them regularly. Then reach out to them. It's really easy if you do it genuinely!
3. Network with other writers.
The easiest way to do this is to follow other freelance writers on Twitter and join a few Facebook groups. I've learned a ton from other freelance writers and they are extremely helpful.
Seriously, there is no competition. I've shared freelance gigs with others when I had too much work on my plate and others have done the same for me.
The best way to find out what clients are looking for writers is through referral. It's easier than trying to stand out in a sea of emails.
The Facebook group I recommend you join is The Careful Cents Club.  There are some really great writers to network within this group!
4. Get educated.
A lot of people skip this step, but not me. When I started freelancing, I wanted to learn from the best. I studied (stalked, jk) some of the best writers in my niche.
One of them happened to be Holly Johnson. Homegirl is making $200,000 writing about personal finance and traveling online, y'all. For real.
So, of course, when I saw that she was spilling all of her secrets in a course, I wanted access. Last year, Holly created a course called Earn More Writing. I seriously wish I had access to all of her knowledge when I first started out because it would have saved me so much time!
She shares exactly how she lands jobs — including one lucrative gig with The Simple Dollar. You learn exactly what clients want, how to improve your work processes, and more. I signed up after I started writing full-time and if I knew then what I knew now — I would be eons ahead.
Learn more about Earn More Writing here.
5. Start pitching clients to get writing clients.
I won't go into much detail here about landing writing gigs. You can find more info about landing freelance clients here.
However, I will say that pitching clients is important to keeping steady work. Now that I've learned some new tactics from Holly's course, I know how to create better pitches.
She even provides a list of 300 corporate sites that have blogs. This certainly takes away a little leg work on finding clients to pitch.
Here's an example of a pitch: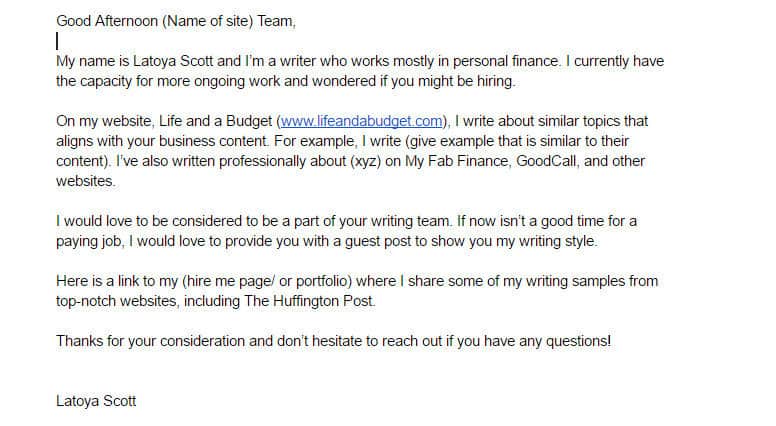 Of course, I personalize each pitch I send out, but this is just a guide to help me cut down on time. Make sure that it's grammatically correct and the samples of your work is relevant to the writing gig.
For example, if you're pitching a client who sells medical equipment, make sure your samples are relevant to that particular field.  Also, if you're sending a pitch to a blogger in a particular niche, feel free to send a less formal pitch.
Usually, if it's a blog, I will introduce myself, and share that I'm a fan. I focus more on building a relationship with the blogger while letting them know I'm available to write content if they ever need it.
6. Deliver work and get paid.
When you land your first client, make sure you know a little something about invoicing. After all, you're doing this to get paid.
I studied sites like Careful Cents to learn about the technicalities of freelance writings. Things like how to invoice. Or how to file taxes as a freelancer. I also learned about the best invoicing software to use to lower your Paypal fees.
Right now I use Zoho to invoice. I set it up as a business so that I only pay fifty cents in Paypal fees when a client pays the invoice. Zoho is pretty easy to use and best of all, it's free! There are plenty of invoicing companies to use, so look around.
Use a Google Spreadsheet to keep track of all of your client work and how much pay you expect to receive. When I started, I also used Google Spreadsheets to track my expenses. However, that became tedious after a while.
Zoho also has a free expense tracker that I'm now utilizing. As my freelance business grows, I may branch out to a paid invoicing system. If you're on a budget, start with the free stuff and move on as your income grows.
As far as pay, it pretty customary to start out around $50 per article. I've researched this topic and the numbers are all over the place.
I recommend writing down a number you are comfortable with and adding around $25 to it (and this is just newbie speak so don't act like it's a ten-commandment of freelancing 😉). Always go with the higher number because we often doubt how much our services are worth.
Freelance writing involves a lot more than writing. Sometimes you will have to research topics and learn how to write in particular styles for certain websites. All of this should be factored in. After all, you don't want to feel like the work you're doing isn't worth it.
Related Reading: Earn More Writing: How One Writer Earns Over $200k Writing Online
What To Do Now
Start your blog or website using this tutorial. Whether you decide to blog or not, make sure your site has a contact and hire me page.
Guest post on a few websites. If you're a personal finance blogger, feel free to reach out to me about a guest post.
Network with other bloggers. Follow me on Twitter😉
Use free or paid resources to educate yourself about freelancing.
Pitch clients for writing gigs.
Make money writing.
So, are you ready to start your new writing career? Chime in and don't hesitate to leave any questions you may have!