To support this website, this post may contain affiliate and/or referral links to products or services I recommend. See disclosure policy
here
.
Welcome to my March 2017 blog income report where I give you all the juicy on how I made money online last month. Since I'm now a full-time freelance writer, these reports will include freelancing income (again), including any blog management tasks I've performed for other bloggers online.
If you're new here, you are probably wondering why I would share the income earned on the internet for everybody to be all up in my business. I mean, it's not like it's normal to tell folks how much money you're making, but it's a little more than that for us bloggers.
For starters, it's easy to grow when you're documenting the process. Many bloggers (not just me) don't do this to brag or show off, but we're doing this to document our growth. I guess we're trying to prove ourselves wrong every month. Like seriously, when I graduated from college I never said I wanted to be a blogger who earns a full-time income online.
Second, I do it for accountability. Having folks reading your business helps keep you in check. It makes me look at my goals and actually get my butt to work. Remember, I'm trying to prove myself (and probably many of you) wrong every month. I want to show the proof that it's possible.
Last, I do it to help you. You could be working mama who is tired of clocking in for someone else and wants to start her own business so she can be more available at home. Or you could be married, no kids and want to start building a passive side hustle before having kids. I want to share how I'm getting there so others can do it too.
These income reports started off as side-hustle reports in 2015 where I documented how much I earned as a freelance writer online. Now, these reports have turned into blog income reports where I share how I'm increasing my online income through affiliate marketing, advertising, and sponsorships.
I never imagined things would be progressing the way they have, but I'm glad I finally stopped sitting on the sidelines and started writing. My finances continue to improve with the more I learn and I'm able to help so many other people improve their finances too. It's a win-win!
If you're interested in starting a blog, I've written a detailed guide on how to start a blog starting at $3.95. Plus, if you sign up for a 12-month hosting plan, you'll receive your domain name ($15) absolutely free through this Bluehost link. I highly recommend having a self-hosted blog if you're serious about earning money online and being taken seriously as a blogger and/or freelancer.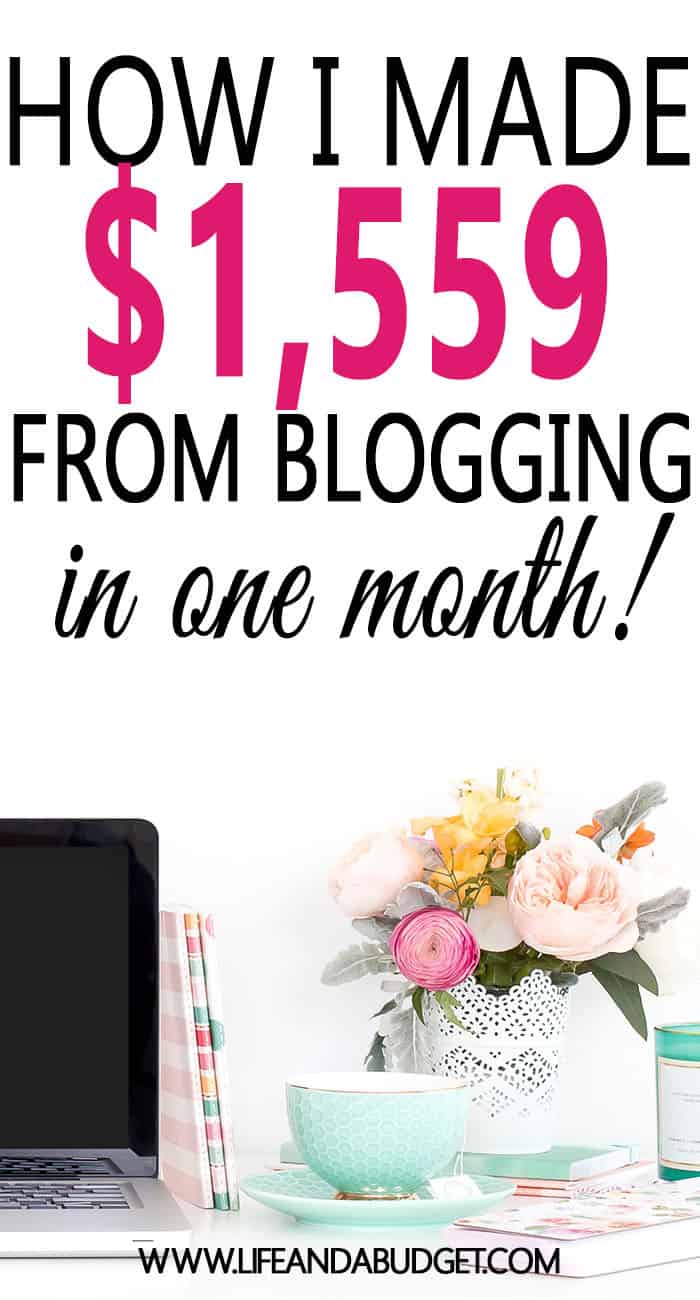 March 2017 Blog Income Report
LAAB earned $1,559.10  for the month of March (before expenses). This is LAAB's highest income yet!
It's pretty amazing that I went from a high month in January, down a lot in February, and back up to my best month for March.
I'm really happy my efforts with this blog are paying off. I spend 15+ hours a week on this blog, which includes time I spend working through the Elite Blog Academy course.
It's still too early in the game to say what progress is the result of studying EBA. For now,  I still owe my success with my growing affiliate marketing income to one course.
The course, Making Sense of Affiliate Marketing was created by a personal finance blogger who grossed over $900,000 last year from affiliate marketing on her website.
It's pretty safe to say I'm learning from someone who knows what she is doing and I've been incorporating and studying the knowledge she pours into this course.
If you're a blogger and you want to increase your affiliate income, I highly suggest checking out Making Sense of Affiliate Marketing.

Income Breakdown for March 2017
Capital One 360: $60
Amazon FBA Bootcamp: $209.50
Ebates: $55.00
Ibotta: $60.00
FlexOffers: $60.00
Etsy: $18.00
Share-a-Sale: $7.00
Media Vine: $458.30
LendEdu: $100.00
MyFinance: $64.75
Pinecone: $9.00
Other Survey Sites: $34.25
CJ: $6.00
How to Make Your 1st Affiliate Sale
Using Pinterest in 24 Hours Ebook: $10.00
Beautiful Dawn Designs: $13.50
Social Media Management: $120
Other: $318.80
Sponsored Post: $75.00
Total: $1,559.10
Expenses for March 2017
Boardbooster: $15.00
Convertkit: $49.00
Hemmingway: $19.99
WordPress Backup to Google Drive: $29.00
Office Supplies: $65.99
Deposit for Website Design: $400
Total: $578.97
Difference (Income – Expenses) = $980.13
[convertkit form=4945818]
If you're interested in reading some of my other blog income reports, I've listed a few below. The rest can be found on my side-hustle income page.
Blog Updates
Next week I will be introducing a new budgeting series for beginners. It includes printables and the whole nine. So, be on the lookout for it if you need help working on your budget.
I'm also going to work on adding more content related to life topics. I explained all of this in my second EBA Success update, in case you missed it.
LAAB will be getting a new look at the end of the summer. I put a deposit down to work with a designer for a brand new look. I have a pretty good idea of what look I would like to achieve and I can't wait to work with the designer to bring it to life.
This is the second month I've been with Mediavine (an ad management company) and I'm in love. The income generated pales in comparison to what I was making with Google Adsense.
I released my first free e-course, How to Start a Blog, a couple of months ago. If you're interested in starting a blog, this is a course you'll want to check out. I divulge a few tidbits in the course that I've never shared here on LAAB.
I'm considering creating a new free e-course in the coming months, but I want to hear from my readers about the content they are interested in. Free course about money management, free budgeting course, I dunno…y'all tell me! What do you need a free course on?

In October, I switched from MailChimp to Convertkit and I LOVE IT! It's so easy to use and understand. If you're a blogger looking for a good mail service provider, you should definitely give Convertkit a try.
I'm considering offering affiliate marketing consultations. In these consultations, I can brainstorm affiliate opportunities you can pursue with your blog and if you're already using affiliate links on your website, I could give you pointers on things you should try to increase your income. If this is something you would be interested in, let me know. I would be glad to help!
Goal Updates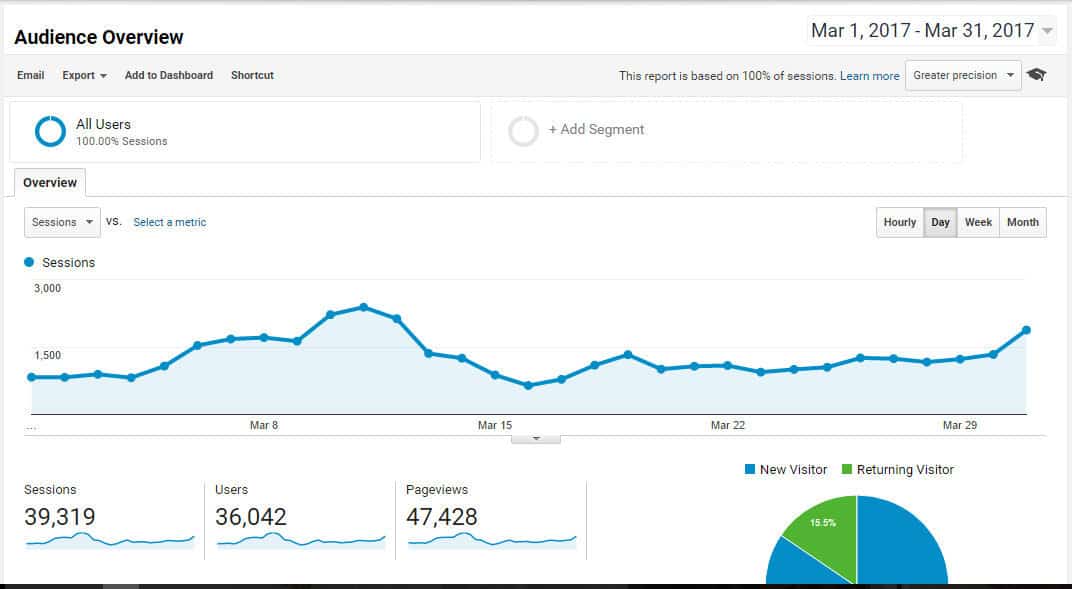 Last month's goals:
Finish March's content and mid-way through April. (Done)
Reach 35,000  page views (Kill't it!)
Earn $1,000 in blog income. (Yassssss! Done!)
Reach 1,500 email subscribers. (Failed. But I have 1,185 so I ain't mad).
Pageviews
Don't call it a comeback.Seriously, I didn't pay attention to anything I did differently. But I'm pretty sure the uptick in page views had something to do with that viral post I created at the beginning of March.
Folks seemed to love 22 Ways to Treat Yo'self Without Spending Money. That post got 22,991 page views last month!  So, I killed my goal to reach 35,000 pageviews.
Content
The only April content I have scheduled so far is my budgeting series, an interview, and this post. Even though I'm not mid-way through my April content, I consider this an accomplishment.
It took a lot of work to pull the budgeting series together and I'm really eager to get some feedback on it. Now that I blog full-time, I'm confident I will eventually get a month ahead with my posts. Especially since summer is coming up and blogging is slower during those months.
April's Goals:
Reach out for a guest post opportunity. I haven't guest posted in over a year!
Focus on the SEO unit in Elite Blog Academy. Check out my latest EBA update here.
Reach 53,000 pageviews.
Earn at least $1,200 in online income.
Wrapping Thangs Up
I've been blogging here since October 2015, and I'm now earning a part-time income from blogging. While I've always studied other bloggers who publish income reports, I've always kept my head down and tried to make this journey my own.
It's easy to get caught up in the comparison game. I know bloggers who have been blogging for a shorter time than I have who are already making $4,000 and up. However, the things they are doing with their readers is completely different from what I want to achieve.
I'm saying all of this to encourage you to follow your own path. Everyone experiences different things and get different results. Just because you are blogging doesn't guarantee you'll grow at the rate of your peers.
So, if you've been thinking about starting a blog – do it, but don't compare your journey to someone else's. If you've been blogging for awhile and you're not getting the results you expect, my advice is to keep learning.
Try something different, don't be afraid to make an investment into your blog, and keep pushing through. It's sad to see other people give up on their dreams because they are comparing and getting discouraged with their results.
With that said, I encourage you to look at my blogging income reports as inspiration. From my reports, know that it's possible to blog and make an income. You just have to define success for yourself and experience your own journey.
As always, thanks for reading. Until next time…
How was your February hustle? Are you interested in earning blogging income?