To support this website, this post may contain affiliate and/or referral links to products or services I recommend. See disclosure policy
here
.
Well, it's December y'all!
I really can't believe how fast this year has gone by, but I'm not mad about it in any shape or form. 2016 has officially been a doozie.
I'm actually mentally and emotionally drained and each morning I wake up looking for a better day than the one before. As far as hustling goes, I'm happy but I know that things could have been a lot better.
I had some great goals for this year, but I honestly didn't map out a good enough plan to make sure I achieved some of the goals I set to achieve.
Moving forward I can see my errors and come up with strategic ways to get where I really want to be. So, let me just go ahead and get this income report over with.
There's only one more for 2016, and I've got my fingers crossed that I'll top this one because my affiliate income has consistently grown over the last two months.
Related post on how to make extra money:
Okay, so first things first…
My online hustle update is where I divulge the income earned during the last month (for the last two months, in this case). Moving forward I will no longer be including my freelance income in these reports.
I may occasionally decide to share; however since my freelancing income goes towards debt, I feel it will be easier to just share a debt update in the future. I'll keep you posted on that.
I will still include blog expenses paid out of my blog earnings. These reports will not include taxes I owe.  I set aside 30 percent to cover taxes owed each month in addition to taxes taken out of my full-time paycheck (You can't be too careful when it comes to the IRS people).  If you missed the last blog income report, I made $266.94 during the month of October.
Other income reports:
Online Hustle Report: November – $54.77
Online Hustle Report: December – $171.59
Online Hustle Report: April – $942.00
Online Hustle Report: July – $1054
---
If you're interested in blogging away debt and/or offering freelancing services on the internet, I've written a detailed guide on how you can get your own site up and running. I've only been writing here since October 2015 and I'm already making money online. No excuses. Read How to Start a Blog on a Budget and get started today!  You can't make blog income without a blog, yo.
Not interested in blogging? That's cool too. Here are all my related side-hustle posts. Find something that suits you!
---
Life and a Budget Blog Income Report – November 2016
Capital One 360:  $40.00
Ebates: $85.00
Swagbucks: $10.00
Offer Juice: $7.25
Flex Offers: $109.66
Commission Junction: $4.00
Share-a-Sale: $11.00
Amazon: $24.49
Google Adsense: $100.19
LendEdu: $27.00
Total Blog Income for November: $418.59
Blog Expenses November 2016
Facebook: $86.07
Photos: $39.00
Ebook: $7.99
Convertkit $29.00
BoardBooster: $3.88
Thrive Leads: $67.00
Total Blog Expenses for November:  $234
Net Blog Income: $189.59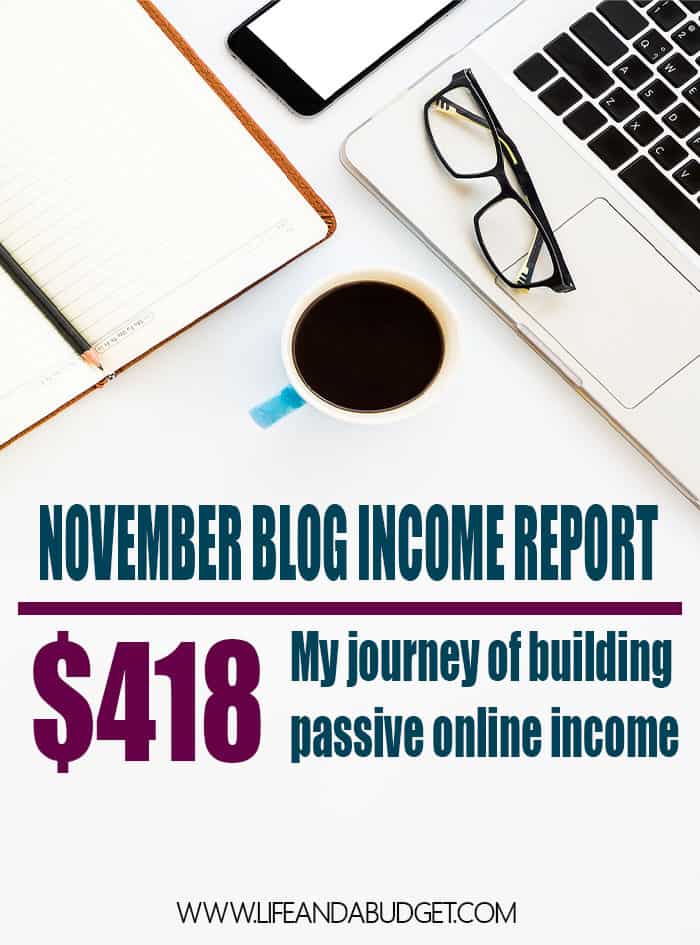 Thoughts on November 2016 Income
I'm satisfied with my affiliate income because at least it didn't go down!
I really can't complain because it's shown consistent growth since completing Making Sense of Affiliate Marketing. That was the goal. Take the course and grow the income.
However, my freelance writing work has officially dried up. I'm not crying about it, but I would like to land some recurring work so I can work on knocking down debt again.
If you or anyone you know is looking for a personal finance freelance writer or blog management services, I'm taking on clients and would be happy to talk with you about your needs. Check out the details on my hire me page.
Related Reading: 80+ Ways to Extra Money, How to Earn More Money
Goal Updates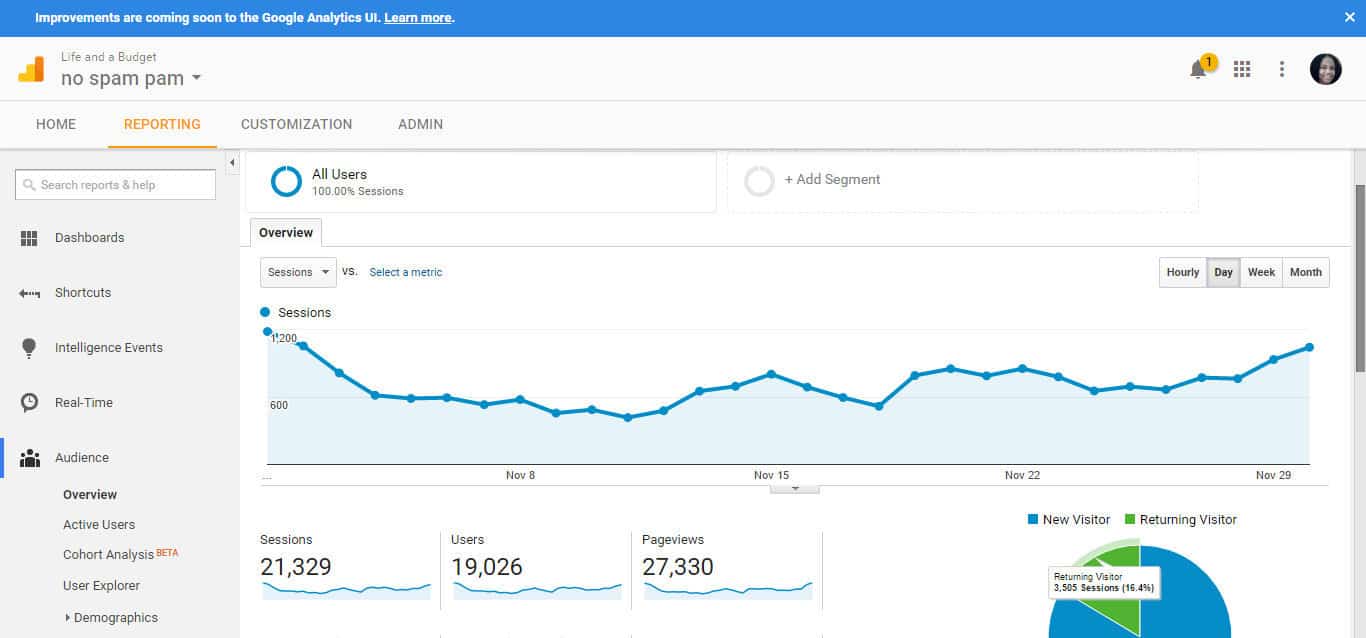 My goals for November were to re-evaluate my social media marketing strategy, reach 1,000 page views 20 out of 30 days, and reach 500 followers on Facebook.
For my social media strategy, I decided to take a break from using a VA to see how things would go. I haven't looked at the number of engagement on Twitter or FB yet for the month and I won't do so until Dec 15th since November 15th was the last day working with my VA.
I do know for sure though that it has been fun using my own voice for scheduling social media posts and I feel like my audience is interacting more because I'm speaking to them (if that makes any sense).
As far as reaching 1,000 page views for 20 days last month, let's just say I tried. It was more like 3 out of 30 days (ouch!).  This might do have more to do with my lack of attention to Pinterest last month. I didn't schedule posts via Tailwind each night which I usually do.
For FB likes, I came pretty darn close. I went from 367 to 462 for the month of November. I'm not mad about that at all. I'm sure I'll hit 500 before the end of the year.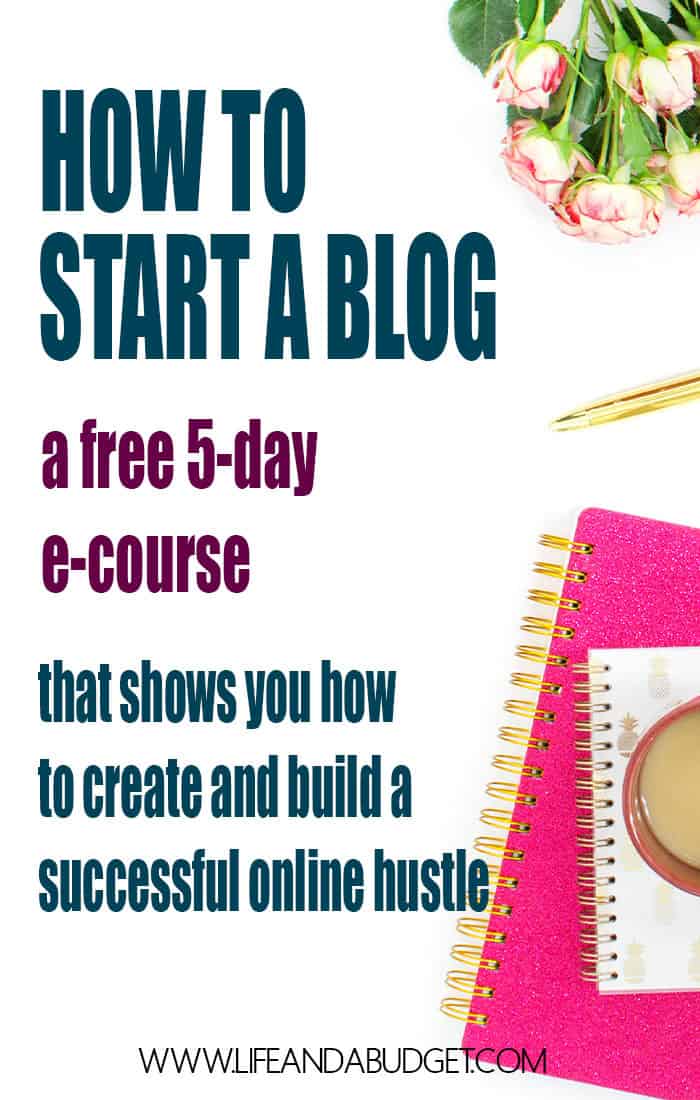 December Goals
1) Focus on growing my email list.
I plan to do this by promoting my Automated Savings Challenge and How to Start a Blog E-course (read more here, or you can sign up now if you'd like!)
I really want to grow my email list and I have a pretty clear strategy on how I want to use the email list. However, in order to do it right, I need to make sure I'm marketing to the right readers.
I know some of my readers come here specifically for tips on how to save more money, budgeting, and getting out of debt. I don't want to send emails they are not interested in; however, I am interested in talking about blogging and side hustling more.
To do so, I need to separate my lists and make sure the readers are receiving emails they are coming here for. If you're here for blogging, I want to bring you the tea on blogging.
So, I'm going to capture readers the right way and make sure I keep my lists separate moving forward. Bare with me until the dust settles, of course.
2) Reach 30,000 pageviews
Instead of shooting for those 1,000 page views 20 out of 30 days like I did last month, I'm going to set a total number of 30,000 page views and see how that does. I was so close to this number this time and if I promote my most popular articles, I'm sure I can reach it.
3) Enjoy the Holidays
Basically, this means I only have two blogging goal this month and it's the email list and reaching 30,000 pageviews. I want to take it easy this month and enjoy the holidays.
This way I will be able to truly reflect on some of my upcoming goals for the 2017 year. I can't believe it will be a new year soon, but regardless of the calendar, things will keep moving.
I want to make sure I'm progressing in the right direction with LAAB and that my side hustles reflect the new goals that I will set moving forward.
Wrapping Thangs Up
I'm so excited about LAAB and I hope you are too!
Even though my blogging income isn't in the thousands or anything, I'm still grateful because I put a lot of work into this blog and it's exciting to see it pay off.
Regardless of whether you're making two-cents or $50,000 per month, enjoy each stage you're in. We all have to start somewhere and I'm positively optimistic about this site's future.
How was your November side hustle income? Any big plans for the remainder of the year?