To support this website, this post may contain affiliate and/or referral links to products or services I recommend. See disclosure policy
here
.
Some of you might think your credit situation is hopeless.
And saving money?
Yeah, you've given up on that too.
But what if I told you there is a way you can rebuild your credit and save up to a $1,000 or more at the same time?
Well, it's true!
I was so excited when I learned about this opportunity because many of you have reached out to me in the past about ways to fix your credit woes.
The only advice at the time I knew to give was the same old regurgitated advice I spilled out in this article, Credit 101.
All of those methods still work, but this one doesn't involve using credit cards. You can rebuild your credit history and save money that you will actually get back!
Exciting isn't it?!
Okay, let me give you the lowdown so that you can get started.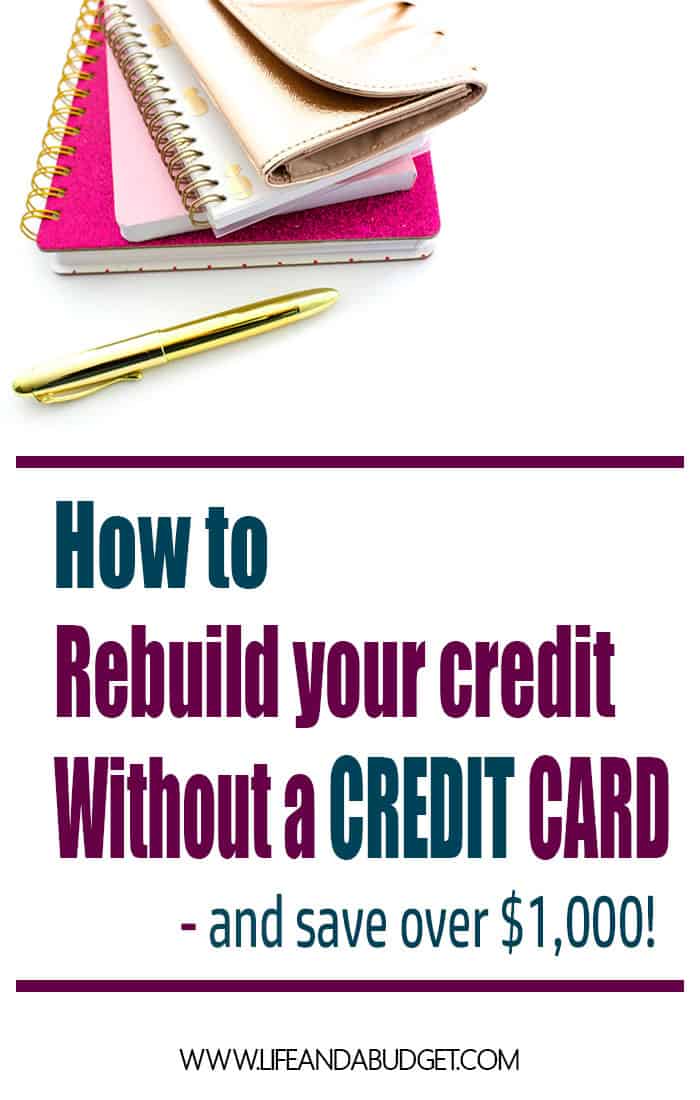 How to Rebuild Your Credit History Without Credit Cards
There is this really cool company, Self Lender that provides consumers with credit-builder loans. But it's not what you think…
It's not a traditional loan.
See, what this loan allows you to do is make a payment each month. We'll pretend that this payment is going to a creditor, only in reality it's not.
It's actually being set aside in a FDIC insured, certificate of deposit account (in your name) for 12 months.
Each month you make a payment, it's reported to the three credit reporting agencies as payment history and you're building your credit.
At the end of 12 months, you get your money back with interest.
How does Self Lender really work?
Self Lender allows you to loan to yourself, so to speak, without a lot of unnecessary costs and no credit check.
Here is how it works:
Loans come in three amounts — $550, $1,100, and $2,200. These are the amounts you can choose to pay over a 12 month period.
You'll pay a  $12 administrative fee to open your credit builder account.
You select the payment that corresponds to the loan you choose, $48.50, $97, or $194 per month.
Each payment made is reported to the credit reporting agency while your payment sits in the interest accruing CD. The interest rate for the CD is .10 percent APY.
Once the 12-month term is completed with on-time payments, your loan is paid off and your CD is unlocked (including interest earned) and you will have a better credit history based on your on-time payments!
How much will Self Lender cost?
The interest rates on a Self Lender loan is 10.57 percent and you have to pay the $12 admin fee.
This interest rate is pretty darn low compared to the interest rate on some credit cards you may try to get with jacked up credit.
Still keep in mind that your CD will be earning interest as well.
Since I hate math, let's go with the $1,110 scenario to see how much it will cost you.
Total amount of payments ($97 x 12 months) = $1,164
The amount you'll withdraw at a .10 APY = $1,101.10
Total amount paid out of pocket (admin fee + 10.57 percent interest on loan): $74.90
All of this to say, you'll have $1,101.10 at the end of this and you'll pay a total of $74.90 if you go with the $1,100 credit builder loan.  Got it?
Plus, you'll also be able to take advantage of the credit monitoring and credit alert services they provide as well!
Check out more info on how Self Lender can help you rebuild your credit and save money!
Why Can't I Just Build My Credit For Free?
Well, technically if your credit is in a messed up predicament, you could go out and search for a secured credit card which will require an upfront deposit.  There are also unsecured credit cards with high-interest rates too.
I've filed bankruptcy before so I've been there. Had I known there was a service out here that would have allowed me build my savings muscles and borrow from my darn self, I would have been all over it!
If your credit is average, it's very well possible you could secure a $1,100 unsecured loan, but I'm willing to throw a couple of dollars at a bet that it won't be at a 10.57 percent interest rate.
Also, unsecured loans usually have a longer repayment term (you know, to make it more affordable and all); however, the amount you pay in interest is not going to be $74.90.  If it is, your credit is in decent enough shape to not even need this type of service.
Related Reading: How to Start Saving Money
Who is Self Lender For?
Self Lender is perfect for those of you who have bad credit or no credit at all! If your credit is solid and you know how to save, this probably just isn't for you.
However, many folks struggle with savings, struggle with bad credit, and this is a way to deal with both of these problems at the same time – affordably!
If you want to rebuild your credit score without a credit card, you can afford one of the monthly payments mentioned ($48.50, $97, or $194), and you need to save – this is the perfect way to rebuild your credit history.
How Do I Sign up For Self Lender?
You will need to provide your name, SSN (for credit reporting purposes only), date of birth, and income. Remember, there is no credit check, but they will check to make sure you don't have abused checking accounts in your name.
Once you've provided your personal information, you'll create your account and choose your loan. Then you'll provide them with your payment information and start contributing to your CD with Austin Capital Bank (the bank where your money will be held).
As soon as you make your first payment, they will begin reporting to the credit bureau agency and you'll begin building better credit payment history.
Sign up for Self Lender to build your credit and save today.
What do you think of a credit builder loan? Would you consider rebuilding your credit without a credit card? Have any of you used a credit builder loan to rebuild your credit and save money?