To support this website, this post may contain affiliate and/or referral links to products or services I recommend. See disclosure policy
here
.
Updated 11/21/2016
Are you an online shopper?
Well, there are many benefits to shopping online and if you haven't considered it, you should!
There is a cool website that I've used for several years that helps me earn free cash back on my purchases and I want to share it with you because it's so easy, it would be a shame not to use it.
It's like using a coupon without having to search for different online coupon codes. 
So basically, Ebates is a cash back website that pays members free cash back on their purchases. They have been around since 1998 (btw I was in eighth grade). It's totally legit and I've earned around $80.00 since using it.
Ebates is totally FREE to use and they have several major retailers like Kmart, JcPenney, Groupon, T-Mobile, Etsy, Hotels.com, Amazon, and more.
I've seen cashback rebates ranging from 1% all the way up to 40%. As of writing this, they were actually offering a triple cash back deal. For example, JcPenney is usually 2% cashback, but during the triple cash back days, you would get 12% in cashback.
Click here to sign-up and receive a $10 gift card to Target, Macys, Walmart, or Kohls.
How Does Ebates Work?
Ebates helps you save money online with just one click of a button.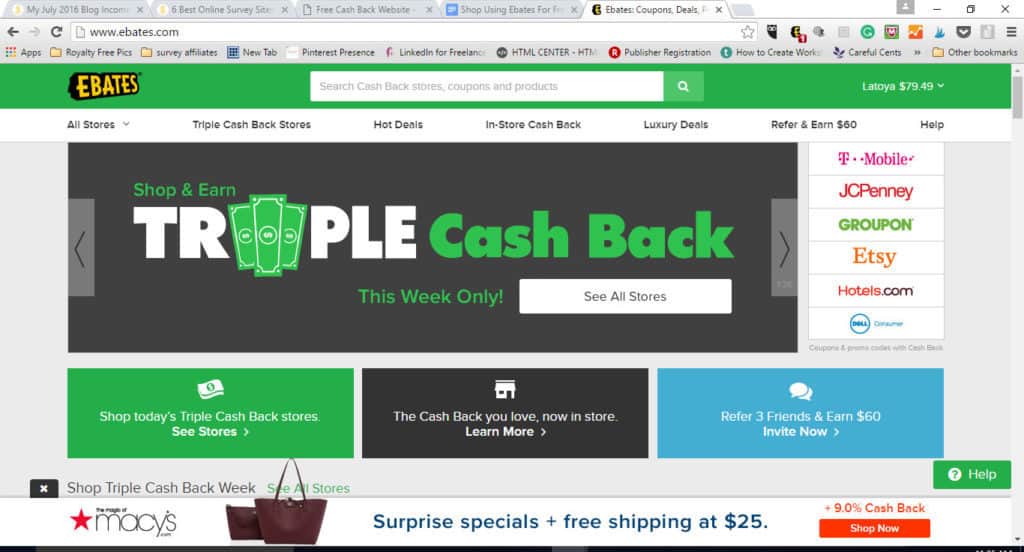 See that little button beside the owl (on the right) on my toolbar?  Well, that's the Ebates extension for Google Chrome.
Basically, any website you go to you can click on that "E" button if it lights up green (which indicates you are on a site that offers cash-back using Ebates).
After you click on the "E" the page will re-route and a new screen will open up using a tracking code specific to your shopping trip.
You can also simply go to the Ebates web page and search for any retailer you want to shop with.
You are still able to use any coupons codes you have for your purchase but in the event you don't, you can search for any available coupons using Ebates' search bar.
Ebates also offers exclusive deals on certain products. You're able to layer these deals using Ebates to save even more money!
When Do You Get Your Cash Back?
Your rebate will be automatically applied to your account after your transaction has been verified. As soon as the purchase has been cleared, you will receive notification that your account has been credited.
I've seen it take a couple of days for certain sites like Hotel.com and sometimes the transaction is verified a day later for other retailers. It just depends on where you're shopping.
If you make any returns, there will be a reversal of your rebate.  For instance, say you buy something from Wal-mart and return it either online or in-store. The retailer will let Ebates know the transaction was reversed and your cashback will be deducted from your account.
This is why you won't actually receive your cashback in your PayPal account (if this is how you choose to receive payment) immediately. Ebates usually pays out on your Big Fat Check day which is quarterly.
Once it's time for payout, you will receive your money in your PayPal account or by check. You have to have a minimum of $5.01 in your account to receive a payment.
Save Using In-Store Cash Back
One of the newest features that Ebates offers is the ability to earn cash back with Ebates IN STORE!
How?
Well, if you've already signed up for Ebates, you can now go in a link a debit or credit card to your Ebates account.
All you need to do is click on the In-Store cash back tab at the top when you go to Ebates (as shown below).
Then on the left-hand side, you will see a link to add your cards. Once you add your cards, you will simply link offers to the cards you plan to use in the store.
The offers may have limits on how many  times you can redeem them, but according to the FAQ, you can link an offer to as many cards as you like.
After you've made your in-store purchase, your rebate will be applied to your Ebates account within 6 or so business days. The best part is that you can use this in conjuction with any coupons you may have!
Earn Through Referring Friends
Ebates has a really awesome referral program.  You can earn up to $60 for referring your friends via email, text, social media or whateva.
You will receive $5 for each friend you refer using your Ebates referral link and makes a qualifying purchase of at least $25. In addition to the $5.00 referral, they will give you an extra bonus for each 1st, 2nd, and 3rd friends referred during the current promotional period.
It works out like this:
Friend 1: $5×1 + $5 = $5
Friend 2: $5×2 +$10 = $20
Friend 3: $5×3 +$45 = $60
Earn Free Cash Back Today!
Now, I've given you the 411 on how to use Ebates to save money. There is no reason to overpay for anything over the internet because Ebates makes it easy to grow your savings. Find exclusive deals, use coupons, and receive a cash rebate on your purchases starting today.  If you want to truly save money, do your due diligence and check Ebates before buying anything!  It's too easy to pass up on free cash.
Additional Reading: 4 Simple Ways to Save More Money
So tell me, do you currently use Ebates or another service like it?
Sign up for Ebates today and start saving on purchases you would normally make online. If you use this link, you will receive a FREE $10 gift card welcome bonus to use at some of your favorite stores like Target, Macy's, Walmart, or Kohls. To redeem the bonus, you must make a qualifying $25.00 purchase through any of the retailers on the Ebates' shopping network.