To support this website, this post may contain affiliate and/or referral links to products or services I recommend. See disclosure policy
here
.
Brand ambassador gigs have become really popular lately. Since I love the art of side hustling, I figured it would be great to explore this hustle by talking to someone who's actually done it. Today I have the pleasure of interviewing Terri from Terrific Words.
She's going to give us the tea on what she does as a brand ambassador, how much you can make, where to find the gigs and more.  If this is a side hustle that interests you or you're in the exploring stages, I highly recommend you grabbing an adult beverage and snuggling in for a quick read.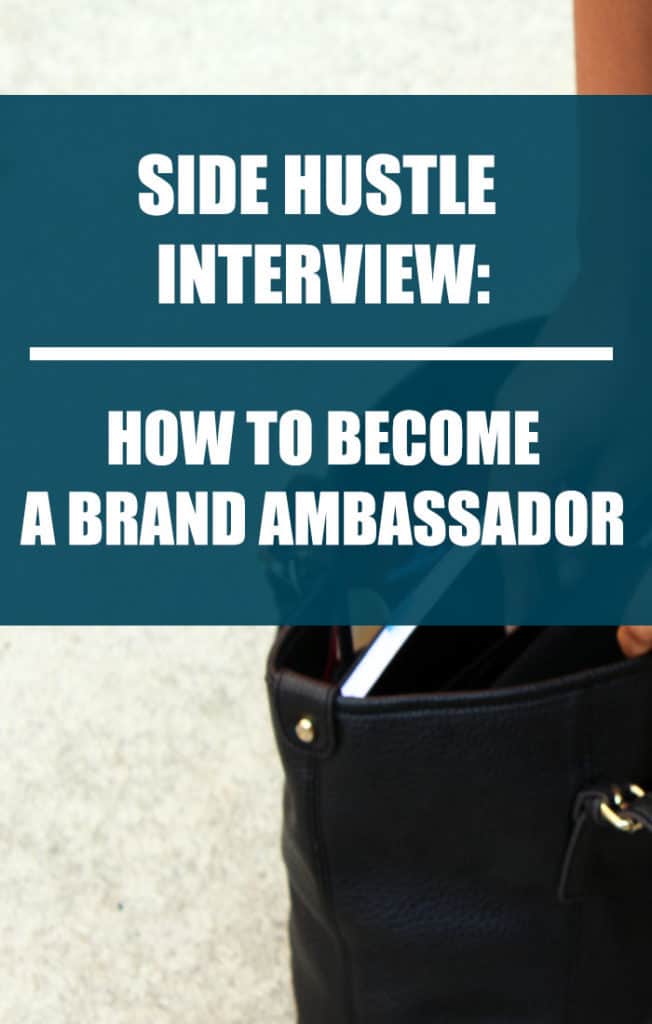 What is a Brand Ambassador?
First, let's define what a brand ambassador is exactly. A brand ambassador is a person who represents a brand and/or helps increase sales and awareness.
You can think of a brand ambassador as a public spokesperson of sorts.
Folks commonly mistake brand ambassadors as something being reserved only for celebrities. You know, the celebrities that represent brands in commercials and such.
Well, that's just not true. Regular folks like you and me can be brand ambassadors. Now, I'll let Terri get into the good stuff about her role and how you and I can go out and get our hustle on in this capacity too.
What's your role as a brand ambassador?
As a brand ambassador, my role is to raise awareness for a particular company, product or initiative.
That usually entails standing in a highly visible area such as the front of a store and stopping people as they walk by to tell them about the brand you are representing that day.
In addition to speaking knowledgeably about the brand I sometimes pass out flyers, take photos on my phone and distribute  foods or beverage samples. Sometimes the role is also referred to as a promotional model.
Most of the time I'm promoting various alcohol brands such as wine, and beer. However, I've also promoted new product launches for companies such as Coca-Cola or done tastings for different foods.
At the end of the events, you may be required to fill out a form to recap the day. In my experience, these forms usually take 5 to 15 minutes and ask you to tell details about the amount of people you spoke too, demographics and the amount sold.
How much can people expect to make as a brand ambassador?
In my experience, alcohol brands tend to pay the most ranging from $25 to $35 per hour.
Otherwise, I frequently see jobs paying about $15 to $25 per hour.
Most gigs last about two to four hours on the weekends. However, I've done a few that were eight or more hours.
Where do you find brand ambassador gigs?
Believe it or not, brand ambassador gigs are not that hard to find.  I work for a  few local companies that recruit brand ambassadors for events.
Jobs are commonly posted in the "events" or "talent" section of Craigslist. I also find job postings in the Facebook group, "Brand Ambassadors of New Jersey" and "Brand Ambassadors of New York".
If you're not from New York or New Jersey do a search in Facebook for groups in your area. Also check out national companies, Firebrand Marketing, Push Models,  All Aces Promotional Staffing and Fusion Event Staffing.
There are a plethora of jobs available. You just need to know where to look for them.
Editor's Note: I did a little FB digging and here are some additional companies I found…EventPro Strategies and  ATN Promo. On FB, do a search for brand ambassador + your city and state. Status updates for local brand ambassadors and companies in search of brand ambassadors should come up. You can sort it by most recent date.
What qualifications, skills, or tools do you need to be a brand ambassador?
Because you are representing a brand, they usually want you to be clean cut and presentable. You'll be talking to a lot of people as the face of the brand and most places, so you need to be presentable.
And of course, prior brand ambassador or promotional modeling experience is beneficial. If you have no experience in the field, highlight sales experience, and customer service skills.
Even experience as a performer can help as it demonstrates your ability to be engaging and speak to crowds.
Could you tell us what the hiring process looked like for the gigs you landed?
Depending on the type of event, there really isn't much of a hiring process.
For most, it simply requires creating a profile on the website with your photo, skills and past experience followed by simply clicking "I'm interested" next to an event that fits your schedule.
Should the managers be interested they'll follow up with you.
Wrapping Thangs Up
Clearly, not everyone will be cut out for this line of work. I'm an introvert, and I'm pretty darn good at it. However, it's interesting to see other ways folks are bringing in additional income.
If you enjoy being around crowds, talking to people, and you're in need of some extra cash – this will probably be an awesome opportunity for you. You can bring in some extra cash and add some new experience to your resume.
So, there you have it. That's how folks are making extra money as a brand ambassador and you've heard it firsthand from someone who is doing it.
P.S. Since next week is the holidays, there won't be a post up next week. Toya needs a break! So I'll go ahead and wish all of you a Happy Thanksgiving:)
Have you done brand ambassador gigs before? Are you interested in seeking out any of these opportunities?