To support this website, this post may contain affiliate and/or referral links to products or services I recommend. See disclosure policy
here
.
There are a lot of savings challenges out there. I've even tried a few and failed miserably at every single last one of them too.
Well, except this one that I'm about to share with you.
I don't know what it is about us folks who happen to fail at these varying challenges. Perhaps it's the lack of flexibility.
Or it could simply be that it's not easy to stay encouraged when you fall off a week and miss putting in whatever amount you were supposed to based on the challenge.
Too many rules make the challenges harder to keep up with as it progresses and by week 15 or 16, I've fallen off the wagon.
That's why I needed something that would do all the work for me, so in the end, I would have a big pile of cash that required little effort from me as possible.
Today I want to introduce you to what I like to call the automatic savings challenge.
Nah, it ain't fancy. Nor is it as elaborate as some of these other challenges out here.
But I'll bet you one thing, if you actually follow the steps and leave the money alone, you'll be surprised at what you accomplish at the end of the year.
You may very well have $1,000 or more in your savings account once it's all said and done. Now let's discuss how you can start stacking your cash automatically with very little upfront effort.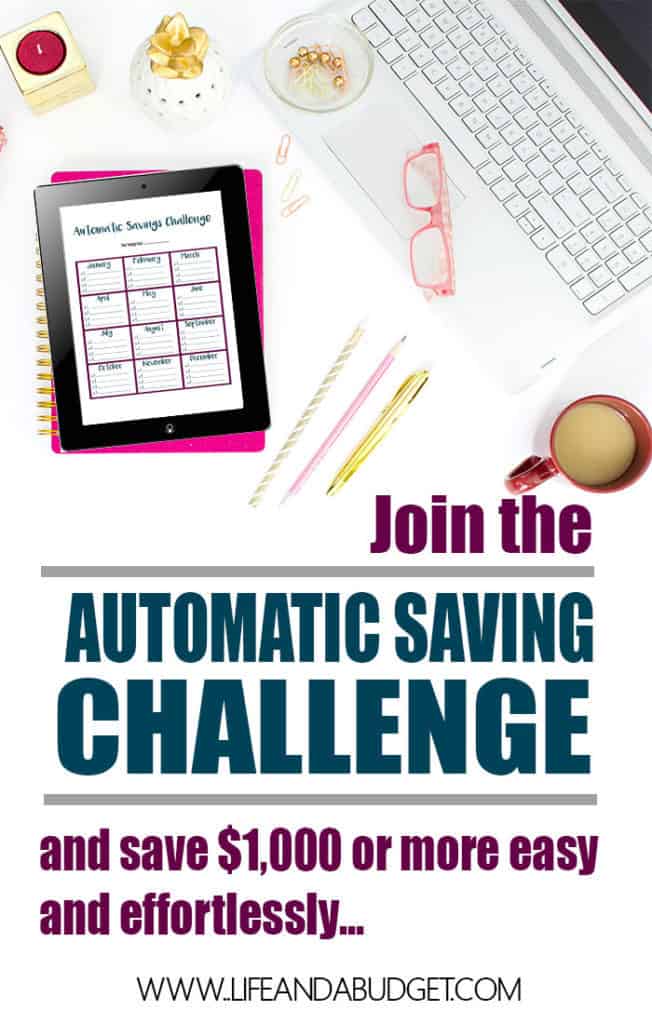 The Automatic Savings Challenge
I've mentioned in the past that it's not about the amount of money you save.
What's more important is you just start saving. Saving has less to do with the dollar amount and more to do with building a healthy habit of spending less of your money.
Let's go over the steps…
1) Decide your savings goal. What are you saving for?
For example, if you want to take your kids on a weekend vacation to the beach next summer, this could be your goal.
2) Calculate your savings amount. How much is it going to cost?
You need to research how much it would approximately cost to make this happen. Once you know that amount you will be able to create a plan to begin saving.
3) Open up an online savings account.
I use Capital One 360 because I'm able to open separate accounts for each goal. If you have $250 to start with and you're a new customer, I recommend opening an account with Capital One 360 using this link because you'll get a $25 bonus for opening an account that can go towards your savings goal.
4) Figure out how much you need to contribute weekly or monthly to meet your goal.
Once you know this number (divide your total savings amount by the number of paychecks you expect to receive within your savings timeframe), you can do one of the following: 1) set up an automatic deposit into your new savings account with your payroll department or 2) have the amount automatically drafted from your checking account on your paydays (which is how I have mine set up).
5) Then…do nothing.
Ignore your money. Create a budget based on what's left. If you get paid $800 every two weeks and you need to save $20 each paycheck, you will budget off the remaining $780. Pretend you're not even saving the money!
Save $1,000 Or More
I know some of you like concrete examples, so I'm going to give you one.
Myla wants to go to California next year to see her baby brother graduate from UCLA. She's a second-year grad student at NYU, so she knows she needs to start saving early.
She wants to explore Cali with her baby brother while she's out there so she anticipates needing more than enough money for airfare, local travel, and food.
Her brother stays on campus so it will be impossible to stay with him so she's going to go the Airbnb route to save money on lodging expenses.
For airfare, Airbnb, and other associated costs, she estimates she'll need around $1,500.
She has 17 full months to save and she's paid bi-weekly at her job. There will be one or two "third paychecks" during this time since she is paid bi-weekly.
However, to make things simple she is saving based on her expectation of receiving 28 paychecks in a 15 month period versus 17 months. This ensures that she has the amount she needs well in advance of her trip.
So, she'll take the total amount ($1,500) and divide it by 28. She will need to save $54 per pay period.
Therefore, on each payday, $54 is withdrawn from her account before she even knows it exists. If she sticks with the automatic savings challenge, she'll actually exceed her goal of $1,500.
Why does this work better than other savings challenges?
It works because you're not putting any thought into it. You're not worried about setting aside $20 this week and $25 the next week. You're not worried about collecting five-dollar bills.
You are simply focused on creating an automatic contribution for whatever amount you need to reach your goal or whatever amount you can afford to save.
If you can only save fifty cents, save it!
Saving fifty cents per paycheck may seem like a small amount to some, but this money may eventually cover an unexpected co-pay at the doctor's office.
Fifty cents per pay period could turn into a decent sum of money that can be used to buy your kid a birthday gift next year.
Don't be intimidated by large savings goals or lack thereof. Just save something and it will get easier.
Tracking Your Progress
Instead of tracking your progress each month, I want you to track your progress before you start.
Why?
Well, because you're going to set this automatic savings thing up and forget about it. Remember?
If your goal is to save $10 per paycheck for a year, you're going to need something to help you make sense of your savings strategy.
Therefore, I have created an automatic savings challenge printable to help you map things out.
It's not hard to use, simply write in your numbers and you'll get an idea of where you will stand in a year, or whatever the timeframe is for your goal.
Click this link to grab your free printable!
Wrapping Thangs Up
The automatic savings challenge will work if you complete these steps. This is how I save for any goal that comes up.
If I have a wedding to participate in, I create a savings goal. We have a savings goal for kid's birthday celebrations. I also have one for back to school expenses. There's even one for car taxes. And yes, these are all separate accounts with Capital One 360 (I think I have like 8 or 9 of them).
When the time comes for me to use that money, it's there and I don't even miss it because I make use of what's left after those savings goals (needs) have been met.
Again, don't focus on the dollar amount. Just focus on the savings and watch this thang get easier for you.
How do you meet your savings goals?  Do you like savings challenges?
---
New to LAAB? Well, around these parts, we talk about money, making money, saving money, paying off debt, student loans and more.  Here are a few of my favorite ways to make more and save more money that may interest you.
– Start a blog. Blogging isn't easy but it can be quite rewarding. Whether you want to share your own journey to debt freedom or build an online business so you can quit your day job – blogging is a great way to do both! I'm not earning six-figures (yet), but I'm earning something and it's helping me pay off my debt! You can create your own blog with this step-by-step tutorial I created for as low as $3.49 per month. You'll also get a free domain (website name) name.
– Take surveys. I take surveys to supplement my income in a variety of ways. I cash in points for Amazon gift cards which have allowed me to buy birthday presents, support my reading habit, and for stocking stuffers for my kiddos. I've even got gift cards to restaurants to go on date nights with the hubby. Some of my faves are Swagbucks, American Consumer Opinion, Opinion Outpost, Clear Voice, Pinecone Research, and VIP Voice. All of these are free!
– Shop using Ebates. I'm always shopping online and I score some pretty hot savings using Ebates for cash back in addition to online coupons. You not only can save money online, you can get cash back for in-store purchases too. Sign up with Ebates (for free!) and make your first purchase and they will give you a $10 gift card to a retailer of your choice like Target, Macy's, or Kohls.
– Cut your cable. There's a way to enjoy the same things you're watching now at a fraction of the cost. All you need is a digital antenna, a streaming device like a Firestick, and a couple of affordable subscriptions. I've shared the details in this post on how to save over $130 a month.
–