These are some of my favorite money resources!  Regardless of whether you're trying to get your credit together, find a new bank, or organize your finances – you'll find what you need here.
These recommendations contain affiliate links…BUT they are some of my favorites. See disclosure policy here.
Capital One 360 is my favorite bank to save money with. I started using this bank way back when they were known as ING. You can create multiple savings accounts (which are all linked together) to save for different things. You can create an account for your emergency fund, your next vacation, and Christmas, just to name a few. They make saving really easy.
Open up a savings account with Capital One 360!
Stay o
n top of your credit with this free tool, Credit Sesame!  You can get your credit score for free, obtain your credit report, and more!  If you're in the process of building credit for future purchases such as a home or vehicle using financing, you need this!
Read How To Build a Good Credit Score+Credit Sesame Review.
Click here to sign up and get your credit score for free.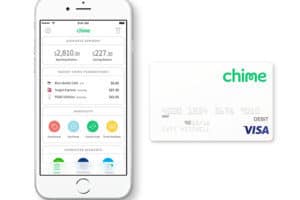 Chime is a full-service FDIC-insured bank account that offers both a Spending Account and a Savings Account. If you're looking for a bank account with no fees, a free app, easy access, and EARLY direct deposit (I'm talking 2 days early!), then this is an account you definitely want to look into.  You can enroll in automatic savings and save every time you make a purchase.
To sign up for Chime, learn more here.
Ibotta is my go-to app when I'm shopping in-store. You can receive cash back (sort of like a digital coupon) on items you buy in-store. I'm talking about cash back on things like produce, bread, milk, eggs, frozen goods, snacks, household items and more.  If you don't have time to clip coupons, make sure you check this app after you go grocery shopping. Simply redeem by scanning your receipt to verify purchases. Plus you get a $10.00 BONUS just for signing up and redeeming your first rebate.
Click here to sign up for Ibotta and receive your $10.00 bonus.
If you have debt spread across multiple lenders with excessive interest rates, you might want to consider refinancing your debt into one loan. This will decrease the number of lenders you're paying each month and it could also significantly reduce the amount you pay over the life of your loan. For those with a great credit history, interest rates may be even more favorable.
To learn more about So-fi and compare interest rates, check out So-Fi here.

After leaving my job, I signed up for an account at Betterment and rolled over my old 401k to a traditional IRA. Betterment is one of the more popular robo-advisors, meaning you set up a savings plan and they will do the investment work for you. The fees are reasonable and it's one less money-related thing I have to worry about.
Click here to sign up and start investing with Betterment here.

If you shop online, you will save some serious money with Ebates! With the use of apps, toolbars, and coupon search feature – you have multiple ways to save money. As of writing this, within the past month, I've saved over $70.00 by shopping online. Ebates conveniently sends checks or deposits your savings in your PayPal account.
Read Shop Online Using Ebates and Get Free Cash Back.
Click here to sign up through my referral link and get a $10 bonus.
I've been a fan of MyPoints for years!  Not only can you use their website to shop at your favorite websites and earn points towards gift cards, you can also take surveys too! I've earned quite a few gift cards from them and used them to make my savings go further while playing the drugstore game. I highly recommend you checking them out and make sure you install the toolbar. Each time you are on a website where you can earn points through MyPoints, the toolbar will let you know.
Click here to sign up for MyPoints and get a $10.00 gift card with any qualifying purchase!
I use this free tool to track my spending. What's so special about it? You can link up all of your accounts (credit, bank, retirement, student loans, etc) and it will tell you your net worth!  It tells me each expense category I may be overspending in, how I can improve on savings, and you can also use it as an investment tool. Once you link up everything you will see all of your finances displayed as shown below. Cool, huh?
Click here to sign up for Personal Capital and track your spending for free!
Just in case you missed the memo, everyone needs some life insurance. If you have some through work, it's probably not enough and you're exposing you and your loved ones to a great risk. Don't put life insurance on the bottom of your to-do list.
Read Life Insurance: You Need Some, Here's Why.
Click here to use Policy Genius for free and find some great low rates on life insurance for free!
If you have student loans, you might be contemplating student loan refinancing to lower your interest rate. Or heck, lower that monstrous payment. If so, LendEdu has you covered. You can use this free site to answer a quick survey to compare interest rates with 12 different lenders.
Read Should You Consider Refinancing Your Student Loans?
If you want to save thousands of dollars on your student loans, take this quick questionnaire to see if it will work out for you!
I got my feet wet in making money online by taking surveys. I used to go survey cray (Can you believe my 6-year-old has me saying cray? Officially old.) If you're not ready to go into deep hustle mode, you can easily make enough money for household toiletries and kids birthday gifts. Just about all of my daughter's gifts for her 1st birthday were funded using survey funds. Dead serious. Easiest money you can make, especially if you're always on the internet like me.
Click here to sign up with American Consumer Opinion and make some change.
With Harris Poll Online, you'll earn points for each survey you complete. Don't qualify for the survey? You'll still receive a few points for any survey you're directed to but didn't qualify to take. You can also earn entries into sweepstakes for cash. Once you reach a certain redemption level, you can redeem for certain rewards.
Click here to sign up with Harris Poll Online and earn some dolla bills.
If you read my online income reports, you'll notice that I consistently make money using Pinecone Research every month. When you need a little more than you usually make, you can always crank up the number of survey requests you receive in the dashboard. I used to do around once a month and then I told them I would prefer to do a few a month. It's easy cash.
Click here to sign up with Pinecone Research and earn $3.00 (300 points) per survey. They'll even deposit via Paypal.
This is one of the easiest ways I earn gift cards online. Why? Well, because it's practically passive. I get Swagbucks for searching the internet, looking at videos, referring friends and more. I save them up and cash them out for Amazon gift cards. If you're constantly ordering something from Amazon, Swagbucks is the easiest way to not have to come out of pocket.
Click here to sign up for Swagbucks here and get some swag.
Did Aunt Cheryl get you a gift card for a store you wouldn't step foot in? Well, don't fret! There's an easy way to remedy this and that's by heading over to Cardpool and selling it for up to 92% cash back. If you don't have any to sell, you can also buy gift cards for up to 35% off. This is an awesome way to score cheap Christmas or birthday gifts.
Click here to sell your gift cards or purchase cheap gift cards.

If you want to change your personal finances, you have to know a little something about it. I've curated a few post, books, and such that I think will be helpful.
Books You Should Read:
Check back often. I'll continuously update this page when I find more that can help you!