If you are a blogger or you're interested in becoming one, here's some of my top recommended resources for blogging. I've also included a few of my faves for growing your side-hustles.
Whether you're interested in blogging, virtual assistance, proofreading, or freelance writing – I'm sure you'll find a helpful resource that will help you start earning an income.
These recommendations contain affiliate links, which means I receive a small commission at no additional cost to you…BUT they are some of my favorites. See disclosure policy here.
I use Bluehost to host this blog and I have Z-E-R-O complaints. If you are serious about blogging, want to bring in extra income, or launch a freelance career like me – you need to be self-hosted. Being on your own self-hosted blog is safe because no one can shut you down. It's professional because people know you mean business and it's affordable. If you're interested in starting your own blog, check out my in-depth guide on starting a blog, complete with tutorials and extra info.

I use Bigstock photography for many of my pictures. They have a huge selection and they are reasonably priced. Fortunately, I have the hook-up for you if you're a new blogger starting on a budget. You can try Bigstock FREE for 14 days using this link.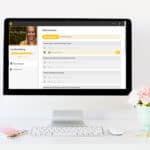 Earn More Writing
I love this course!  It was created by Holly of Club Thrifty. She's a freelance writer and last year she earned a little over $200k from freelance writing alone. After taking her course, I made my money back within a week and gained two new writing clients. I love how she shares how she structures her day, manages her workload, and looks for clients. If you're looking for a comprehensive course on how to get started freelance writing, this is a course you definitely need to check out. Learn more about Earn More Writing here!
Are you interested in freelance writing? If so, I have the course for you that will help you increase your income. You will learn how to find clients, how to present yourself, and more. Elna's comprehensive course outlines her experiences and teaches students from first-hand knowledge. She is one of the best B2B content marketers out there so if you want to learn how to earn more money with your writing skills, you want to learn from her. Check out Write to 1k for more info.
Tailwind is what I use to bring the people to LAAB. Since using it, my traffic continues to double month over month. No lies! I love Tailwind because it's super easy to use and schedule my pins to Pinterest. If you're a blogger and you want to spend less time pinning and more time writing, this is a tool you should check out. While you're at it, I've created a super in depth post on how I use Tailwind and Boardbooster as part of my Pinterest marketing strategy.
While we're on the subject of Pinterest, I've got to share this course with you. I purchased this course before summer (June 2016) and by August I increased my Pinterest following by over 2,000 followers. I've also increased my traffic considerably which I outline in my post Tailwind vs Boardbooster: Why You Need Both. Kristin's course provides you with an exclusive look at her Pinterest strategy that has allowed her to begin blogging full-time. If you want to maximize your presence on Pinterest, you should check out this course for more info!
One of the best decisions I've made since blogging is signing up for this course and you can read all about my love of this course in this review here!  I made my money back that I spent on this course after the second month through affiliate income here at Life and a Budget. Michelle is a blogger who earns over $100k in affiliate income on her blog. If there is anyone you want to learn from on how to market without being a total sleaze ball, it's her!  I highly recommend checking out more info about the course here!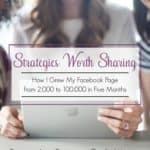 This is one of the cheapest and most comprehensive e-books you're going to find on how to grow your Facebook page for your site. It has a lot of meat in it!  Brittany has three packages available. You can purchase just the e-book or you can purchase the e-book and workbook. The biggest package comes with both workbook and e-book, video training, checklists, and other bonuses. Plus, you'll get free lifetime updates to the strategies in the e-book. I can't recommend this one enough! It's a great value. Learn more about Strategies Worth Sharing here.