To support this website, this post may contain affiliate and/or referral links to products or services I recommend. See disclosure policy
here
.
Don't you just wish someone would keep the advice real with you and give you the low-down on blogging?
Well, a few of you have reached out and I'm here to deliver 10 tips I believe every new blogger should read on their blogging journey.
I'm not new to blogging, just to the personal finance blogging world. I became hooked to blogging about 5 years ago and now I'm doing this whole blogging thingamajig all legit like and I'm a freelance writer too (no worries —  I don't say thingamajig in client work —  in case you're hiring writers and all).
I tried my best not to regurgitate what is already out there on the web; however, there are just some tips you can't get around. Sorry, but at least I'll put my own spin on it. Without further delay, let's get into these tips so you can do the thang.
Related Reading: How to Start a Blog on a Budget and How to Decide What Kind of Blog You Should Start
Blogging Tip 1: Don't publish anything less than 700 words.
I'm long winded (If you've been here before you probably already know that). When a client asks me to write a 600-word article on a topic, it's actually very challenging for me. I'm used to writing long form content.
I guess this is why I aced term papers from middle school all the way through graduate school. Ya girl can talk and she can write a book (SN: I actually have written a book. It's just sitting patiently, collecting dust).
But back to you — why should you publish articles more than 700 words long? Because Google likes that ish. When people are searching the internet for a topic —  let's say they are looking for ways to deal with student loan interest or how to stay out of debt — these folks want solutions!  
Provide content that is of value to your readers and don't leave anything out. Create an outline and fill in your content with everything your reader needs to solve a problem. If you think of something later, go back in and update your old content.
Do not be afraid of long form content. As long as you format it correctly and make it easy for readers to skim, you'll be fine.
Blogging Tip 2: Do
you.
Don't try to be like the Kanye of blog land (besides, I don't think he can be replicated). Don't try to be like the Beyonce of blog land. If your name is Latoya, be Latoya.
Seriously y'all. I had a hard time writing in my voice at first because if you've been reading for a while, I'm country as all get out. The things I say or want to say here isn't exactly what I will say in every written piece I put out on the internet.
While I don't change for anybody, I'm not going to say ain't in a client's article unless they specifically ask me to do so. However, here at LAAB, it's full game.
I'm going to say ain't, damn, –ish, chirens and/or chilluns (both of which mean children) and not care what anyone thinks.
That's how I talk in real life. It's not some made for blog voice I created. In college, my friends would actually tell me, "It's amazing you don't write the way you talk." When they were saying this, they were talking about my writing in a college setting. I certainly didn't put slang and country-isms into my writing unless I wanted to flunk.
This, however, is blogging. I'm writing at LAAB, not for professors at USC. I can say ain't if I wanna cause ain't nobody grading me.   
Moral of this long drawn out point — find your voice and be yourself. If your readers don't like your voice then they probably aren't your intended audience.
Blogging Tip 3: Be inspired, don't copy.
You know how you're reading a post on someone else's site and you're like, "Dang I wish I wrote that?" Be inspired by these articles. Put your own spin on it. Make it your own, but do not copy it.
Once I decide to write a post, I've usually stumbled across a source of inspiration. Then I'll research the topic I want to write about.
If there is something already out there, I try to think of ways to make it better. If there isn't anything out there, I try to create one kick-ass article on the subject.
Again, be inspired. Don't copy.
Blogging Tip 4: Pace yourself and get ready to work.
Blogging isn't easy by a long shot. Especially if you're blogging and writing for others. There will be days when you don't want to do any writing. There will also be days when you can't stay away from the computer because you have so many ideas in your head.
I currently have 12 blog topics separated into tasks in my task management system. I dump all of my thoughts there and schedule the time to work on them.
Just because you can't get to it all at one time doesn't mean you need to throw your hands in the air with the dramatics to accompany. Just pace yourself and aim for a minimum of one blog post a week.
Related Reading: The 1st Life and a Budget Blog Income Report (August 2016 – $854), July 2016 Online Hustle Report ($1,054), April 2016 Online Hustle Report ($1,004)
Blogging Tip 5:  Think about what makes you mad when you visit someone else's site and do the complete opposite!
What I mean by this is, for instance, sometimes I'll click on a blog post with a killer title on Pinterest.
For the sake of this example, let's say that the title is "How I Increased My Blog Traffic from 1,000 PV to 100,000 PV in 30 Days."
I'm like, hells yeah, let's read that!
Then I click over and it's a 600-word article with a general overview of things you've read a million times on the internet. Doesn't that piss you off?  Ugh.
Anyways, don't be like that. That's why the very first tip I gave you was to make sure no post is less than 700 words. If you have a killer title, you damn well need to deliver on the promise.
Make sure you provide advice that you wish you would have received from someone else. Detail everything. I don't care if your post is nearing 4,500 words.
Yeah, it may be a long post and nobody will have time to read it in one setting, BUT they'll probably bookmark it, come back to read it later, and be more willing to share your piece with someone else.
All of those little 600 word articles that failed to deliver — well, I've forgotten about them. (SN: There are a few helpful small articles out there, but for the sake of helping people hustle, pay down debt, and get their money right — it needs to be thorough).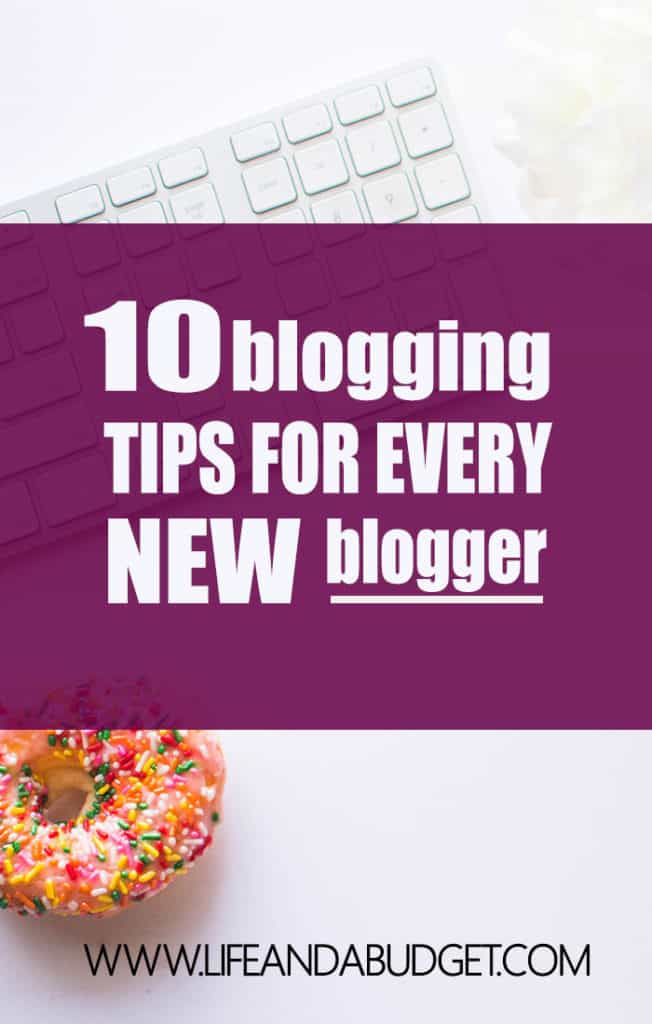 Blogging Tip 6: Treat your blog like a business from the start.
Yeah, yeah, you hear it all the time that you shouldn't go into it for the money. Well, join the secret club that no one tells you about —  the glimmer of hope club that one day you'll make a little extra money from your blog.  
If you think of it like a business from the start, you won't be rushing to play catch up when things pop off and you have more readers than you can handle and opportunities coming your way. You'll be prepared for them.
Related Reading: 7 Surefire Ways to Boost Your Blog Income
Blogging Tip 7: Interact with other bloggers.
Don't be antisocial and think no one will like you. In reality, bloggers are friendly (in general).
Now don't get me wrong, I've come across a few catty folks in my day. However, being catty and confrontational will not get you anywhere.
It's all about who you know. If you want to be known as the jackass that no one wants to deal with — that's not going to make your blogging prospects look very promising.
However, if you're helpful and a delight to chit chat with over the interwebs, you'll make a few blogging buddies and enjoy the community. You can interact on social media and in other blogger's comments.
If you do it right, you could land a couple of guest posting opportunities.
Blogging Tip 8: Study other bloggers like you're trying to major in blogging!
Seriously, I'm inspired by so many fellow personal finance bloggers that it's ridiculous!
Study how they interact on social media. Study the things you like about their site, community, or overall presentation.
Are there any key takeaways?
For me, the takeaways were an organized site (which I'm still working on, btw), helpfulness (remember, don't be a jackass), and good content.
Blogging Tip 9: If you decide to take courses, follow through on every lesson!  
I see a lot of people taking courses and failing to actually implement anything. Why waste money?
One of the first courses I very reluctantly decided to try my hand with was Pinterest Presence. And when I say reluctant – I was hell bent on not spending my money because I thought I would just study what was on the internet and do what I could with it.
I'm so glad I changed my mind because none of the stuff Kristin talks about in this course is on the internet (at least I couldn't find it!) Honestly, I just don't have the time to do all of this research, so investing in this course was one of the best decisions that I've made while blogging.
And no, I'm not just saying this to make a sale (I became an affiliate after the info actually worked for me).  I carefully went through this course with a fine-tooth comb and implemented everything I learned.
My traffic has increased since implementing my current Pinterest marketing strategy and it's all because of this course. So, if you're going to take a course, be willing to do ALL the work involved to see a return on investment.
If you're interested in learning more about Pinterest Presence and increasing your blog traffic, this course will be your jam.
Related Reading: Tailwind and Boardbooster: Why You Need Both
Blogging Tip 10: Don't be afraid to scrap an idea.
If you started with it, it doesn't mean you have to continue doing it. When I first started LAAB, I wanted to do a book review every month. Ha!  
Yeah, well once I picked up more writing clients — between that and blogging, I didn't have the time to read a book every month and write a review on it.
I've been working on one book now for 3 entire months!  I'm reading, but not as much as I want to.
Therefore, I scrapped my whole monthly book review idea and I don't regret it. I'm able to deliver more blog content and write for more clients. Besides, gotta get that paper for those student loans.
There you have it, friends. I wrote this post in mind for those of you who have had questions, and I certainly hope I've delivered. Those are my tips, now it's time to go forth and do great blogging things!
Any fellow veteran bloggers out there want to share any more tips that I've forgotten about? Drop them in the comments!