To support this website, this post may contain affiliate and/or referral links to products or services I recommend. See disclosure policy
here
.
Just in case you hadn't noticed, I blog about money, but that doesn't mean you have to create a blog about stackin' coins and paying off debt too. There are many topics you could write about, but we'd be here all day if I tried to get into all of them. The purpose of this post; however, is to inspire you to think outside of the box so you can settle on an idea and run with it.
You're here, so you're probably pretty darned interested in starting your own blog. However, before you spend any hard-earned money to create your own self-hosted blog, you need to be very clear about what it is you want to talk about. You could be a scatterbrain and talk about everything that comes to mind, but we want you to be successful, so I'm going to share with you a few topics.
Related Reading: The 1st Life and a Budget Blog Income Report (August 2016 – $854), July 2016 Online Hustle Report ($1,054), April 2016 Online Hustle Report ($1,004)
---
Join the FREE 5-Day E-course on How to Start a Blog. You'll learn everything you need to know to get your own blog up and running, some tips and tricks that have helped me start earning an income, and more. Sign up for the How to Start a Blog E-Course today!
---
Things People Blog About
Here are a few topics folks are on the internet writing about:
1) freelancing
2) blogging
3) health and wellness
4) beauty
5) gossip and entertainment
6) women's issues
7) men health
8) website and business branding
9) The Lord
10) food
11) lifestyle
12) style
13) diy
14) decor
15) travel
16) parenting
Get the picture?  Good. Let's carry on…
Do you want to start a blog of your own? If so, I've created a DETAILED tutorial to help you
start a blog for cheap
. Rates begin at $3.49 per month if you use this link. You will also receive a free website domain (your very own web address), a $15.00 value, for FREE
if you purchase using my Bluehost link
and purchase at least 12 months of web hosting. Being self-hosted is the business if you're thinking of taking your blog and/or business to the next level. My freelance business is doing alright, if I say so myself;)
Examples of Different Bloggers
Now that I've given a rundown on the types of blogs out there, next I'm going to share with you some awesome blogs in a few of the niches mentioned above. Each of these bloggers are at the top of their blogging game, and I'm sharing these sites with you – not to intimidate you, but to encourage you to go after whatever the heck it is you want.
If you want to go Martha Stewart and tell everybody and they cousin how to cook a panini in sixteen seconds, be my guest. Or maybe you want to encourage women to develop a healthier self-esteem after having five chilluns (yes, I say chilluns in real life).
It doesn't matter what your topic is as long as you have an audience for it, but let's not get ahead of ourselves. More on that in a minute.  Below are a few of the best bloggers in some of the niches mentioned previously.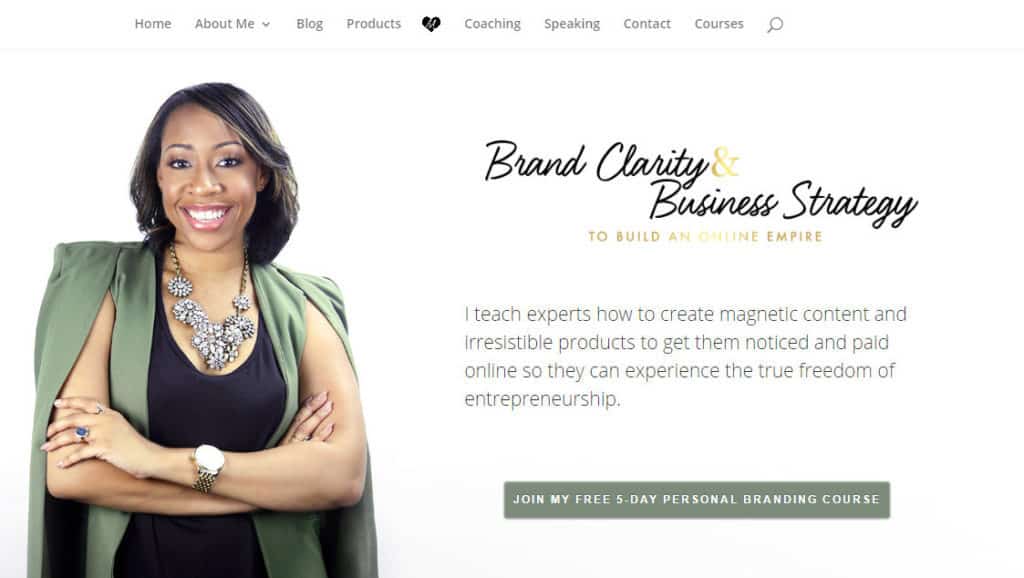 Maya's website and blog is intended to help bloggers, coaches, and creatives find clarity and implement strategies to help with monetization. Maya is one of the best experts in the branding/business blogging niche and her hashtag #MayaMilitia pretty much gives you an idea of how she's sprinkling that magic on everyone she encounters.
Mattie and Maya are actually sisters — how cool is that? Mattie is killing it in the style niche and I'm impressed with how seamless and cohesive her branding is. Her outfits are always on point, she keeps it interesting on Instagram, and her followers love her. I haven't been following her for long, but I give props where props are due because I'm not much into style blogs, but she's managed to capture my attention. That's no easy feat, yo.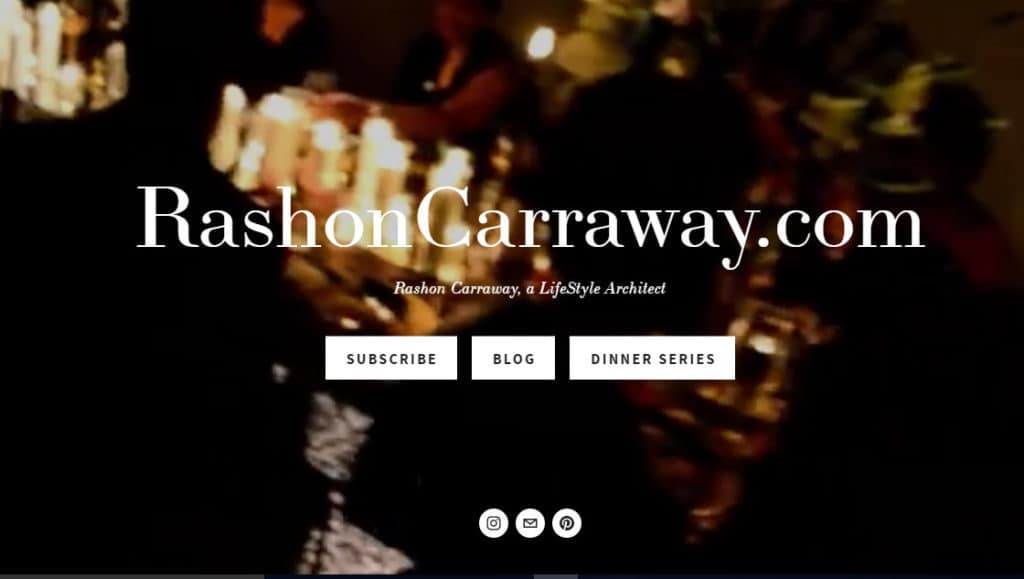 I remember Rashon as Mr. Goodwill Hunting back from my diy blogger days. He was at the top of the game then (circa 2010) and he's still at it. I used to visit this site for thrifting inspiration. In the diy niche, if you could find something at the thrift store and create something fabulous out of it — you were sure to be the rave at whatever linky party you linked up to that week (however, now I'm sure Pinterest provides much better traffic).  Anywho, Rashon has been featured on the Nate Berkus Show and has a pretty big name in his industry. He does what he does and he does it well.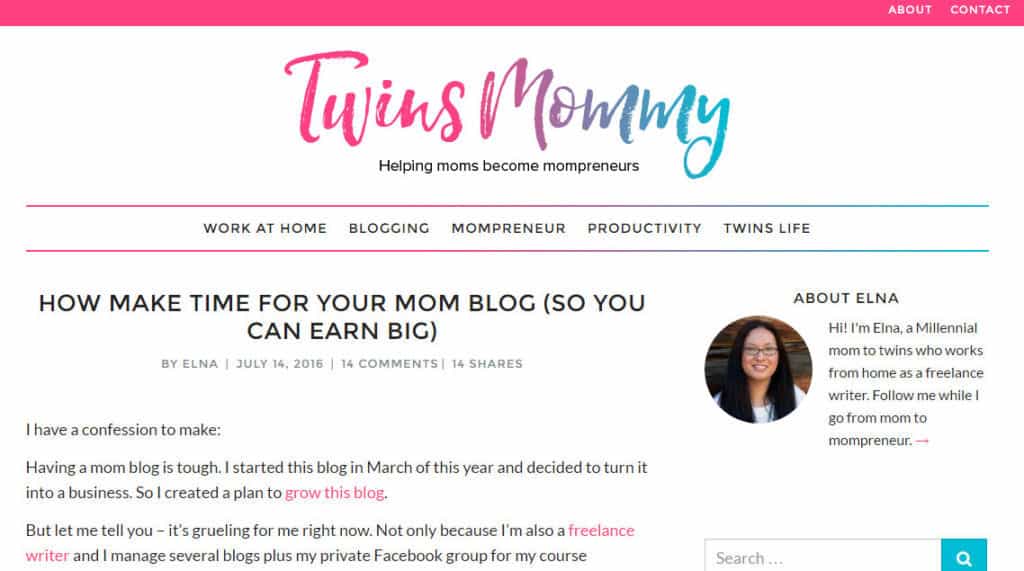 Elna actually runs a few sites (I seriously don't know how she does it with twins), and Twins Mommy is her latest blog. In addition to this mommy blog, she runs a freelancing blog too.  I'm sharing this site with you because it is rapidly growing despite only being a few months old. Elna is also proof that just because you have more than one interest doesn't mean you have to stick with one blog!  Just create another one after your first one has taken off.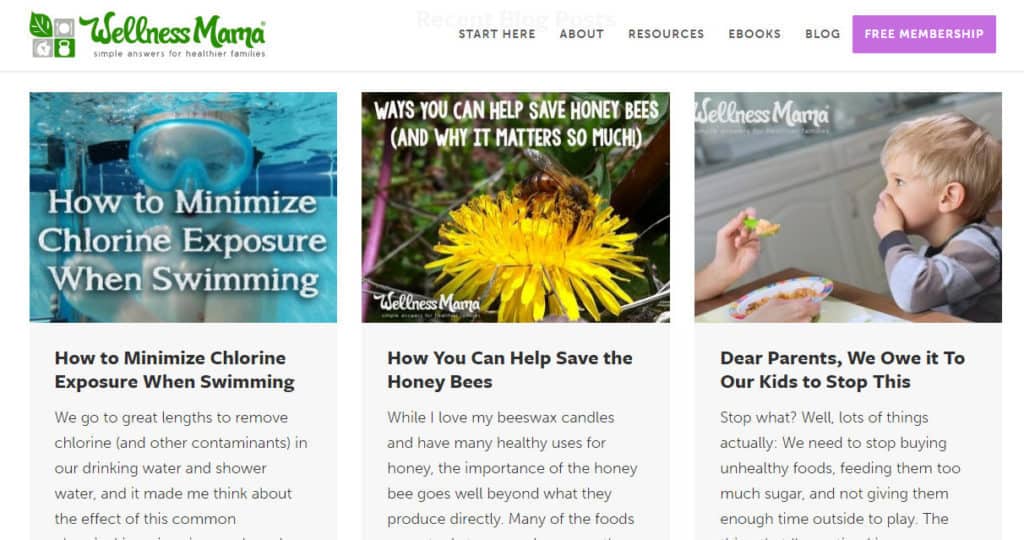 Wellness Mama always pops up in my google search when I'm looking for an answer to natural-care and health related questions. Instead of being solely a mom, recipe, or health blog — Wellness Mama covers a wide range of subjects. Sometimes it's best not to niche down too narrow because you could run out of things to talk about or simply get burned out.
Narrowing Down Your Blog Topics
Okay, so I've given you examples of five awesome bloggers who dominate their niche. Now you're asking, "Um, how I do this?" I'm glad you asked because here is what you need to do before you spend any money and make a major commitment to blogging.
You should ask yourself the following five questions:
Are you desperately strapped for cash and trying to find a way to become rich? Well if you are, please go back to the drawing board and come up with another plan!
Yes, I'm sorry, but blogging is not a get rich quick kinda shindig. Now don't get me wrong, you can earn an income from blogging, but I don't recommend doing it if you're down to your last dolla and desperately need cash to put food on the table or pay the light bill.
If this is the case, I recommend reading How to Earn More Money. You should only start a blog when you are relatively stable and have the time and resources necessary to commit to building a successful blog.
What can I talk about non-stop without ever getting sick of talking about it?
I've been the diy blogger who got burned out, all because I got tired of wasting money (I don't like playing with my money) on failed Pinterest projects. That's basically all I was doing. I would see a project, recreate my version of it, and then proceeded to blab about it on my blog.
This got old really fast. If you're nothin like me, you might be successful at diy or craft blogging. This niche is highly competitive, but it's quite lucrative as well if you you do it right.
Write down few topics you are really passionate about. If you have more than a few topics, you may be able to make them work together like The Wellness Mama does with her topics on motherhood, natural home, beauty, and recipes.  
How much time would this topic require?
Deciding how much time you have to commit will help you with several things. First, it will help you decide how often you should be posting to your blog.
If you have kids, a full-time job, and other responsibilities, it might not be feasible to produce content 3 to 5 times a week. You probably could do it, but the content might not be the best you could provide your readers.
We'll use me as an example. In addition to blogging, I freelance and I work a full-time job. I'm not about to put out 3 or 5 articles a week, all at 500 to 700 words. I prefer publishing every Monday and writing articles that range from 1,500 to 3,000 words.
If I'm a month ahead on content (which I usually am), I may schedule in an occasional post on a Wednesday. I also accept guest posts on my site. Being ahead and having a posting schedule allows me enough time to bring long-form content at least once a week.
Who are my sources of inspiration?
For me, I have a few sources of inspiration — Tonya from My Fab Finance is one of them. I don't copy my source of inspiration and I highly discourage you from copying others too.
The reason you should have a source of inspiration is to have something to aspire too. Maybe your inspiration has a highly engaged community of followers. Perhaps, their platform has given them the opportunity to work with a book publisher. Others may have used their influence to deliver a course. The possibilities are endless.
My Fab Finance's mission is to help women break the cycle of living paycheck to paycheck. I'm inspired by this site because I'm interested in breaking a generational curse of living paycheck to paycheck.
I've shared my background here with money, and it isn't pretty. What I've been through is the source of my mission. I want to encourage, educate, and inspire others to break the perpetual cycle of debt.
LAAB'S mission is to inspire millennials to take a non-pressure approach to paying off debt and obtaining financial freedom so they can have a what?? A Life and a Budget, of course. I want to accomplish this mission by sharing my journey of paying off my student loans, obtaining financial independence, and ensuring my children are financially literate.
Who's going to listen to me?
I saved the best for last. Who's going to listen to what you have to say is a really important question you must ask yourself. What problem are you going to solve? Are you a mother who homeschools and want to share your helpful tips with other moms?
You have to decide who you're going to talk to and how you're going to help them. Many go into blogging talking only about themselves. If that's the case, you need a personal blog where you can ramble to your mom and sister about life (no shade, folks).
However, if you want to build an audience of followers who believe in what you have to say, you need to know who they are and how to deliver your content to them in a way that's easy to understand.
This is the hardest step and most likely something you won't completely narrow down until you're actually interacting with a few readers. Just remember, listen to their needs and figure out a way to solve them.
Let's Wrap This Up
Now it's obvious this is a blog about personal finance, but I've always left the door open for other topics because of the name I chose – Life and a Budget. This doesn't mean this is going to be a blog about any and every old thing.
What it means is I'm incorporating many micro-topics and presenting them in a way that leads back to my main topic — money. I'll occasionally write about blogging, freelancing, etc as long as it's presented in mind to help my readers get their finances together, pay off debt, or achieve financial freedom.
With that said, blogging could potentially be your next side hustle, who knows? But, in order to get to that point, you need to decide what type of blog you want to start, start the darn blog, and then become a master at it.
Study up, be inspired by your inspiration and create a strategy that focuses on what you are setting out to achieve with your blog. If you do those things, you may find things looking up because blogging certainly has its benefits. But that's an article for some other time.
So, what type of blog are you going start? Anyone already have a blog? If so, drop your link in the comments and share with us what you blog about. You may be the inspiration someone needs!