To support this website, this post may contain affiliate and/or referral links to products or services I recommend. See disclosure policy
here
.
Passive income is one intriguing topic many people want to know more about. Luckily, one of my readers asked about my Etsy shop after reading about my Etsy income on my online hustle reports. It never occurred to me until now that maybe I should talk a little more about how I earn passive income on Etsy. So, today I want to briefly discuss my history using this platform and how I generate passive income from it.
Irrelevant backstory for those who care… How I began on Etsy
I think I've mentioned before (maybe not) that I'm not new to blogging. Life and a Budget is not my first rodeo. I was introduced to blogging in 2010 when I was suffering from postpartum depression after having my daughter. I was going through some ish and our family had recently moved into our new home. I figured, why not decorate and DIY everything?! 
Well, that journey turned me into a DIY blogger, that eventually led to me being a Christian Lifestyle blogger, which then led to burnout and finally I just gave it all up. Like I said, it was a rough patch, I was stressed, but writing has always been my therapy. I embraced blogging naturally, I just needed to find something I was passionate about.
---
Do you want to start a blog of your own? If so, I've created a DETAILED tutorial to help you start a blog for cheap. Rates begin at $3.49 per month if you use this link. You will also receive a free website domain (your very own web address), a $15.00 value, for FREE if you purchase using my Bluehost link and purchase at least 12 months of web hosting. Being self-hosted is the business if you're thinking of taking your blog and/or business to the next level. My freelance business is doing alright if I say so myself;)
---
How I began on Etsy
From those humble beginnings came my Etsy shop. I dabbled in online design work in 2013 and some readers liked my free scripture/inspirational printables I created to decorate my home. I initially shared them for free on my blog before I started selling them on Etsy.
I couldn't bring myself to close the shop after I went on my blogging hiatus. So many people were encouraged by this art and sales were still coming in. My mission when I started the shop was to share God's word and it didn't feel right to shut it down.
Now am I bringing home bacon, bread, and butter from the sales I make? No, absolutely not and it doeesn't bother me one bit.  
The income comes in during certain times of the year. When people are looking for reasonably priced gifts for Mother's Day, Christmas, Birthdays, and weddings – they can depend on my shop to provide what they are looking for.
As long as people feel want to purchase the work, I will keep it up. I only pay fees when I relist a product listing that has expired or when someone makes a purchase.
Also, I haven't done any work to the shop in years!  Nothing!  I haven't designed one printable, changed the price, or maintained the shop in any other way except for renewing listings.
My shop feels like passive income because I no longer design any work for it. Will I ever design again? I don't know. A streak of creativity may come over me one day , but for now I'm happy with the way it is.  If you have a talent and can create certain types of products, you may be able to market them on Etsy too.
What is Passive Income?
To make this short, simple, and sweet – passive income is earned from something you put upfront effort into, then leave alone after things are up and running. If you write an e-book and sale it on Amazon, any income you earn could be considered passive income.
If you create an e-course and it generates income years later, this is passive income. If you make a sale on your website overnight for a product that doesn't require you to wake up and fulfill the order, you've earned passive income.
How Can You Earn Passive Income on Etsy? 
Step 1 – Decide What to Sell.
The best types of products to earn passive income from are products that don't require any maintenance. If you =actively retrieve orders and send out products, this isn't passive. It's work.
You need some design or photography skills to pull this off; however, your products don't have to be scripture or word printables.
Here are a few other digital printable items you could sell:
Last, you could design wedding invitations that allow customization on the consumer end. This allows you to produce the deliverable and then the customer can customize it based on their individual needs.
To create my digital products, I used Adobe Photoshop (This program costs a grip, but you can get a discount if you're a student or you can use their online services for $10 a month). It doesn't matter what software you use. If you can create original work, it will do.  As far as fonts are concerned, you need to have a license for certain fonts or you can use free ones available without credit (basically, read the fine print).
Here are two of my best selling prints:
Regardless of the type of product you decide to sell, you still may have to answer a question or two about your product occasionally. However, if you write a very detailed description, you shouldn't have to do so often (see more about listings below).
Step 2 – Setting Up Shop
I won't go into the details of setting up a shop because I would literally have to set up a shop to get screenshots of the process, but Etsy provides a wealth of information on how to set up shop and how to successfully start selling on Etsy.
Key Points To Remember When Setting Up Shop
Be sure to fill out all Etsy Shop information on your shop profile.  In my announcement area, I reiterate all the information in each listing and include the pricing and size of each printable.
In the shop policies area, I'm clear that I don't offer refunds on digital products because the product is delivered once payment is received to the customer's address. I encourage them to read the information thoroughly and ask questions that are not answered in the listing before purchasing.
Step 3 – Creating Your Listing
You can create a digital product that doesn't require mail delivery. Etsy has a feature you select while you create a listing. It's called digital as shown below.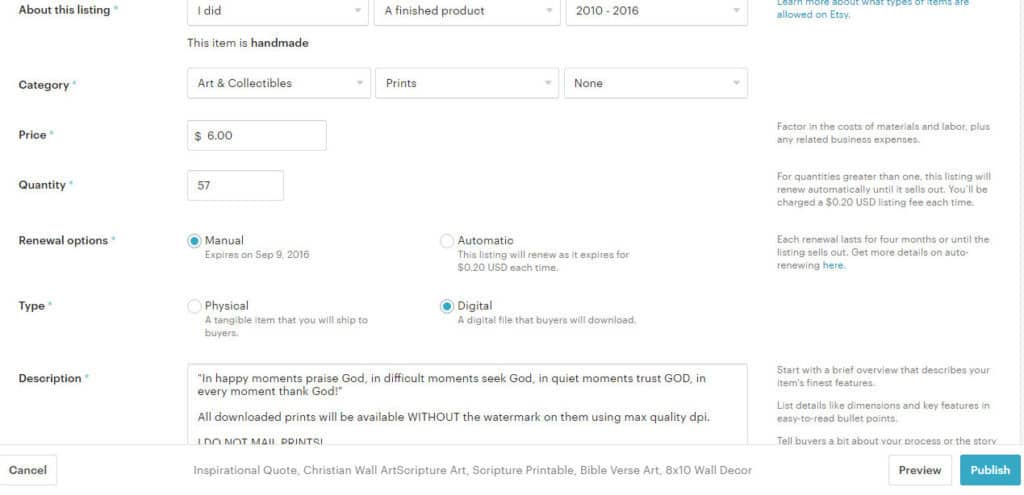 Then you will create a section for your shop which allows you to categorize the listing as an Instant Download as shown below. In the section called Digital Files, you would upload the jpg image seen in the screenshot below. Once the customer purchases, the file will be included with the receipt sent to the recipient's email. You don't even have to deliver the product, it's all automated!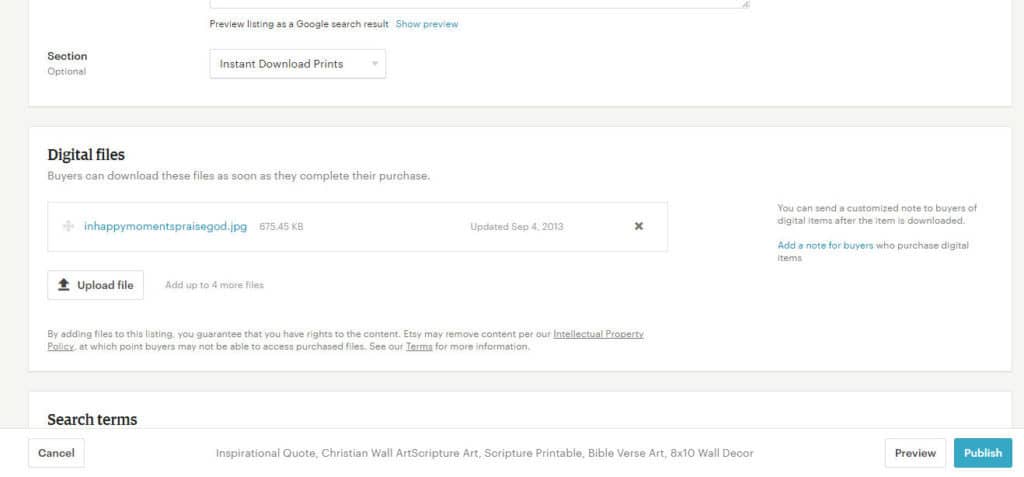 Here is an example of my listing: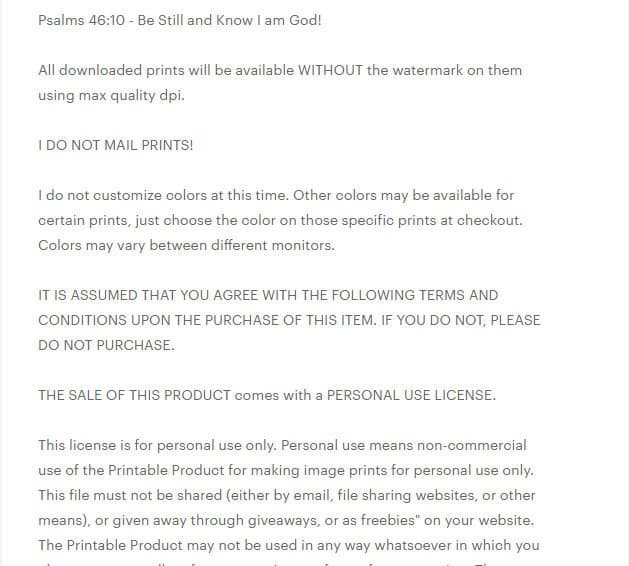 Here is another example from another shop that offers digital downloads: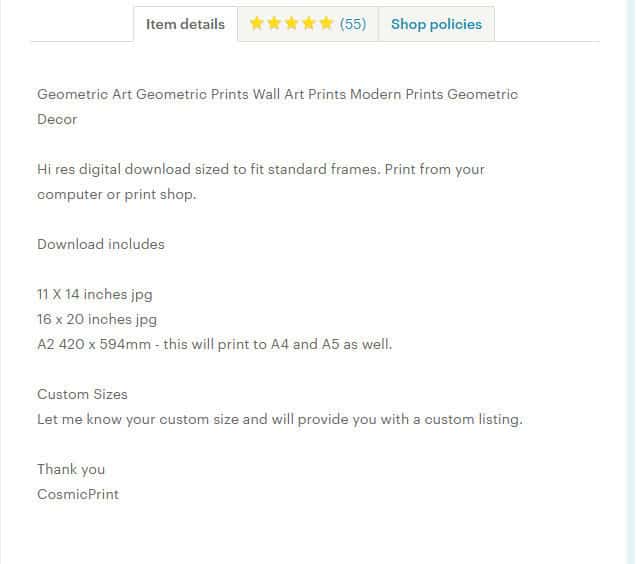 Key Points to Remember about your listing:
You want to make sure your listing is very detailed. It should include information about the type of product the customer will receive. From personal experience, customers don't read long descriptions so put download or printable in the listing title.
Reiterate in the listing that your product is a downloadable product. Make it absolutely clear they are receiving a product they will need to download and print themselves. This will lessen the amount of complaints your shop receives.
Also, be clear about your copyright and the extent of use.
You will also need to be sure to inform your customers you do not offer customizations or different sizes if you want it to truly be passive income.
You should study other shop owners and use your findings to determine a selling price. I settled on $6.00 for my prints because it's half the price I charged when I was printing and mailing them. Now that I no longer provide those services, I sell them for $6.00 and I never offer sales anymore. Running a sale requires additional work and I don't have time to maintain it.
Utilize keywords in your listing the same as a blogger would use SEO when running a blog. Look at the other keyword descriptions other owners are using and also type in the Etsy search field to see what comes up. Oftentimes, the  phrases and keywords searched for the most will pre-populate.
Wrapping Things Up
To position yourself for success on Etsy, it's a good idea to be visible on social media. You could also promote your shop in your email signatures (using Wisestamp) and through the use of other marketing tactics like postcards or business cards.
Since I don't do any of the above, my sales trickle in throughout the year. In the future, I may have someone help me beef up marketing for my shop in order to increase shop awareness. Sometimes all you need is more people talking about your product and word of mouth alone can bring in decent amounts of income.
If you are interested in opening your own Etsy shop to earn passive income, I encourage you to give it a shot because the start-up costs are really low!
All the ideas I've presented are just my methods of earning additional income through my shop. If you want to bring in the big bucks, I encourage you to not be as lazy as I am with mine.
Check out some of these resources I've listed below that helped me when I was getting started.  
Etsy Success: How to Make a Full-Time Income Selling Jewelry, Crafts, and Other Homemade Products Online by Kathleen Donovan
If you have any additional questions, please feel free to holla at me and I'll answer them to the best of my ability. If you decide to give Etsy a whirl, let me know, I want to hear all about it!
BTW: If you do open a shop, use this link and you'll earn 40 free listings (I will receive free listings too, but who cares…I won't need them anytime soon as you can already tell. The most important thing is you'll be saving money to open up your shop!)
Do any of you currently have an Etsy shop that brings in passive income or are you actively running your shop? Have you ever ran an Etsy Shop?
*Part of Financially Savvy Saturdays on brokeGIRLrich and, Disease Called Debt*