To support this website, this post may contain affiliate and/or referral links to products or services I recommend. See disclosure policy
here
.
How to Track Expenses is the second step in the Ultimate Budgeting Series. If you've been following series, so far we've gathered your income. To read from the beginning, click here.
A financial education report from last year shows that 18 percent of Americans spend more than their income. Why? Well, more than likely, these folks don't have a plan.
A successful plan includes tracking income and tracking expenses. The information you get from tracking your expenses is what will help you stick to a budget.
You know your income, know the lifestyle you want to live, and expenses are the final ingredient that helps your financial planning come together.
If you have too many expenses or your expenses are too high, this could lead to debt. So basically, the 18 percent of Americans who spend more than their income pretty much tells you why Americans are burdened by debt.
It doesn't have to be that way, though. Evaluating expenses and adjusting them to align with your values will go a long way in helping you live how you want to live. With that said, today you're going to learn how to track your expenses.
What Expenses To Track
Get a sheet of paper and make a list of broad categories that you current spending would fit into. Use the following categories as a guide.
Home (includes rent, mortgage, home maintenance)
Auto (include car payment, insurance, gas, car maintenance)
Food (include groceries, convenience store snacks, vending machine, lunches out)
Giving (include charity, church donations, etc)
Medical (co-pays, medicine, life insurance premiums, insurance premiums, and deductible)
Utilities (electricity, water, gas, cell phone bills, cable, etc)
Personal (toiletries, household items, etc)
Gifts (birthdays, holidays, other special occasions)
Other (Fun, hobbies, entertainment, extra-curricular activities)
Savings (current savings contributions)
How to Track Your Expenses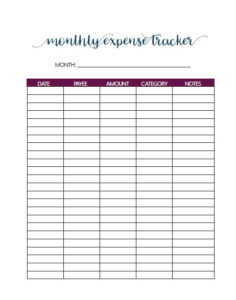 This is where you would ask yourself questions like, "Am I really spending only $350 on groceries every month? Can I really afford extra gymnastic classes for Izzy?"
You may not like the answers to these questions, but the good part is once you're informed, you can do something about it!
There are several ways to track your expenses. I currently use the YNAB app on my phone to track all of my expenses. I like it because it pulls the information for me and all I need to do is approve the transactions.
However, I understand that not everyone has $50 to put towards a yearly budgeting software, so I'm going to share with you what I did when I first started out – good ole paper and pen.
You can use a notebook and carry it with you or you could use the printable I created for you that's included in the series printable pack for $5. This monthly expense tracker is easy to use. You print one for each month and record the date of the transaction, the payee, amount, and the category. I've also included a notes section.
Tips for tracking your expenses:
Use an expense tracker
Keep your receipts
Monitor your bank statements for fees
Track cash withdrawals
Add up expenses at the end of the month
Compare with your income
Have a come to Jesus moment (if necessary)
Your Next Steps
Print your monthly expense tracker. If you haven't downloaded the series printables, you can purchase them for $5 using the button above.
Do the work!  Don't worry about cutting expenses just yet. Just track your spending.
Prepare for the next step in the budgeting series — creating a savings plan!
Do you track your expenses? Why or why not?