To support this website, this post may contain affiliate and/or referral links to products or services I recommend. See disclosure policy
here
.
Books are a big part of my life. I get happy when I get a good book in my hands and I know many of you are fellow book nerds too.
When I began LAAB and only had like 10 visitors a day, I used to publish monthly book reviews. I haven't done one in a while, but that doesn't mean I haven't been reading.
One thing has changed though in terms of what I choose to read. While I enjoy the practical personal finance books on the market (they do serve their purpose), my needs go beyond practical advice at this point on my personal finance journey. Some of you might be able to relate.
What I mean by this is I've been working on my money mindset and the more I learn, the better my finances seem to be. Or at least my feelings towards my finances, I should say.
With that said, you're not going to get a rundown of the best personal finance books that I think you should read to budget better, save money, or learn investment strategies.
Today I want to share with you some awesome inspirational money books I believe will be instrumental in helping you take your money mindset to the next level. Plus, if you take them seriously, they may just transform your finances.
Trust me, these books are really good!
5 Inspirational Money Books That Will Transform Your Finances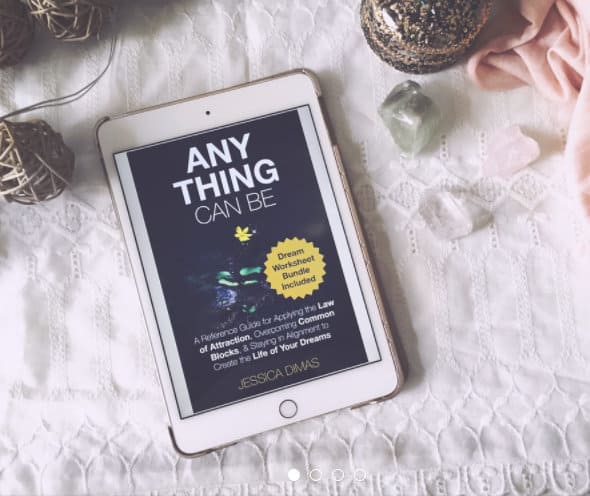 Anything Can Be is a book and worksheet bundle created by Jessica Dimas. Jessica is a HuffPo contributor and writer who focuses on self-care and using the law of attraction.
Her testimony on using visualization to turn her finances around is quite inspiring. What attracted me to her book was the simple law of attraction advice she provided (it wasn't overwhelming) and the worksheets included.
The worksheets help you get clear on what you want (which can be applied to finances, etc) and guides you on how to use your inner guidance to manifest your desires.
Now I know this may be a little too out there for some of you, but if you're into law of attraction, I thought I'd put you on because her advice is practical and you may get something out of it. If not, just keep moving along…
Okay, sorry…one more!  I read this book three times in one month. That's just how much I love it! This book provided me with my first hint at what I was doing wrong in terms of getting where I wanted to be in my business, personal life, and finances.
Get Rich Lucky Bee was written by Denise Thomas-Duffield, a money mindset mentor. Denise manifested a 6 month (all expenses paid) travel tip to all of these amazing, exotic places. She wanted to travel and had no idea of how it was going to happen until she heard of this paid traveling competition.
Once she heard about the competition, she claimed it as hers and got to work. She covers all of the techniques she used to manifest this paid trip in her first book (Lucky Bee), but Get Rich Lucky Bee is totally different.
This one teaches techniques that help you deal with your money mindset stuff so you can actually be about the business of realizing your dreams. It's perfect for those struggling to pay off debt, save money, and make more money.
I won't lie. I bought this book because fine Hill Harper graced the cover. I knew Hill was not only something nice to look at but his mind was even sexier. I really wanted to hear his opinions about money so I eagerly dived into the book to see what I would learn.
I've written a review on this book here, but let me just give you a quick run-down. Hill was diagnosed with cancer and this resulted in him evaluating everything he thought he knew about true wealth.
He shares his thoughts as he journeys on a cross country trip and in the process, he discovered what he believes to be the wealth cure. The wealth cure, simply put, is comprised of more than just the number of commas in your bank account.
Basically, this book reinforces the fact that pursuit of monetary riches wouldn't mean a thing to me if I didn't have my peace of mind and good health. Being financially secure shouldn't be your only goal when pursuing wealth. It isn't enough.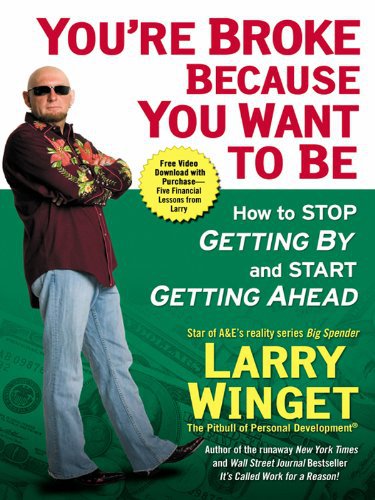 I loved this book because the author holds nothing back. This is a straight tell it like it is inspirational book that encourages the reader to stop playing the victim and actually take responsibility for the current financial state.
What do I mean by that?
Well, it's no one else's fault you're broke. You can't blame it on the rich people on television, the government, or your boss because he refuses to give you a raise. You can't blame it on anyone else but yourself and it's something that can be really hard to hear.
But I truly believe if you sit down and read this book and put your feelings to the side, you'll think differently about your finances and your circumstances FOREVER. However, if you want to be in your feelings and continue to blame someone else…well, enjoy that too. We don't do judgment over here.
I did a complete review on You're Broke Because You Want to Be here.

When you're really ready to get rid of your nasty beliefs about money and you're ready to start being proactive with achieving whatever it is you set out to achieve, this is the book you need to read.
If you have any fears around money or just seem to be stuck, Sincero will inspire you to towards your breakthrough by giving a detailed account on how she went from living in a garage to staying in 5-star hotels.
Sometimes the best way to learn is by reading inspiring accounts of other people who have been "broke" and managed to change their mindset and their circumstances.
Not only is her story inspiring, but she is quite entertaining. If you don't mind the bad language, you'll quickly read through this book and gain plenty of takeaways to apply to your life today.
Wrapping Thangs Up
Now if you didn't notice, I didn't give too many details on these books for a reason —  I want you to read them! You deserve transformation, don't you think?
There are many more motivational books out there that will help you deal with your money mindset, but these are my top five. I could seriously read these books over and over again and receive new takeaways each time.
So, if you're truly sick and tired of being sick and tired, try something different. Pick up these books and work on your mindset transformation.
Reading articles on budgeting and saving money will only take you so far. Eventually, you're going to have to deal with the inner work if you really want to see a change.