To support this website, this post may contain affiliate and/or referral links to products or services I recommend. See disclosure policy
here
.
Savings Plan – this is the third post in the Ultimate Budgeting Series here on LAAB. So far we have gathered income and tracked expenses. Today we're going to create a savings plan. To read the entire budgeting series from the beginning, click here.
We're going to create a savings plan before we actually build a budget because it's important to pay yourself first. The biggest savings goals you should initially focus on is emergency and retirement savings.
Of course, you want to be able to save for a family vacation. Or buy a new car. But since you're new to this, let's stick with the basics for now. You'll be able to get to that eventually!
To create a successful savings plan and start saving money, you'll need a separate account.
I like to keep my emergency savings at a completely different bank. I use Capital One 360, and if you sign up for an account with a $250 deposit, you can receive $25 to add to your savings.
Sign up for Capital One 360 here.
If you are employed, you may already be contributing to an employer-sponsored retirement plan. Or you could have your own IRA retirement plan through a company like Betterment, which I just started using.
Once you have the appropriate accounts set up, you can create a savings plan. Then you will use automation to help you build your savings.
Let's explore how you can set this system up to work flawlessly in the new budget you'll be creating.
How to Build Your Savings
The recommended starting point for an emergency fund is $1,000. However, each person's situation varies. You may be more comfortable with building a fund worth a couple months worth of expenses.
By now you should know how much your expenses are per month. If they exceed your current income, you'll start cutting expenses when we create your budget.
However, for now, we're going to focus on your core expenses. With an accurate account of expenses, you can determine what a couple months worth of expenses looks like.
Your core expenses are the expenses that you need for daily survival. Add up how much your housing, food, and utilities are at the moment.
Now multiply this number by three and it should give you an idea of what a couple months worth of expenses looks like. This would be your savings goal for your emergency.
For example, let's say your expenses were $4,500 per month. This amount covers your bare necessities like home, food, utilities, and debt payments. If you wanted to save three months worth of income, your savings goal for your emergency fund would be $13,500.
You could give yourself a goal end date of a year from now; however, it's probably intimidating to think of saving $13,500 in a twelve month period. Don't panic!
Instead, simply set a goal to save $100 per month to go towards your emergency savings fund. You would put in $100 per month from your paycheck, but you should still find other ways to build your savings quicker.
For a list of ideas on how to build your emergency savings, check out the following:
If you continue to make your $100 monthly contribution and find other ways to build up your savings, you'll eventually reach your end goal. The important thing is that you remain consistent and don't stop saving. Plus, you may have more to throw towards your savings when you cut your expenses.
How to Automate Your Savings Plan
You can automate both your retirement and emergency savings. If you're employed, you would set up a payroll deduction of the percentage you would like to contribute to your retirement fund.
Those of you who are self-employed or have retirement savings outside of work –  set up a direct withdrawal from your bank.
The money would essentially leave your checking account before you even think to spend it and go directly to your savings.
If you decide to use Capital One 360, you can set up an automatic savings plan in your emergency savings account. Simply click on the My Accounts tab and select Automatic Savings Plan (see screenshot below).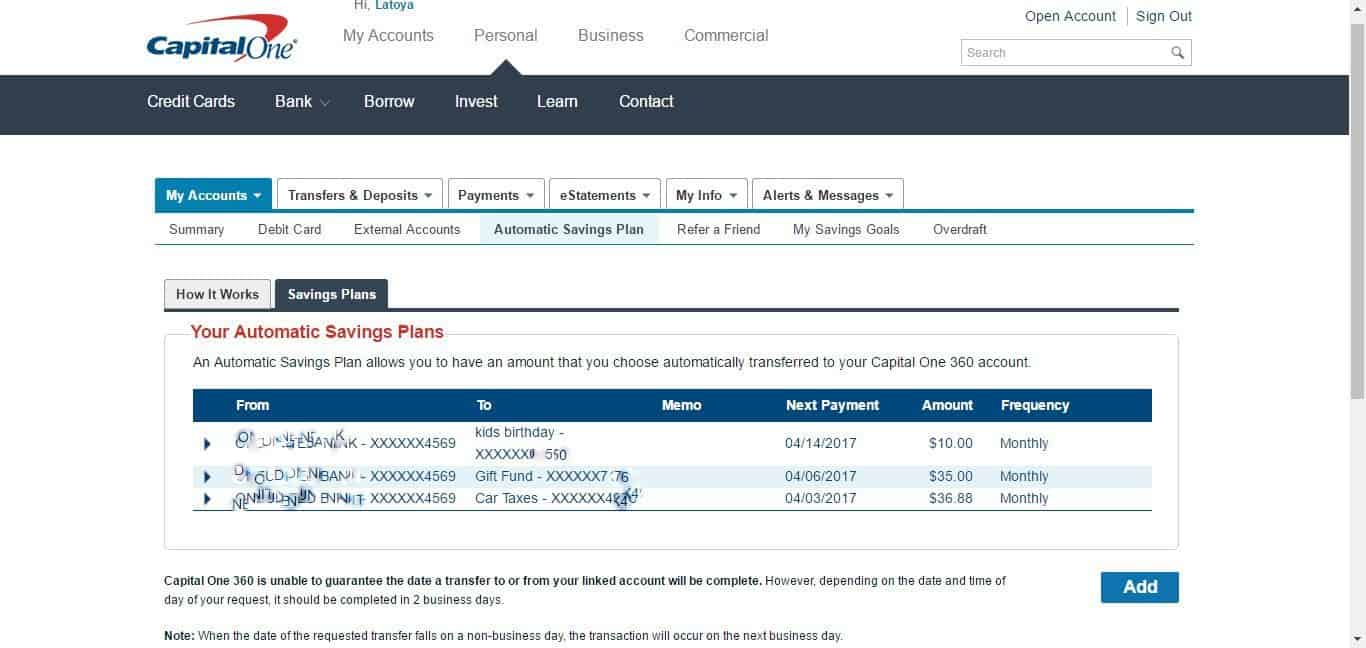 When you select add, select the account you want the money withdrawn from. Then select the account you want the money deposited into.
Next, select the frequency (bi-weekly, monthly, every week, or a specific date) and add the amount.
This is how I save for everything! We have many savings account and several automatic savings plans to help us reach our savings goals.
I don't have to transfer money out of my account every month, I let the system do the work for me and watch our savings plan work itself out.
If you want to document your savings progress so you can see it without logging into your accounts, I've created an easy to use savings printable. There's space to add the date, the amount you're saving, and any applicable notes.  Just print one for each month and add to your files.
Your Next Steps
Print your monthly savings tracker. If you haven't downloaded your printables already, you can do so by purchasing them using the button above for $5.
Determine your bare necessities and create an emergency savings goal.
Review your retirement plan or create one.
Set up your automatic savings plan for your retirement and emergency savings.
Prepare yourself for the next step in the budgeting series — creating your new budget!
Do you automate your savings? Why or why not? If you have any questions, drop them in the comments!