To support this website, this post may contain affiliate and/or referral links to products or services I recommend. See disclosure policy
here
.
Teach kids about money with 3 easy concepts: spending, saving, and giving. Today we will talk about how you can successfully implement lessons that will benefit your child for a lifetime.
I want you to think back to the first time you received your first bill in the mail. The one with your name on it – not a bill that was in someone else's name or one that your parents paid for you. Think about yours.
Do you remember how you felt when it came? Is there something you wish you could have learned to prepare you for that first bill?
Did you feel like you knew all there was to know about how to divvy up your paycheck to various bill collectors and still save a little?
Well, I vividly remember. I remember that first credit card bill coming in the mail at the tender age of eighteen. I called my mom and she paid it.
The next one came and I started having them forwarded to my home address so she could handle it. That's all I knew how to do – get a credit card statement and call my mama or step daddy for some cash.
By the time I turned 23, I'd filed bankruptcy. And a little over two years later when I held my daughter in my arms, I immediately wanted her story to be different from mine.
So, maybe you have a messed up financial story too. That doesn't mean our kids have to repeat our same mistakes.
No matter how much you think you know (or don't know) about money, you are still capable of helping them learn some lifelong skills that could help their financial history be a little brighter than yours.
With that said, I committed to teaching my children these three easy concepts as early in their childhood as possible. I started teaching them how to spend, save, and give.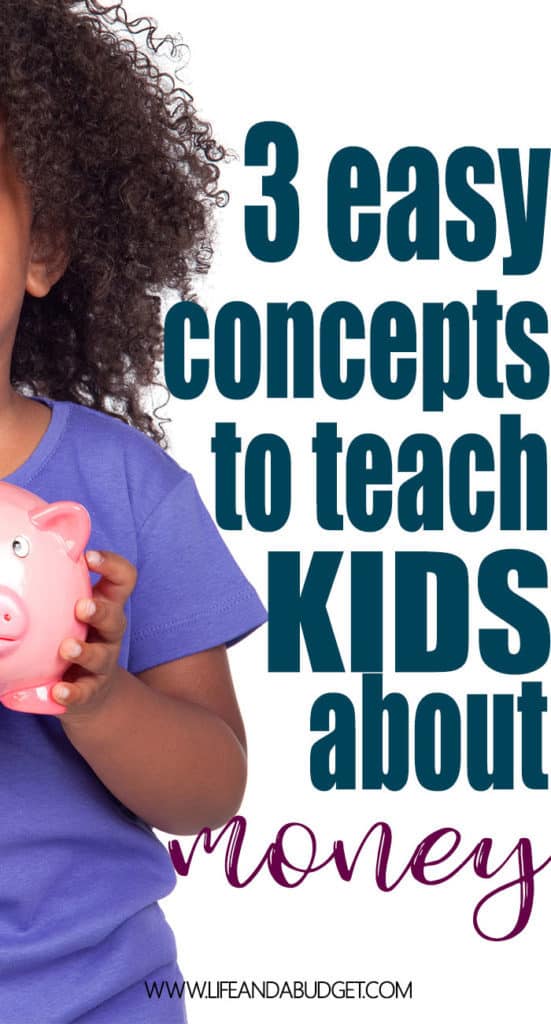 Why You Should Teach Your Child to Spend, Save, and Give
Here are a few reasons it's important to begin this during early childhood:
They will learn how to be self-sufficient.

It will teach them about delayed gratification.

They will learn how to support others and their communities through charity.

It will teach them the true value of a dollar.
The reasons are endless, but these are just a few that are important to me. If I had learned these three basic concepts at an early age, perhaps I could have avoided all the financial mistakes I made in college.
Teach Kids About Money Through Spending, Saving, and Giving
Spending
The best way to teach your kid about money through spending is by giving them the opportunity to spend their own money. I like to wait for the big spending moments and I'll give you an example of that in a minute.
If your child wants to spend their allowance on trash trinkets, let them. Guide their choices and refrain from criticizing their decisions. Give them rules, but give them room to mess up.
It's important to give them the opportunity to spend money on junk they don't need. They will learn an important lesson when they don't have money for things they really want, like a new phone or computer.
Savings
Speaking of computers, two years ago my daughter decided she wanted an iPad. I wasn't buying it and she knew it.
She saved all of her allowance, birthday, and Christmas money for two years. This year she purchased her own Chromebook.
Baby girl could have continued saving for the iPad, but I believe she was getting a little impatient with how long it was taking her. Think she learned a valuable lesson? Yep.
She learned that sometimes we have to adjust our wants. Another lesson she learned was that it's important to hold on to our money so we can use it to splurge on bigger purchases.
Giving
The best way to teach kids about money through giving is to help them figure out a way to give to a cause important to them.  Also, they can learn to give to their church by giving ten percent of their earned money.
If your child loves animals, maybe they would be interested in giving to an animal shelter. Maybe your child is particularly moved when they see a homeless person. Perhaps they can save their money to make a donation to a food bank or homeless shelter.
We encourage our daughter to give to the church, but the possibilities here are endless. Giving their money away to important causes may even encourage them to fundraise additional money for giving too.
Wrapping
Thangs
Up
Starting with these three easy concepts — spending, saving, and giving — you will give your child an early start, financially speaking. That's a start many kids aren't getting these days and I'm living proof of it.
As my children mature, I plan to incorporate other concepts like investing into their learning. However, I believe these three concepts are a great way to help their developing minds get acquainted with money.
It's a big responsibility to handle your own finances and it sucks when you have to learn how to do it on your own. So, do your child a favor and teach them how to spend, save, and give before they are out there on their own.
How do you teach kids about money?
*Part of Financially Savvy Saturdays on brokeGIRLrich, A Disease Called Debt and Shoeaholic No More*