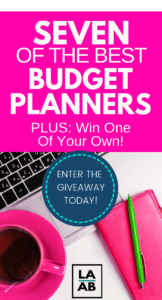 Finding the best budget planner to help you sort out your finances can be sort of a conundrum. Depending on your style, you may prefer a simple printable budget worksheet. Or you might prefer a printable budget planner that you can customize. It really depends on your individual needs.
To help you sort out your dilemma of finding the best budget planner to use this year, I ordered five budgeting planners to compare. I've also done a search for some of the best budget planner printables I could find as well.
I'll share with you the features, things I love most, and things that are downright annoying. Hopefully, by the end of this review, you'll have decided on the best monthly budget planner for your unique situation. Now, let's get into it. Here's a review of the best budget planners for paper lovers…
The Best Budget Planners for Paper Lovers
PROS:
Sturdy, solid material
Spiral-bound
Undated
Has pockets for receipts
Monthly summary
Has a Holiday Spending Tracker
CONS:
Only budgeting area is for your annual budget
No debt tracker
Not enough space for account numbers, websites, etc
The monthly layout is difficult to follow
No area for a monthly budget for variable budgets
This planner made the cut for the best budget planners because it's a good quality planner for the price. It has a nice design and enough space to gather all of your bills and statements in one place. If you're looking for pretty and economical, this planner should be at the top of your list.
PROS: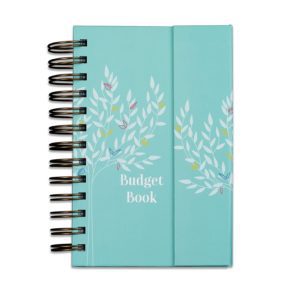 It fits in your purse
The closure is magnetic
Has a Christmas expense planner
Undated
Spiral-bound
Has pockets
CONS:
Too small (7×5.3×1.3)
No monthly budget planner
No debt tracker
Not enough space for many account numbers, passwords, etc
Folders are only large enough for receipts
This monthly budget planner made LAAB's best budget planners list because it is perfect for someone who needs to track their day-to-day spending while out. Unlike the first Boxclever planner, this one fits perfect in your purse and is good for carrying around. It has all of the same features as the first Boxclever budget book; however, it is quite small. If you don't mind the size, you'll definitely get your monies worth because it's made of quality material and it's quite affordable.
PROS: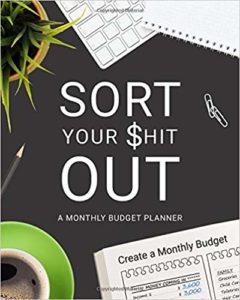 Feels like a workbook
Has plenty of space
Each month has a budget
Every month has individual daily expense trackers
Monthly budget check-in and thoughts area
Un-dated
CONS:
Untraditional budget planner (more so a workbook)
No individual savings tracker
No individual debt payoff progress tracker
No area for account info, passwords, websites
Too large (8×10) to carry with you everywhere
Not sturdy
This made the list of best budget planners because I like that it's a workbook and it's incredibly affordable. If you're just getting started with this whole budgeting thing, the layout in this monthly budget planner makes budgeting easy. All you need to do is start the month by creating your monthly budget and then track your daily expenses. If you're looking for something simple that will get the job done, this one will do it.
PROS: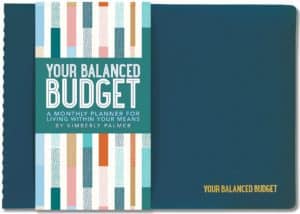 Covers 24 months of budget planning
Comes with instructions and a step-by-step guide for building a workable budget
Allows you to set financial goals
Space to break down income and expenses month to month
Has notes sections
End of year section and space to create goals for the next 12 months
CONS:
Didn't like the layout
Charts for each month are rather small
No space for account info, passwords, websites, etc
Don't like the material the cover is made of
Despite its shortcomings, Your Balanced Budget Monthly Planner made the best budget planners list because it covers two years and it's super affordable. If you need step-by-step guidance on building a proper budget, paying off debt, and creating financial goals, this planner will certainly help you. This planner is incredibly easy to use and if you need something to just keep track of your budget and not your overall financial life (passwords, etc), this one may work for you.
PROS: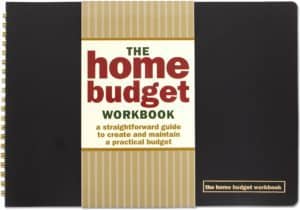 Comes with thorough instructions on how to use
Has tips for managing your cash flow
Area for creating goals
CONS:
Appears to be a knock-off version of Your Balanced Budget Monthly Planner
Only covers 12 months unlike the previous planner
Has a balance sheet worksheet that's intimidating for beginners
The Home Budget Workbook only made the best budget planners list to compare to Your Balanced Budget Monthly Planner. It has many of the same features; however, it only covers 12 months and its design makes it feel like it's something created for a bookkeeper rather than an average person looking to create a budget. Although it's super affordable, I wouldn't recommend this planner.
PROS:
Plenty of space for crafting your monthly budget
Track your monthly money goals for each month
Has space to track your monthly contributions to an emergency fund
Spacious expense and debt tracker
CONS:
Hand stitched binding
No area for passwords, account numbers, or websites
This monthly planner made the best budget planners list for several reasons. One, I love supporting small-business owners and this budget planner is made by Printable Wisdom, found on Etsy. Second, it has so much space and feels like something I would definitely use as a person who is notoriously obsessed with all things personal finance. Last, it's so pretty! I love the design and although the hand stitched binding can be a deal breaker for some, it adds a nice touch and is quite unique from all of the other monthly budget planners.
PROS:
Perfect for those who use cash budgeting
Sturdy pockets, perfect for holding cash
Comes with digital files to track your monthly bills, total debt owed, debt payoff and more
Comes with a budgeting printable and budget excel spreadsheet
CONS:
You can't create the budget in the budgeting system (the reason it comes with digital files and spreadsheet)
Reduced to using this budgeting system only for managing cash
Despite the fact that this budgeting system is only for managing cash, it made the best budget planners list because of all that it offers! Seriously, this is perfect for those of you who want a better way of maintaining your cash budgeting system. Although I understand it can be annoying keeping up with the book, plus updating your budget, savings, and debt payment digitally or on paper, you get a lot for your money. This entire system is $25 and that includes your digital files and excel spreadsheet. And it gets bonus points because it's pretty too.
Related Reading: The Best Cash Envelopes Wallets for The Cash Envelope System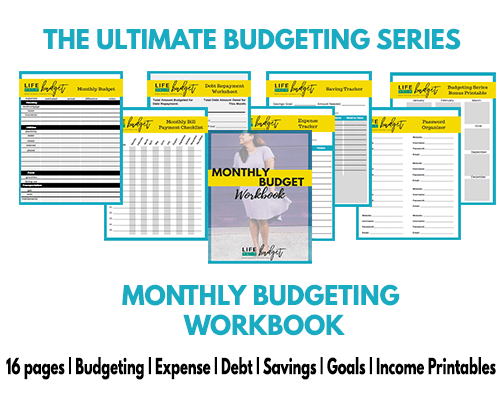 Finally, if nothing else in this best budget planner round-up tickles your fancy, Life and a Budget has a great set of worksheets that are extremely affordable! In this printable budget worksheet pdf bundle, you'll receive the following:
budget coversheet
savings tracker
income tracker
expense tracker
budgeting printable
bill checklist
password tracker
goals worksheets
You'll get all of this for only $5 and you'll receive lifetime updates to these monthly budget worksheets as well. Just print them out and add them to your budget binder!