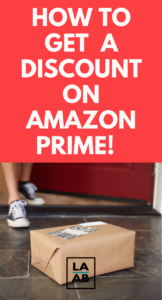 A discounted Prime Membership may be exactly what you've been looking for. Perhaps, you've sat on the sidelines watching as everyone raves about getting things quickly with 2-day shipping.
It was intriguing, to say the least, but not so much so that you were willing to fork over $119 a year for it. And even if you wanted to fork that kind of cash over, maybe one simple little fact of reality prevented you from doing so…you couldn't afford it.
No matter how much you wanted to work it into your budget so you can get free shipping, watch videos, and enjoy sweet Prime Day deals, you simply couldn't because there wasn't any money left to do it.
Well, if you're living on a fixed, limited income you may very well qualify for a discounted Prime membership. Yep, that's right, you might be able to get toilet paper delivered to your door in two days just like everyone else and I'm going to show you how.
Cool? Alright, let's get into the deets…
What is a Discounted Prime Membership?
A few years ago, Amazon announced they would offer a discounted prime membership to families and individuals receiving government assistance. In prior years, $119 Prime membership cost may have kept you from signing up and taking advantage of awesome deals, videos, free shipping and so much more.
However, now, you can get a discounted Prime membership and sign up for $5.99 per month with no commitment. So, if you have an EBT card or receive Medicaid, you can qualify for this Prime membership discount!
How Can I Get Discounted Amazon Prime Membership?
So, here's what you need to do to get the Amazon Prime EBT discount:
Sign up.
Start using Amazon Prime at your discounted rate.
Seriously, it's that simple! You will need to qualify every 12 months and the discounted prime membership price is good for up to 48 months (4 years). You can cancel anytime you'd like; however, if you cancel six months in, you'll have to wait another six months to reapply.
Does the Discounted Prime Membership Include The Same Features?
The price is different, not the features! You will receive all of the benefits of using Amazon Prime such as:
a FREE 30 day-trial (Yep, you even get the free trial! At the end of the trial just verify with your EBT or Medicaid card to receive the discount)
Free Two-Day Shipping on over 100 million items, exclusive shopping deals
Free 2 hour delivery on everyday items with Prime Now
up to 20 percent off subscriptions on diapers and baby food.
on-demand, ad-free music streaming
stream thousands of movies and shows
As you can see, you'll receive ALL of the amazing value that being a Prime member has to offer with the Amazon Prime EBT discount. This is an incredible way to save money and time because you can order only what you need and have it delivered quickly to your house — for free.
Some Other Things I Love About Amazon Prime
As if there isn't enough to love about Amazon Prime, here are a few more features that will make the discounted Prime membership worth it…
Unlimited Prime photo storage
Kindle First…basically you receive 2 FREE pre-release e-books each month (this one makes me SUPER excited!)
Early access to lightning deals
Access to Audible Channels (original podcasts, audio series, and audiobooks)
Access to Twitch Prime (in-game rewards on Twitch and 20% off pre-release digital games)
So, basically, for just $5.99 per month, you'll get access to ALL OF THE ABOVE, saving you money on shipping, reading, picture storage, streaming, diapers…you name it. I love that it's no commitment and you can cancel if things get a little tighter in your budget.
Plus, $5.99 is much more manageable…it's basically a gas station or Dollar Tree run. Simply cutting back in one area of your budget can help you save money on a multitude of spending categories. It's a win-win!
You Should Sign Up and Get The Amazon Prime EBT Discount Now!
You will love being an Amazon Prime member! You're already living on a small income and now you'll have access to affordable prices on things that makes your life easier. You know, things like diapers, milk, baby food, pantry items, household toiletries and more.
Plus, in addition to all of those necessities, you'll be able to affordably indulge in some entertainment. That Amazon Prime streaming service comes in really handy when you've had a long day and you just want to kick back and watch a Lifetime Movie. Trust me, it's how I spend my Sunday afternoons 🙂
And if getting discounts and free entertainment isn't enough, you'll save so much money on shipping! I've tried the whole shop on Amazon and fill my cart up with $25 to avoid shipping thing before. It's a budget buster! I save A LOT of money with my Amazon Prime membership and as a homeschooling SAHM, I can't see myself ever giving it up.
So, there you have it. You deserve this little indulgence. Grab your discounted Prime membership today!
How To Live On a Very Tight Budget
22 Ways to Treat Yourself Without Spending Money