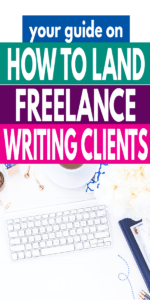 A few months ago a reader reached out with the question, "How do you approach freelancing clients for work?"
I was stumped.
Why?
Well, because I've actually only landed ONE client through pitching.  Honest to the good Lord, I really suck at pitching clients (and this is something I have to improve upon if I plan to reach my goals).
It's not that I don't know how to pitch. I've taken courses and I've gotten some extremely helpful pointers from the Client Connection offered by Carrie over at Careful Cents (no longer available). I can write a darn letter.  
The only problem is, I just don't know where to look! I mean, when I initially started this whole thing, I figured I would follow pf bloggers, show off my chops, interact, and if any ever needed a writer, I would just apply for the gig.
Well, the whole blogger needing a writer and me applying for it only happened once or twice. I've been freelancing eight months now and I've landed one client via warm pitching and zilch otherwise.
So how in the world has this chick been finding work and how am I going to tell you how to find clients?
Well, I'm going to share with you how I've landed my clients and encourage you to do what I need to be doing my damn self (pitching), and I'm also going to share a few articles that have helped me at the end. Let's dig in.
---
If you're interested in starting a blog and/or offering freelancing services on the internet, I've written a detailed guide on how you can create your own site. I've only been writing here since October 2015 and I'm already making money online.!  Read How to Start A Blog Using Bluehost and get started today!  
---
How Did I Land My First Freelance Writing Client?
I landed my first writing gig via Twitter. I was just doing my thang, tweeting everybody's stuff like I normally do, and I tweeted the work of my soon to be first client.
It wasn't anything major, a simple $125 article that I wrote on a subject I knew a little something about – life insurance. (I work for a life and accident insurance, so I was comfortable enough charging a slightly higher rate since I knew my way around the topic).
This article led to a series of other ghostwritten articles at around $75.00 a pop. Since I was just starting out in personal finance, I figured this was a good rate for a maximum 700-ish word article. I still work with this client on and off for smaller projects, but it's not consistent work.
How Did I Land My Second Client?
I landed my second writing gig via the Client Connection. Carrie sends a list of potential clients to work with every so often and I just happened to read one that I thought I would be a good fit for.
I wrote up my pitch letter and told them Carrie sent me their way and I heard back from them shortly and received my assignment.
I wrote it, turned it in, received payment, and waited to hear back from them. Then I waited some more. And some more.
I was hoping to receive a date of publication so I could add it to my portfolio and share with all my friends (because after all, I was a working gal and I was feeling rather proud). So when I didn't hear anything back, I sent a quick letter thanking them for the opportunity.
I received an email back from a new person at the company because they had just gone through some personnel changes. They gave me a tentative publication date and that was the last I heard from them.
The article was published, but it wasn't published under my byline. Since I didn't hear anything back about any future assignments, I chocked it up to a one-time thing and kept moving along.
How Did I Land My Third Client?
By the way, I'm not going to go through all the clients, I just want to give you an idea of how things rapidly progressed for me (over a 2 month period).
I landed my third client by entering a contest.
Yep, you read that right – a contest!
Again, just minding my business, entered a contest for a student loan payment, and I won!  When the company reached out for my info, they noticed this thingy under my reply back to them (see screenshot below).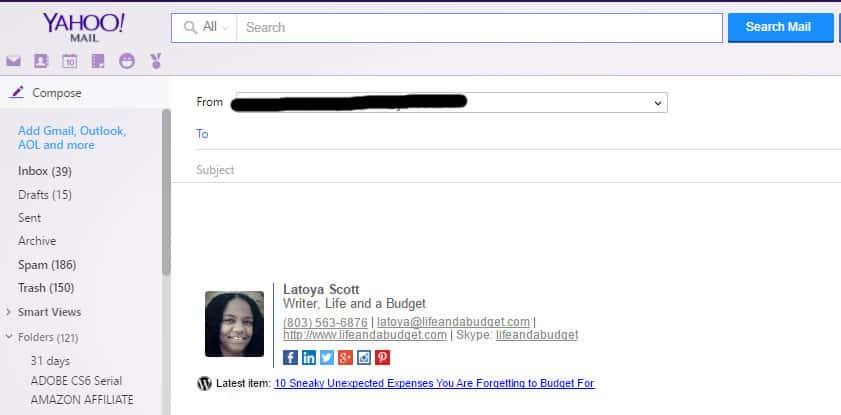 That's a Wise Stamp signature and it's associated to my personal email address (where the company reached out to me) and my Life and a Budget email address.
Since the signature provides all of my business, the prospective client saw I was a freelance writer. They low-key checked out LAAB and saw my writing, hit up my portfolio, and then saw that I was a newly published contributor at the good ole Huffington Post.
Seeing that I was new to the business and available for hire, they reached out about writing a few pieces for them and the rest has been history. I've written at three different sites for this client alone, one of which is a recurring writing gig for one of their sites.
Key Takeaway: Make sure you have a pretty signature that captures people's attention, folks!  You can land gigs this way. (Wisestamp is not free, but I snagged a deal through Sumo for a lifetime membership for $24).
Now the question you've all been asking — How Can You Find Freelance Writing Clients?
1) Learn everything you can about rates, niche topics, and presenting your work.
I took a course at the very beginning of my journey here at LAAB, but it wasn't as helpful in how to navigate the freelancing world. This course was only helpful on how to find freelance blogging work (which is a little different).
That's when Careful Cents was preparing to launch a new version of the Client Connection. I'd stalked Carrie's blog for years (way before I thought about being a personal finance blogger) and I knew homegirl was legit.
I wanted to learn what she was doing to bring in so many writing clients that she couldn't handle them all. That's why I enrolled in the Client Connection.
I'm not an affiliate of the Client Connection, but I can tell you this – without it, I wouldn't have a freelancing career.
Why?
Well, I followed her courses to the letter T!  Getting published in the Huffington Post? Client Connection course. Learning how to pitch that second client? Client Connection. Learning how to boost my productivity by using systems? Client Connection.
By becoming a paying member, you have access to ALL of her courses for a rate of $39.00 a month. So, even though I've landed only one client through the Client Connection, I've learned so much invaluable information that has helped me these past few months.
That reason alone is why I'm still a paying member.
2) Have your own self-hosted site.
Without my own self-hosted blog, I wouldn't have landed my third (and highest paying) client. Yes, I had my own portfolio, but my portfolio mainly consisted of content from my own blog at that point. (BTW, I use Contently to house my writing portfolio.)
Once I reached momentum with my own website and started interacting with other personal finance bloggers, I started doing a few guest posts.
I only had around four published guest posts at the time of landing my most lucrative client, so having LAAB and being published on the Huffington Post certainly provided an advantage.
---
Build your own freelance career using your very own website. It's the easiest way to build your brand, discover your voice, and make it easy for clients to see your work!  I've created a DETAILED tutorial to help you start a blog for cheap. Rates begin at $3.49 per month if you use this link. You will also receive a free website domain (your very own web address), a $15.00 value, for FREE if you purchase using my Bluehost link and purchase at least 12 months of web hosting. Being self-hosted is the business if you want to be legit in the writing world and take your business to the next level. My freelance business is doing alright if I say so myself;)
---
3) Invest in a good course from someone you trust.
When I began freelancing, there were two bloggers/freelancers that I would frequently visit for advice and tips on freelancing. Those two were Carrie Smith and Holly Johnson.
Since I've already bragged on Carrie, let's talk about Holly for a bit, shall we?
Holly is one of the highest paid freelancers in personal finance.  She runs clubthrifty.com with her husband, Greg.
Holly shared all of her secrets on how she lands freelance writing gigs, works with editors, and keep up her pace in her course,  Earn More Writing. Matter of fact, I interviewed Holly in this article if you care to read it!
This isn't a get rich quick course. You'll need some time to devote to taking it because it has 41 modules and the information spans a period of 7 weeks.
I'm all for taking courses if they are going to help you advance your freelancing career. While I didn't personally take Write to 1k, I feel comfortable recommending it for any of you who have no idea where to start and need information, like right now.  Check out the course information and see if it is the right fit for you.
And even if you can't afford to invest in a course right now, the information Holly and Carrie's websites provide will be enough to help you get started.
4) Interact with other freelancers and be good to your clients.
Interacting with other freelancers is a good thing!  They are not your competition! Other freelancers are who you want to know when you find yourself needing work, so do yourself a solid and make friends.
Freelancers often refer to other freelancers work. I've had one fellow freelancer introduce me to a client that she could no longer work for. Even though I decided not to work the gig, it pays to know that I'm building quality relationships with other writers who think highly of my work.
I, myself, have outsourced once to other freelancers when I found myself in an unbearable time crunch. The fact that I could email a fellow freelancer who happened to know another freelancer willing to take on the assignment really helped save my tail when I was backed up on work.
Last, make sure you're good to your clients!
You know that very first client I landed via Twitter? Well, even though I hadn't received work in months from this client, they reached out when they needed me again a few weeks ago. Then to top it off, they referred me to my fourth client!
5) But what about Elance, job boards, and all of that good stuff?
I hopped on those trains for a minute, but guess what? Nothing ever came of it.
Why?
They were paying pennies and I needed dollars. See I'm trying to pay off these student loans and I'm definitely confident in my skills.
When I first started, I set the minimum rate I would be willing to work for and I do not budge. If a client wants me to work for less than my minimum, either I negotiate the word count for the article down or we part ways.
For a few months, I searched job boards and places like Elance, but I never found any quality gigs that I was interested in pursuing. I know a few fellow writers/bloggers that have had a great deal of luck on job board sites, and that's awesome!
If it works, ain't no need in trying to fix something that ain't broke.
However, once I took Carrie's course on No More Job Boards, I learned that scouring job boards on a daily basis wasn't necessary to build a lucrative career.
Now, will I never look on job boards again?
Nah, I'm not saying that. I never say never, but for now, I think building LAAB and publishing on the Huffington Post is opening the door to some awesome opportunities.  Again, if it ain't broke.
6) Join some Facebook Groups.
The very first Facebook Group I joined was The Freelancer's Club (by Carrie Smith) (This group was unfortunately archived in October 2017). The interaction there is amazing and folks often share opportunities over there.
Carrie has some pretty strict rules about what can be posted or shared in the group, so rest assured you won't find any spam over there.
This group is where I found my editor and where I learn about a lot of happenings in the freelancing field.  
Also, join groups unrelated to freelance writing. I know, I know – why? Well, first you need to update your Facebook profile page and let people know you're a professional writer for hire and you have your own site.
When you interact with these groups, be very helpful!  If you're helpful enough, folks might just get curious and look at your bio and see that you're a writer. Keep an eye on your direct messages on FB filed under other because someone may be reaching out to you about work!
7) Other ways to find freelance writing clients
Below are some awesome posts on finding freelancing clients. They helped me and I have no doubt they will help you too.
There you have it. I've spilled all the knowledge I've learned to date and shared the ways I've landed freelance writing clients so far. My process will probably change in the future as I move forward, but this should be enough to help some of you get out of stuck and start acting on your hustle dreams.