I've been working on a free budget spreadsheet template for you all that will help you track your monthly expenses!
Initially, I went over to Fiverr with the grand idea of getting a kick-ass printable that will cover the majority of common household expenses. Needless to say, I'm out of $21.00.
The process and the lack of quality were very frustrating so I started messing around in Google Docs and created one myself.
Tracking your expenses is an extremely important step in getting your budget into shape!  If you're new to budgeting, this spreadsheet will be the groundwork for creating your new super-fabulous budget.
Grab the free spreadsheet here. Please click on file and make a copy to use the spreadsheet. Once you have your own copy of the spreadsheet, follow the directions outlined below.
How to Access Your Free Budget Spreadsheet Template
When you get the link to the free monthly budget template, here's how you will be able to use it. Simply go to File (see screenshot below) and click Make a Copy.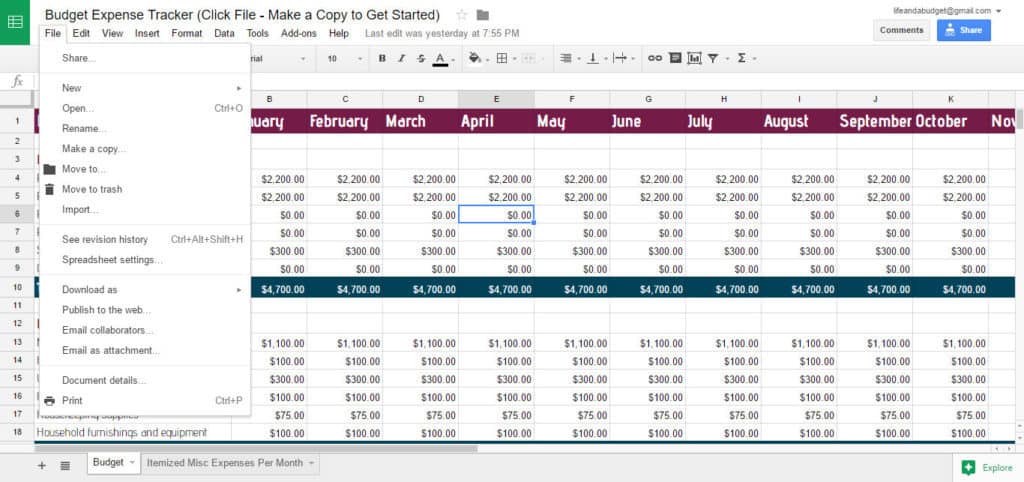 You have the option of making it available for use offline too! Click the green button in the upper left-hand corner (as shown above) to be taken out of the spreadsheet and you'll see the screen below.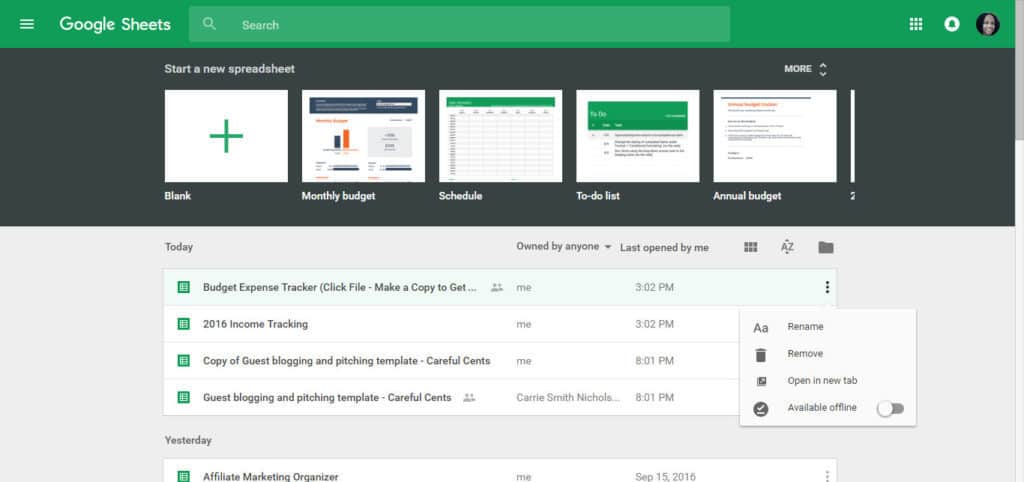 As you can see above, click on those three little dots on the right side of your document (your document will be labeled as a copy of the Budget Expense Tracker). Then you will click on Available Offline.
You can also Download this spreadsheet as an Excel (xlsx) document or a CSV document by clicking on File inside of the spreadsheet.
How to Use the Free Budget Spreadsheet Template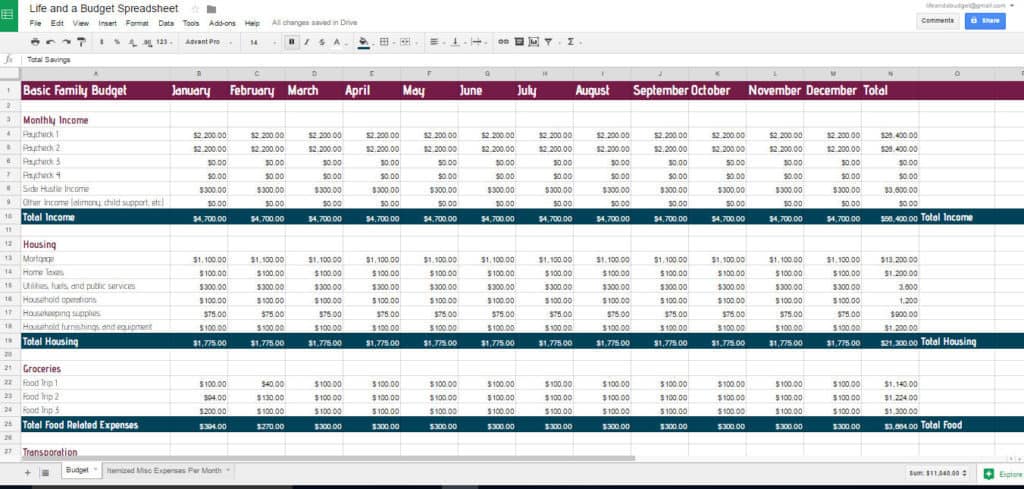 1. As you can see above, there are columns for each month and rows categorized for multiple expenses. The categories include income, housing, transportation, groceries, other (healthcare, personal care, gifts, etc), and savings.
Related Reading: 10 Sneaky Unexpected Expenses You're Forgetting to Budget For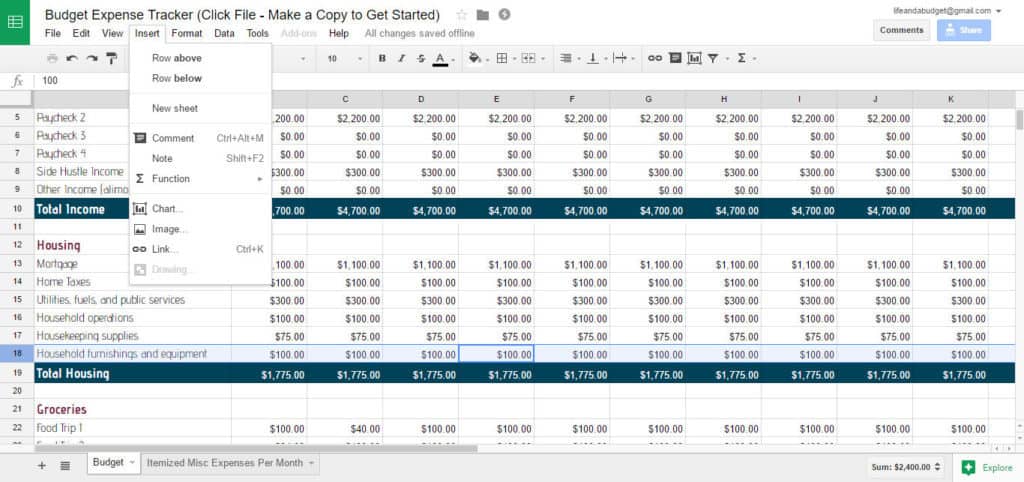 2. If you need to add rows to the spreadsheet, you can! Simply go to Insert and click on Row Above or Row Below (shown above).
3. At the very top of the spreadsheet, there are rows for your income. The numbers are already pre-filled; however, you can change these to reflect your income each month. All of your expenses will be subtracted from the income line.
4. At the bottom (shown above), is a row labeled End (Zero).  This number will equal zero after all of your expenses and savings are subtracted from your income.  This is better known as zero-budgeting.
Related Reading: How to Create a Budget That Won't Fail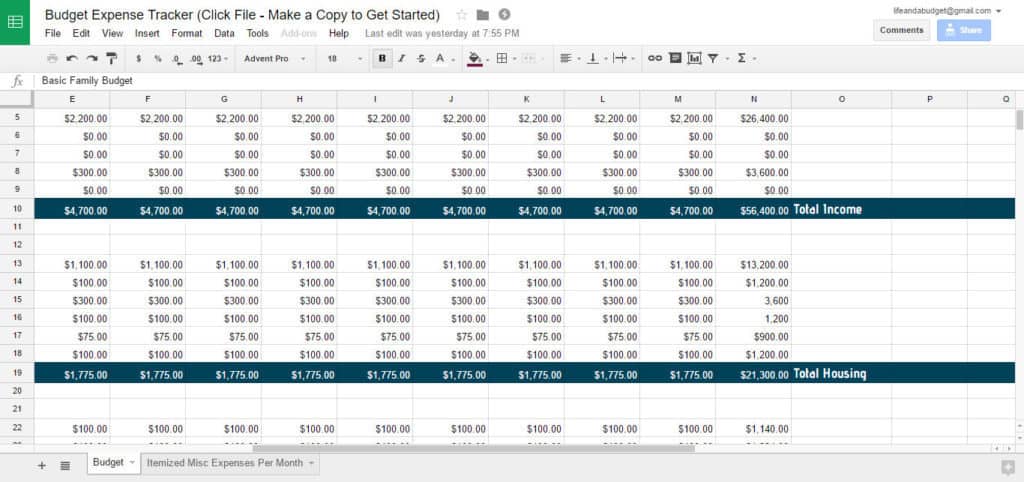 5. To the right of the spreadsheet, there is a column for each total category. This very last number will tell you your total income for the year, as well as total expenses in each category of the budget. Once you've filled in this spreadsheet for the year, you can simply make a copy for the next year and fill it in with next years numbers.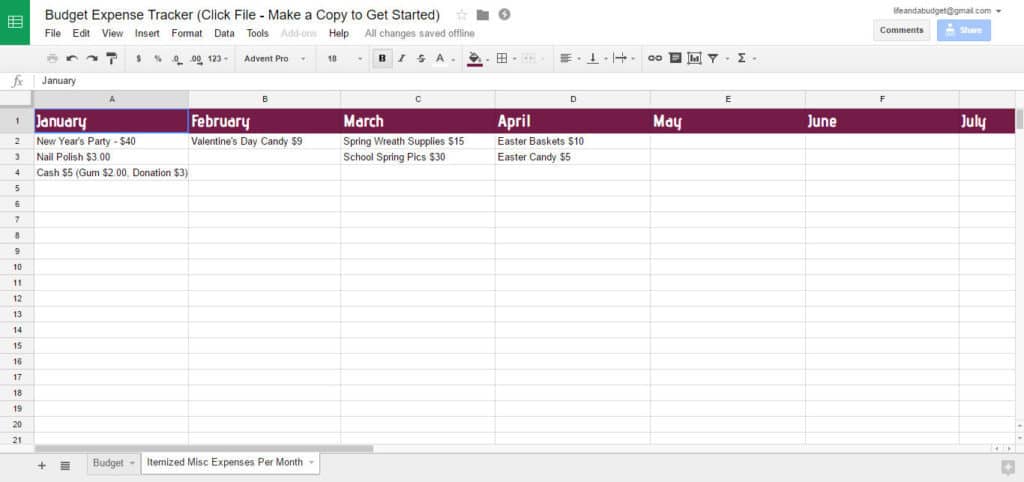 6.  At the bottom, you'll see a tab for Itemized Misc. Expenses Per Month (shown above). I created this tab so you could keep up with the Miscellaneous line (A44) under the other category. This can include cash purchases or any random thing that doesn't fit into an expense line in the budget created. For example, in April you may buy Easter candy. Since this is an out of the ordinary purchase, you will still be able to keep track of what you're spending throughout the year without adding a bunch of lines in the budget.
Wrapping Thangs Up
This budget spreadsheet template is very user-friendly!   Once you've put in the numbers, you're well on your way to building a strong foundation for your finances. Gather your statements, paystubs, and receipts and start plugging in those numbers so you can get your budget under control. As always, if you have any questions on how to use this free monthly budget spreadsheet, drop me a line in the comments below or email me at latoya at lifeandabudget dot com.
Do any of you use a budget spreadsheet? If not, try this one!