To support this website, this post may contain affiliate and/or referral links to products or services I recommend. See disclosure policy
here
.
Finally, 2016 is behind us and some of us are probably breathing a huge sigh of relief.
Regardless of whether 2016 was the best year of your life or you felt like you were living in the twilight zone, there's no better time than now to reflect on things you can do to make sure this year is the best year of your life (or at least better than the former).
There's no doubt about it, things will happen that's out of our control. None of us are immune to unexpected bouts of grief, sadness, etc.  However, we can control how we think about life and our approach to day-to-day living.
I've been doing a lot of reflecting these last few weeks to try to figure out exactly what I want this year to look like. I'm optimistic this will be an awesome year and I'm going to share some ways you can approach this year so you can have one too.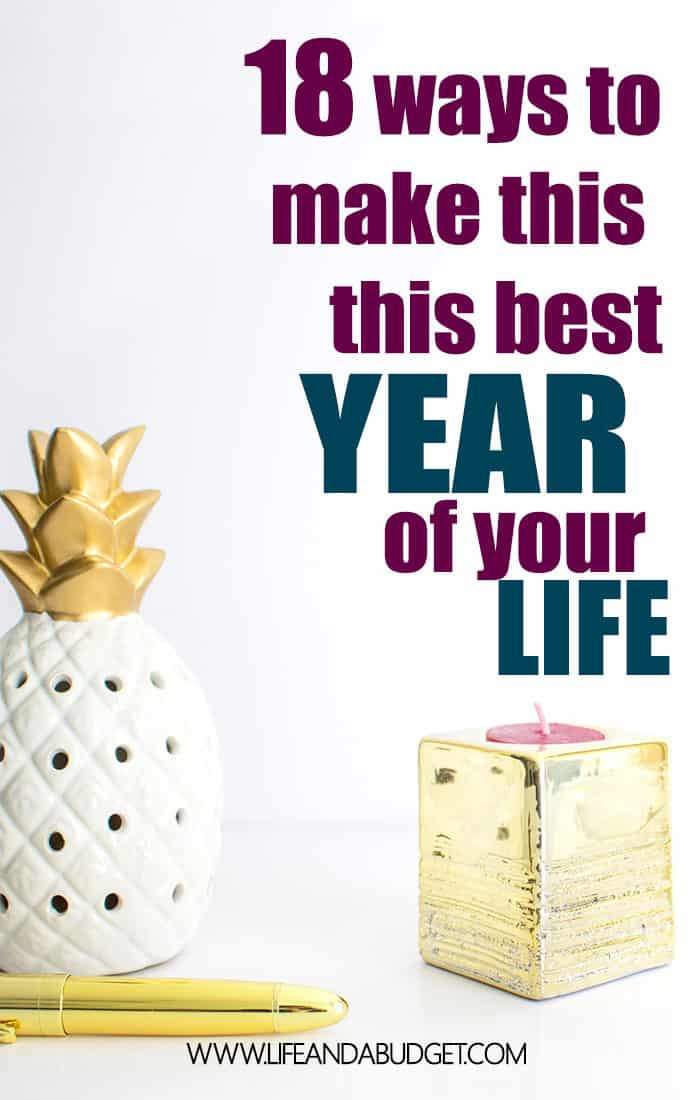 18 Ways You Can Make This The Best Year of Your Life
1) Use your brain to think, not to remember things.
I don't know where I saw the saying above, but it was like a lightbulb moment for me.  Mainly because I try to remember a lot of stuff and lately it seems the days are slipping past me. My days were unstructured and I really didn't know whether I was coming or going.
Last month my daughter told me she wanted to take mittens, hats, and scarves to school for less fortunate kids. I told her "okay," and then my memory (or lack thereof) took over. I forgot, of course, and I had a very upset child on my hands who was depending on mommy to help her be more giving during the holidays.
I felt like crap and decided that trying to rely on my memory or a calendar reminder on my phone wasn't good enough. It was time to invest in a good paper planner that would help me stay on top of bills, school activities, doctor's appointments and such.
I read about The Happy Planner and I'd followed someone on Instagram who regularly posted about it last year.  I figured this planner would be a good way to stay on top of things and make sure I'm using my brain for thinking only.
2. Be grateful for what you do have.
I know many of you come here for financial advice and you're looking for ways to get out of debt and such. But can we take a moment to be thankful for what we do have for a moment?
I mean, if you're reading this right now, you have access to the internet or you're using your phone to read this site. You have access to the outside world, that's something to be thankful for.
If you have food in the house that's something to be grateful for even if it's not steak and potatoes.
We may not be debt free, we may not have a full-sized emergency fund yet, and we may not be retiring from work this year, but there is plenty that we do have.
No matter how big or small you consider your blessings, just be grateful for the life you have now as you work your way towards the life you want.
3. Be more intentional with your money.
To be more intentional with your money, you are going to have to create a budget. I've been working on improving our budget these past few weeks and it's the perfect time for you to do so too.
I've started playing around with the You Need A Budget app to help me keep track of our money.
It's really eye-opening because I'm not used to budgeting the way that the app does it, but I'm going to keep going because I'm learning new things about our spending habits and hopefully that will help me come up with ways we can save even more money.
Really it doesn't matter how you do your budget. You can do it the old fashion way with pen and paper. Or you can use this budgeting spreadsheet to help you figure things out.
Just make sure you make a plan for each and every dollar you earn so you can live the life you want to live instead of living to work and pay bills.
Related Reading: Be More Intentional, How to Have a Life and a Budget
4. Practice the art of self-care.
Don't take care of everyone else and end up forgetting about you. Aim to perform an act of self-care every single day.
For me it can be something as simple as taking a shower with my favorite soap, sipping a cup of tea when the kids go to bed, or hell — taking a nap!
It doesn't have to be expensive. You don't have to get a mani and pedi every day to pamper yourself and if you feel like splurging a little, there's always Groupon spa deals!
5. Say I love you more.
Growing up we never said I love you. If we did, it must have been a pretty special moment because that just wasn't an endearment we used with one another for some strange reason.  We weren't huggers either.
Now that I'm older and know how important it is to make sure the people in your lives feel loved (not just know their loved) I make an extra effort to tell my little people and my husband I love them.
Never take the people in your life for granted and make sure you always tell them you love them. They already know, but it's important for them to hear it too.
6. Stop avoiding Sallie, Navient, and 'Nem
I know you want those student loans to go away. Lord knows I can relate to the struggle – I'm in the same situation too.
It's not cute or fun owing more in student loans than you make in a year. But unfortunately, there's nothing we can do about it besides making payments until it's all gone.
There's no need in running or hiding from the loan people. You just need a plan to help you get rid of those pesky suckers.
7. Build your credit responsibly
If you want to purchase a home in the future, you're probably going to need a mortgage. To obtain the best interest rates, you have to have good credit.
If you're reluctant to build your credit because you think you need a credit card, luckily there are ways you can build your credit without them.
Here's more info on building your credit without a credit card and the icing on the cake is you can save at the same time.
8. Quit with the excuses.
If you want to start doing something, stop thinking of all the reasons you can't do it and just do it already.  (I may or may not be talking to myself…)
It doesn't matter if it's something as simple as moving more during the day, fixing your kids lunches on the weekend, or establishing better eating habits. Just create a plan and get with it.
I got sick of excuses a long time ago and this forced me to get off the sidelines and finally start this blog and launch my freelance writing side hustle. I'm glad I stopped procrastinating because it helped me bring in more than enough extra coins last year.
9. Start a blog.
Speaking of blogging and side hustling, are you waiting for the perfect opportunity to start?
Well, I'm here to tell you there isn't a perfect time.  Things will happen no matter how much you plan!
October 2015 was not a perfect time for me to start this blog.  My son was four months old and I had just started working again after my three-month maternity leave.
Was it hard?  Hell yes!
But I got over the excuses and started putting in the work I needed so I could work my way out of debt. I want better for my kids and excuses aren't going to help me.
Besides, starting a blog is very affordable these days, which is ultimately the reason I went with Bluehost. Packages start at $3.95 per month and you get a free domain name too.
If you are interested in starting your own blog, just go for it! I have a free 5-day e-course that will teach you everything you need to get started or you can jump right in and follow this easy tutorial to start blogging today.
10. Side hustle for more money.
There are so many ways to make more money. If you're in debt or you're struggling to save while living paycheck to paycheck, explore other ways of making money.
I have quite a few ideas I would like to incorporate this year to help me earn more money. Many of those ideas are listed in this post, 80+ Ways to Earn More Money.
Check out the list and see if there is something on there you can do to earn additional money. When your bank account is fatter and those bill collectors stop calling, you'll be glad you did!
Related Reading: How to Sell on Amazon: A Beginners Guide to Getting Started
11. Join a savings challenge.
I always encourage simple and practical methods to save and my favorite way to save is by automating. I love automating savings because it's like I never miss paying a bill to myself.
Think about it…
The bill collectors get their bills on time every month. What's the use in paying everyone else and still being broke?
I mean, weren't you the one out there working your butt off?  So, stop paying everyone but yourself and join this free automatic savings challenge.
By the end of this year, you will have a nice little side of cash put aside and one step closer to the financial freedom all of us are craving.
12. Plan to give.
I know Christmas is a few weeks behind us, but just remember it's 51 weeks or so in front of us too.
Make sure you're planning to give to others throughout the year to make this year truly something to remember.
It doesn't matter who you're giving to either. Whether it's for charity or for loved ones, it's much more meaningful and significant to give someone something if you don't have to create debt to do so.
So when you're making your budget this year, put aside some of your cash into a separate savings fund to make sure you're financially prepared to give to others.
13. Work on eliminating one bad habit a month.
I have quite a few I need to start working on and I'm sure you do too.
If you have a few bad habits, focus on dealing with one at a time. They (and I don't really know who they are, but just go with it) say it takes 21 days to get rid of a bad habit.
Since that's the case, stick with eliminating one bad habit per month. I'm going to start with stress eating, stress snacking, or whatever you wanna call it.
14. Live more frugally.
Being frugal has a bad rep for some, but bad rep or not, it's something that more people are embracing.
Frugal people have found it necessary to be more purposeful in their everyday spending so they can do more of what they want and less of what they don't want to do. Call it cheap if you wanna, but they are smart.
By spending less money on little things that aren't really important (for instance, toilet paper and such), they spend money on things that do matter that will actually help them save more money in the long run.
This allows them to afford a lifestyle many want to live, but one that few actually achieve. So before you write off frugality, check out this post, 70+ Ways to Be More Frugal.
15. Stop feeling obligated to deal with folks you just don't like. (AKA cut folks off.)
This one presents its own set of challenges; however, I've gotten old enough to not care!  For so long I've felt obligated to deal with some people just because they are family.
Family or not, if you're a negative, nay-saying, attacking (physically, spiritually, and mentally) people kinda person, I'm just not going to deal with you.
I don't have time for the shenanigans. I need people in my life that are going to uplift and encourage others. I'm looking for folks that are trying to go places and not bring other people down to their own state of misery.
I've tried for so long to be that person who encourages others who are negative, trying to help them see the positive. But ultimately I ended up in the dumps right along with them.
Sometimes you just have to know when to let go, pray, and let God do his thang.
16. Smile when you're angry or sad.
As weird as it sounds, this helps me a lot. I can be straight heated about something but if I smile, it immediately changes my mood. Sometimes it even makes me laugh (I know that may make me appear a little crazy, but hey…Kanye shrugs).
17. Laugh more.
This leads to my next point — laugh more.
I don't know about anyone else, but I don't want to spend the year crying over stuff that doesn't add or take away anything from life.
Of course, there's a time to cry, but best believe if there is a moment to get a good chuckle, I'm going with the chuckle to maintain my sanity.
18. Treat your body like a temple.
What you put into your body affects more than just your health. It can greatly affect your finances too.
Just this past weekend I went to urgent care twice. I'd gotten pretty slack about my eating and exercise habits and it's starting to show.
You only get one body and it's hard to fix it once it starts to break down. I'm not going to sit around and wait for that to happen.
It's time to get my stuff together and start treating my body like a temple. If not, my bank account is going to suffer and that will keep me further away from my goals of being self-employed and debt-free.
Your health and your finances go hand in hand. Don't neglect one at the expense of another.
Wrapping Thangs Up
Now this list isn't all-inclusive, of course, but I'm certain these 18 ways can contribute to a pretty darned good year if you ask me.
I know I'll be putting in the necessary effort to make sure I'm hitting all of these points because I want to make this one of my best years yet.
If you want to make this the best year of your life, I'd encourage you to take up some of these too because time is ticking. You have twelve new chapters to write this year, so write it well.
What are you going to focus on to make this the best year yet? Chime in below.