To support this website, this post may contain affiliate and/or referral links to products or services I recommend. See disclosure policy
here
.
Once upon a time, I filed bankruptcy. I could end the story there with no explanation whatsoever, but since I'm in the business of inspiring people to make radical changes and thangs, I'll share my story. Put your feet up, this is something you'll probably want to hear since you come here for personal finance inspiration and all.
Terrible Lesson #1: Credit cards are how you get your wants.
The road  to jacking up my credit score began long before I obtained my first credit card. The seeds were planted at an early age — if you want it, get some credit. My family didn't save. Matter of fact, I can honestly say I never experienced anyone in my entire family (extended included) save up for any big purchases. All I heard about was loans and credit card balances.
My grandmother didn't own a home or save up any significant funds for retirement. She eventually ended up living off of SSI (Supplemental Security Income). My mommy brought me anything my little heart desired and many times if she couldn't afford something I wanted, my granny was always there to lend a department store card. Just about all of the designer brand clothes and shoes I wanted were financed and that violin I demanded to play in the 5th grade — yeah, that was a rental.  
This is pretty much how monetary situations were handled growing up. A credit card got you what you wanted and the paycheck was just enough to keep the lights on and food in your stomach. Plastic was the financial boat we rocked in — that's until the card was maxed out and it was discreetly hidden in the back of a no longer used designer wallet.
Terrible Lesson #2: Jobs were for minimum payments.
I did know that in order to handle all of those responsibilities that came with credit, I would need a job to at least make the minimum payments — at least, that's what I'd observed. So as soon as I turned 16, I got myself a j-o-b. I worked through high school — saving nothing and wanting everything. Once I went to college, it didn't take but a couple of weeks before I applied for my very own piece of plastic.
Let me tell you this — a credit card with a $500 credit limit is like ten G's to a broke and very stupid college student. This was in 2002 when getting credit cards without any income was as easy as registering to vote. You simply gave them your info and signed your freedom away. The ease of obtaining credit, no job, and a bad history of depression was definitely a formula for financial ruin, but at the time, I just couldn't see it coming.
I financed as many fantasies as I could with that first $500 credit card. When I hit the limit, I just went out and got another one. And another one. I repeated this process 27 times. Yes, 27 accounts!  I had them all — a Victoria's Secret card, a Capital One, Target, Walmart,  a tire shop. You name it, I probably had it. Whenever anything went wrong in my life, I'd just find a credit card to put a band-aid on the burden and carry on as if I'd have the means to fix it one day.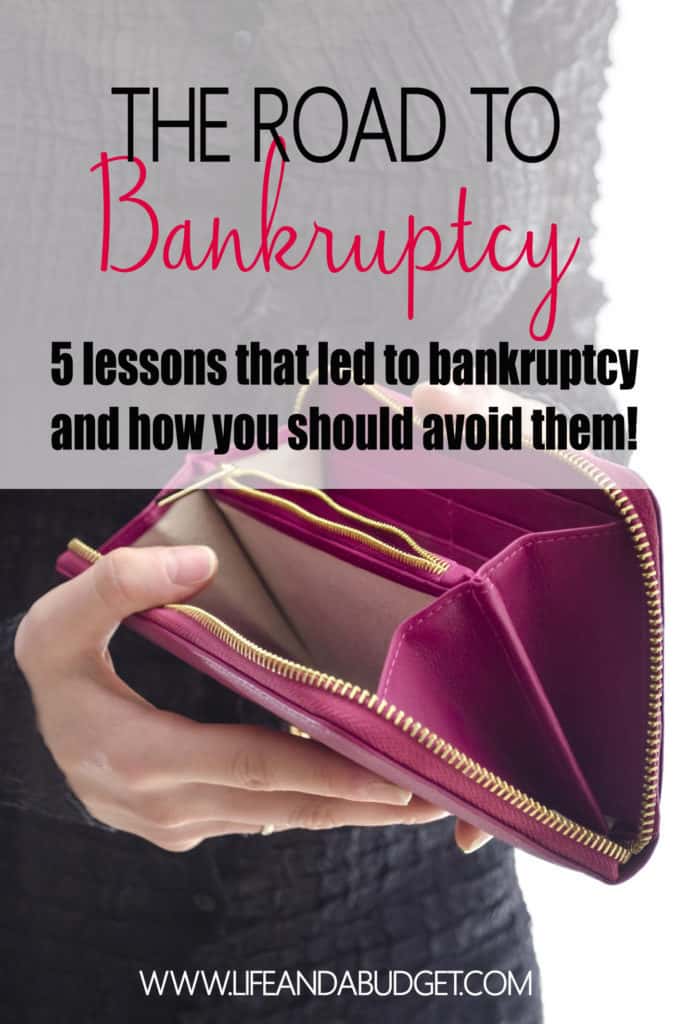 Terrible Lesson #3: You can fix it later.
Well, that fix-it day never came. I hit my lowest point in 2007. Five years after heading off to college, I was emotionally spent. I could no longer finance anything because no one was stupid enough to support my habits anymore. My depressive episodes were still unmanaged, and my spending habits were broke. My financial goals didn't exist and I had no idea of what I wanted to do with my future besides being free from the burden I'd created for myself.
Unfortunately, during this time of my life, I didn't know the right solution to repair the damage I'd caused. At the time, I'd heard of debt consolidation — hell, I couldn't even afford the payments using that as a solution. I could barely cover my rent and car note. I was still dependent on my mom and she was covering my car insurance and cell phone bill.
Even after I landed my first decent paying job out of college (whom I'm still employed with), my mom was still paying my car insurance. I guess she felt some sort of obligation because she was a co-signer on about 5 of those 27 cards I mentioned above. She'd fed the monster and I gladly gobbled up all of the enabling (Oh and let me be clear for any potential trolls: I do not blame anyone, especially not my mama, for my decision to file bankruptcy. We both acknowledge the fact that she encourages my spending habits — it's our thing, you know). I distinctly remember my mom telling me after I got engaged that she was glad I was getting married because now my husband could pay my insurance and phone bill. I laughed then, but today it really hits home just how bad my finances were.
Terrible Lesson #4: Just file bankruptcy.
In 2007, I was madly in love with my now-husband and I was determined not to move back to my hometown to just to save money. Like I said before, I was struggling to swim and my income was just a life jacket. Hustling hadn't even crossed my  24-year-old mind. I honestly thought hustlers were those shady folks who always seemed to have DVD's, TV's, or fly sneakers for sale on the low. The concept of online hustling wasn't on my radar yet. So, naturally, I did something I'd witnessed adults do when I was growing up — I filed Chapter 7 Bankruptcy.
In 2008 when my bankruptcy was final, I stood outside the courthouse with those documents in hand and knew that I couldn't travel down this road again. I needed to change some habits, deal with some issues, and work towards making a change in my life. I'd accumulated $94,796 in debt and I was only 24-years-old!  At the time, this included $51, 376 of student loans (I wish like hell I could get that balance back vs what I have now), $36,420 of credit card debt, and $1,460 of medical debt. The $7,000 auto loan I was allowed to keep as a part of my bankruptcy agreement.
After this tumultuous journey, you'd think I would be ready to wipe out the remainder of my debt and clean my act up, right? Nah — wasn't the case. Even though I promised myself I would do better, I still had more learning to do. Filing bankruptcy only eliminated those minimum credit card payments that I couldn't afford on my current budget. It did nothing for those student loan payments.
Terrible Lesson #5: Finance grad school so you can avoid paying Sallie!
Since I was still financially stretched and still relying on my mama to pay some of  my bills, poor little Sallie Mae couldn't convince me that I could get blood from a turnip (y'all will have to excuse the analogy — I'm as southern as they come).  I had to put my student loans in economic hardship deferment. After a year of steady employment and a 3 percent raise — of course, Sallie started knocking on my door again. I decided to make another stupid financial decision by going back to school and financing the entire bill. I figured I could get my MBA, have my job reimburse me for a portion of the tuition (none of which I did the responsible thing with), and avoid student loan payments at the same time. I thought I was winning.
But no, I was totally losing. I earned myself an MBA and another $40,000 in student loans.   
It wasn't until I got engaged that I decided I might want to finally get serious about getting my finances together. My darling husband had no credit, never spent money, owned his car outright, and had no student loans. He basically had a clean slate and here I was bringing a bunch of financial dysfunction into the picture. I'm lucky he loved me enough to get to the point I'm at today. You can definitely say he's a keeper.
Finally, the turning point!
As you very well know, I've grown a lot since my mid 20's. Getting married and becoming responsible for little people tends to change some folks. I'm glad it changed me. I didn't share this tale with you just to put my business out here in these streets. I did this because many of you might need a gentle reminder that sometimes folks get their money common sense at different points in their life.
Some of you may feel like you're in no position to repair your finances. You may damn well feel like giving up. You don't understand anything about money, you neglect bills, you ignore bill collectors. I completely understand because I've walked 3,484 miles in those very shoes you're wearing! Just because you're walking in those dogged out mules doesn't mean you can't graduate to better fitting shoes in the future. Heck, I did!  
Some of you may say, "Well, you took the easy way out. You filed bankruptcy."
It doesn't matter when or how that point of clarity comes for your managing finances. All that matters is you get there. I filed bankruptcy, so what?  There are many people who have done a lot worst than asking the court to fix their financial woes. Unfortunately, people take their lives and lives of others over debt. Some people never learn their lesson and spend their entire lives repeating financial mistakes. Others drag themselves out of their deep hole and decide to share their experiences with others so someone else may avoid taking a less than desirable path. If you were able to clean up your act without bankruptcy, I commend you. However, for some, bankruptcy is their best option.
Financial literacy shouldn't be something you learn about later in life. It's something that should be taught at a very early age. Unfortunately, many parents don't have the resources or the knowledge to equip their kids to make sound financial decision. Others know, but consider the topic of money to be taboo. If I'd known about alternatives, I probably would have sought them. If I'd had the common sense of my 31-year-old self, I definitely would have chosen the hustle over the court mandate.
But I didn't and now I am here. A Chapter 7 bankruptcy on my credit report and $79,000 remaining in student loan debt. This doesn't include my mortgage. Wait a minute — a mortgage? Yes honey, a mortgage! I made a comeback with my credit which allowed me and my spouse to purchase our first home. My finances are in much better shape than they were before I got married. Don't worry,  I'm going to share with you how I recovered from bankruptcy and rebuilt my credit next week. If you've faced the same situation, I'm here to let you know that there's life after bankruptcy. You should definitely stay tuned.
Until next time, let's chat it up. What are your biggest financial regrets?
Read part 2 here: Becoming Creditworthy After Bankruptcy