Get Out of Debt Tips You Absolutely Need to Know!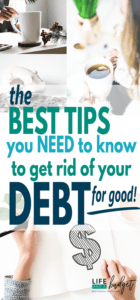 Sometimes debt can feel like a deranged ex who refuses to let you go. No matter how far you think you've moved ahead, you get monthly, weekly, and sometimes daily reminders that your past decisions aren't so far removed.
There are times when I feel super proud of myself for the financial progress I've made. Then there are other times where all I can see is how much further I have to go. Many of you can relate.
It's no secret that there are millions of us out here with these ex-financial decisions lurking over our shoulder. And all of the news articles about how you should be getting out of debt or how millennials are doomed financially won't make you feel any better.
For that reason, I've concluded that those of us who are still being stalked by our debt could use a little encouragement. Not the typical get out of debt tips you may be used to receiving, but some tips that might actually encourage you to approach your debt with a little more ease and less hesitation.
Sometimes all you need is a different perspective to help you realize there is a way out of no way. You just have to go looking for it and that's exactly what I did.
I wanted to share with you advice from folks who aren't spouting off the same ole, same ole. You know — create a budget, list your debts, etc. Now, do keep in mind — those are solid pieces of advice! It's just that sometimes you need just a little more to push you over the edge and that's exactly what I'm presenting to you.
Here are some of the best get out of debt tips you need to know. If you're really serious about getting rid of debt for good, read!  It might be life-changing for you.
The Problem With Your Problem With the "Get out of Debt Quick" Stories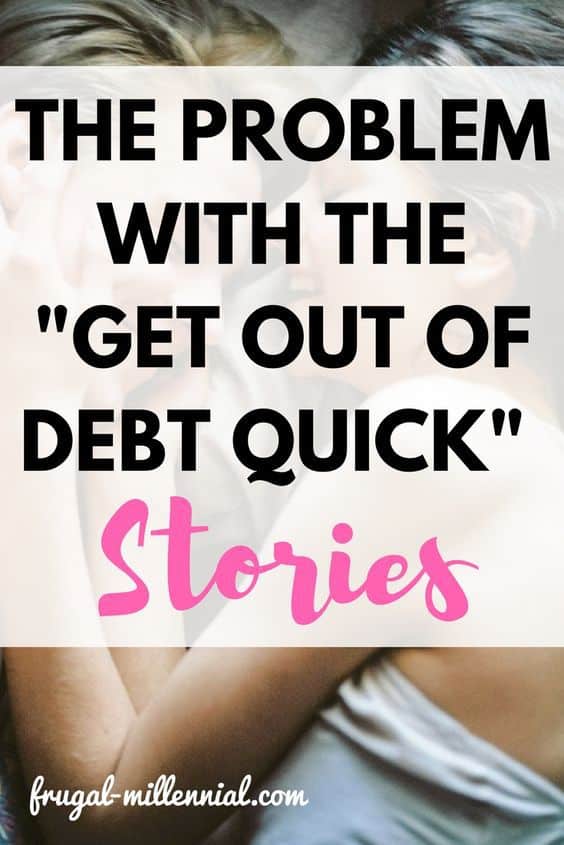 This article is first up on the list because there are a lot of folks living in hater nation. I see it all the time in comments on social media. I hear it from folks I know too.
Honestly, it's a shame because folks are out here proving to you that you don't have to live shackled to debt and all some can do is hate.
And I know what you're thinking. How does this qualify as one of the best get out of debt tips that you absolutely need to know? Stick with me…
See, don't let the title fool you.
There is definitely a problem with folks having a problem with people paying off their debt! It doesn't matter if they paid off $3,000 in 6 months or $100,000 in one year. Folks will still find a reason to hate instead of considering the real reason these debt repayment stories are written in the first place.
They aren't written to brag or make you feel bad about your debt. Quite the contrary. But let me hush. I'm not going to give it away. The article addresses all of this and it's actually quite encouraging if you're open to receiving the message.
The message clearly isn't going to be that you should just give up on paying off your debt because you will never be like one of those people who actually took action.
See how the "tip" of getting over your problem of other's debt success stories can actually help you get out of debt. Read it over on Frugal-Millennial.
The Secret to Paying Off Your Debt Faster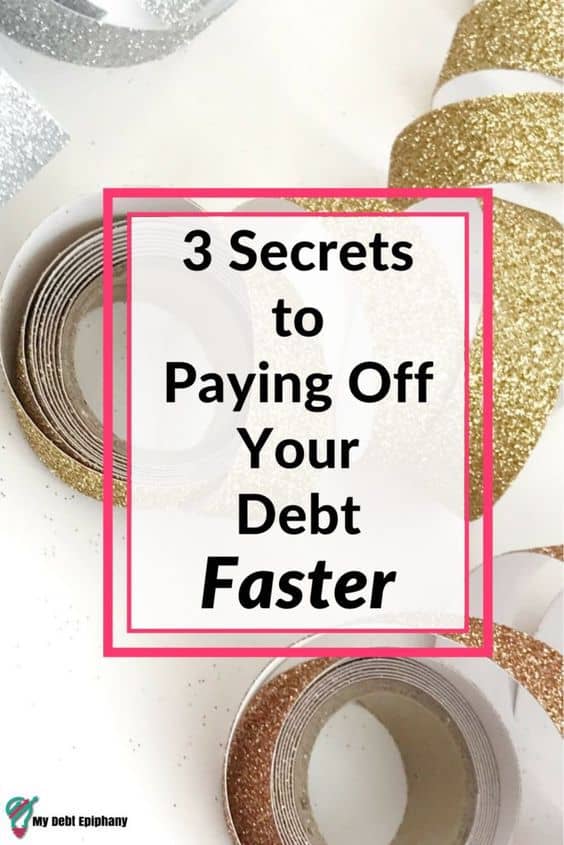 Next up is an article from someone who's actually done it. She has worked like crazy and actually paid off debt $30,000 in student loan debt
Again, you're not going to get the typical get out of debt tips you're used to seeing. There are some gems in here. The one that stands out most is that paying off debt quickly doesn't start with money.
And you probably thought it did, huh?
Well, I agree wholeheartedly that paying off your debt quickly doesn't have anything to do with making more money
These 3 secrets aren't widely accepted by many and it's probably why so many of us are in debt. Read these secrets over on My Debt Epiphany.
A Third Debt Payoff Strategy That No One Is Talking About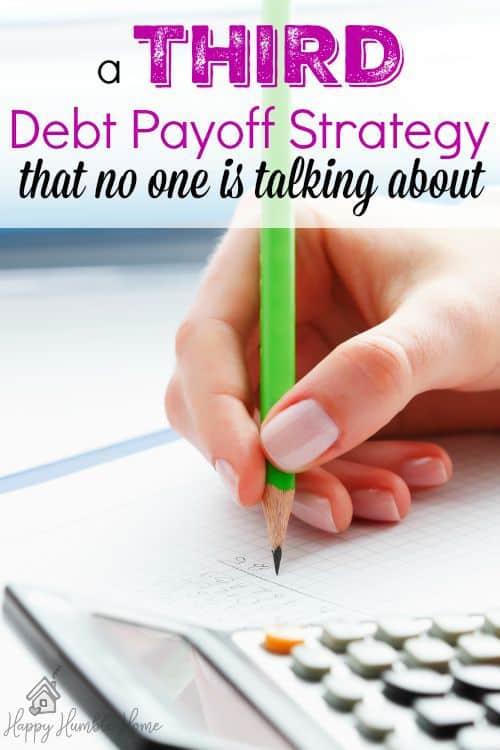 I truly enjoyed reading this and I'm so happy I found it when I did. Again, not your typical get out of debt tips. Matter of fact, you probably haven't even heard about it.
Even though I've never read this advice or even considered it as a personal finance educator, I'll admit that it actually makes sense. Like seriously,  it personally makes sense for my own personal finances when I gave it some careful consideration.
I figured if it could help me, it could definitely help so many others if they simply heard about it. Sometimes doing what everyone else is doing just doesn't work for you and that's okay.
Consider going against the grain with this very simple third strategy that no one is really talking about. Read exactly what that strategy is over at Happy Humble Home.
The Mind Trick I Used to Cure My Credit Card Debt
Here's another good one! It's amazing how something so simple can help you get out of debt faster. More importantly, how something so simple can help you stay out of debt!
I won't give it away. This simple hack is really powerful and it may just be life-changing for you! Read over on Money Can Buy Me Happiness, one of the best get out of debt tips in the bunch.
The Secret Weapon in Your Debt Payoff Arsenal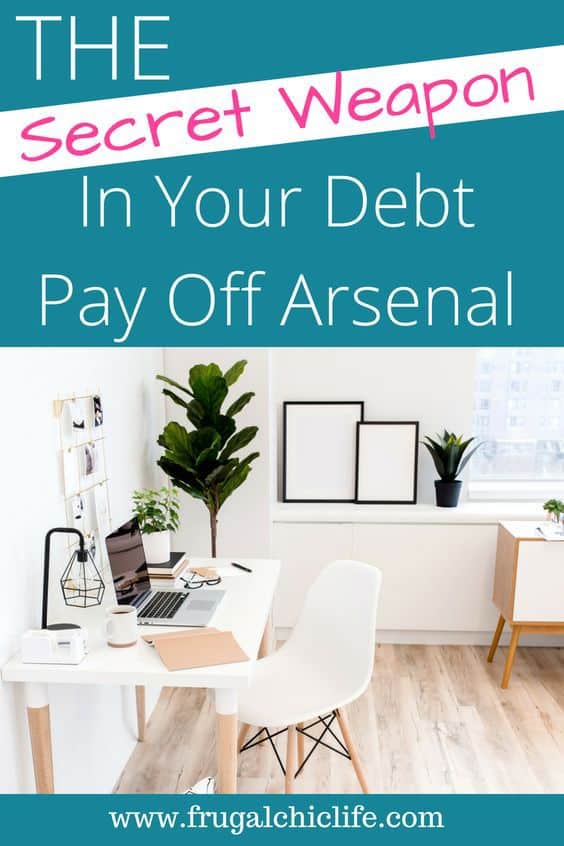 Some of you may have heard of this secret weapon to paying off debt. You've certainly heard about it here on Life and a Budget if you're a long-time reader. However, there are still a lot of people who haven't caught on yet.
They think working a 9 to 5 is the only one way to get out of debt. Yes, that strategy will work but millennials are marching to a different drum. And it's that rhythm that's helping them get out of debt faster than ever.
Some get out of debt tips can sound redundant, but I can certainly assure you that this one is not. If you're not hip to it, you certainly need to be. Read about this tip over on Frugal Chic Life.
Side Note: Nicole from Frugal Chic Life has been featured here on LAAB before. Check out how she and 6 other women got their spouses on board to pay off ALL their debt.
The Definitive Guide To Getting Out Of Debt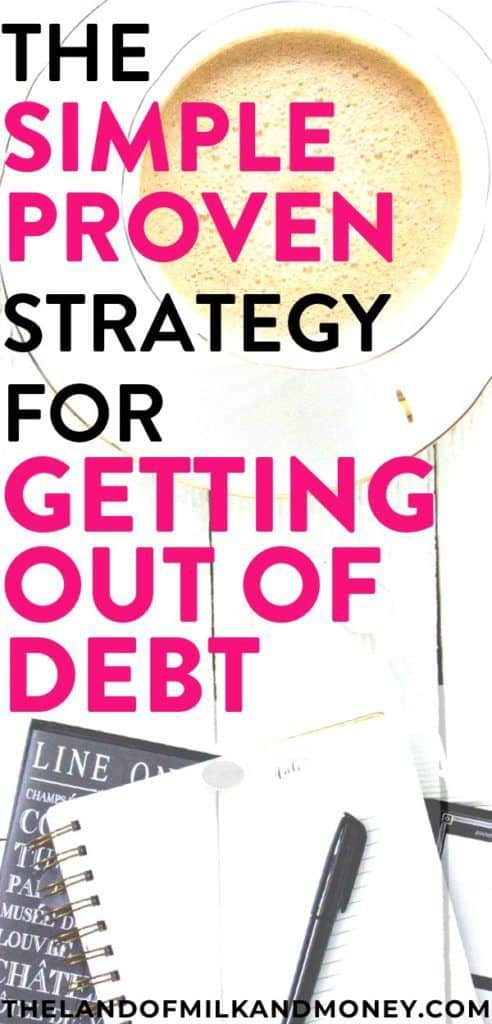 Last, but not in any way least, I wanted to share with you one of best get out of debt guides.
The best thing about this article is that it calls out debt for what it is. That's exactly why it made this list of the best get out of debt tips you should absolutely know.
Debt isn't normal and nor should we accept it as such. You'll read about how you can overcome this way of thinking and exactly what you need to do to overcome your debt. Read over at The Land of Milk and Money.
Wrapping Thangs Up
Getting out of debt isn't easy, but living with it isn't fun either. Like I said, it's time to get rid of all those ex-financial decisions. Let's live life truly how we're called to live it.
I know one day I'll be debt free. These get out of debt tips certainly encouraged me as I travel on this financial journey of mine. My hope is that all of these articles do the same for you.