How You and Your Family Can Eat Healthy on a Budget
Eat healthy on a budget? For $100? And 4 people?
Yes, it's possible.
Last year, I made a life-changing decision to begin eating a vegan diet. It wasn't my plan to make my family adopt this diet as well until my research (aka nerdiness) led me down a rabbit hole.
I learned entirely too much about the meat and dairy industry and while I tried my best to continue preparing the SAD (Standard American Diet) for my family, I became repulsed at the sight of meat. Especially raw meat. I also began to feel guilty about serving my family food I knew I wouldn't eat myself.
Once this happened, I knew I had to figure out a way to get my family on board with a plant-based/vegan way of eating. My initial attempts included learning all the ways to recreate some of their favorites without using meat or dairy. I learned how to make some bomb macaroni, dairy-free of course. I also learned about all of the meat substitutes that I'd seen many vegans rave about.
My plan worked like a charm. I managed to get them on board by trying a lot of different recipes and I always did my best to make sure everything tasted really good. However, there was just one little problem. My grocery budget was getting ridiculously out of hand. Despite what I knew to be true — that a plant-based diet was cheaper — I couldn't seem to get that to manifest in my new reality.
Related Reading: Ibotta Review – Save and Make Money This App
The bulk of our grocery budget was going towards:
Vegan "chicken" strips for the kids…
Tempeh for the hubby (he really liked when I cooked it with bbq sauce)…
All the organic fruits and veggies…(we ate more fruits and veggies, so we were still spending more on the "dirty dozen" even if we were buying them in season)
All the special spices, alternative flours, and sugars…
For a family of four, one month I spent close to $700! I was appalled, to say the least! I knew this wasn't sustainable because I was no longer bringing in a 9 to 5 paycheck. Therefore, I had to figure out a way to eat vegan on a budget and I needed to do it quickly.
Luckily, after much trial and error, I managed to hit my stride of feeding our family healthy, vegan meals for approximately $100 per week.
I managed to maintain a $100 grocery budget long before deciding to go vegan. Therefore, regardless of whether you decide to just eat a healthier or adopt a vegan diet — I can assure you that ANY diet can be done on a budget. Let's get into how you can eat healthy on a budget.
Related Reading: 15 Insanely Delicious Midweek Meals on a Budget
Side Note: Need help planning your meals? I tried $5 Meal Plan for a few months prior to my vegan journey. I must say it was the best thing ever having all of my meals for the week and my grocery list sent directly to my email for the week. And the best thing is that it cost me $5 per month for the service. They have gluten free and vegetarian meal plans too. Fingers crossed they will add a vegan meal plan soon. Sign up for a free 14-day trial and see if $5 Meal Plan helps you.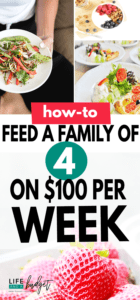 How We Eat Healthy on a Budget – $100 per Week for a Family of 4!
Rethink protein
This is one area where I get a lot of questions from "concerned" family and friends. And the reason I say "concerned" is because no one batted an eye when I was feeding my kids McDonalds, Chic-Fil-A, or Zaxby's. Yet when I go vegan there's a concern about protein [insert eyeroll].
Where was all the concern about fat and salt content when we were living it up in the drive-thru? Anywho…like I said, protein is something I asked about a lot.
To answer that question, I always ask them where they think cows and gorillas get their protein from? These animals clearly are getting their protein from somewhere and they don't eat meat.
They get their protein from plants because, duh, plants have protein! And they have plenty of it. I'll admit, it was crazy for me when I learned that things like peas, rice, spinach, and many others, had protein in them.
When you eat a plant-based diet, you can't eat the little standard side-portions of fruits and vegetables you would normally eat on a SAD diet. We now eat twice as many fruits and veggies.
If you eat enough, you will be satiated and that can certainly be attributed to the fact that you are getting more than enough protein in your diet. So, our protein comes from loading up on veggies, especially the green leafy kind. We also get our fair share of lentils and beans too.
Related Reading: 22 Meatless Meals on a Budget (That You'll Actually Enjoy!)
Everything doesn't have to be organic
This is something I struggled with because of all the research (nerdiness) I was doing at the beginning of my journey. Since I was consuming more fruits and veggies, I didn't want to increase my exposure more pesticides.
Memorizing the entire dirty dozen list can be a hassle, but it's pretty simple if you just remember to buy organic anything that doesn't have outside protection. For instance, you should definitely try to get organic grapes because they don't have any protection. However, who the heck needs an organic melon? (Do they even have those?)
Make things yourself
It was easy to get out of hand with all the vegan substitutes on the market. Things like vegan cheese, vegan burgers, vegan pulled bbq (made using this amazing, but expensive fruit called jackfruit). All of it sounds good until you see how much you're spending on groceries at the end of the month.
I quickly learned how to make a lot of the so-called vegan "substitutes." For example, if you want vegan lasagna, there are plenty of recipes out there that show you how to make your own "ricotta cheese." And trust me, it tastes way better than the ones they sell in the grocery store.
Here is a recipe for a vegan lasagna recipe I thoroughly enjoy (I leave out some of the veggies and the veggie burger patties for simplicity sake).
Another thing I like to make rather than purchase are vegan patties for burgers. Aldi does a great job with their vegan patties and meatballs, but the ones I make from scratch taste really good and they are cheaper.
Here's a great recipe I use for a vegan pattie made from sweet potatoes and black beans.
The next saving grace that helps me feed my family healthy for $100 a week is creating a meal plan. When I first began feeding my family vegan meals, I made the mistake of shopping by recipe and not creating an actual meal plan.
This led me to the grocery store multiple times a week and it also meant I was buying expensive ingredients that weren't going to be put to a lot of use. Now when I shop, I make sure to plan my meals by the day and use up all those expensive ingredients that now live in my pantry.
Shop in season
It breaks my heart every time Fall rolls around because I know there will be this dark period in my life without strawberries. And cherries. And all of my other favorite fruits. But I had to get over it!
This winter I became acquainted with oranges and bananas. Those juicy navel oranges and barely ripe bananas (I hate overripe bananas) helped me survive! Now that it's warming up again, I can start enjoying all of those other fruits I love without paying a premium price.
It's amazing how much of a difference it makes when you give up trying to buy $5 organic strawberries or blueberries when they aren't in-season.
Keep it simple
I think the best tip I can give you is to keep it simple. When I simplified the way I approached vegan eating, our grocery budget significantly decreased.
Instead of worrying myself with purchasing fancy ingredients I could rarely find in my local area, I went old school with my approach. I started building my meals around a starch, veggie, and protein like I used to do when I ate meat. Except instead of animal protein, I was looking for plant-based protein.
By doing it this way I don't have to worry about keeping sprouted garbanzo bean flour in my pantry all the time. I could build a meal around simple ingredients like green beans, rice, and other important plant-based ingredients.
With that said, I do have to make sure that we are meeting all of our nutritional requirements. Vegan eaters often lack an essential vitamin, B-12. Therefore, I make sure I always have some nutritional yeast on hand which is packed with this necessary vitamin.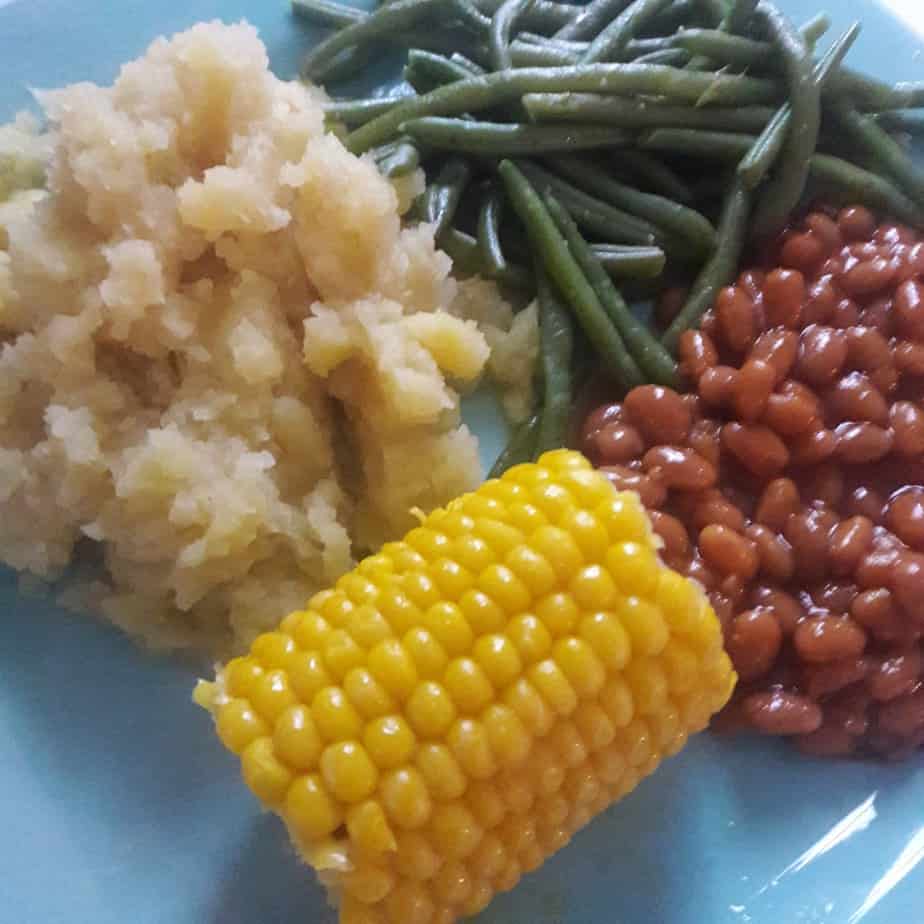 What our meals look like in a week
Just to give you an idea of what $100 a week looks like for us, below I'll share one of our past meal plans for a week…
Breakfast:
Daily: Bagels with vegan butter or a plate full of in-season fruit (I'm the only one who eats the plate full of bananas and oranges. It fills me up!)
Lunch:
Daily: Baked fries (The only thing I can usually get my son to eat for lunch. I managed to get him to eat some homemade southwestern roll-ups one day, so I consider that a win!), fruit, salad or leftovers from dinner (My daughter takes lunch to school which is usually pasta, fruit, applesauce)
Dinner:
Monday: Rice and black bean tacos (We eat tacos every week. Some weeks it may be potatoes and black beans or refried beans with sauteed bell peppers, onions, and spinach).
Tuesday: Spaghetti with marinara (sprinkled with nutritional yeast), bread, and a big green salad with lots of veggies
Wednesday: Sweet potatoes, rice, some type of bean (northern, baked, black bean, pinto, etc), and green beans
Thursday: Mashed potatoes, baked beans, corn on the cob, and broccoli
Friday: Chickpea "Tuna" Sandwiches with a side of chips and dill pickles (For a night when I don't want to cook). This is made with mashed garbanzo beans, sweet pickle relish, vegan mayo, and a little onion. Prepare it the same way you would make tuna for your sandwiches.
Saturday: Homemade veggie pizza (Some days I will use vegan cheese shreds, but most times we eat the pizza with just marinara sauce and veggies)
Sunday: Vegan soul food – vegan candy yams, collard greens, pinto beans, vegan macaroni, vegan cornbread (We don't do this every week, usually once a month)
Wrapping Thangs Up
Whether you're vegan or not, it's possible for a family of 4 to eat healthy on a budget. For those of you who are meat eaters, here's a previous article where I shared our meal plans that incorporated meat.
Regardless of whatever side of the fence you're on, shopping smart and creating a meal plan are the keys to success when it comes to you and your family being able to eat healthy on a budget. Give it a try for a month, you might be surprised at your results!