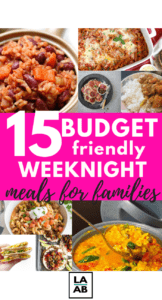 Serving midweek meals on a budget can be tricky when you're broke and simply ready for the weekend to come.
In those very moments, it's easy to become prey to take-out dinners, fast feed, and processed junk. After all, you simply want to get home and rest before waking up and doing the same old again the following day.
Luckily, there are so many delicious midweek meals you can serve that won't have you struggling to your next paycheck. Having quick and easy access to midweek family meals recipes will give you one less thing to do and they will make your meal planning so easy.
So, if you're looking for cheap easy meals on a budget, look no further than these 15 insanely delicious ideas that everyone in your family will love.
Red Lentil Spinach Soup – Food Meanderings
First up, we have a red lentil spinach soup that is perfect for cool and/or rainy evenings. Lentils are super cheap, so don't worry about blowing the budget. This super flavorful meal might leave you with some leftover so you can avoid take-out at lunch too.
Easy One Pot Cheeseburger Pasta – Two Kids and a Coupon
The next midweek meal on a budget is none other than this delicious easy one-pot cheeseburger pasta. It includes all super affordable ingredients and I like that it's quick and easy too. Perfect for the middle of the week when life is going at you all crazy.
If your family loves pizza and you still want to eat something hearty, you can't go wrong with these super-sized potatoes stuffed with pizza fillings. Feel free to use what you have already on hand to make your pizza spuds and this tasty cheap and easy meal will be even lighter on your budget.
5 Minute Air Fryer Pita Bread Pizza – Recipes from a Pantry
The thing I love most about this midweek meal on budget is that it's super easy to make and super quick too! Just throw all of your pizza toppings on a pita, put it in the air fryer and bam — 5 minutes dinner is served.
Instant Pot Spaghetti with Meatballs – Huckleberry Life
This comforting cheap and easy meal is light on the wallet and super easy to make. Of course, you will need a handy-dandy instant pot to make it, put it to good use. If you have enough, portion your leftovers into some meal prep containers to last you the rest of the week for lunch.
Easy One-Pot Vegan/Gluten Free Lousiana Red Beans and Rice – Strength and Sunshine
This midweek meal is vegan. The great thing about incorporating more vegan meals into your meal plan is that you save EXTRA money! Meat is very expensive and those costs add up when you're feeding an entire family. Save extra money by incorporating one or two meatless meals into your meal plan.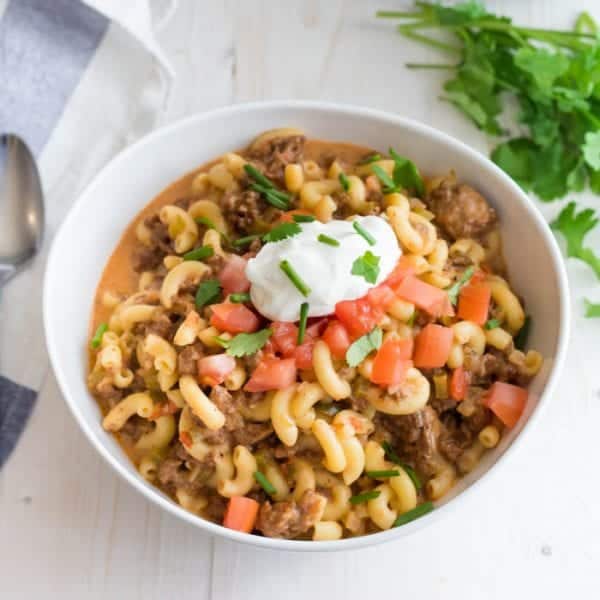 Crockpot Beef Taco Pasta – Eating on a Dime
Cheap easy meals on a budget don't have to be complicated. Just marry your favorite foods with all-time comfort foods and you'll have a hit any night of the week. Take this crockpot beef taco pasta dish for instance. Just about everyone loves tacos and pasta is always the ultimate way to comfort yourself in the middle of the week.
Baked Porkchops with Honey Mustard Sauce – Taste and See
I haven't eaten pork in a long time, but it hasn't been that long for me to not remember how cheap I could get thinly sliced chops at my local grocery store. Catch these on sale and you can feed your family for a couple of days. Plus they are super easy to cook.
Vegan Cauliflower Tacos – Little Sunny Kitchen
If there's any dish on this list of midweek meals that I plan to try, it'll be this one. Cauliflower is one of the most versatile vegetables and as a plant-based eater, I've used it to make taco meat mix, rice, buffalo styled "wings"…I could go on and on. Point is they are delicious when you do it right. These tacos look like they are done right, so I'll be trying!
Kid Friendly Broccoli and Cheese Breakfast Quesadilla – On My Kids Plate
When you're looking for meals on a tight budget, you're always a winner when you choose breakfast. Breakfast items are quick and easy on your wallet. Your kids will love these broccoli and cheese breakfast quesadillas.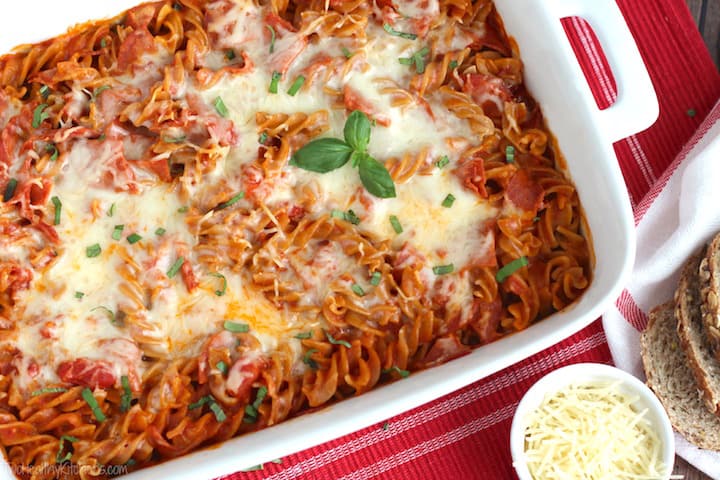 Easy 5 Ingredient Pizza Bake – Two Healthy Kitchens
This tasty dish only includes 5 ingredients. It's a perfect addition to our round-up of delicious midweek meals on a budget. All you'll need is pasta sauce, cheese, pepperoni, pasta, and parmesan cheese. All of these items can be picked up from the Dollar Tree if you're looking to keep this meal $5 and under!
Crockpot Chicken Fajitas – A Clean Bake
Anytime you throw something into the crockpot, you're already saving big on time. This recipe will help you save some money too. Grabbing take-out from your local Mexican restaurant might sound like a good idea on a midweek night you don't want to cook. Instead, prep your food the night before and throw it in the crockpot before you leave for work.
Keto Pizza Chips – Peace Love and Low Carb
Okay, this midweek meal idea is super quick and super simple. Save these for a night when you barely have the energy to stand after a long day at work. Pair these with a simple salad right out of the bag and you've got yourself a cheap easy meal on a budget.
Sweet Potato and Chickpea Curry – Mommy Thrives
Here's another favorite of mine. You can never go wrong with these three words — chickpeas, curry, and potatoes.
The Best Black Bean Burger – We're Parents
Last, but not least, if you have a little energy left after getting through the harder part of the week, save it for these. These hearty and savory black bean burgers are sure to be a hit with your family. The best part is that black beans are super cheap and you'll come in under budget.
Wrapping Thangs Up
There you have it — fifteen insanely delicious midweek meals on a budget. Be sure to grab your pen and paper and carve out fifteen minutes of your time to create a meal plan. I know it can be a hassle, but you'll thank yourself when you're in the middle of the week and you're looking for delicious midweek meals that won't break the bank.