To support this website, this post may contain affiliate and/or referral links to products or services I recommend. See disclosure policy
here
.
If you're interested in starting a blog, I've written a detailed guide on how to start your own blog using Bluehost. I've only been writing here since October 2015 and I'm already making money online. Considering joining me on my journey to reach my goal of an extra $2,000 per month before the end of the year. Read How to Start a Blog on a Budget and get started today.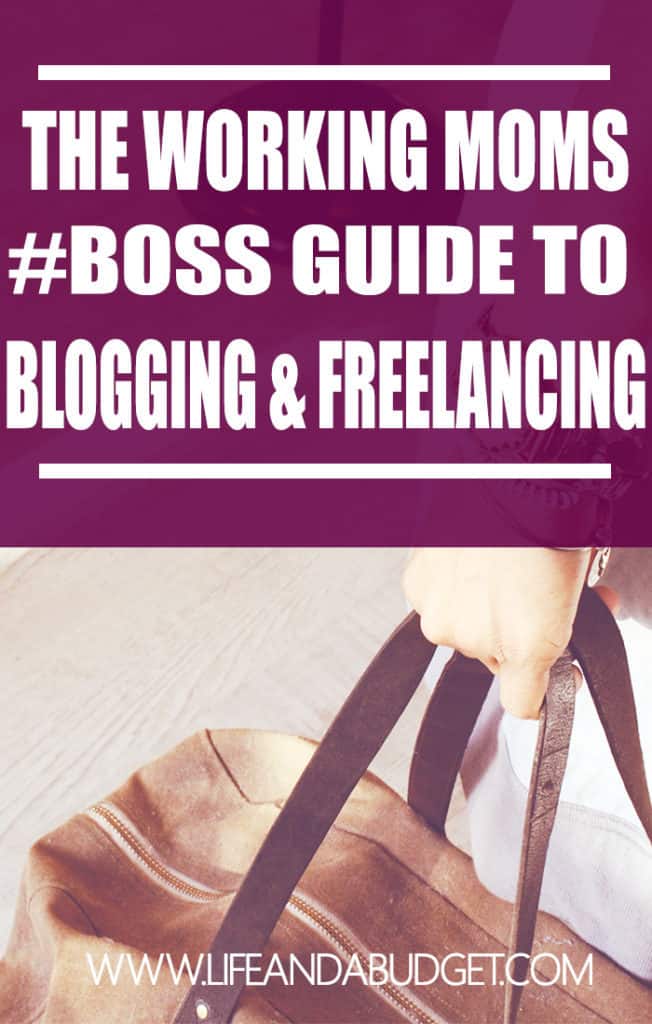 Blogging continuously evolves, but there is one thing I'm finding that remains consistent. That one thing is blogging affords mothers the luxury to be both mom and entrepreneurs.
Perhaps you've been intrigued by some bloggers abilities to run successful blogs, launch freelancing careers, and earn more than they do at their full-time jobs – all while working full-time.
I'm one of those women. I run this site, I offer writing services to clients, and I work full-time from home for a local insurance company. Why?
Because I'm in debt and I don't want to be forty still paying on my student loans. Because I want to break the generational curse of living paycheck to paycheck. I also love writing!
To me (a writer at heart), freelancing and blogging is the ultimate side-hustle. I've tried my hand at several side-hustles before, but this hustle is the one I think about, dream about, and quite honestly wish I did full-time.
Do I have any plans to quit my full-time job in the near future? Nope. I need my bread and butter. However, I also need my side-hustles to help me get out of debt sooner than later.
If you wear the same shoes as I do, you want to get ahead. You want to work, still be mom, and hustle your way out of debt. I'm here to tell you that it is possible.
While it's possible to freelance write, blog, work, parent and be a wife – it's important to understand that you still have to say no to some things. Anything that's not helping you get closer to your goals has to be left alone.
With that being said, if you're interested in freelance writing and blogging, don't be discouraged because you work full-time and you have kiddos at home. If it something that you're passionate about, you will find the time.
Related Post: How to Decide What Kind of Blog You Should Start
This is for you, working mom. Here's a working moms #boss guide to freelancing and blogging. Use this advice, all first-hand experience and the resources discussed to help you build a little something for yourself and your family.
1) Keep your bread and butter (the job) separate from your freelance/side hustle identity.
I don't mix paycheck with side-hustle. Why? Because everyone doesn't want to see you get ahead and I'll admit that co-workers can be a bit fickle. Somedays you think they are allies and next week they become foes. I don't have time for the foolishness.
I created two separate LinkedIn accounts, one for freelancing and the other is for the paycheck. My employer knows I like to write because I try to utilize those skills on the job. However, they don't need to know about my off the clock life and I don't feel obligated to share that part of my life with them.
My side gigs don't interfere with my capability of doing my full-time job, so what's there to know?
Sometimes webinars or interviews (phone or online) may occur during business hours, but I have the benefit of working from home, so I'm able to account for the time and put in the hours needed to fulfill my full-time job responsibilities. However, I understand that many of you don't work from home, so this leads to my next piece of advice.
2) You have to stay organized!
Organize Your Workload
To do this, you need to figure out whether or not you're a paper and pencil kind of gal or a digital gal. I initially thought I could handle my writing clients and blogging responsibilities using a planner; however, I was so wrong.
If digital works best for you, I just began using Asana. I won't go into too many details because Carrie from Careful Cents provides a great overview of how she manages her business processes using the program. All I can say is that it's a lifesaver!
You can use a system like Asana or Google Calendar to schedule your tasks and keep track of your commitments. If you work in an office and need to interview someone or have to be interviewed, you can schedule it during a break. This is why organization will be important in helping you achieve all of your goals.
Organize Your Finances
It is incredibly important to separate your finances from the beginning. I started by receiving money through my personal Paypal account. BIG MISTAKE.
As I began earning more and started spending more for certain business related expenses, it became difficult to keep track of everything. If I ordered something from Etsy using my personal Paypal account, it would appear as if it was a business expense when it really wasn't.
I changed my Paypal email and separated my personal from my business account. I also set up another account specifically for my freelancing and blogging business.
Next, I visited irs.gov and signed up for an Employer Identification Number (EIN) to protect my social security number. If you're a blogger and sign up for affiliate networks, many of them require you fill out a w-4 before they can pay you.
Last, you want to make sure you are using an invoicing system to keep track of payments you should be receiving from clients. You could use Paypal invoicing, but I don't know if it tracks when a client doesn't pay and this is really important!
Once I forgot about a payment I hadn't received in the amount of $250!  If my invoicing system hadn't reminded me, I would have lost money. This also helps you keep track of your total earnings throughout the year for tax time. Speaking of taxes, as soon as you get paid, stash the government's money in a separate account!
2) Self-care over hustle. All day, err' day.
The worst thing you can do is hustle so hard you end up sick. If you neglect your body, it has a funny way of reminding us that it needs love too and I can assure you it's no fun catching colds or the flu while managing client workloads, caring for kids, and working for the people.
If your body says sleep, just listen to it. Take a longer shower if you need to. Wake up before the kids just so you can lay in bed and have a moment to yourself. Trust me, you have to put your health first or this whole thing will go kaput in two seconds flat. That defeats the entire purpose of hustling, right?
3) Outsource and delegate tasks you're not too efficient in handling.  
This is why it's important to understand your strengths and weaknesses. Instead of worrying yourself silly over the things you're not good at, just allow someone else to handle them. I hate scheduling stuff in Hootesuite for Twitter or Facebook, so I hired help.
Other task you could possibly outsource or delegate to someone else is editing, creating graphics, research, proofing, email…heck, even writing.
Just because you enjoy writing doesn't mean you will always have the time to commit to publishing content on your blog as much as readers may expect. You could hire a staff writer or open your blog up to guest posts if your budget is limited.
Another task I somewhat delegate is Pinterest. While I haven't necessarily outsourced it to a person, I allow Tailwind and Boardbooster to manage my pinning schedule. All it takes is one weekend of scheduling pins and I'm set for the week.
Related Reading: The 1st Life and a Budget Blog Income Report (August 2016 – $854), July 2016 Online Hustle Report ($1,054), April 2016 Online Hustle Report ($1,004)
4) Educate yourself and study the craft.
If your time is limited (like mine), you might not have the time to commit to doing a bunch of research on how to build a successful blog. I research as much as I can, but if I hit a wall, I don't mind investing in quality courses like Pinterest Presence to teach me something I didn't know.
Although I'm sure some of the information presented in this course may be found somewhere on the internet, I don't have time to go searching for it. And what I did find, most of it is outdated and doesn't apply today.
In addition to courses, I love reading, so I don't mind hitting up Amazon to find amazing books on blogging and freelance writing.
Here is one book I've read that I highly suggest adding to your bookshelf:
How to Blog for Profit Without Selling Your Soul, Ruth Soukup
Related Reading: 7 Surefire Ways to Boost Your Blog Income
5) Networking is good for you.
Don't be antisocial or competitive. Get to know people and focus on delivering your best work to your clients and readers. Producing good content leads to many new opportunities and happy clients make referrals!
You can network on Twitter, Facebook, and LinkedIn, but I definitely recommend checking out facebook groups with like-minded entrepreneurs, moms, and bloggers.
Here are a few Facebook groups I participate in:
The Careful Cents Club, #Social Hack, Bloggers Supporting Bloggers, Blogging With Becky and Paula, Believe in a Budget and Friends, Inspired Bloggers Network, Big Idea Bloggers, Pinterest Promotions for Bloggers
To get the most out of FB groups, remember to keep it real!  I like to be organic and natural in my approach to these groups as possible. I'm always there to answer a question if I know the answer or think I could be helpful. I'm also not afraid to ask questions and get thoughts from my peers. I've met many great freelance writers and bloggers this way.
6) Finding writing jobs can be a hassle.
Finding writing gigs is not the easiest thing to do, but it's not impossible. It involves a lot of research and calculated moves. I honestly haven't applied for many writing jobs, but I'm up to my neck in work and I'm happy about it!
During times when finding work is slow, you know what I recommend doing? Writing your ass off at your own site and guest posting on other sites!
I started LAAB in October and it wasn't until December when I landed my first client on Twitter. In between that time when I wasn't writing for others, I focused on building LAAB and guest posting to as many sites as I could. It paid huge dividends.
Now I have to find time to blog because I have more than enough work to do. So if you don't have any paying gigs yet, don't fret. Guest post your heart out (if you write about personal finance, I'd love to have guest post here) and start interacting with other people through social media. You never know where it can take you.
If you're interested in going straight for the extra cash, you might want to check out Elna Cain's (a very successful B2B writer in digital marketing) course called Write to 1k. In this course, Elna details a proven strategy that helped her immediately launch her freelancing career and start earning money.  Building a blog and building a freelance career the right way can be time-consuming. This course will reduce the learning curve that some of us have to go with and provide you with everything you should know to become a sought after writer.
Now it's on you! You've got the working moms guide to freelancing and blogging, what are you going to do with it?
Drop me a line in the comments and let me know if you're A) Already a writer/blogger and where you write or B) You're an aspiring writer who has made a decision to do the thang.