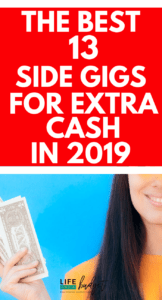 If you're looking for a side gig to make extra money in 2020, you've come to the right place. There are many reasons why you should have a side gig this day and age and the main reason all boils down to security.
Yep, that's right. There's no such thing as job security anymore and many folks are taking advantage of all these great side jobs for extra money. In case you don't know what a side gig is, it is literally anything you can monetize and do in your extra time.
If you have special skills, you can turn it into a side gig if someone will pay you to do it. Many struggle with the concept of how to make extra income, but today I'll share with you the top 13 ways I've seen folks get their side hustle on.
Matter of fact, I've done quite a few of these side hustles myself and I can attest to them being lucrative ways to make extra income (and in many cases, making extra money FAST)! So, if you need a new side gig for extra money, check out these top side gigs to make extra money in 2020.
The Top 13 Side Gigs to Make Extra Money in 2020
1. Blogging
Blogging is a great side gig for those of you who want to work at home to make extra money. Without a doubt, it's a fun way of earning extra income, but it's not easy.
Making your first $1,000 through blogging will be harder than many of the other methods I'll discuss here today. However, it's at the top of my list because once you make that first $1,000, you'll know so much, and reaching that next income goal will be much easier.
There are plenty of ways to earn money blogging and some of the ways blogging is lucrative for me is through advertising, affiliate income, and selling my own printables and workbooks.
I began LAAB with Bluehost and made my first $1,000 within a year. I like Bluehost because it's super affordable for blogging newbies.
2. Freelance Writing
The next side gig to make extra money in 2019 is another fave of mine and that's through freelance writing. I began freelance writing when I started this blog and I've made thousands of dollars utilizing my writing skill set.
There are a ton of assignments out there for you to get started on. I've written for other bloggers. People have reached out to me on LinkedIn and Twitter. I've even been found through search engine results. People email me all the time for quotes and that's because I built a hire me page on this website that told people I'm interested in writing for them.
I owe all of my success in freelance writing to this one course — Earn More Writing, which was created by a veteran personal finance writing colleague. She makes over $200,000 writing about personal finance and traveling every year, so I knew it was a good idea to learn from her.
Her course is perfect no matter what you decide to write about and many of the tactics taught will help you land your first freelance writing gig. She shares her pitching strategies and even points you in the direction of where to land your first writing gigs.
3. Freelance Proofreading
Here's another great way to make money on the side from home — freelance proofreading. In case you don't know what that is, it's basically where you get paid to proofread other people's online work. There are different types like court reporting, blog articles, books and more.
If you're good at catching grammatical errors, this would be the perfect side gig to make extra money in 2020. I've interviewed four different women in this field and they've turned freelance proofreading into their full-time jobs after a lot of hustling.
Luckily, you can sign up for this free workshop to learn all about proofreading and how to use it to make extra income. Be sure to check it out if you love this type of work.
4. Transcribing
Another great way to make money on the side from home is to work as a transcriptionist. This side gig would be perfect for you if you type more than 60 mph, you hate making errors when you type, you love research, and you can make deadlines with ease.
Check out this article to learn about the other 6 signs that you'd be great at transcribing. And if you know you'll love it, I highly recommend signing up for the free transcription mini-course.
5. Reselling
There are many ways to become a reseller these days. Folks will purchase good furniture at the thrift store, refurbish it, and then flip it on FB Marketplace or Craigslist. Then there are other folks who will scoop up closeout deals, clearance deals, and other sales to flip as an Amazon FBA seller.
I haven't tried the Amazon FBA seller route just yet, but I have gotten my feet wet with another type of reselling. I've purchased clothing from retailers at rock-bottom prices, thrift stores, consignment shops, and other types of stores to sell on Poshmark and eBay (read my eBay reseller story here).
Since starting, I've made over $1,400 doing this but honestly, I hate shopping so I'm not sure if it's something I will continue long-term. If you love scoring deals, consider becoming a reseller this year. It's the perfect way to make extra money fast if you do it right.
6. Write and self-publish e-books
Did you know there are literally hundreds of folks who are earning full-time incomes as self-published authors? Yes, really. Amazon has leveled the playing field for many writers like myself, giving anyone the capability of earning an income from their hard work.
Many people don't know it but in 2013, I wrote two complete fiction novels and never published them. All of that changed this year when Michelle, a fellow personal finance colleague, gave me the courage to make the leap.
Wanna know how she did that? Well, she showed me her proof. This summer she published two of her own ebooks on Kindle and as of writing this (2 months after she published on Kindle) she's earned over $1,000 for her work. It only took her 7 days to write her first ebook!
She created a course, coupled with some awesome accountability, to share her secrets to success. I immediately purchased the course to put my money where my mouth is and dusted off my work. I put both books up on Kindle and Kindle Unlimited and I'm enjoying watching my passive income grow (I just need to work on my marketing skills a little).
If you're a writer and you've longed to publish your own book, I encourage you to check out her Make Money With Ebooks course to learn how she did it. This is a perfect side gig to make extra money in 2019 because you do the work once and let the money roll in.
7. Sell items on Etsy
I've shared my experience with earning passive on Etsy in this article if you care to read it, and I've also recently reopened my shop. I sell digital prints on Etsy and it's the perfect side gig because again, I do the work once and when it sells, I get paid.
I expect this to pick up big time during the holiday season when folks are looking for unique gifts, but this is also perfect for birthdays, Valentine's Day, Mother's Day and more.
If you have a unique crafting or artistic ability, monetize those skills and consider opening up an Etsy shop. It's a great way to make money on the side from home.
8. Become a virtual assistant
Another great side gig to make extra money is through virtual assistance. I've offered V.A. services quite a few times and I've been paid handsomely for it.
There are literally hundreds of different tasks that bloggers and business owners will pay you to do from the comfort of your own home.
Want to know about all of the services you can offer for extra cash? Check out her free list of over 150 different tasks and services you can offer as a virtual assistant.
9. Become an Instacart Shopper
If you're looking for a side gig you can do on your own time and has 100% flexibility, shopping for other's groceries might be the perfect side hustle for you. The best thing is, you don't really need much to get started with this lucrative side gig. If you know how to drive and shop for groceries, this is a perfect side gig to make extra money.
10. Deliver with DoorDash
Another great side gig to make extra money that provides a lot of flexibility is being a food delivery driver. You know for those folks who are stuck at work and need their food delivered to them? The best part is that you could do this on your lunch break when business is sure to be booming.
11. List your house on Airbnb
If you're away from home a lot or don't mind sharing your space with folks you don't know, you can rent your home on Airbnb. This is a perfect way for flight attendants, truck drivers, etc to earn extra income each month.
12. Take surveys
If you have some time to spare, taking surveys is a great way to earn a little extra income. Now I'll warn you, you won't be bringing in the big bucks, but if you're looking for a simple way to treat yo-self, survey taking is a great way to earn cash for doing so.
Some popular and favorite survey companies of mine are:
To earn the most, sign up for many different companies so you will have some to work on every day in your spare time. Most importantly, sign up for a separate email address too.
13. Search the internet
The last best side gig to make extra money in 2020 isn't necessarily a side gig, but it's a great way to earn money doing something you're already doing anyway. You search the internet every day, so why not get paid to do it?
There are a couple of companies that make this possible:
Side Jobs For Extra Money Made Easy in 2020
There are endless ways to make extra income and these are some of the best. I've tried quite a few side gigs to make extra money. These gigs have helped me through emergencies, medical setbacks, losing a job, and more. If you need ways to make extra income, try many different types of side hustles to see what you're good at. You may just find yourself settling on more than one and 2020 may be your best financial year yet!
Other money-making posts you may enjoy: