To support this website, this post may contain affiliate and/or referral links to products or services I recommend. See disclosure policy
here
.
We all know how important it is to have an emergency fund. If your car needs a major repair or your computer goes out, having an emergency fund can help cover those expenses without having them interrupt your life. If you don't currently have an emergency fund, $1,000 is a good number to aim for. Once you've saved that, aim to save 3 to 6 months of living expenses in your emergency fund.
Now that you know how important an emergency fund is and how much you should have in it, do you know how to get there? Lots of us could use help actually building an emergency fund. Don't worry, I've got you covered. Here are 20+ ways to find cash for your emergency fund. You could save money, make money, or even better – do both!
Find Money For Your Emergency Fund By Simply Saving
1. Save any change in a jar
For those of you who use cash for daily purchases, this trick will come in handy. Whenever you break a dollar, save the change. Put the change in a jar dedicated to emergency fund savings. If you use cash often, you'll find that the money adds up quickly!
2. Never spend a $5 bill
This tip also works well for people who use cash a lot for purchases. Whenever you have a $5 bill, save it. It's small enough that you won't miss it yet large enough to add up quickly for your emergency fund savings.
3. Utilize return policies
How many times have you bought something only to be dissatisfied with it? Most stores will give you a refund if you return the item with a receipt. Don't let your money go to waste. Return policies are there to be used.
4. Shop at thrift stores first
Need a new dress for work? Want some new shirts for the summer? Consider stopping by your local thrift stores before going to a department store. Thrift stores are known for having little treasures every now and then. You never know when you'll find the perfect item there (and for a fraction of the price)!
5. Go out for lunch instead of dinner
Did you know that restaurants often serve similar items for lunch and dinner? The only difference is that you pay a premium for dining at dinnertime. Next time you go out to eat, opt for lunch instead of dinner to save a few bucks.
6. Avoid smoking and alcohol
Smoking and drinking alcohol are two things that can eat up your budget quickly. Do your health and wallet a favor and avoid smoking and alcohol.
7. Drink only water
Free water is everywhere nowadays! At restaurants, offices, etc., you can often get water for free. Why go to the store and pay for juice or soda when you can quench your thirst for nothing? If the thought of drinking tap water makes you queasy, invest in a water filter and bottle your own water.
8. Prepare meals at home
Not only is take-out less healthy than meals prepared at home, it's more expensive. For the price of a $10 take-out meal, you could probably buy groceries to feed you for a couple of days. Get in the habit of preparing meals at home if you want to save money on food.
9. Bring lunch to work
Along the lines of preparing meals at home, bringing lunch to work is another money saver. Simply use some of those meals you prepare at home and pack them for lunch. You could even use your leftovers from dinner as lunch for the next day.
10. Eliminate wants
This tip is a bit more philosophical than the others but totally worth considering. When you know the difference between material wants and needs, you'll be in a better place to say "no" to purchases that don't fit your financial goals.
For more ways to save money, check out 12 Ways to Trick Yourself Into Making More Money and  Shop Online Using Ebates and Get Free Cash Back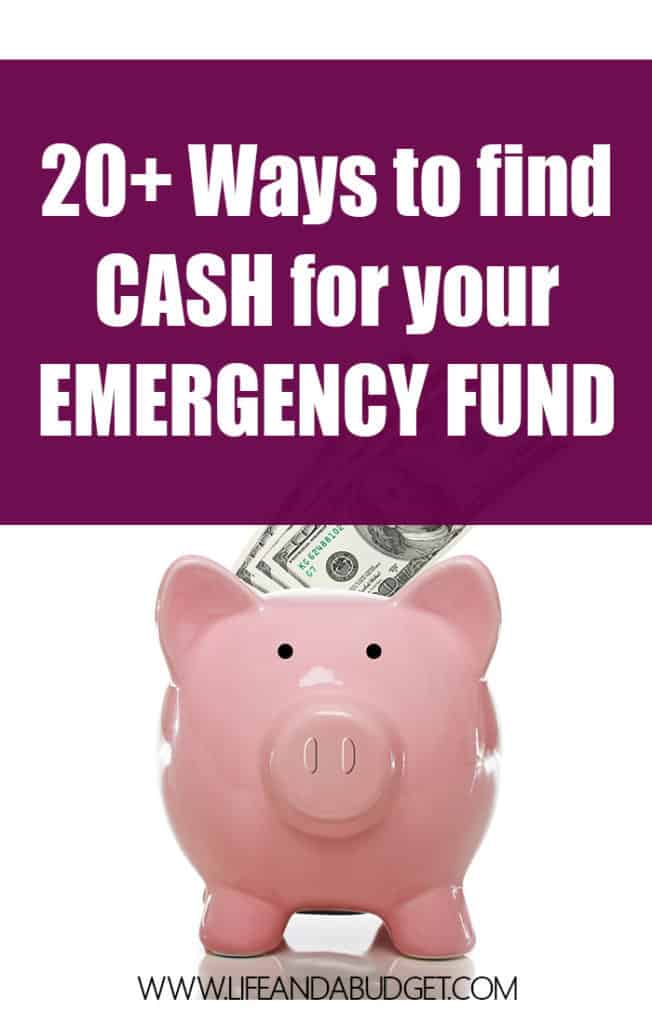 Find More Money For Your Emergency Fund by Making Money
11. Sell unwanted items
Unwanted items lying around your home are basically money waiting to be made. All you have to do is list them on eBay or Craigslist and sell them to someone who wants the items!
12. Host a yard sale
Do you have even more items that you want to get rid of? Consider hosting a yard sale to attract neighbors looking for a deal. It's a two-for-one! You make some money while your neighbors get items at discounted prices.
13. Babysit
Do you know any parents who could need a helping hand with young children? Offer to babysit for a competitive hourly rate.
14. Pet sit
People tend to look for someone to watch after their pets when they go on long vacations. You could be one of those pet sitters! Just get the word out there that you're available.
15. Start a freelancing side gig
There aren't many people who don't have a talent they could use to make money on the side. Whether it's writing, graphic design, or photography – find your talent and set up a freelancing side gig!
16. Get a part-time job
If you are convinced that freelancing isn't for you, then you can always get a traditional part-time job such as working as a cashier or bank teller.
17. Mystery shop
Mystery shopping is a fun way to make money because you get paid to do things like go out to eat or purchase cool items. Sign up for a few different agencies so that you always have opportunities. This post details a lot of free things you can score using mystery shopping, like free reading glasses and hotel stays so don't sleep on it.
18. Flip items from thrift stores
Earlier I mentioned thrift shopping as a way to save money. It can also be a way to make money too! Simply buy low and sell high to make a profit.
19. House sit
Some people don't like to leave their houses unattended when they go on extended trips. This is where you come in and make some money! All you have to do is stay at the house while the person is away and make sure everything is secure.
20. Use cash back grocery apps
Cash back grocery apps like Ibotta are basically giving you free money for things you would already purchase. Don't pass that up!
21. Tutor
If you are really knowledgeable about a subject or have a specialized degree, considering tutoring students. Tutors are known for making high hourly rates.
For further reading on making more money, check out How To Make More Money
Bonus:
22. Use auto-deductions
The easiest way to save money is to stash it somewhere else before you even think about it.  The best strategy would be to open an online bank account and set up auto-deductions from your paycheck and have it put into this online (not easily accessible) account. Start with a small amount and keep increasing it as your budget allows. Or use a simple tool like Digit that will do it for you.
23. Refinance high-interest loans
If you have a high-interest mortgage or auto rate and your credit is in decent shape, you could possibly reduce your overall payment and interest rate through refinancing your loan. We recently did this and we're saving an additional $90 a month on our mortgage.
24. Ditch Cable
You can do this temporarily to help build up your emergency fund in no time!  Swap out your cable box for an Amazon Firestick and a digital antenna – then watch your entertainment costs decrease dramatically. Sign up for Hulu or Amazon Prime and watch television at your convenience.  Try Amazon Prime 30-Days During a Free Trial
.
There you have it. 20+ ways to find cash for your emergency fund by saving money and making money. If you pick just a few items from this list, I'm sure you'll be on your way to building that emergency fund in no time.
Which of these tips have you tried in the past? Which sound most interesting to you?