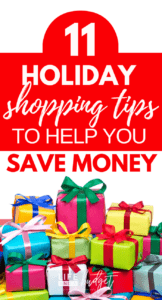 Holiday shopping doesn't have to be stressful and it certainly doesn't have to drain your budget. All you need is an effective strategy, a holiday budget, and a holiday savings account to help you stay on task.
A big part of your strategy involves figuring out ways to save on your holiday shopping. When you're spending money, it's important to make sure you're getting the best deals. This is the only way to stretch your budget further.
Therefore, I've compiled a list of tips and tricks that will ultimately help you save money this holiday. Whether you're doing your holiday shopping online or in-store – we're going to cover it all.
So, now that you've created a holiday budget and started saving money, let's map out a plan to make it as last as it can with these holiday shopping savings tips.
Holiday Shopping: 11 Tips and Tricks to Help You Save Money
1. Sign up and use Ebates for holiday shopping online.
Use Ebates for all of your online shopping and earn free cash-back. Sign up using this link and you'll receive a free $10 gift card to a retailer of your choice when you make a $25 purchase. Check out this post to learn how to get cash back this holiday with Ebates.
2. Sign up for Shop Tracker and receive $39.00 for the year.
Shop Tracker will pay you $39.00 per year in Visa gift cards or Amazon gift cards. The way it works is you will be asked a series of questions to determine if you have an Amazon account. If you do, you will download an app on your computer or phone and link it up to your Amazon account.
Each month, it will pull your shopping history and you will receive $3.00 to redeem for gift cards regardless if you purchased anything with Amazon for the month. It may not seem like much, but look at it like this — you're getting $39.00 back every year for shopping as you normally would.
And if you're worried about your personal data, that's understandable. However, Shop Tracker is owned by Harris Poll Online, a legitimate survey site with an A-rating from the Better Business Bureau. Sign up for Shop Tracker here.
3. Sign up for a free Amazon Prime trial in December.
If you haven't signed up for Amazon Prime in the last year, you can sign up here and try it during a 30-day free trial. Once you're signed up, learn how why you should sign up for the trial during the holidays and how to use it to save money on your holiday shopping here >> 10 of The Best Reasons You Need Amazon Prime This Holiday Season.
4. Sign up and use Ibotta when you shop for holiday groceries or travel.
A good holiday shopping idea is to always keep a cash back app on your phone. There will be plenty of opportunities to earn cash back through my favorite cashback app, Ibotta. When you shop in-store or through mobile, search for the retailer in the Ibotta app.
If there's a cash back offer for an item you're purchasing, select it and keep your receipt. You will need to take a picture of that receipt to get the cash back offer. It's really easy to use and I've earned several hundred dollars since I've started using.
Sign up for Ibotta here and receive a $10 welcome bonus when you redeem your first cash back offer. Here's a great read on Ibotta Bonuses to learn how you can earn more on your holiday shopping.
5. Save on holiday shopping when you use Paribus.
Paribus will track all price drops on your online purchases. They simply scan your email inbox for receipt confirmations. If a purchase is found, they will monitor the price for any adjustments.
If the price drops, Paribus will negotiate a refund on your behalf. It's really that simple! Paribus is totally free and they monitor purchases from places like Best Buy, Walmart, Target, Kohls and more.
Paribus can no longer negotiate price adjustments for Amazon, but you can take advantage of late delivery monitoring. If your package is late, you can earn a free month of Amazon Prime. They also monitor delivery with other retailers too and can negotiate a refund for late delivery on your behalf.
There is nothing for you to do and Paribus sends the price negotiations automatically. Price adjustments are sent directly to you from the retailer, usually in a store credit, gift card, or form of original payment.
So, before you do any holiday shopping, sign up for Paribus to help you save big on your holiday shopping.
6. Shop for designer items on Poshmark.
Many people are under the impression that you can only purchase used clothing on Poshmark. Well, that's totally untrue. There are plenty of sellers who have high-end brands in their Posh closet, new with tags.
Many of these sellers are able to secure wholesale deals on merchandise. Then they put the inventory in their shops at a steep discount.
So, before you purchase anything this holiday season, do a search on Poshmark and see if you can't find a better deal. Sign up for Poshmark here and use the code SCOTTLEGACY to get $5 automatically added to your account for your holiday shopping.
7. Scour the internet for the best online coupons.
Use sites like Retailmenot.com or Couponcabin.com to see if any coupons can be applied to your online holiday shopping. Sometimes you can find out about exclusive deals or free shipping offers, so never forget to check when making an online purchase.
8. No gift wrap or gift bags? Try this holiday shopping savings tip…
If you don't have gift wrap or gift bags this year, don't go out and buy the most expensive stuff. Create your own gift wrap, recycle old Christmas bags, or simply go to the Dollar Tree and purchase it there. When the expensive gift wrap and bags go on sale after Christmas, use the money you saved and stock up for next year.
9. Sell unwanted gift cards you've accumulated.
Did you know you can sell unwanted gift cards on Cardpool.com. It's a free site that actually offers you cash for all of those gift cards you got last year and never used.
You could re-gift those gift cards this year, especially beloved Target and Walmart gift cards. However, if you didn't want a gift card to some random store that's 20 miles from home, chances are your friends don't either. If that's the case, sell it on Cardpool.
10. Buy other people's gift cards at a discount.
Likewise, you can also purchase gift cards on Cardpool at a discount. For instance, you can get up to 13 percent off a Kohl's gift card. Take the gift card you purchase on Cardpool and use it to purchase save on your holiday shopping during Black Friday and other holiday sales. Or you can give it as a gift.
11. Use Honey when doing holiday shopping online.
Honey is a free Chrome app that searches the internet for coupons and lower deals. You can save money at thousands of stores like Amazon, Nike, Groupon, Kohls and more. Shop like you normally would and Honey will alert you if a better deal or coupon can be applied to your purchase at checkout. Join Honey here and start saving on your holiday shopping.
Final Note
As you can see, there are plenty of holiday shopping tips that will help you save big this holiday season. Before you pull out your credit card, be sure to take advantage of some of these money-saving tips. Cheers to a happy holiday season!
Related Post For More Holiday Savings Tips: 
20+ Ways to Have a Debt Free Christmas
Get Cash Back This Holiday With This…
Holiday Shopping: 11 Tips and Tricks To Help You Save Money
7 Mistakes To Avoid This Holiday
This Year's Budget-Friendly Gift Guide For All
Stocking Stuffers Under $4.00 for Kids
Money For Christmas: Boost Your Christmas Savings in Just 20 Minutes a Day
Financially Smart Gift Ideas for Kids This Holiday
10 of The Best Reasons You Need Amazon Prime This Holiday Season